Austin isn't just a booming tech city but also one with dozens of gorgeous lakes! Next time you are near Austin, why not take a dip in one of the many large lakes near the city? Over 20 million visitors travel to Austin every year, enjoying the unique nightlife and events. Austin did not exist 66 million years ago since the area was underwater with explosion craters (underwater volcanos). Follow along to learn more about 7 of the biggest lakes near Austin.
1. Lake Buchanan
Lake Buchanan is technically not in Austin, but it is just a short hour and a half away. Anyone who lives in Texas is used to traveling far since the state is so large! This lake has an area of 22,333 acres. The maximum depth of the lake is 132 feet. It is an artificially created lake that was formed with the Buchanan Dam in 1938. While most of the lake is used for fishing striped bass and white bass, there are multiple designated swimming areas to cool off during the hot Texas summer days.
2. Lake Travis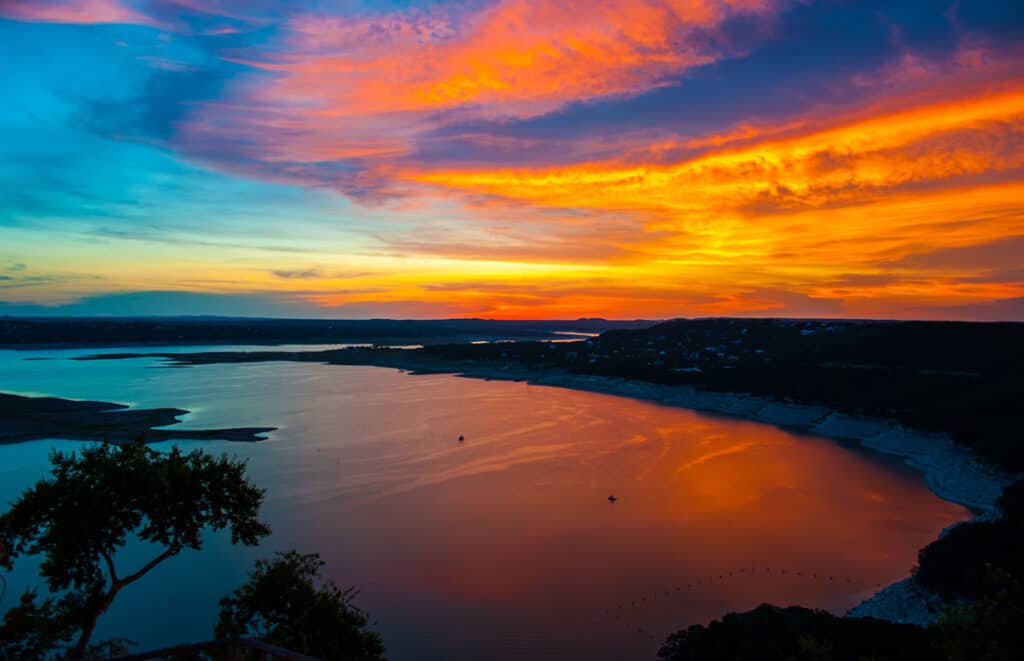 Lake Travis has an area the size of 18,929 acres. While it is not as large as Lake Buchanan, it is very close! The lake holds lots of events and recreational activities, so you will never be bored. For example, on the lake, you can take part in swimming, boating, waterskiing, and zip lining. The inflow source for this lake is the Colorado River, and it is man-made. Blue catfish and largemouth bass are stocked yearly.
3. Somerville Lake
An hour and a half away from Austin is Somerville Lake in Lake Somerville State Park. This state park is a popular and active campground with lots of wildlife. It is home to many types of fish, including bluegill, white crappies, and black crappies. Surrounding the beautiful lake is tall prairie grass and forests. The surface area of Somerville Lake is 11,456 acres, while the maximum depth is 38 feet. The state park is also affordable and offers horseback riding.
4. Canyon Lake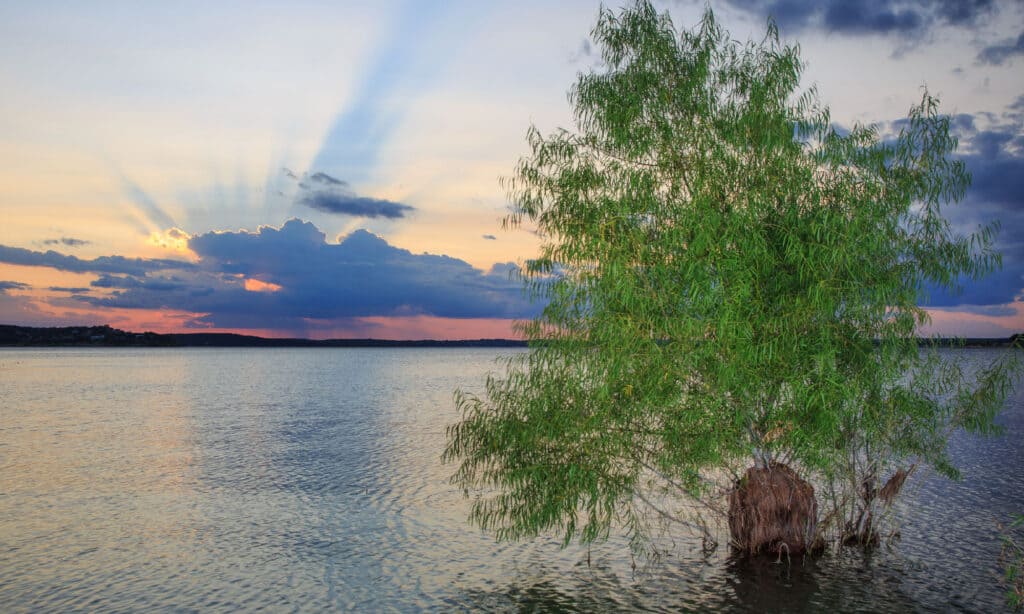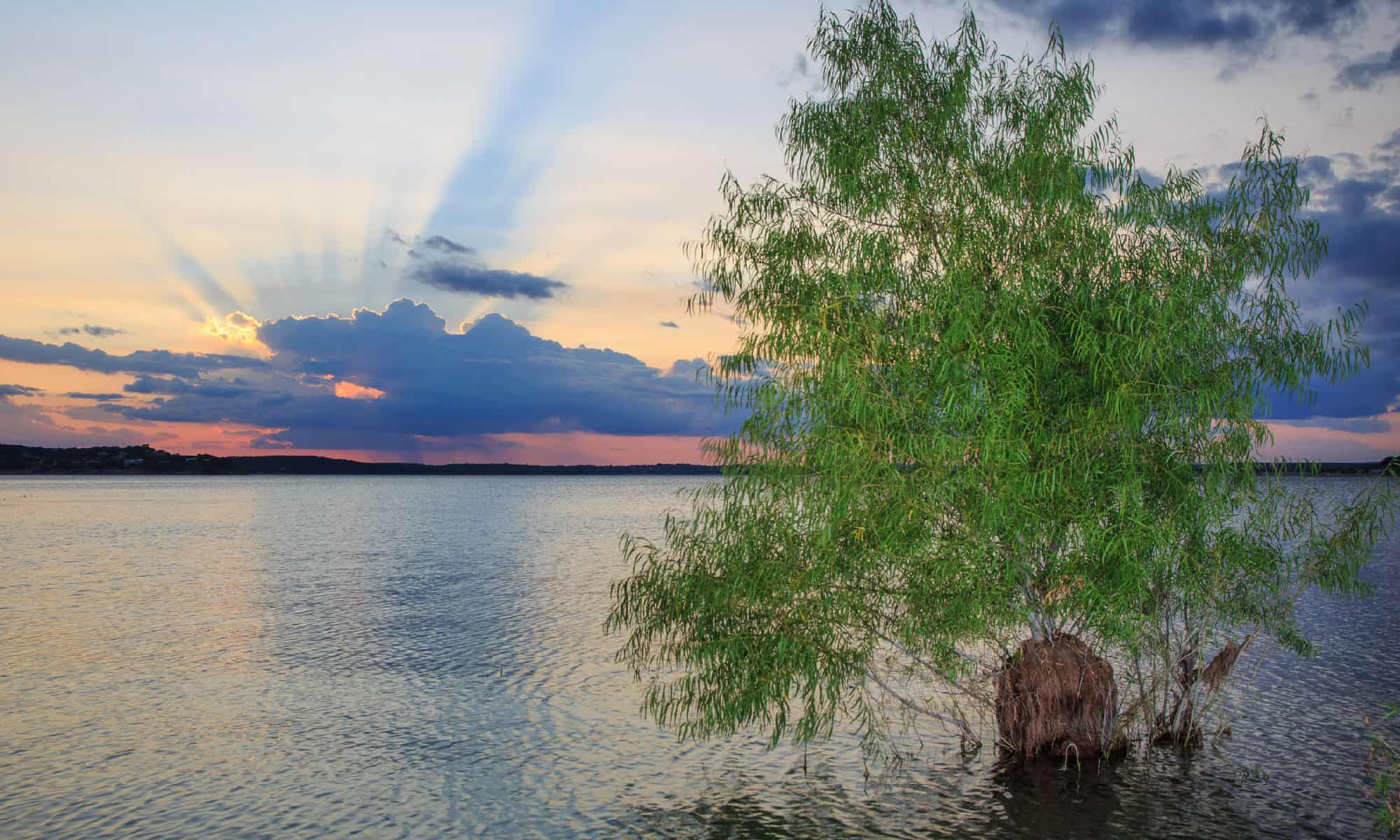 Nearly 40 miles away from Austin is Canyon Lake. This lake is a recreational paradise and offers many activities like fishing, boating, hiking, and camping. It has a surface area of 8,230 acres and is full of action. Within Canyon Lake are eight designated parks with activities. The maximum depth of this lake is 134 feet. There is a large sand beach available for swimming and lodging. San Antonio and Austin are also close by.
5. Lake Lyndon B. Johnson
This lake is a large reservoir on the Colorado River. The lake was formed in 1950 by the construction of Granite Shoals Dam. The total surface area for the lake is 10.2 square miles, while the maximum depth is 90 feet. The reservoir is annually stocked with catfish, white bass, and crappies for recreational fishing. Sadly, an invasive non-native aquatic plant, the hydrilla, grows rampant in the lake.
6. Stillhouse Hollow Lake
This lake is very deep and has a maximum depth of 107 feet. The surface area of the lake is 6,429 acres. Construction began in 1962 to decrease the chances of flooding. The lake sometimes closes down for swimming when the water levels are low. The U.S. Army Corps of Engineering in Belton and Stillhouse Hollow Lake control and monitor the lake. Most people don't think of alligators when they think of Texas, but a few have been spotted in the lower stretch of Lampasas River that runs into Stillhouse Hollow Lake.
7. Granger Lake
Last but not least is Granger Lake. It is located about 50 miles away from Austin. It is a large recreational park and lake that offers activities for the whole family. The surface area of this lake is 4,064 acres, and the maximum depth is 50 feet. When visiting this large lake, you can swim, boat, hike, and fish. While many recreational activities are offered at the lake, it serves a bigger purpose. Granger Lake was designed to limit flooding damages and increase the water supply for the local area.
Up Next:
More from A-Z Animals
---
The Featured Image
---