↓
Continue Reading To See This Amazing Video
Arizona is a paradise for outdoor lovers that want to hike mountains, enjoy scenic desert views, and fish and swim in large lakes and rivers. Phoenix is more than just the capital of Arizona. It is also home to many large lakes perfect for swimming and beating the heat. Because of the state's desert and dry climate, temperatures reach extremes. The hottest temperature ever recorded in Phoenix was 122 degrees Fahrenheit perfectly showing us why these lakes are a blessing!
Keep reading to find out more about the biggest lakes near Phoenix, Arizona, and what activities are available in each.
1. Lake Pleasant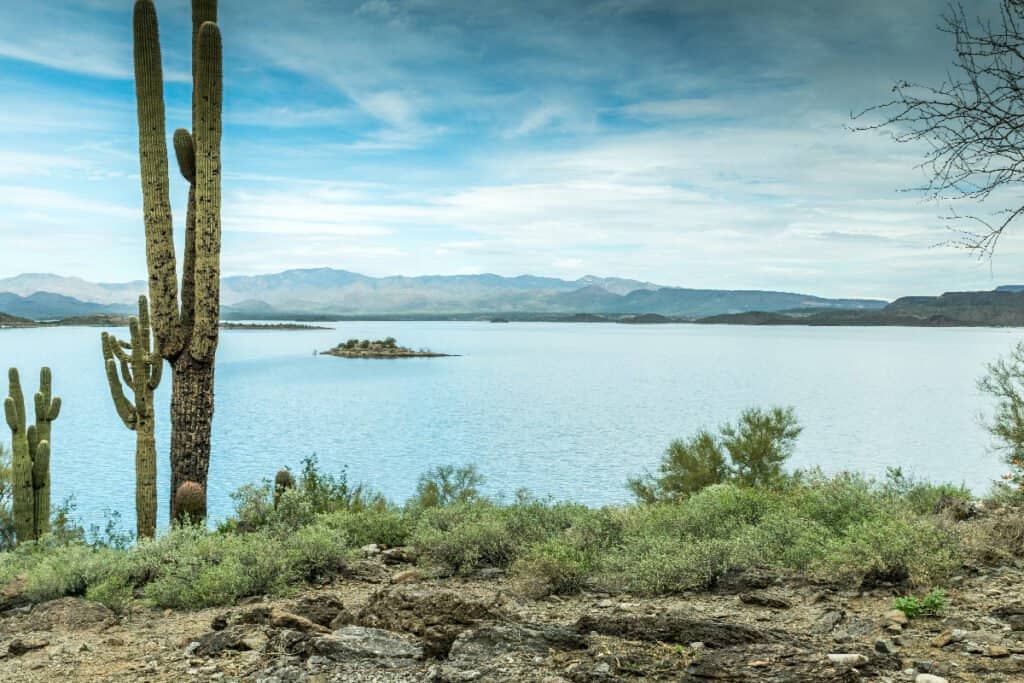 As the name suggests, Lake Pleasant is pleasant! It is pleasing to the eye with many activities available all year-round (weather permitting, of course!). Despite being an artificial reservoir, it is one of the most beautiful lakes in Arizona. Its surface area is 7,500 acres and has an average depth of 70 feet. The deepest point in the reservoir is 170 feet. Like most lakes in Arizona, Lake Pleasant is on a mountain and is suspended at an elevation of 1,700 feet. It serves as a storage for water but is also a large recreational center for the city. You can choose between scuba diving, water skiing, jet skiing, and fishing when visiting. The most common fish in the water are channel catfish, bluegill, white crappie, and striped bass.
2. Apache lake
Apache Lake is considered a hidden gem in Arizona because of its quiet and laid-back atmosphere. When hiking a nearby mountain or hill, you can see clearly how large and breathtaking it is. Apache Lake is less than an hour away from Pheonix, meaning it is far enough to get away from the business of this large city but close enough to plan a quick day trip. Its surface area is 2,568 acres. Apache Lake is 240 feet deep, with an elevation of 1,900 feet. You can find Apache Lake in Tonto National Forest which is a popular fishing destination.
3. Bartlett Lake
When the Verde River was dammed, it formed Bartlett Lake. This lake is surrounded by rocky mountains and deserts. When looking at the lake from above, it almost looks like a painting coming to life. Bartlett Lake is less than 50 miles from downtown Pheonix and is a local recreation destination in Tonto National Forest. It is 12 miles long and has a surface area of 2,815 acres. The average depth is 100 feet, while the maximum depth is 174 feet. There are 33 miles of shore which many people use to swim and fish in shallow water. You have a strong chance of catching catfish, carp, and sunfish. If you don't like fishing, you can always take a picnic basket and enjoy the scenic views.
4. Saguaro Lake
Another reservoir makes the list! Saguaro Lake was created in 1930 by the Stewart Mountain Dam. There is a lot to do and enjoy in this lake, especially since the water is a bright blue. The surface area is 1,264 acres, and the average depth is 90 feet. While it is not the biggest lake in the Pheonix area, many people travel to enjoy the relaxing views. It is a 10-mile long quiet and clean lake at an elevation of 1,506 feet. Tilapia, bass, and walleye are plentiful. If you want to enjoy a calming day on the water without kayaking or swimming, you can also catch an educational riverboat cruise. Don't forget to wear plenty of sunscreen and protective gear!
5. Canyon Lake
Canyon Lake is one of the more well-known lakes. Its water is a gorgeous deep blue, with a red tint from the surrounding mountains and rock formations. Numerous public beaches let visitors enjoy the sun and the cool water. This lake's surface area is 950 acres, one of the smallest in the area. However, its average depth is 130 feet. If you don't want to take a dip but want to see Canyon Lake from an elevated area, hike the Apache trail near Arizona State Route 88. The best time to see the lake is during the sunset and right at dusk. A steamboat can take you on a tour of the lake, pointing out animals like bighorn sheep and bald eagles.
Up Next:
More from A-Z Animals
---
The Featured Image
---