Key Points
Florida may be known as the Sunshine State, but that doesn't mean this typically tropical territory is immune to the forces of nature.
In addition to the perpetual threat of tropical storms, on rare occasions, Florida has been known to face uncharacteristically freezing winters.
The coldest known temperature recorded in Florida occurred in 1899, and it's far lower than you might expect!
Located in the Southeastern region of the United States, the state of Florida is a peninsula bordered by the Gulf of Mexico and the Atlantic Ocean. This sunny state is a well-known vacation destination, drawing hordes of tourists every year due to its large number of beaches, swaying palm trees, and warm weather. Florida contains both subtropical and tropical climates, with the southernmost part of the state being the most tropical. Thunderstorms and hurricanes are frequent in Florida, with humid summers bringing in lots of rain. But what's the coldest temperature ever recorded in Florida?
The mild winters and sunny summers make this state popular for retirees relocating from other parts of the country, vacationers, and wealthy individuals looking to purchase a second home. But even in a state this sunny and tropical, it's possible for winter temperatures to take an occasional plunge. The lowest temperature ever recorded in the state was in the capital, Tallahassee. Read on to discover when the record was set, how low the temperature got, and how iconic Florida wildlife coped.
History of Tallahassee
Tallahassee, the capital of Florida, is located in the northwestern part of the state. After being colonized by Spain, Florida was ceded to the United States in 1819. The state's administration originally met in St. Augustine and Pensacola, but these locations were too far from Washington. Governor William Pope Duval appointed leaders to choose a new location for the government. Tallahassee was chosen in 1824 and has been the state capital ever since.
Today, some major institutions in Tallahassee include Florida State University, the Supreme Court of Florida, and the Florida Chamber of Commerce. You'll also find there Cascades Park, a 24-acre area park along a stream noted by explorers for its waterfalls. Today, Tallahassee visitors can check out one of its museums to learn more about the history of this great city.
Fun Facts about Tallahassee and Florida
It has only snowed seven times in the history of Tallahassee.
Tallahassee is home to 15 museums, including the Tallahassee Automobile Museum, which has the Batmobiles from some of the Batman films.
The largest snowfall recorded in Tallahassee was only 2.8 inches of snow, in 1958.
Florida is home to the oldest inhabited city in the United States: St. Augustine, which was settled by Spain in 1565.
The state of Florida produces more than 70% of the oranges grown in the United States.
No matter where you are in Florida, you are never more than 60 miles away from a body of water.
As of 2022-23, the population of Florida was 22,244,823 and the population of Tallahassee was 200,606.
Average Temperatures
The average temperature in the state of Florida varies by month, with July being the hottest at 82 degrees Fahrenheit. The chilliest month is January, with an average temperature of 61 degrees. The overall average temperature year-round is a perfect 72 degrees.
The average temperature in the city of Tallahassee also varies by month. From May-September it averages 86 degrees, and from December-February it is 69 degrees. With a climate like this, it's hard to believe the temperature could ever reach below zero. However, it is possible, even if exceedingly rare.
Record Temperature
The coldest recorded temperature ever recorded in Florida took place in Tallahassee on February 13, 1899. On this day the temperature dropped to a chilling -2 degrees Fahrenheit! During this cold outbreak, the entire United States was hit with freezing temperatures. This event was known as the Great Arctic Outbreak. A low-pressure system immediately followed by a high-pressure system caused frigid Canadian weather to move south across the United States. Freezing wind reached all the way to Florida.
Wildlife in Florida
Florida is famous for exotic animals, but how do tropical species survive if the temperature suddenly drops below freezing? Let's find out in this list of ten iconic Florida species:
Alligator
Alligators are sizeable reptiles that live in the marshes and wetlands of the state. What does "sizeable" mean? Up to 14 feet in length and up to 1,000 pounds in weight. As cold-blooded animals, alligators regulate their body temperature based on the external environment, rather than internally. To survive cold weather, they go into a state of "brumation," which slows down their metabolism. They can stay dormant like this a while but if the temperature stays low too long, alligators can die of hypothermia.
Manatee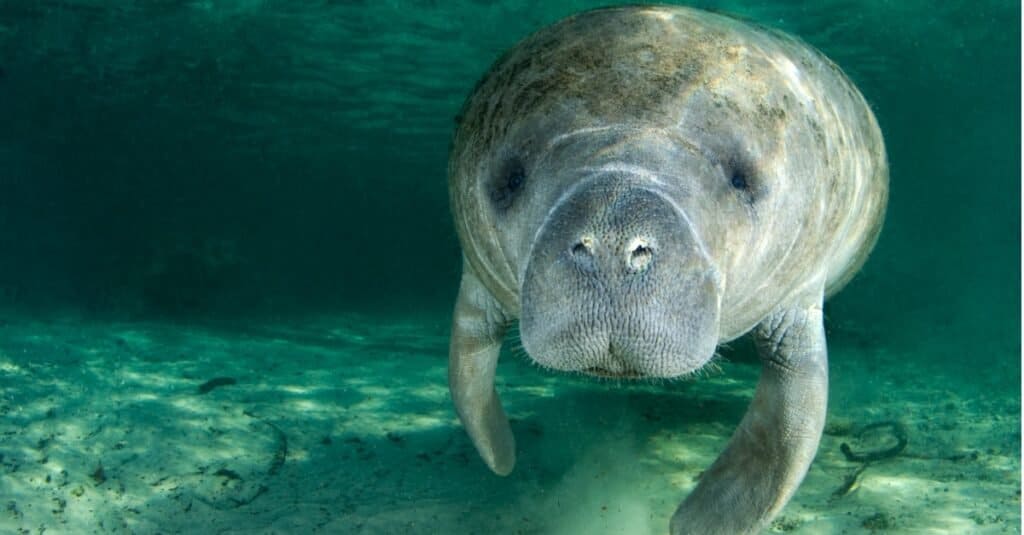 The manatee is a large marine endangered marine mammal that is found in the coastal waters of Florida. They can weigh up to 1,200 pounds and grow up to 13 feet in length. During the winter months when the water temperature drops, they are able to slow down their metabolism to conserve energy. Manatees also seek out warm-water refuges such as power plant outflows or natural springs to stay warm. These are essential for manatees' survival in the winter and provide critical habitat. Manatees gather in large numbers at these refuges. In fact, sometimes it's hard to spot manatees in any waterway except their winter refuge waters.
White-Tailed Deer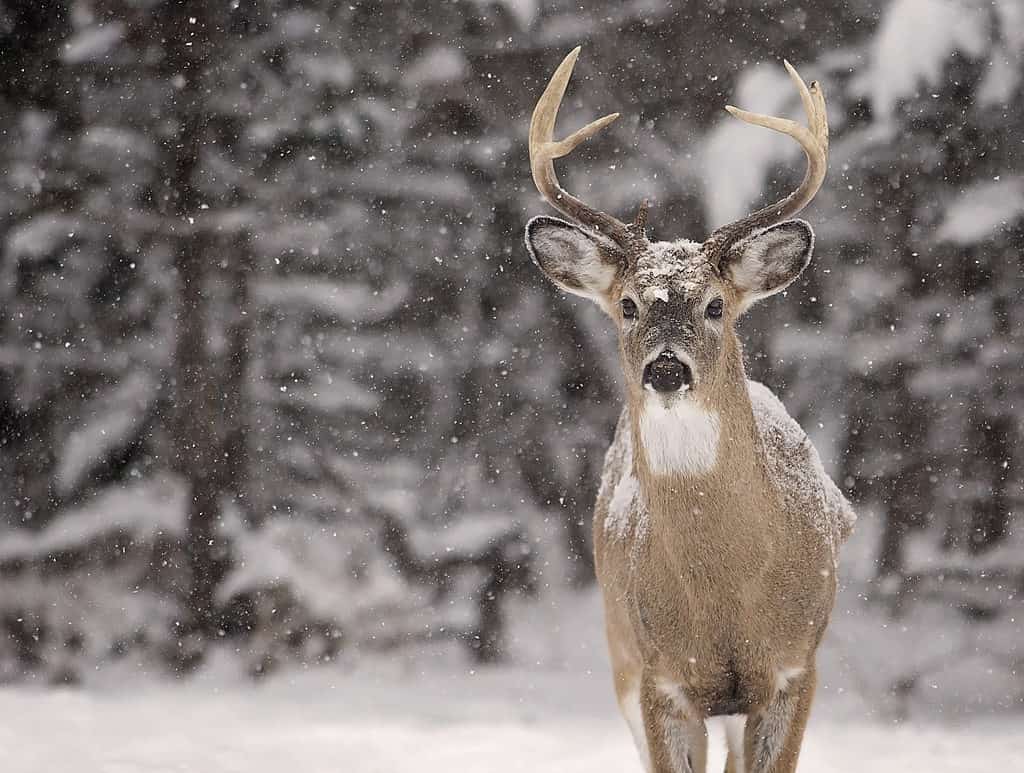 The white-tailed deer is a common species found in the eastern United States, including Florida. They can grow up to 3 feet tall at the shoulder and can weigh up to 300 pounds. White-tailed deer are able to tolerate cold weather by growing thick coats of fur during the winter months. They also rely on year-round food sources to provide them with enough energy to survive the cold weather. In parts of the country that get heavy snow and ice, it can be hard for them to find food and they can starve in the winter, particularly if they are overpopulated. In Florida, even when it gets occasionally cold, there is rarely any long-lasting snow cover so white-tailed deer do not have to worry about starvation.
River Otter
The river otter is a semiaquatic mammal found in freshwater habitats in Florida. They can grow up to 4 feet in length and weigh up to 25 pounds. River otters are well-insulated by their thick fur which helps them endure cold weather. They are active throughout the year and have a built-in tolerance to winter temperatures. Otters often stay in the water, which is warmer than the air. They can swim and hunt efficiently, even in freezing temperatures. However, when on land during extremely cold weather, they may seek shelter, such as under rocky outcrops or log jams. They are also able to shield themselves from cold winds by creating dens in the banks of rivers or burrows in the ground.
Raccoon
The raccoon is a mammal found in wooded areas and urban environments in Florida. They can grow up to 3 feet in length and weigh up to 30 pounds. They are well adapted to survive in cold environments that regularly fall below freezing. Raccoons are able to tolerate cold weather by growing thick fur coats. They also enter a state of torpor, which is similar to hibernation. This slows down their metabolism and reduces their body temperature, which allows them to survive on the fat stores they built up during the summer and fall.
Raccoons typically den up in hollow trees or rock crevices to protect themselves from the cold weather. If their fat reserves run low, they rely on stored food and available fruits and nuts. Unfortunately, in cities and suburbs their foraging often draws them to garbage cans and dumpsters. Some city-dwellers even humorously call them "trash pandas." Despite their adaptations, raccoons can still perish in cold weather if it is prolonged or comes with heavy snow and ice that makes it hard for them to find food.
Bald Eagle
Bald eagles are enormous carnivorous birds with a wingspan of up to 8 feet and weighing up to 14 pounds. They reside in most of North America, including Florida, and can live in a wide range of climate zones. Bald eagles are especially numerous in Alaska, and well-adapted to cold weather, so Florida's occasional cold snaps are not an issue for them. They endure cold weather by growing thick feathers with a downy underlayer to provide insulation. As birds of prey, they have a high metabolism and are able to generate a lot of internal heat as well.
American Crocodile
The American crocodile is a large reptile found in coastal and freshwater habitats in Florida. They can grow up to 20 feet in length and weigh up to 1,000 pounds. Like the alligator, they are cold-blooded and able to tolerate cold weather by entering a state of brumation. Additionally, they seek areas with warmer water, bask in the sun, or seek shelter under vegetation. Despite these instincts, crocodiles living in environments that routinely drop below freezing are at a higher risk of cold-related deaths. However, the lower latitudes and warm ocean currents of southern Florida mitigate the risk of cold stress.
Roseate Spoonbill
The Roseate spoonbill is a large bird found in coastal and wetland habitats in Florida. They can grow up to 3 feet in length and weigh up to 2.5 pounds. Roseate spoonbills are not typically affected by cold weather, as they are able to tolerate a wide range of temperatures. They are non-migratory birds, but they move to different areas if prolonged cold causes the water to freeze. In this case, it may be impossible for them to find food. In addition to relocating to nearby warmer places, Roseate spoonbills have other survival strategies. Their feathers are well-insulated, and they generate heat internally with their high metabolism.
Eastern Gray Squirrel
The eastern gray squirrel is a common rodent found in wooded areas and urban environments in Florida. They can grow up to 2 feet in length, including their tail, and weigh up to 1 pound. Eastern gray squirrels are able to tolerate cold weather by growing thick fur coats and storing nuts for the winter. Eastern gray squirrels are active year-round, which means that they do not hibernate. However, they will slow their activity during extreme cold weather to conserve energy. They can enter a state of torpor, in which their metabolism slows and they survive off of stored fat. They also will seek out shelter in tree hollows, attics, or nest boxes.
Florida Panther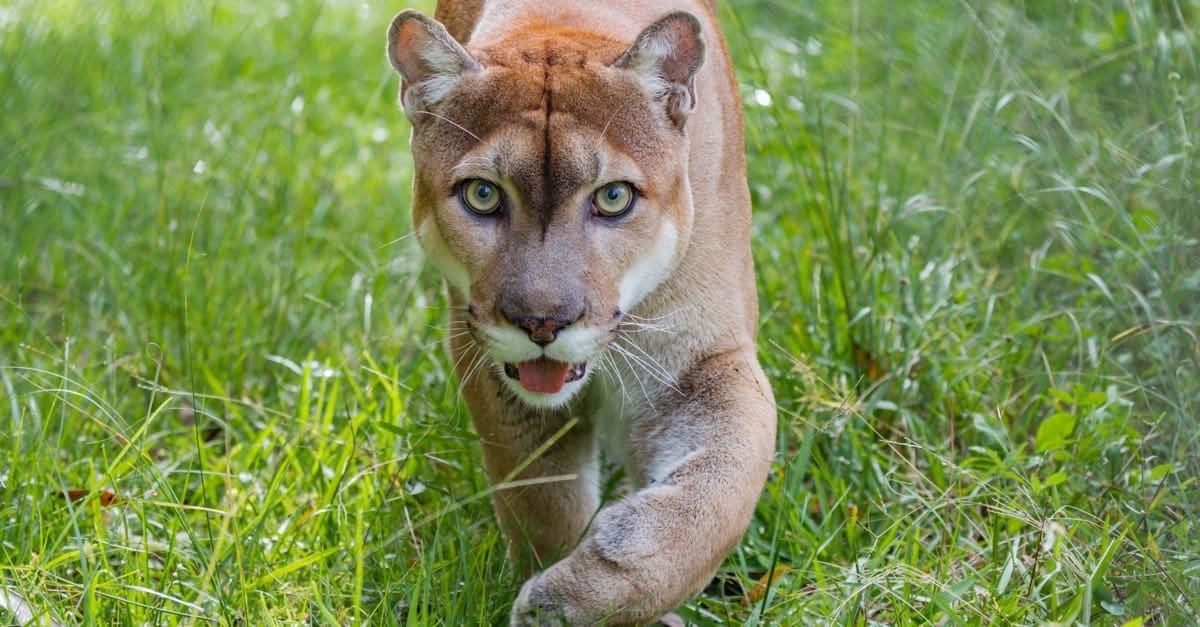 The Florida panther is a kind of North American cougar. They're big, too: they can grow up to 6 feet in length and weigh up to 150 pounds. Florida panthers have a thick fur coat which helps them to tolerate the cold.
When the temperatures drop, they tend to seek out warm places to rest, such as dens, under thick vegetation, or sunny open areas. Additionally, they are able to conserve energy by slowing their metabolism, which allows them to survive on less food. They can also build up insulating fat reserves by catching different types of prey that are active during winter. This adaptability is especially important in areas of Florida where the colder weather comes in irregularly and suddenly.
Best Places for Wildlife Viewing
If you would like to appreciate Florida's unique and world-famous flora and fauna for yourself, here are some of the best locations in the state to do that:
Parks and Preserves
Everglades National Park: The Everglades is a large swamp at the southern end of Florida. It's one of the most fragile and important ecosystems in the state and the country. Seeing it should definitely be on your bucket list! The park offers opportunities for walking tours or boat tours, and you're sure to spot numerous indigenous species while you're there.
Big Cypress National Preserve: Living in this preserve are a large number of bird species, mammals such as otters and raccoons, and major carnivores like alligators, panthers, and black bears. This is an ideal destination to see these fascinating animals in the wild. So much better than a zoo with cages and fences, right?
Refuges and Sanctuaries
Merritt Island National Wildlife Refuge: If you want to see a bald eagle, Merritt Island might be the place for you. You'll also have a chance at seeing rare crowd-pleasing species like the manatee, wood stork, and sea turtle.
Corkscrew Swamp Sanctuary: This sanctuary protects a lush cypress forest as an inviting home for alligators, birds, and a variety of small mammals. Visitors of all ages can walk right through the forest on a boardwalk, making this a memorable way to enjoy being in nature while keeping a safe distance.
St. Marks National Wildlife Refuge: This is a refuge on the Gulf of Mexico for a lot of species of migratory birds. Guests can drive down Wildlife Drive or take the family on a canoe down the St. Marks River. In addition to birds, you're likely to spot some small mammals, alligators, snakes, turtles and more.
There are tons of other places to enjoy the wildlife in Florida, but remember you won't be able to see all species all the time; some are more visible in certain seasons than others. You'll want to do some research ahead of time to make sure you have a good chance of seeing your favorite animals in their natural habitat. Needless to say, you'll want to enjoy them from a safe distance and limit yourself to taking photos for their safety, and your own, and so that their habitat will remain undisturbed for generations to come.
The photo featured at the top of this post is © iStock.com/daniele russo
---
Sources

Wikipedia.org, Available here: https://en.wikipedia.org/wiki/Florida
Climates to Travel, Available here: https://www.climatestotravel.com/climate/united-states/florida
World Population Review, Available here: https://worldpopulationreview.com/us-cities/tallahassee-fl-population
Census.gov, Available here: https://www.census.gov/quickfacts/FL
Climate Center, FSU, Available here: https://climatecenter.fsu.edu/topics/winters#:~:text=Over%20the%20past%20150%20years,occurred%20on%20February%2013%2C%201899.
Wikipedia.org, Available here: https://en.wikipedia.org/wiki/History_of_Tallahassee,_Florida
Tallahassee Times, Available here: https://tallahasseetimes.com/40-fun-and-interesting-facts-about-tallahassee-fl/
Weather.com, Available here: https://weather.com/news/climate/news/coldest-temperature-recorded-50-states
Wikipedia.org, Available here: https://en.wikipedia.org/wiki/Cascades_Park_(Tallahassee)
Gray Line Miami, Available here: https://graylinemiami.com/blog/fun-facts-florida/
Holiday-Weather.com, Available here: https://www.holiday-weather.com/florida/averages/
Destguides.com, Available here: https://www.destguides.com/united-states/florida/florida-facts