From the majestic shores of Lake Michigan to historic neighborhoods like Bronzeville and Wicker Park, the largest city in the state of Illinois, Chicago, is set to change. Before it was a city, the area was inhabited by various Indigenous tribes for centuries. When officials bestowed upon it full-fledged city status, Chicago's population stood at 4,000 residents. Today, the city is home to around 2.7 million, while the Chicago Metropolitan Area hosts over 8.5 million. Barring extreme population dynamic shifts on the tectonic level, Chicago is set to remain Illinois' largest city heading into the year 2050. Currently, it's the third most populous city in the United States. Here, we dive deep into the Windy City's current state and how it plans to deal with the growing pains of its mid-21st century future.
The Windy City's Current-Day Crosswinds
As vibrant and robust as Chicago has become, its growth and prosperity, though hard-won, has not been even. From the Loop's gleaming skyscrapers to the South Side's challenging realities, Chicago epitomizes the dual nature of urban life: immense opportunities coexisting with persistent struggles. Skyrocketing rents, racial and economic disparities, a harrowing violent crime rate—these are battles that Chicago fights daily. Such challenges often arise from such a vast and dynamic cities. Yet Chicago persists, learns, adapts, and forges ahead, a living lesson in resilience and transformation.
Chicago of Today
Importance of the Financial Sector: Chicago Mercantile Exchange
Chicago's financial pulse is often measured by the activity at the Chicago Mercantile Exchange (CME). This powerful financial institution is an exemplar of Chicago's prominence in the global financial market. Currently, the city's financial sector is valued at an astonishing $75 billion. New tax proposals are currently under scrutiny, putting the financial sector on high alert for possible shifts in operating conditions.
Rise in Tech Startups: Silicon Prairie
The Windy City is gradually making its name as the "Silicon Prairie," a hotspot for tech startups and innovation. Avant, Tempus, and project44 are among the cutting-edge companies headquartered here, contributing to a tech sector worth noting for its growth and diversity.
Deep Dish Diversity
Like many cities, Chicago's soul lies in its various ethnic neighborhoods . These include Chinatown, Little Italy, Pilsen, Greektown, Hyde Park, and West Ridge. Each enclave serves as a portal to different worlds, offering culinary delights, cultural festivities, and a sense of community that reflects the city's inclusive ethos.
Chicago's Music Scene
Chicago thrives on musical diversity, from foundational blues legends like Muddy Waters and Howlin' Wolf to genre-bending luminaries in house, jazz, and rock. Here's a rundown of some of the Windy City's musical luminaries:
Blues Royalty
Muddy Waters: The "father of modern Chicago blues," he revolutionized the genre with amplified sound.
Howlin' Wolf: Known for his unique voice and harmonica skills, he's a seminal blues figure.
House Pioneers
DJ Frankie Knuckles: The "Godfather of House Music" who popularized the genre at The Warehouse.
Jazz Greats
Herbie Hancock: A multi-genre jazz giant hailing from Chicago.
Von Freeman: Influential tenor saxophonist in the city's jazz scene.
Hip-Hop Stars
Kanye West: A polarizing figure with a major impact on hip-hop.
Common: Chicago's own socially conscious rapper.
Rock Innovators
Smashing Pumpkins: 1990s alternative rock icons known for albums like Siamese Dream and Mellon Collie and the Infinite Sadness.
Chicago's Population Metrics and Comparisons
The density and sheer scale of Chicago are nothing short of impressive. As of the latest census, the city's population stands at 2,746,388. With a population density of 11,943 people per square mile, Chicago is a packed urban environment where every inch of land counts. Behind New York City, it's likely the densest city by population.
Comparison with Other US Cities
Despite being the third most populous city in the United States, Chicago's population has actually shrunk since its peak of over 3.6 million in 1950. Indeed, 92 percent of similar cities in the nation are growing faster than the Windy City. This represents more than a 25 percent decrease in the total population. The seemingly contradictory trends of stagnant to shrinking total population and increasing density can partly be explained by migration patterns. Namely, the exodus of middle class Black families combined with the influx of younger, more affluent residents packing neighborhoods in and around the downtown core.
Amenities and Quality of Life in Chicago
Education: Public Schools and Higher Ed Institutions
Chicago Public Schools (CPS), the fourth-largest school district in the US, caters to over 340,658 students. The city offers a wide array of educational resources, from special programs to vocational training, ensuring a comprehensive educational environment.
Entertainment: Theaters, Museums, and Sports
If you're in Chicago, you're never far from a cultural event or sporting spectacle. There's an expansive range of theaters, museums, and recreational options. Whether it's the Taste of Chicago food festival, a Chicago Bulls game, or a large outdoor music festival like Lollapalooza, the city offers an array of experiences to its residents and visitors alike.
The Crime Quandary: Chicago's Complex Safety Landscape
While Chicago is undeniably a wonderful city, we must face the elephant in the room. Namely, its discordantly high crime rate. With a 1 in 31 chance of becoming a victim of either violent or property crime, the city's crime rate is notably above the national average. Violent crimes, including rape and murder, pose a particularly grim challenge. To wit, residents have a 1 in 115 chance of becoming a victim. The property crime rate, including risks like motor vehicle theft, isn't much better, standing at a 1 in 42 chance for residents.
Political Undertones and Public Concern
Crime in the Windy City is front-page news and a top voter concern in mayoral elections. Amid a citywide increase in crime rates, up by nearly 20% over the last five years, Chicagoans are grappling with unsettling dynamics. While specific instances of criminal sexual assault, robbery, and aggravated battery have shown a decrease, car theft has surged dramatically. Despite a small dip in homicides in 2022, the previous year marked one of the deadliest quarters of a century in Chicago's history, leading to a significant exodus of over 45,000 residents in 2021 alone.
Geographical Disparities
But crime in Chicago is not an equal opportunity offender. The city's North Side has seen declining homicide rates and generally offers a safer environment. In stark contrast, neighborhoods in the West Side like Garfield Park and Austin are grappling with perilous spikes in violence. By the numbers, they are as dangerous as some of the world's most notorious cities. This geographical imbalance suggests that targeted interventions, in addition to wider policy applications, should be prioritized.
Towards a Safer Chicago
Nonprofits and violence-intervention programs are hard at work, focusing on high-risk areas and offering job training, as well as cognitive-behavioral therapy for at-risk individuals. Such approaches have shown promise in reducing gun violence and crime. Despite the complex and multi-faceted nature of Chicago's crime problem, these small signs of progress offer a glimmer of hope.
With a diverse economy, rich cultural landscape, and robust social infrastructure, Chicago is a microcosm of what a modern city can offer. However, the city also faces a new set of complex challenges and opportunities that will determine its trajectory into 2050, a topic that will be discussed in the following sections.
Chicago 2050: A Future Focused on Sustainability and Inclusivity
In an era of rising sea levels, extreme weather events, and burgeoning city populations, strategic planning has never been more crucial. Chicago is one of the American cities that's leaning into the future with a focus on sustainability and strategic urban planning. The city is taking proactive steps to adapt to the shifting climate and cultural landscape. Here's how the Windy City envisions the year 2050.
Sustainability and Strategic Urban Planning
The Role of Renewable Energy Sources
Chicago's green ambitions are commendable; the city is gearing up to have all its municipal buildings and operations run on 100% renewable electricity by 2026. This multi-year strategy involves a variety of sectors from transportation to waste management. When fully realized, this goal will extend to iconic landmarks like O'Hare and Midway airports, as well as its water purification plants.
Sustainable Public Transportation
In a nod to future readiness, Chicago's transportation roadmap includes embracing new technologies and improving existing services to reduce carbon emissions and improve mobility. Projects range from electric bus fleets to smart sensor-based traffic systems. With these initiatives, the city aims to reduce gridlocks and make public transit more accessible and efficient, all while mitigating its carbon footprint.
Urban Agriculture and Local Food Systems
Chicago doesn't just want its residents to live sustainably but wants them to eat sustainably as well. The city has pledged $2 million to support urban agriculture, particularly focusing on empowering BIPOC growers and enhancing food equity. By doing so, Chicago aims to transform vacant lots into green spaces that contribute not only to the community's health but also to its economy.
High-Density Living and Adaptive Reuse of Buildings
Although detailed plans are yet to emerge, Chicago's ON TO 2050 report offers a comprehensive vision that incorporates high-density living as a response to shifts in population, economic growth, and housing. Through adaptive reuse of buildings, the city aims to make efficient use of existing structures while making room for its burgeoning population.
Green Spaces and Urban Biodiversity
Proposed Increase in Parks and Green Rooftops
Supported by a generous $10.1 million fund from the Bezos Earth Fund, Chicago plans to create equitable access to urban green spaces, complete with community gardens, parks, and trees. The city's government websites declare Chicago as "a city in a garden." This and other projects aligns with the city's building decarbonization proposals.
The H2O Question: Chicago's Liquid Gold and Ethical Imperatives
Great Lakes: The Billion-Dollar Lifeline
As part of its trajectory toward 2050, Chicago has brokered a groundbreaking $1 billion deal to supply water to other areas. While this strengthens Chicago's economic robustness, it also brings into focus questions about long-term sustainability and environmental ethics.
Facing the Fluid Future: Water Sustainability and Infrastructure
The Great Lakes region is a climate sanctuary and a double-edged sword. Climate change threatens the quality and availability of these abundant water resources. As we inch toward 2050, Chicago must fortify its water infrastructure against these emerging vulnerabilities.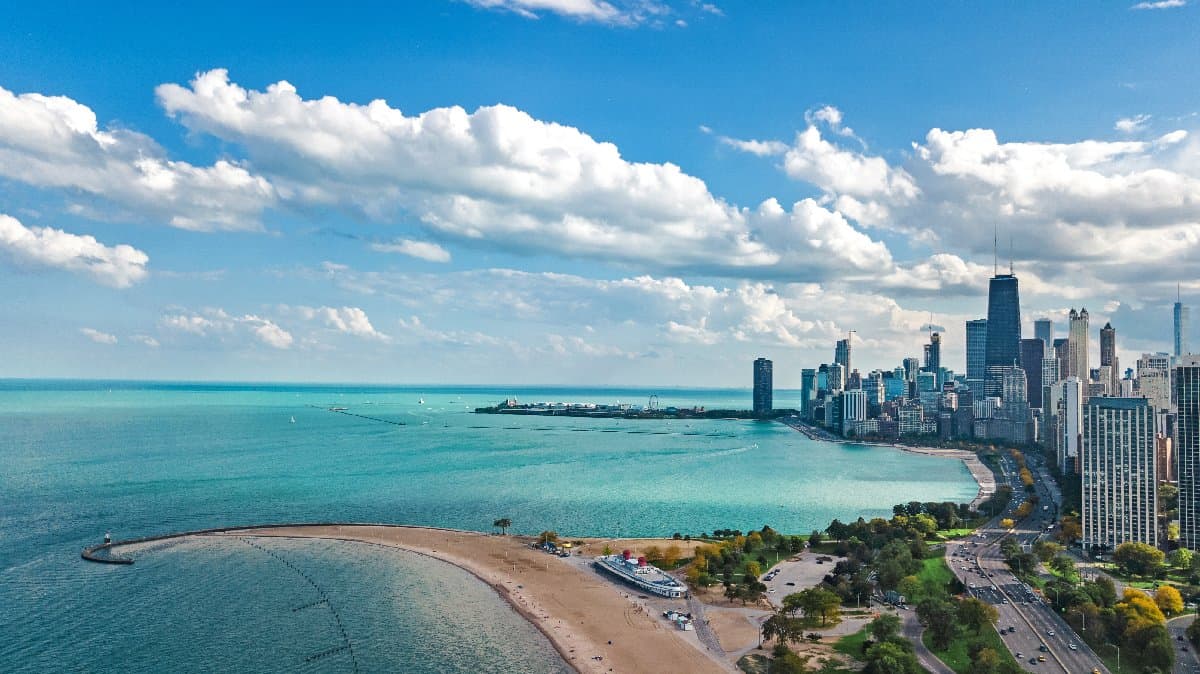 Adapting to the New Normal: Weather, Density, and the Built Environment
Storms on the Horizon: Preparing for Extreme Weather
Not every cloudburst can be attributed to climate change, but the increasing frequency and intensity of storms cannot be ignored. How Chicago adapts its urban planning and drainage systems will be a decisive factor in its long-term resilience.
Illinois' Demographic Realities
Impact of Statewide Policies and Legislation on Chicago
From the courthouse to the classroom, Illinois is marching into 2023 with a legislative overhaul. The state's elimination of the cash bail system will ripple across Chicago, as it sets a benchmark for justice reform nationwide. But that's not all. A slew of new laws is also poised to reshape the education sector, affecting schools, students, and staff across the state.
Political Consequences: Progressive Trends
Illinois is a blue stronghold, especially Chicago. Since the turn of the millennium, the state's electoral map has been consistently Democratic. This political alignment, divided largely by region, presents a snapshot of the broader American political landscape.
Illinois as a Microcosm of National Diversity Trends
The Prairie State is changing colors, ethnically speaking. A significant dip in the white population from 83.5% in 1970 to 63.3% four decades later signals a diversity uptick. Moreover, with over 20 percent of its residents born abroad, Illinois mirrors America's evolving identity.
In its energy transformation, innovative transport infrastructure, or its embrace of diversity, both Chicago and Illinois are preparing for a future that serves as a window into America's tomorrow. The challenges are formidable, but the plans are ambitious. They show a city and a state poised not just to adapt, but to thrive in a changing world.
Chicago's Population Dynamics: Opportunity, Politics, Change
Projected Demographics
By 2050, the Chicago metropolitan region is expected to be home to over 10.6 million residents. It will join the ranks of the world's megacities (cities with populations over 10 million). This will make it North America's fourth megacity, after Los Angeles, New York City, and Mexico City. Each generation, from baby boomers to Gen Z, will play a role in shaping the city's evolving cultural and social landscape, as the population continues to age in line with national trends.
Melting Pot 2.0
ON TO 2050, a socioeconomic forecast developed by the Chicago Metropolitan Agency for Planning (CMAP), foresees a future Chicago bustling with cultural diversity. Most of the population will be persons of color, marking a significant demographic shift.
The Dynamics of Growth and Movement
The COVID-19 pandemic has reconfigured Chicago's migration patterns, influencing both internal and external movements. Remote work and urban exodus have accelerated these shifts, impacting the city's overall population dynamics.
Factors Influencing Migration
Economic Magnet
The city is projected to offer just below 5 million jobs by 2050, predominantly in service sectors like information, finance, real estate, and healthcare. This marks a transition away from traditional manufacturing and transportation jobs, reflecting broader economic shifts.
Political and Social Undertones
Chicago's complex political history is entering a new chapter, fueled by demands for environmental justice and social reform. New initiatives, like the Cumulative Impact Assessment, employs a nuanced approach to policy and planning.
The Bigger Picture
Chicago's population is at a crossroads of diverse influences, from an evolving job market to shifting demographics. The city also faces long-term challenges, such as radical climate change and economic disparities, as identified by CMAP. These critical issues emphasize the need for systematic investment in residents, infrastructure, and communities for lasting prosperity.
Given these converging trends and challenges, a coordinated regional strategy is essential. Addressing these various facets will not only prevent stagnation but also ensure a high quality of life for the residents of the northeastern Illinois area.
Chicago serves as an instructive case study for urban scholars, policymakers, and everyday citizens. While demographics and employment landscapes will shift, the city's core will remain a dynamic interplay of economic vitality, political initiatives, and societal transformations. It's this intricate blend that provides a valuable lens for understanding the future of urban America.
Conclusion
As with any major city, Chicago is complexity in motion. In a world grappling with multifaceted challenges, it's both a lens and a litmus test. Through its diverse demographics, evolving job markets, and progressive environmental plans, it aims to be a model city. Imagine a mid-century Chicago where "food deserts" are history, electric cars are the norm, and sustainable living is a given. Through public engagement, economic investment, and environmental stewardship, Chicago seeks to transcend its old legacies. Its intricate blend of demographics, economics, and environmental ambitions could form the blueprint for global cities of the future. Especially for those that face similar problems. Indeed, the Windy City encapsulates the sort of complex tangle of elements that can either unravel a city or make it a beacon of what's achievable in an era of unprecedented challenges.
Summary Tables of Chicago Now and in 2050
Chicago Today
| Category | Information |
| --- | --- |
| Population | Current City Population: Approximately 2.7 million Metropolitan Area Population: Approximately 8.5 million |
| Demographics | Northern part primarily white, Southern part primarily black |
| Economy | GDP: $770.7 billion in 2020 Financial Sector: Handles trillions in trades Key Industries: Manufacturing, transportation, IT |
| Social Issues | Crime Rate: 3,926 crimes per 100,000 people in 2020 Racial and Economic Disparities: Significant, affecting Black and Latino residents |
| Housing | Home prices up 4.6% in August 2023, median price $340K |
| Infrastructure | Public Transport: Chicago Transit Authority operates 8 "L" train lines and 129 bus routes Energy Sources: Mix of natural gas, nuclear, and renewables |
| Healthcare Facilities | Northwestern Memorial, U. of Chicago Medical Center, Rush U. Medical Center |
| Cultural and Historical Aspects | Major Landmarks: Willis Tower, Navy Pier, Art Institute of Chicago Historic Neighborhoods: Hyde Park, Wicker Park, Bronzeville Arts and Festivals: Chicago Jazz Festival, Lollapalooza, Taste of Chicago |
| Environment | Current Air Quality: Generally moderate with occasional spikes Water Quality: Regularly monitored for E. coli and other toxins Green Spaces: Millennium Park, Grant Park, Chicago Botanic Garden |
Summary table of Chicago today
---
Chicago 2050: A Snapshot of the Future
| Category | Projections for 2050 | Sources & Notes |
| --- | --- | --- |
| Population | Over 10.6 million residents, up from 8.5 million in 2015 | CMAP |
| Economy | Expected to play a significant role in the global economy | General consensus; specific GDP projections not available |
| Crime Rate | Complex to predict; efforts ongoing to improve safety and reduce crime | Subject to multiple influencing factors |
| Housing | Anticipated shifts due to changes in population and economic conditions | CMAP |
| Public Transport | Plans in development for future shifts, specifics not available | CMAP |
| Energy Sources | Transitioning towards sustainable and renewable sources | General policy direction; specific projections not available |
| Air Quality | Complex to predict; influenced by policies, climate change, and technology | Subject to multiple influencing factors |
| Water Quality | Water demand may exceed supply in some areas unless conservation measures are taken | CMAP |
| Healthcare Facilities | Expected to adapt to the healthcare needs of a growing population | General expectation; specific projections not available |
| Green Spaces | Green Infrastructure Vision includes plans for preserving and expanding green spaces, including green roofs | CMAP |
Summary table of projections for Chicago in 2050
This table serves as a quick overview of what Chicago might look like come 2050. From population booms and economic prowess to environmental and healthcare adaptations, the city is in a state of constant flux. Each category is a thread in the intricate tapestry that will be Chicago's future—a city shaping itself to meet the demands of a rapidly changing world.
The photo featured at the top of this post is © Songquan Deng/Shutterstock.com
---