Great white sharks are fascinating animals. They've been the focus of many stories, movies, and television shows. Although these large predators are labeled as aggressive and blood-thirsty, this isn't the case. Great white shark attacks are rare! They don't actively hunt for humans, but you should never mess with a great white shark. Although not as common as other species, did you know that great white sharks frequently swim off the coast of Virginia? Follow along to learn more about the largest great white sharks ever found off Virginia waters!
Are Great White Sharks Common in Virginia Waters?
Great white sharks travel far and are found throughout the world. These large animals can reach over 2,000 pounds easily! Great white sharks live anywhere they please, but they've been pinned the most by shark tracking organization OCEARCH in Cape Cod Massachusetts, and around North Carolina's Outer Banks.
Although there have been some great white shark sightings and pings in Virginia waters, it's uncommon. Instead, the most common sharks in Virginia waters are dusky sharks, smooth dogfish, Atlantic sharp-nose sharks, spinner sharks, scalloped hammerhead sharks, and bull sharks.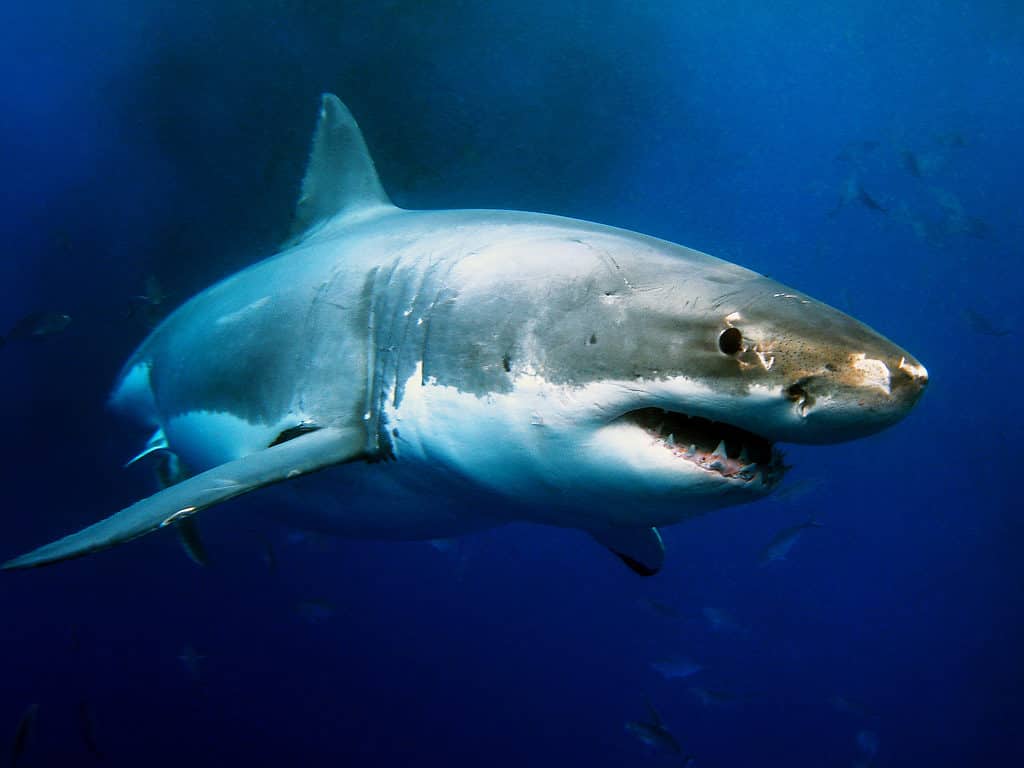 The Largest Great White Sharks Ever Found Off Virginia Waters
Great white sharks are very large fish! Female great whites are larger than males. Most female great white sharks reach between 15 to 16 feet but can grow up to 20 feet long. Male great white sharks typically stop growing between 11 to 13 feet, which is still very impressive! Although uncommon in Virginia, there have been some large sightings of great white sharks recently! Follow along to discover the largest great white sharks ever found off Virginia waters.
Ferg, December 2022
The first large shark found off Virginia waters on our list is Ferg, a male 11-foot 8-inch shark tracked by OCEARCH. This large shark weighs 1,612 pounds. He was first tagged on September 30, 2019, in Lunenburg, Nova Scotia. Within 806 days, this large predator traveled about 4,600 miles. Ferg was pinned near Virginia as recently as December 2022. However, Ferg was near Virginia Beach in April 2020. This large shark travels far. He has traveled from Nova Scotia down to South Florida by the Keys.
Breton, March 2023
Breton is even larger than Ferg! He is a male great white shark that measures about 13 feet and 3 inches. He weighs 1,437 pounds and was first tagged on September 12, 2020, in Scatarie Island, Nova Scotia. Breton travels far and mainly stays near the Carolinas down to Florida. However, he's been pinged off of Back Bay, Virginia on March 3, 2023. Previously, Breton was pinged on March 21, 2021, near Virginia.
Carolina, August 2019
One of the largest sharks spotted or pinged in Virginia waters is Caroline, a female sub-adult great white shark measuring 12 feet and 9 inches. She weighs about 1,435 pounds. Caroline was tagged on February 26, 2019, in Hilton Head South Carolina. In 936 days, she's traveled 16,097 miles. Although she's only stopped a few times in Virginia, the latest ping was on August 18, 2019, near Back Bay. 
Freya, June 2022
Like other great white sharks on our list, Freya rarely ventures into Virginia. Still, for a few days in June 2022, she traveled up the Virginia coast. Freya is a female sub-adult 11 foot and 8-inch long great white. She weighs 833 pounds and is very active. Freya was first tagged on March 25, 2021, in Onslow Bay. In just 481 days, Freya has swam 6,705 miles.
Tancook, October 2022
Another large great white found off Virginia waters is Tancook. He is a 9-foot and 9-inch juvenile great white that weighs 715 pounds. Tancook was first tagged on September 22, 2021, in Ironbound Island, Nova Scotia. While Tancook is rarely in the Virginia area, he traveled through in October 2022. One of his most recent pings suggests he was last traveling off the coast of the Carolinas.
Scot, November 2022
Scot is another large white shark that pinged off the coast of Virginia. He is a 12-foot adult male shark weighing about 1,644 pounds. Scot was tagged on September 8, 2021, in Ironbound Island, Nova Scotia. He travels far and has swam 9,371 miles in just 381 days. Scot was pinged a few times near Virginia, however, the more recent pings were farther from the coast in June 2022. Scot spends most of his time in the Carolinas and Florida touching the Gulf of Mexico.
Miss May, January 2023
Last but not least is Miss May, an iconic and massive female great white. She is 10 feet and 2 inches long and weighs 846 pounds. Miss May was first tagged on February 15, 2019, in Fernandina Beach, Florida. Like other great whites on our list, she spends a lot of time in the Carolinas and South Florida. Unlike other great whites though, she has visited Virginia's coast many times, mainly in 2021 and 2022. In 942 days, Miss May has swam 12,572 miles.
Summary of The Largest Great White Sharks Ever Found Off Virginia Waters
| Rank | Shark | Size |
| --- | --- | --- |
| 1 | Breton | 13 ft, 3 inches; 1,437 pounds |
| 2 | Caroline | 12 ft, 9 inches; 1,435 pounds |
| 3 | Scot | 12 feet; 1,644 pounds |
| 4 | Ferg | 11 ft, 8 inches; 1,612 pounds |
| 5 | Freya | 11 ft, 8 inches; 833 pounds |
| 6 | Miss May | 10 ft, 2 inches; 846 pounds |
| 7 | Tancook | 9 ft, 9 inches; 715 pounds |
Summary Table of The Largest Great White Sharks Ever Found Off Virginia Waters
---