In Delaware, there are only 8 colleges and universities. It was hard choosing just one of these 8 as the most beautiful college campus in Delaware. The state of Delaware alone is stunning. Delaware has a little bit of everything, including mountains, lakes, beaches, rivers, and hills. Many of these stunning geographic points you can admire while on the most beautiful college campus in Delaware. Follow along to discover the winner and some much-deserved honorable mentions!
What is the Most Beautiful College Campus in Delaware?
The most beautiful college campus in Delaware is the University of Delaware in Newark. The college is stunning and divided into 4 sections; Main Campus, Laird Campus, South Campus, and the Delaware Technology Park. This beautiful college has multiple academic and residential buildings. You can find these buildings on the Main Campus. The architectural styles range a lot. Some use a Georgian design, while others are a lot more modern. The older buildings are located in and around "The Green" or "The Mall", a stunning main green space on campus.
Apart from the buildings, the University of Delaware is also very beautiful for its scenery and greenery. There are many trees and flowering plants throughout the campus. You don't have to visit in person to see the campus' beauty either, the school also offers interactive virtual visits.
About the University of Delaware
The University of Delaware in Newark is over 280 years old. It was first opened in 1743, although the college wasn't officially chartered until 1833. The first school was a "Free School" in New London, Pennsylvania. It was renamed the Philadelphia Synod of the Presbyterian Church and moved to Newark in 1765. The school was known as Newark Academy from 1765 to 1833 until it officially became Newark College. The school received another name change in 1843 to Delaware College and again in 1914 to the Women's College of Delaware.
This privately governed, state-assisted land-grant research university offers over 300 programs in about 10 different colleges. The colleges at the University of Delaware are:
The Biden School of Public Policy & Administration
College of Agriculture and Natural Resources
Alfred Lerner College of Business and Economics
College of Engineering
College of Arts and Sciences
College of Health Sciences
Honors College
College of Education and Human Development
College of Earth, Ocean, and Environment
Graduate college
The University of Delaware has been ranked very highly. On Forbes America's Top Colleges List 2022, the University of Delaware ranked 134 out of 500.
This lovely university is accredited by the Middle States Commission on Higher Education. Currently, there are more than 24,000 students enrolled in the university. The School's official newspaper is The Review and the school's official colors are blue and gold.
Things to do in and near Newark, Delaware
So, what is there to do in Newark, Delaware? Newark is a small city in New Castle County. The city was founded in 1694 and was incorporated in 1758. Newark's surface area is 9.43 square miles and the city has a population of around 30,000.
Newark, although small, has lots of fun things to do in and around. A popular place to visit in Newark is visit the Christiana Mall. The Christiana Mall is a large and convenient mall between the cities of Newark and Wilmington, Delaware, United States. If you don't want to travel out of Newark, you can also visit the very cute Aunt Margaret's Antique Mall on East Main Street.
If you're more of an outdoor adventurer, you can also visit numerous parks and lakes in the area, including White Clay Creek State Park near Newark. This lovely state park is on White Clay Creek and has a surface area of about 3,300 acres. It was established in 1968. While here, you can explore over 37 miles of hiking trails, go bird watching, and visit the 200-year-old Chambers House Nature Center. Fishing is also a popular activity on the creek.
Honorable Mentions
The University of Delaware is just one dazzling college campus in the state. An honorable mention for the most beautiful college in Delaware is Delaware State University, which has a rich history. It was first established as the Delaware College for Colored Students in 1891. State legislative action changed the name to the State College for Colored Students in 1893. You can find this beautiful college campus in the capital of Delaware, Dover. One of the most stunning buildings on campus is Loockerman Hall, a historic home. It's been listed on the National Register of Historic Places since 1971. This historic home is even older than the school, dating back to the 1700s. It was also the first building on Delaware State University.
Plants and Animals Near and on the Most Beautiful College Campus in Delaware
Delaware is a very beautiful state. You don't have to look far to be blown away by the beauty and scenery, and Newark is no exception. Listed below are a few animals and plants you may encounter while visiting the University of Delaware and the surrounding area.
Tulip Tree
Tulip trees are common in Delaware. They are native to North America, from Massachusetts to Florida east to Mississippi. These lovely trees are tall and grow in moist soil and full sun. You can find them in thick forests, residential areas, and urban parks. Tulip trees are best known for their beautiful flowers. They produce large, eye-catching green and yellow flowers with an orange center.
Red Fox
Also near Newark is the red fox. Red foxes are common in the United States. They are very widespread in Delaware. These small mammals live in many different habitats. They can spend their days hiding and hunting in forests, or near residential areas. They are becoming more common with development, like coyotes. Red foxes aren't always red, although most red foxes have orange-red coats. These lovely mammals are about 7 to 18 pounds, but average 10 to 12 pounds. They are also 39 and 43 inches long.
Virginia Bluebells
Another plant you can find near the University of Delaware is the Virginia bluebell. They are gorgeous spring ephemeral plants known for their bell-like flowers native to eastern North America. This lovely plant also has rounded gray-green leaves. The stem can reach up to 24 inches tall. Not only can you find this lovely flowering plant in Delaware, but also in Kansas, Alabama, Georgia, and Mississippi. In Canada, it's common in Ontario and Quebec.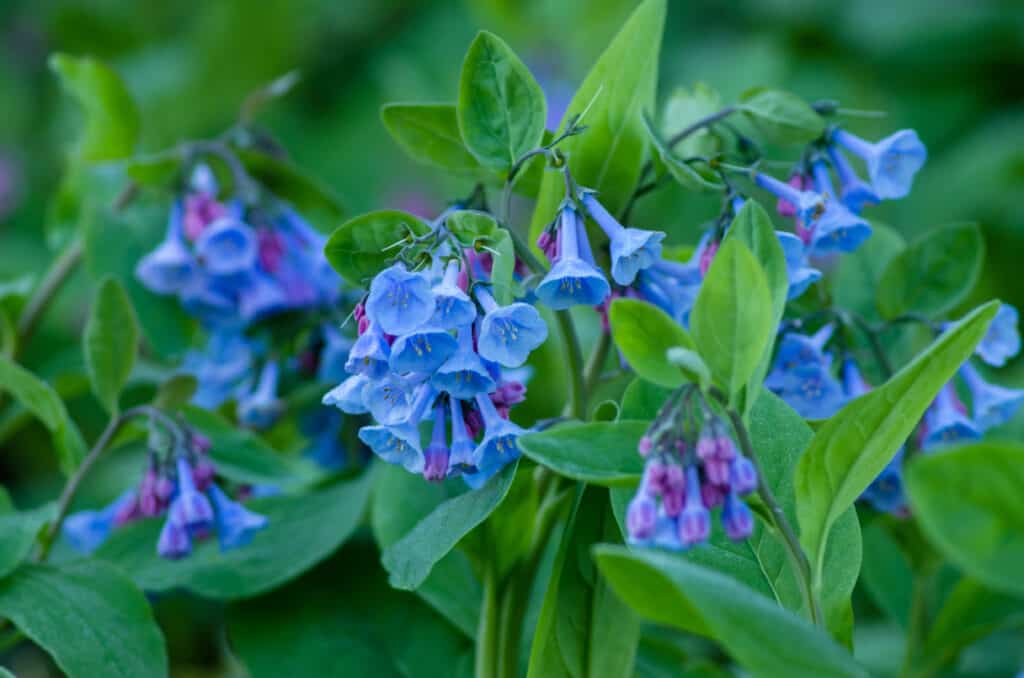 Eastern Bluebird
One of the most abundant animals in the state is birds. A specific bird that captures the attention of many on campus and in town is the eastern bluebird. Eastern bluebirds are mainly blue, grey, orange, and white. They are North American migratory thrushes often weighing between 0.95 and 1.20 ounces. These small birds live in open country around trees, parks, residential neighborhoods, and farmland. The fast fliers have a wide diet, although more than two-thirds of it consists of insects and other invertebrates like beetles, grasshoppers, and earthworms. In spring, these little birds are even more abundant. They mate and construct nests in the spring and summer.
The photo featured at the top of this post is © Ianm35/iStock via Getty Images
---