The Midwest offers a lot of beauty and charm to visitors every year. The exact states of the Midwest are debated, but for the sake of these wonderful lakes, we are including North Dakota, Minnesota, Wisconsin, Illinois, Indiana, Ohio, Michigan, South Dakota, Missouri, Wisconsin, Iowa, and Nebraska. The Rocky Mountains, the Great Lakes, and the Appalachian Mountains surround the Midwest. This unique mixture gives each state beautiful natural landmarks.
Are you ready to be enchanted by the most beautiful lakes in the Midwest? Continue reading for more fun facts!
1. Lake Superior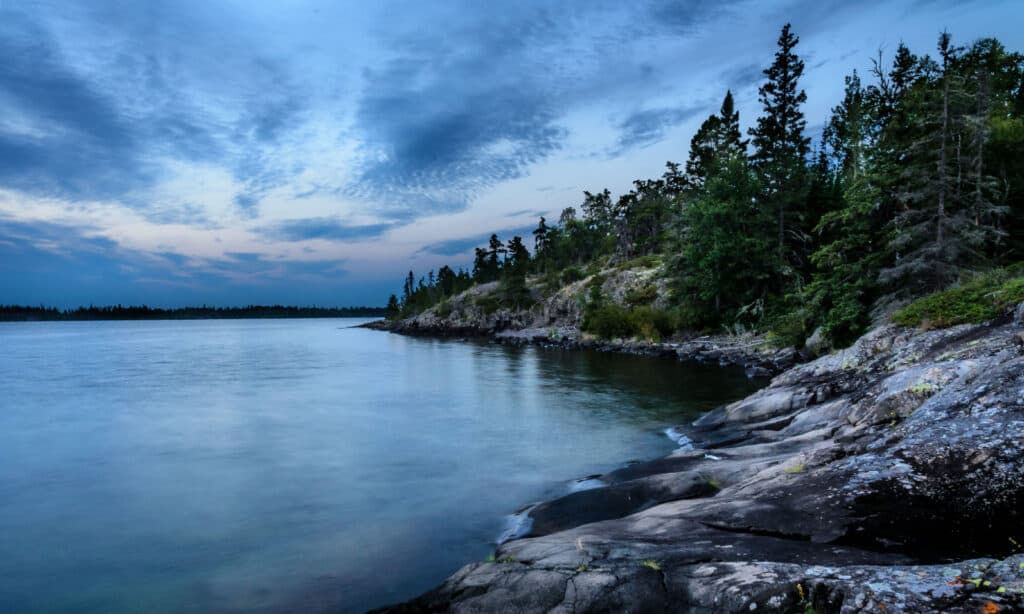 Lake Superior is breathtaking. It is the largest lake in the world by surface area, but the wonder does not stop there. Lake Superior is a glacial lake known for its clear waters and cleanliness. On average, you can see clearly in 20-foot-deep water, but in some parts of Lake Superior, it is so clear you can see the bottom at depths up to 100 feet. This lake touches Minnesota, Wisconsin, Michigan, and some parts of Ontario, Canada. There are many things to do at this lake, including swimming, fishing, and boating. You can even see famous shipwrecks, as there is a part of Lake Superior known as the "Graveyard of the Great Lakes."
2. Sylvan Lake
South Dakota is a beautiful state, and in the state, you can find Sylvan Lake. This lake has a surface area of 17.3 acres. Looking at pictures of this lake will have you shocked to know it is artificial! It was created in 1891 and offers various recreational activities like rock climbing, hiking, fishing, and swimming. It is not a large lake, and its maximum depth is 30 feet, but this doesn't stop visitors from enjoying their time in this pristine lake. Sylvan Lake is also the starting point for many excursions since it is close to Black Elk Peak and The Needles. It is also only 5 miles away from Mount Rushmore!
3. Lake of the Ozarks
In Missouri, we have the Lake of the Ozarks. This lake is gorgeous and looks like something that belongs on a postcard. Not only is the Lake of the Ozarks pretty, but it was created with a purpose. This 93-mile-long lake was dammed in 1931 for an important hydroelectric power plant. Several settlements were abandoned and flooded to create this lake. In just a few years after its creation, it became a big spot for water recreation and national visitors. The Lake of the Ozarks also has a healthy population of white bass, bluegill, and walleyes.
4. Lake Michigan
Lake Michigan is another one of the Great Lakes in North America that flows into the Midwest. It is 307 miles long and 279 feet deep. The deepest point in Lake Michigan is 925 feet. Lake Michigan is beautiful and offers visitors many opportunities to pursue water activities like canoeing, boating, fishing, swimming, and hiking. Its natural beauty is stunning, and it has a rich history. For instance, did you know explorers have discovered an ancient shoreline in Lake Michigan? Four states (Michigan, Wisconsin, Illinois, and Indiana) also have the pleasure of having the lake in their state! If you want an island experience, there are over 20 to choose from. In Wisconsin, you can even take a ferry to Michigan.
5. Lake McConaughy
It would be sad not to mention Lake McConaughy on our list of the 8 most beautiful lakes in the Midwest. This lake is not popular but is still charming. It was named after Charles W. McConaughy, the mayor of Holdrege, Nebraska, during the lake's creation. Lake McConaughy is 22 miles long and 4 miles wide. While it is not the largest lake in the Midwest, there are some lovely spots to fish, swim, and enjoy the scenery. It is a peaceful lake perfect for visitors that want serenity and relaxation. The state frequently stocks the reservoir with northern pike, smallmouth bass, and rainbow trout.
6. West Okoboji Lake
Although Iowa is the birthplace of sliced bread, it is also home to some of the most jaw-dropping and scenic lakes in North America. West Okoboji Lake is the deepest lake in Iowa, but this is not what makes it impressive to visitors. It is a popular tourist destination for adventurers who love water sports like skiing, sailing, and water boating. The water quality is impeccable, and the color is a deep turquoise with many clear areas. It is also an affordable destination.
7. Evergreen Lake
Evergreen Lake in Illinois, not to be confused with the one in Colorado, is a 925-acre reservoir with lots to do. You won't get bored when visiting Evergreen Lake since it was created for water recreation like boating, kayaking, and fishing. There are multiple accessible fishing docks and piers to enjoy the water. Visitors sometimes spend hours admiring the water and enjoying the peace. The water is a light blue, and the cabins line the lake. It is one of the newer lakes in Illinois, built only in 1970.
8. Leech Lake
Don't let Leech Lake's name scare you — there isn't an abundant population of leeches in the water. Instead, other fish populations like pumpkinseed, largemouth bass, and eelpout are present. This beautiful lake is mainly in the Chippewa National Forest in Minnesota. The lake covers 102,948 square miles and is 150 feet. There are 11 main islands in the lake with plenty of fishing opportunities. Leech Lake, moreover, is mostly known for its International Eelpout Festival, honoring its indigenous Eelpout population. It is a deep-dwelling fish species that is very active during winter.
Summary of 8 Most Beautiful Lakes in the Midwest
Here's a recap of the eight magnificent Midwest lakes that we took a look at:
| Number | Lake | Location |
| --- | --- | --- |
| 1 | Lake Superior | Minnesota, Wisconsin, Michigan, and Ontario (Canada) |
| 2 | Sylvan Lake | South Dakota |
| 3 | Lake of the Ozarks | Missouri |
| 4 | Lake Michigan | Michigan, Wisconsin, Illinois, and Indiana |
| 5 | Lake McConaughy | Nebraska |
| 6 | West Okoboji Lake | Iowa |
| 7 | Evergreen Lake | Illinois |
| 8 | Leech Lake | Minnesota |
The photo featured at the top of this post is © iStock.com/Focqus, LLC
---