Rocky Mountain National Park, established on January 26, 1915, is a large national park in North America with lots of beauty. To visit these mountains, bring comfortable shoes and light hiking gear. Many of the lakes in the Rocky Mountains require a quick hike to the location before you can enjoy their glory. The highest elevation is 14,259 feet. Many of these hidden gems may not be large lakes, but they are clear and surrounded by fields of wildflowers and animals.
Ready to find a new lake to visit in the Rocky Mountains? Read along to discover the 15 most beautiful lakes in the Rocky Mountains.
1. Emerald Lake
To reach the shimmering Emerald Lake in Colorado's Rocky Mountains, visitors must hike the Bear Lake Trailhead. Emerald Lake is rocky and located at an elevation of 10,110 feet. Surrounding Emerald Lake are colorful wildflowers that reflect on the crystal-clear water. Stunning pine trees also line the lake, emphasizing the lake's emerald-green appearance. While it is not the most famous Rocky Mountain lake, it is a beautiful hidden gem for locals.
2. Mills Lake
A beautiful destination in Colorado is Mills Lake, a glacial lake with scenic views. You can observe the picturesque scenery along a 5.4-mile trail to reach the lake. It takes about 2 hours to complete and is worth the trek up the mountain. At an elevation of 9,240 feet, Mills Lake is a graceful lake with lots to do and see. While most people don't swim in Mills Lake because of how cold the water is, it is a popular freshwater fishing destination.
3. Fern Lake
As one of the most beautiful alpine lakes in North America, Fern Lake is a quiet lake that requires a quick hike. It is located near Estes Park, Colorado, and offers many visitors recreational activities like backpacking, hiking, camping, and fishing. Visitors commonly see moose drinking and bathing in the water. Along the trail, you can see various waterfalls and other lakes at high elevations. Fern Lake is a rocky lake where fly-fishing is encouraged.
4. Dream Lake
Like its name, Dream Lake really does feel like a dream. It is near another popular Rocky Mountain Lake, Bear Lake, and requires a 2 miles hike, which is perfect for beginners. Dream Lake offers a family-friendly experience including hiking and snowshoeing. Leave your dogs at home as they are not allowed in the national park because of the other large animals that call the area home. The lake is clear but nearly freezing, so swimming is not recommended.
5. Bear Lake
As you may have noticed, many Rocky Mountain lakes on this list are in Colorado. Bear Lake is also in Colorado and is a national favorite for tourists. It is not a swimming lake, however, and it freezes during the Winter. Most people wake up early to get a chance to park and hike to Bear Lake. The lake sits at an elevation of 9,450 feet. It is an easy walk but can get crowded during Summer because of its popularity. Visitors can also observe the elk that frequently use Bear Lake's shores.
6. Timber Lake
Timber Lake is a quiet Rocky Mountain lake that takes 10.9 miles to reach (approximately 5 and a half hours). It is a great hiking trail and destination for wildlife and bird watching, hiking, and fishing. It is usually calm and quiet, so you can enjoy the serene views. Timber Lake looks like a scene from a fantasy movie with its vivid green colors during the Spring and Summer months. However, Timber Lake Trail is rocky and features a section with a landslide that you need to navigate carefully.
7. Black Lake
The Black Lake Trail is hard and 9.1 miles long. However, the rocky terrain is worth the long and tiring hike since Black Lake is so stunning. If you want to avoid snow and rough weather, it is best to travel between March and October. It is a rustic and spectacular lake that perfectly reflects the surrounding rocky mountains. Squirrels are common along the trail and are surprisingly unafraid of explorers.
8. Gem Lake
One of the most unique lakes in the Rocky Mountains is Gem Lake. This red and orange lake on the Lumpy Ridge Trailhead is located on granite domes and does not have an inlet or outlet stream. It is a shallow lake that naturally fills up through rainfall and snowmelt. Rare wildflowers grow out of multiple large rocks near Gem Lake, like the Telesonix jamesii. The views before reaching Gem Lake are also stunning and out of this world.
9. Thunder Lake
Near Allenspark, Colorado, the 11.2-mile Thunder Lake Trail leads to Thunder Lake. It takes most hikers at least five hours to complete the rough hike because of the rocky terrain. Thunder Lake is perfect for adventurers seeking peace and quiet during their hikes. Since it takes hours to get to the lake, some explorers also camp on the trail. Interestingly, horseback riding is very common along the lake's shores. It is also a popular angling destination for Brown Trout, Cutthroat Trout, and Greenback Cutthroat Trout.
10. Peyto Lake
While most people forget that the Rocky Mountains stretch into Canada, we have not! Canada's Peyto Lake is a beautiful glacial lake near the Icefields Parkway. It sits at an elevation of 6,100 feet. Parts of this lake are clear, but sometimes glacial rock flour flows into the lake from a nearby glacier and produces a deep turquoise color. It is a picturesque lake that is worth the view and hike. Despite its beauty, it is not a large lake, reaching a maximum length of 1.7 miles and a width of 0.5 miles.
11. Hanging Lake
Within Glenwood Canyon in the White River National Forest, you can find Hanging Lake. This lake is a breathtaking lake with multiple waterfalls and pristine waters. It is a popular destination for visitors who take the hike from the Hanging Lake Trail. Visitors can expect to continuously climb at least 1,200 feet up to the lake. Although tempting, fishing, swimming, and standing on the logs and rock formations are not allowed.
12. Peacock Pool
Don't let its name fool you, Peacock Pool is a lake. It is technically a small part of Chasm Lake, an impressive glacial lake in Colorado. Some fish live in Peacock Pool, but it is not a favorite among fishers because of its low population. It is a small lake that freezes during the winter, providing snowy views. Above Peacock Pool is Columbine Falls, which also freezes but produces 100-feet-high ice climbs.
13. Lake Minnewanka
In the Canadian Rockies sits Lake Minnewanka, a large glacial lake with stunningly clear water. It is 17 miles long and at an elevation of 4,900 feet. The maximum depth for this graceful lake is 466 feet. You can catch a perfect glimpse of this lake on the Cascade Mountain Summit. Lake Minnewanka has bewitched humans for at least 10,000 years according to archeologists. Stone tools and other artifacts have been found near the lake. Bears and Bighorn sheep are frequently seen by visitors near Lake Minnewanka.
14. Lake of Glass
As the name suggests, the Lake of Glass is so clear it looks like a glass mirror. It is near Estes Park in Colorado and takes most explorers 4 hours (8.1 miles) to reach the lake on the Loch and Lake of Glass Trail. It is located on the same trail as Sky Pond, another very popular lake in the Rockies. You can see snow near the lake, and to get to the lake you have to pass a steep, but gorgeous waterfall. It is regarded as one of Colorado's best-kept 'secrets'.
15. Moraine Lake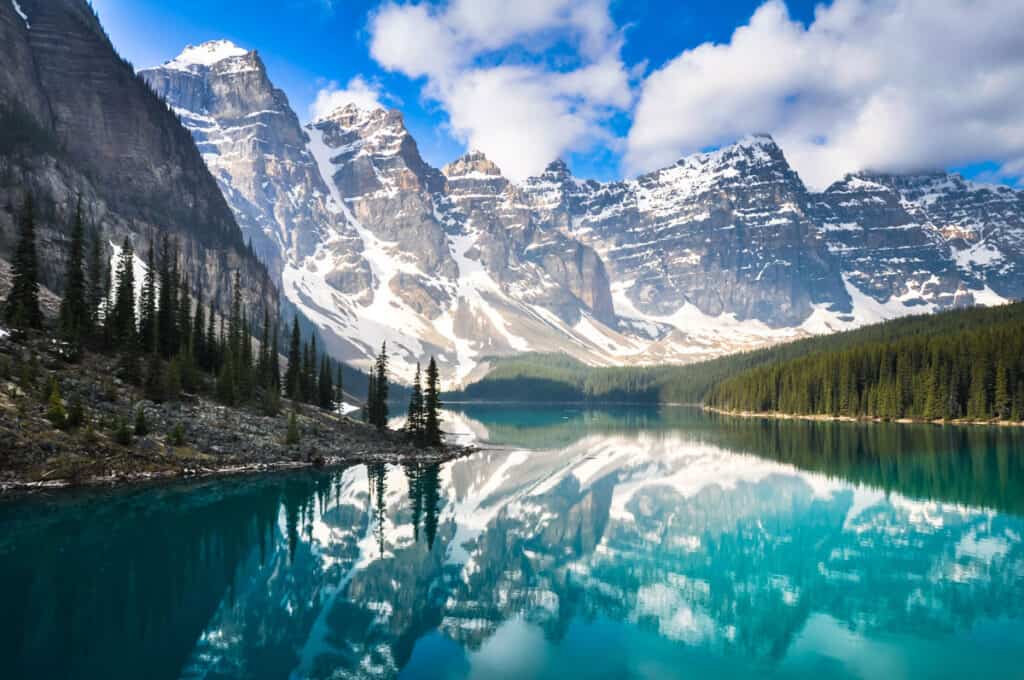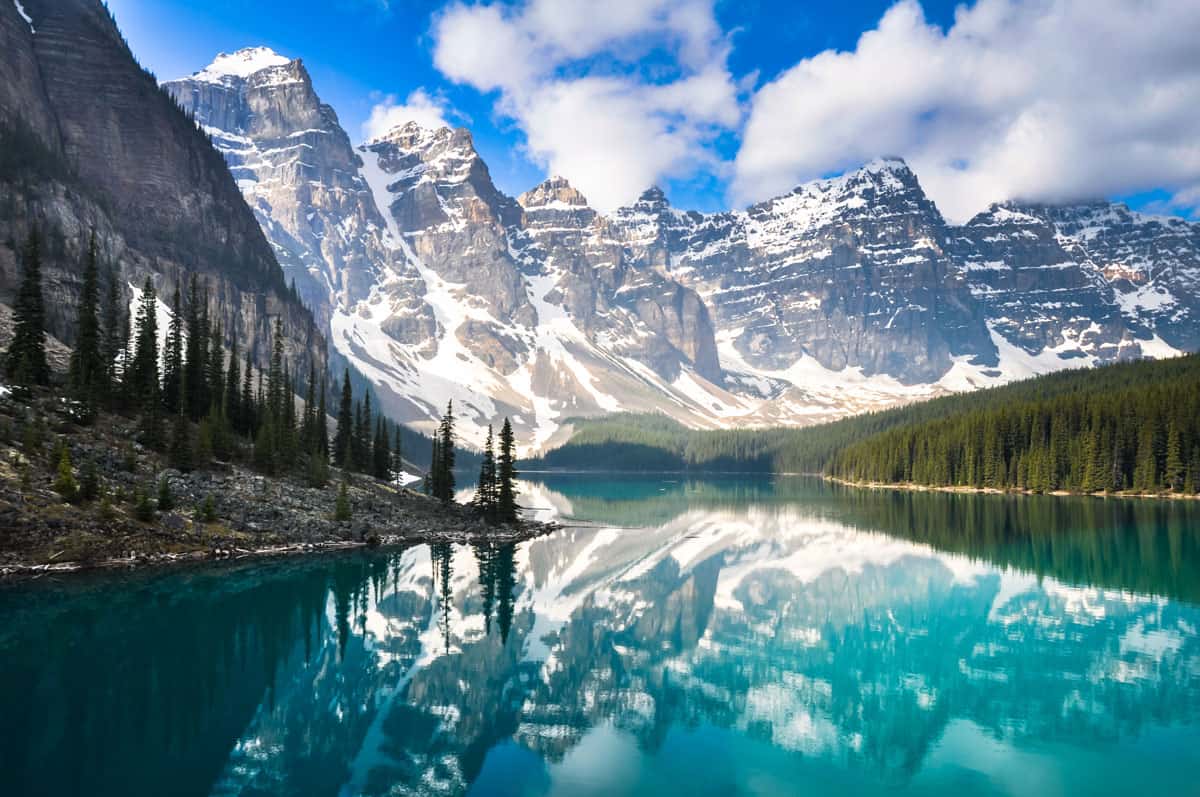 Visitors can find Moraine Lake in Banff National Forest in the Canadian Rockies. Its waters are an intense, deep turquoise color that changes shade depending on the season. If you go before June or after October, the lake will likely be frozen with plenty of snow. Canoeing is a common scenic and peaceful activity on the lake. While on the water, you can look at the deep blue-green shades and see lake whitefish, mountain whitefish, rainbow trout, and brook trout.
Up Next:
More from A-Z Animals
---
The Featured Image
---