U.S. lakes are famous for offering visitors a variety of fun activities. If you love lake life, such as swimming, kayaking and hiking, you may want to consider getting a home that you can call your own on your favorite lake. Buying a lakehouse can be an excellent real estate investment as well. You can visit your second home during vacations with your family or rent it out to visitors and tourists. Those who make living on a lake their permanent home can enjoy special moments during the off seasons to enjoy the natural beauty all around them. If you are looking for a lake house, you'll definitely find a spectacular one you can visit.
Here are some of the most expensive lakes in the United States to buy a second home.
1. Lake Tahoe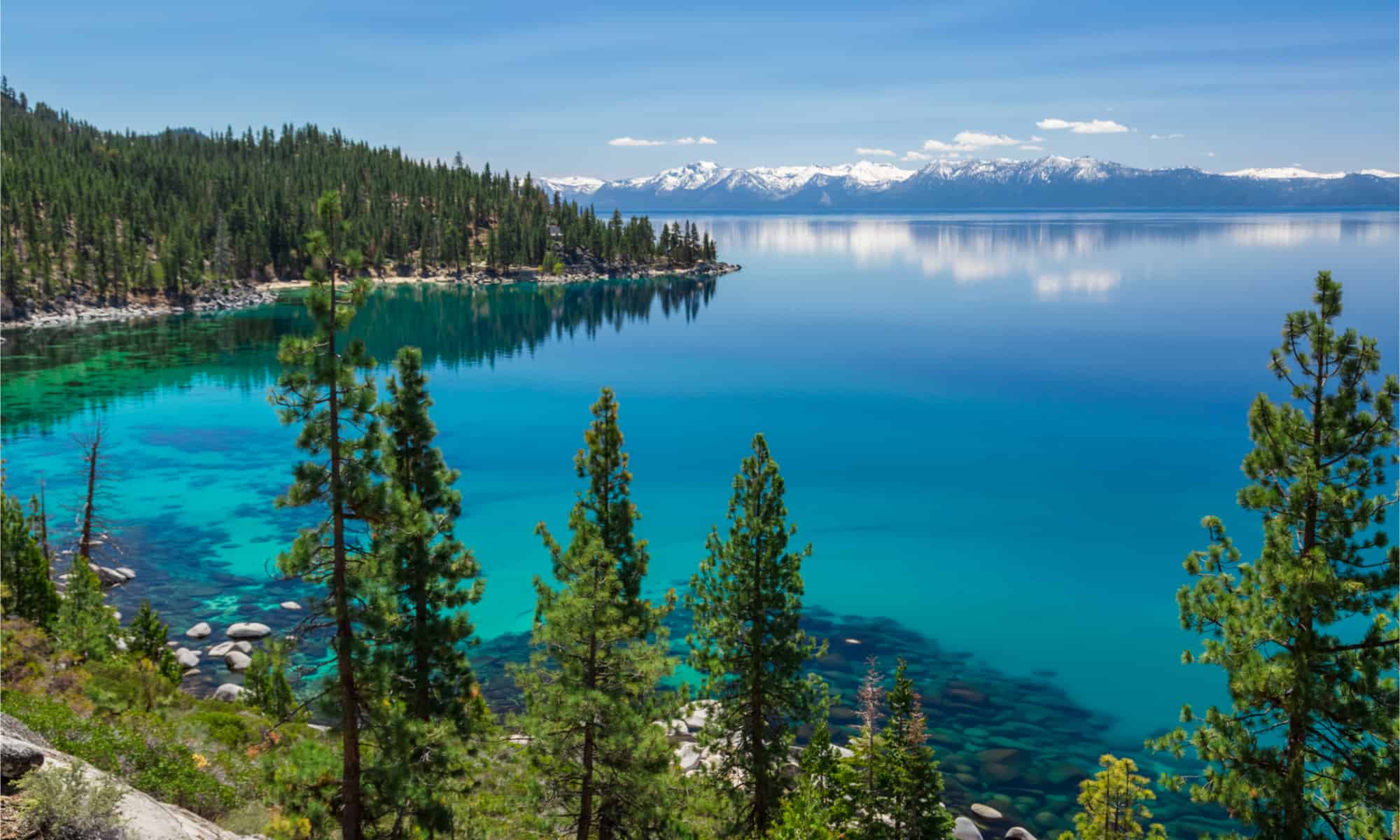 Do you have a big budget and are looking for a lakehouse with a beautiful green landscape and clear waters? The shore of Lake Tahoe is the perfect location for you. It's located in the mountain range of Sierra Nevada, although part of the water runs into the California border. So you can enjoy both the freshwater and the alpine view.
Lake Tahoe is divided into two regions, North Lake Tahoe and South Lake Tahoe. The North side is known for its multitude of ski resorts and small mountain towns. If you want a quieter residential feel that allows you to get to know your neighbors, North Lake Tahoe is for you. South Lake Tahoe has more nightlife, including bars and casinos that appeal to a younger crowd. You can still enjoy the rugged landscape and outdoor activities during the day while hitting the town at night.
Apart from being a natural lake, it is the second deepest in the U.S. Houses around here are pretty pricey too, but totally worth it. If you're ready to own a lakehouse here, you can get houses that cost as much as $75 million or more.
House for Sale: This 8-bedroom chalet-style home is over 16,000 square feet. It has a wine cellar, dramatic views, and a cable rail that moves between the two structures. Price: $64,500,000.
2. Lake Washington
Many property buyers always have their eyes on the catchy and luxury houses that sit on the shores of the largest lake in King County, Washington. It sits between Seattle and Bellevue, providing access to popular attractions and the benefits of city living and culture. Of course, these luxury lakehouses come at a price. The average price of a house here is about $45 million but it is still an incredible value.
Like Lake Tahoe, Lake Washington has freshwater, and it is, in fact, the second-largest you'll find in Washington. It boasts the greenery and dense pine forests that Washington is known for, right on the lake and near the city. There are some moderately priced homes as well as some mega mansions. If you buy a lakehouse here, perhaps you will see Bill Gates on the other side of the lake in his mansion.
House for sale: This massive estate has four buildings, including a main residence, staff house, beach house, and pool cabana. It also includes a tennis court, dock that can accommodate vessels up to 150 feet, and over 300 feet of lakefront. Price: $85,000,000.
3. Lake Austin
Located near Austin, Texas is the beautiful Lake Austin. It is perfect for family vacations, romantic getaways, and fun trips. Austin's vibrant arts and culture scene are easy to access while lakefront living provides the relaxation that you need. It is popular for fishing and boating. Multiple companies operate in Lake Austin that rent out the equipment you may need so you don't need to worry about bringing your own when you visit your second home.
Because of the stunning landscape and gorgeous properties that sit on the lakefront, it attracts many visitors and tourists. It's a great idea to invest in a lakehouse here and put it out for rental for visitors. Austin is a popular vacation destination and homes near this lake provide the best of both worlds. Properties here are priced at an average of $12 million.
House for sale: This 5-bedroom home is on a cove of Lake Austin, offering additional privacy and seclusion. It has over 400 feet of waterfront and a dock with two slips. Price: $18,500,000.
4. Lake Travis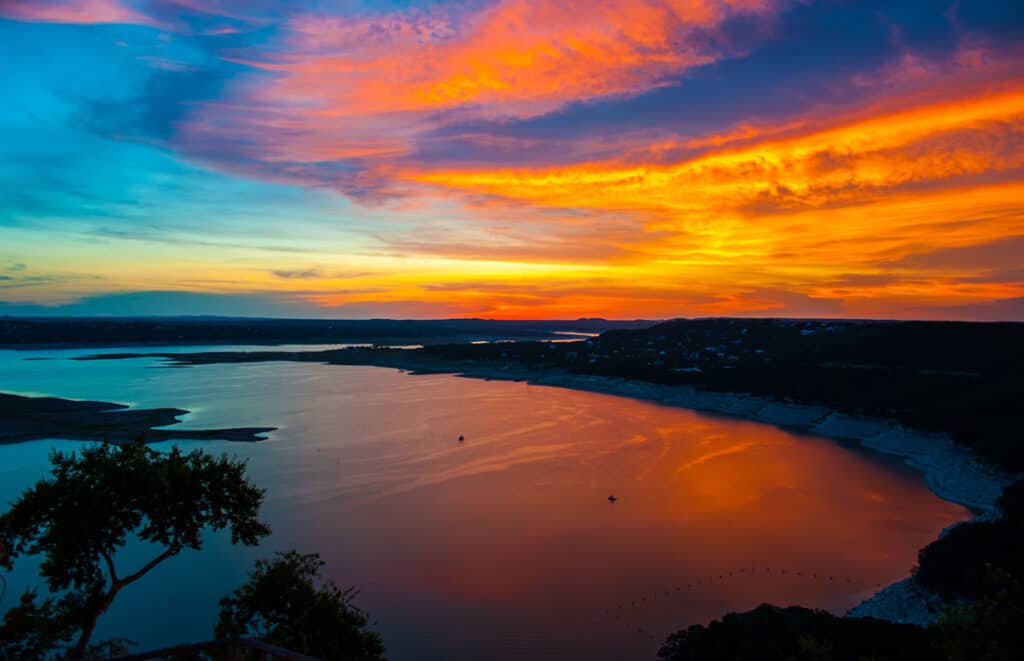 Also near Austin, Texas, the larger Lake Travis has over 30 square miles of water to enjoy boating, fishing, and recreation. It was created as a reservoir in the Colorado River and is the largest of the lakes in the area. Families that enjoy water views and water-related fun activities will love living on the shores of Lake Travis.
Every year, this lake attracts a lot of visitors. That's because there are loads of fun activities and places to visit for visitors, like restaurants, parks, and shops. It is known as one of the clearest lakes in Texas and is popular for boating, fishing, and even scuba diving. Lake Travis is also home to the only clothing-optional beach in Texas, Hippie Hollow Park. Houses on the shores of Lake Travis are priced at an average of $10.86 million.
House for sale: Perched on a hill with panoramic views of the lake, this 6-bedroom home has a boat slip/lift as well as 2 jetski slips. It is the perfect option for boating enthusiasts who want to stay close to Austin.
5. Lake Michigan
Don't be surprised to see Lake Michigan on our list of most expensive lakes in the United States. It's one of the five Great Lakes in the United States and the third-largest in the country. In addition to its reputation as the third-largest Great Lake, its shorelines are greatly valued and so are the houses.
Lake Michigan is over 22,000 square miles and there is no shortage of waterfront area for you to look for a second home. Areas near picturesque cities and towns are the most desirable and the most expensive. There are major metropolitan areas on Lake Michigan, such as Chicago and Milwaukee, that offer access to sightseeing and culture. There are also plenty of secluded areas that boast privacy and access to the beauty of nature. Historic Mackinaw Island is popular for its car-free streets.
Although homes in Lake Michigan vary widely in price, they sell on average for the price of $6.35 million.
House for sale: The log cabin-style architecture and design of this 14-bedroom estate fits the lake lifestyle that many people want when they look at luxury real estate on Lake Michigan. It has four cabins and was developed and built by the Randall family, who may have hosted author Ernest Hemingway on the grounds early in his life and career.
6. Lake Champlain
Between the borders of New York and Vermont lies houses on the shores of Lake Champlain. If you want a lake house with a serene ambiance and a stunning view, this place is perfect for you. Homes here are perfect for solo trips and family vacations. Besides, the lake hosts houses that are as low as $5.7 million.
Lake Champlain is located in the Adirondacks, which are especially popular in the fall when the brilliant foliage of their dense forests are on full display. There are also plenty of undeveloped areas that highlight the best that nature has to offer. The area does get cold and snowy in the winter, something to consider if you plan to use your lake house year-round.
House for sale: If you want a peaceful setting, it's hard to beat this 4-bedroom home that sits on almost 19 acres of unspoiled forest near Lake Champlain. It was built in 2021 and is one of the newer lakefront homes on our list. Price: $5,750,000.
7. Lake George
In the southeast base of the Adirondack Mountains of New York lies Lake George, where stunning houses line the shores. It is nicknamed the "Queen of American Lakes" and is home to luxury houses that sell for $5.32 million. The lake houses are perfect for visiting during summer.
There are plenty of things to see and do near Lake George, including boating and fishing. It is also a popular summer camp destination. Lake George was a popular destination for the nation's richest families in the early parts of the 20th century. Many built palatial mansions, many of which are still standing and operate as hotels or other businesses on what is known as Millionaire's Row.
House for sale: This estate was built in 1913, at the height of Lake George's popularity as an exclusive lakefront vacation destination. It has eight bedrooms, intricately carved fireplaces, and wood panel detailing throughout. Price: $23,500,000.
8. Lake Pontchartrain
At the front of the biggest lake in Louisiana are houses with distinctive architecture and gorgeous interior decorations. Located right next to New Orleans, this is a popular lake that has access to world-class food, entertainment, history, and architecture as well as the natural beauty of this southern lake.
Lake Pontchartrain has the longest causeway over water in the world. It connects New Orleans to the south with Mandeville to the north. The North Shore or Northlake region is made of three parishes and has a mostly savannah-type landscape. The southern end is divided into the East Bank and West Bank.
You can get a lakehouse there for as low as $3.9 million. But expect to find homes selling at an average of $4.7 million.
House for sale: There is an abundance of southern charm at this 4-bedroom home that includes almost 5 acres of property. In addition to the main residence, it has a guest house, boat house, and boat slip. Price: $4,975,000.
9. Fort Loudoun Lake
East Tennessee is popular as the Great Smoky Mountain National Park location. But lying 40 miles east of the park is Fort Loudoun Lake. A Fort Loudon lakehouse is a great investment for the luxury it provides in a serene environment. It is especially great for fishing, with bass being one of the major catches that fishermen go for in the area. You can also see many birds, including heron, osprey, and even bald eagles. The median home price is around $1,767,850.
House for sale: Located near Knoxville and Fort Loudoun Lake, this 4-bedroom home has some very unique and stately architecture and design. It has more than 500 feet of riverfront and more than 10 acres of land. Price: $4,500,000.
10. Lake Pend Oreille
Last on our list of the most expensive lakes in the United States is Lake Pend Oreille. The houses at the shores of the lake are priced to sell at an average of $4.48 million. If you invest in one of the lake houses, you get to have an amazing alpine view at your second home. Besides, the water is great for swimming. So you could go there with family and friends during the summer to cool off the weather.
This Idaho lake has plenty of deep water, up to 1,150 feet in some areas. It is also quite large, perfect for boating and other water recreation. There are plenty of undeveloped areas if you prefer something secluded. Small towns such as Sandpoint provide access to restaurants and small town life.
House for sale: This house has almost 1,000 feet of lakefront! It is surrounded by beautiful pine trees and overlooks the Monarch Mountains. The main house is connected to a guest house via an underground tunnel. Price: $13,000,000.
Summary of Most Expensive Lakes in the United States to Buy a Second Home
Here's a recap of the priciest lakes in the U.S. to purchase a property or second home.
| Rank | Lake | Location | Property Price |
| --- | --- | --- | --- |
| 1 | Lake Tahoe | California, Nevada | $75 million |
| 2 | Lake Washington | Washington | $45 million |
| 3 | Lake Austin | Texas | $12 million |
| 4 | Lake Travis | Texas | $10.86 million |
| 5 | Lake Michigan | Wisconsin, Illinois, Indiana, Michigan | $6.35 million |
| 6 | Lake Champlain | New York, Vermont | $5.7 million |
| 7 | Lake George | New York | $5.32 million |
| 8 | Lake Pontchartrain | Louisiana | $4.7 million |
| 9 | Fort Loudoun Lake | Tennessee | $1.768 million |
| 10 | Lake Pend Oreille | Idaho | $4.48 million |
The photo featured at the top of this post is © majicphotos/Shutterstock.com
---