It's no surprise that Texas has hundreds, if not thousands, of terrifying and bone-chilling haunted places. It is hard to choose a few places as "the most haunted" since there are so many! Long before Texas was a U.S state, wars and battles were waged between many parties, leaving behind ancient ruins and artifacts.
Are you looking to explore something new, thrilling, and unique? Instead of visiting Texas for its more popular attractions, why not explore some of these haunted places? Listed below are 7 of the most haunted places in Texas.
Bragg Road
The infamous Bragg road is strange. When taking the small town road at night, bright little lights appear and move slowly across the street. Visitors often call Bragg lights the Ghost Road of Saratoga. There is no official address since the road stretches on and on, and you'll see the light randomly throughout the Big Thicket. While it's more likely that the lights are actually swamp gasses, multiple ghost stories haunt the road.
The most famous urban legend centers around a railroad worker who lost his head while working. The light is said to be his ghostly lantern moving as he searches for his missing head. It's best done at night to catch the light's appearance. You can take the Ghost Road scenic drive for eight miles.
If you decide to travel down the road looking to be spooked, it goes without saying to be careful. Bring a friend, comfortable shoes, and flashlights. Finally, Wild animals like deer are common; you were warned!
Contact Information
Address: Bragg Road of Hardin County, Texas
The Plaza Theatre Performing Arts Centre
You can find the Plaza Theatre Performing Arts Centre in El Paso, Texas. It first opened in 1930 as a movie theatre. Apparently, even before it became a theatre, the Plaza was home to spooky ghosts that would terrify teenagers on dates. The Plaza offers ghost tours at night on select weekdays, but please note that you must request the tour directly with the theatre.
You can also take an El Paso nightly ghost tour, which will probably lead you to the outside of the Plaza at night.
The ghosts that haunt the Plaza theatre are mostly friendly, playing pranks on visitors, staff members, and performers. Others Ghosts are said to be reliving awful memories, such as the infamous smoking man. Apparently, he screams and runs around the theatre, reliving his death.
Some people have even reported seeing him jump from the theatre's balcony.
Contact Information
Address: 125 W Mills Ave, El Paso, TX 79901
Phone: (915) 231-1100
La Carafe in Houston
La Carafe is the ghost-hunting bar in Houston, with delicious wines and great conversations guaranteed. It is the oldest and spookiest building in all of Houston. Although it was not always a bar, the historic building has existed since 1860. Indeed, the building has been a drugstore, a bakery, and even a cafe. It is a cute and charming spot, but don't let its outward appearance fool you. Visitors often complain about shadows and ghosts bearing uniforms from the civil war.
Almost everything in the bar is vintage and holds memories. According to believers, spirits sometimes follow their objects and linger near them, which could explain why some museums are haunted. Don't be scared, though! The ghost stories are light, and people love this old French-style bar.
Contact Information
Address: 813 Congress St, Houston, TX 77002
Phone: (713) 229-9399
The Alamo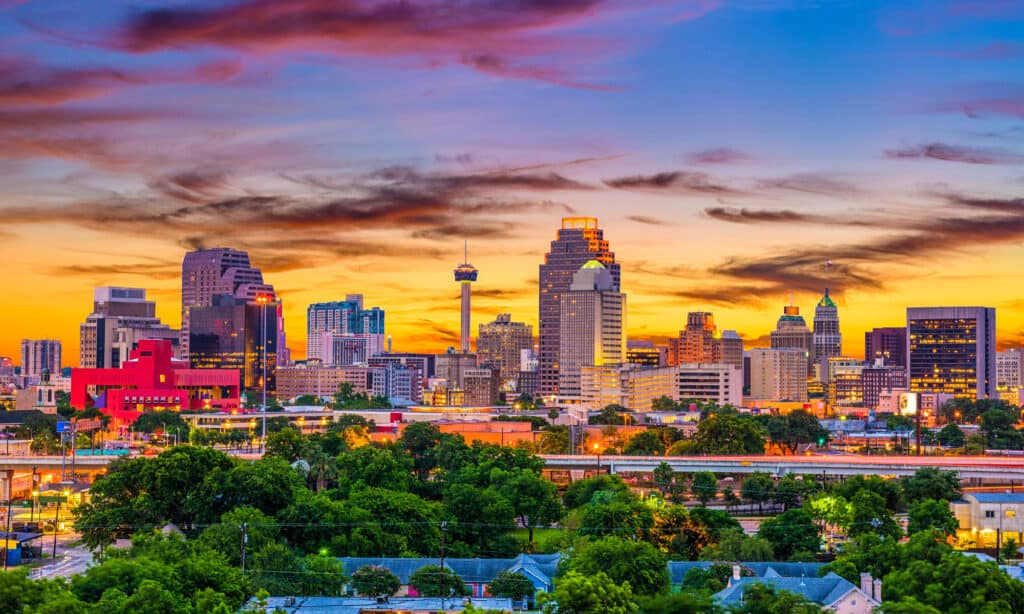 Who hasn't heard of the renowned Alamo? Initially, it was used as the Mission San Antonio de Valero, a church with monks. It wasn't always overrun with soldiers fighting. The battle of the Alamo caused many deaths, which might be why so many people see orbs of light and apparitions or hear whispers when they now visit the space. No Texian soldier survived except for a single slave who was released with mercy from General Santa Ana.
The ghosts roaming in the Alamo remind visitors to remember them. They aren't harmful, and most people who have seen them aren't afraid. Dare to explore the Alamo after sundown? How would you react to chilling whispers?
Contact Information
Address: 300 Alamo Plaza, San Antonio, TX 78205
Phone: (210) 225-1391
The Jefferson Hotel
The Jefferson Hotel is a 3-star hotel that attracts ghost hunters and skeptics from all over the nation. As with most buildings from the civil war era, their dark secrets and spooky nature usually garner much attention. The hotel is beautiful, although dated, transporting one to a simpler time. The hotel's highlight is room 19, where a young bride is believed to have hung herself after her fiance did not attend their wedding.
Now, a woman in all white wanders the hallways at night and bothers guests staying at the Jefferson Hotel. In addition, two small twin children reportedly laugh in the middle of the night, chasing each other across the hall.
You can spend a night at the Jefferson hotel for an affordable price. You can also partake in the Historic Jefferson Ghost Walk through the town if you're courageous enough.
Contact Information
Address: 124 W Austin St, Jefferson, TX 75657
Phone: (901) 468-3551
Up Next:
The photo featured at the top of this post is © Silvio Ligutti/Shutterstock.com
---