For those who crave the haunting thrill of the paranormal, San Diego is the perfect destination. Enthusiasts widely consider this one of the spookiest cities in America, and no wonder, given its impressive breadth of creepy locales. From an old house haunted by a tragedy-ridden family to a ship with an eerie crew, discover the five most haunted places near San Diego!
Whaley House Museum
It's fitting that we start our list with the place Life Magazine and the Travel Channel voted "the most haunted house in America." Dating back to 1857, this gorgeous Greek Revival-style building currently operates as the Whaley House Museum. Its original owner, Thomas Whaley, designed it to be "the finest home in Southern California," and it lived up to his expectations.
However, his family wouldn't be the only ones taking up residence in the grand mansion. Some say that more than 30 ghosts currently reside there. One of these may be the spirit of Thomas Whaley's child, Thomas, who died in the house from illness at 18 months of age. Sadly, Whaley also lost his daughter, Violet, years later when she committed suicide in the house over her cheating husband. Other potential ghosts include Thomas Whaley himself and his wife Anna, their great-granddaughter Marion, and even their fox terrier, Dolly Varden.
Preceding all these ghosts is that of "Yankee Jim" Robinson, a horse thief who met his end on the grounds in 1852, shortly before Whaley began construction. The townspeople hanged Robinson on the site, which had already gained infamy by the time Whaley came along. Today, Robinson apparently announces his presence by thumping around in his heavy boots.
The Whaley House Museum offers various options for engaging with its haunted history, including the Whaley House After Hours Paranormal Investigation tour and the Haunted Evening tour. It also offers general tours. Visit them in person at 2476 San Diego Ave or call them at 619-786-1143. You can also visit their main website here.
Star of India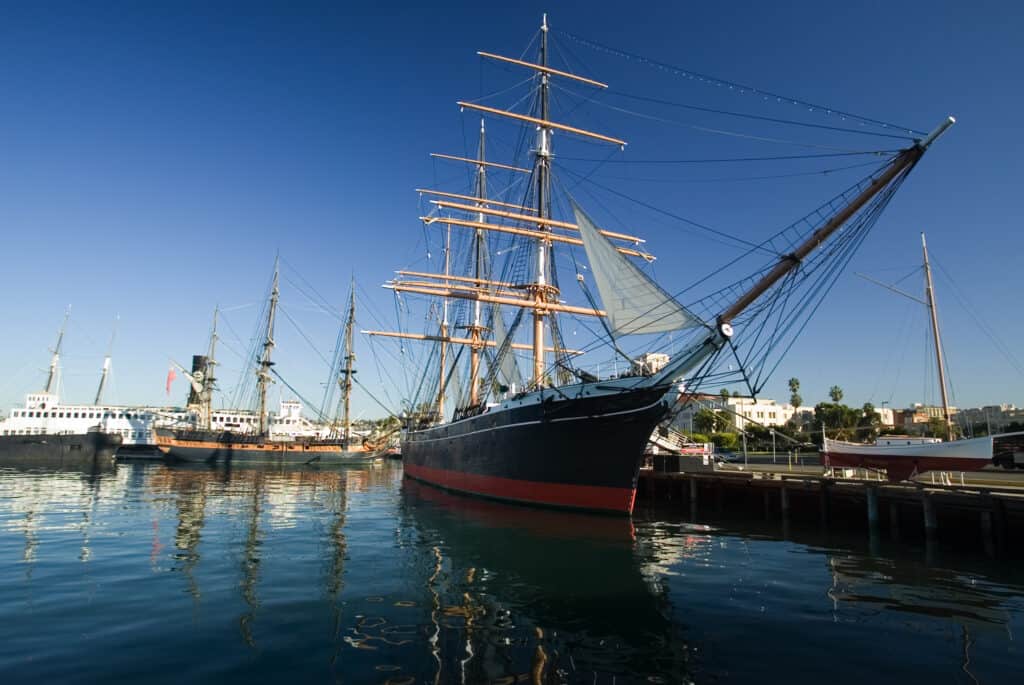 The Star of India is famous for being the world's oldest working sailing ship. First taking to the waters in 1863 as the Euterpe, she made 21 voyages around the world, but her history was doomed to tragedy from the outset. A collision and a mutiny marked her maiden voyage, sounding a decidedly sour note. At one point, one of her captains was so distraught over the lost lives of his men in the India War that he cut his own throat. The ship's surgeon stitched the wound shut and saved his life, only for the captain to pick out the stitches and bleed to death.
Many more lives would be lost in the ensuing years. Perhaps most tragically, 1884 saw the death of a young stowaway, John Campbell. The captain forced him to work on the hundred-foot-tall masts to earn his way, only to have him fall to his death. Those standing near the masts say they can still feel his cold hand on their arm as if warning them to watch their step. Visitors to the ship also report hearing disembodied voices and footsteps as well as seeing ghostly figures.
The Maritime Museum of San Diego offers tours of its museum and ships, including the Star of India. Visit their website to book a tour, or call 619-234-9153 for more information. You can locate them at 1492 N Harbor Drive.
El Campo Santo Cemetery
Near the spooky Whaley House Museum lies another of the most haunted places near San Diego, the El Campo Santo Cemetery. Any cemetery has the potential to be frightening, but this one may well deserve its reputation. Its origins go back to 1849, but it wasn't long before this refuge for the dead would suffer a serious insult. In 1889, the city of San Diego paved over parts of the cemetery to make room for an expanding city, diverting traffic over the graves of interred bodies.
Some say this is the reason for the unrest in the El Campo Santo Cemetery. Glowing orbs of light, unexpected cold spots, and roaming ghosts are all part of the graveyard's haunted charm. Some visitors report seeing a strange Victorian woman in white; others claim to have spotted the ghosts of murdered rancher Juan Mendoza and young scarlet fever victim Anita Gillis.
Ghosts and Gravestones of San Diego offers tours of the El Campo Santo Cemetery. To visit on your own, find the cemetery at 2410 San Diego Avenue.
Hotel Del Coronado
The Hotel del Coronado is one of California's finest. It's also one of the most haunted places in San Diego. Its official history begins with the opening of its doors in 1888; its haunted history, however, began on Thanksgiving of 1892. This was the day a lovely young woman, Kate Farmer Morgan, checked into what was then Room 302 (today, it's Room 3327). She gave an alternate name and had no luggage.
Employees watched her wander the hotel for days before finding her dead on the outside steps leading to the beach. Evidently, she had shot herself. Her reasons for committing suicide are unknown. Guests and employees say that Kate Morgan's ghost still wanders the halls and plays harmless pranks in her old room.
The hotel offers a Haunted Happenings Tour for those interested in exploring its uneasy history. You can also visit the hotel at 1500 Orange Avenue in Coronado, just across the San Diego Bay. Call them at 619-435-6611 or visit their website here to experience a stay for yourself.
Horton Grand Hotel
The Horton Grand Hotel in the Gaslamp District of San Diego markets itself as unique and historic, and it certainly is. It's the city's oldest standing hotel, with origins back in the 1880s. It combined two other properties to form the current one, but that's not its most interesting feature. That would have to be its ghosts.
The most famous spectre belongs to Roger Whitaker, a gambler shot to death in Room 309. Disturbances in that room include armoire doors opening in the middle of the night, objects moving around by themselves, lights flickering on and off, and a shaking bed. Another potential ghost is that of deceased brothel owner Ida Bailey. The brothel used to occupy the place where the hotel now sits; she apparently visits it as a white mist or a phantom figure walking its halls.
Visit the Horton Grand Hotel for yourself at 311 Island Avenue or call them at 619-544-1886. Alternatively, you can visit their website here.
For those interested in more information, Ghosts and Gravestones of San Diego offers an immersive experience of the most haunted places near San Diego. Alternatively, Ghost City Tours conducts haunted walking tours of Old Town San Diego.
Up Next
The photo featured at the top of this post is © iStock.com/f11photo
---
Sources

Ghosts and Gravestones, Available here: https://www.ghostsandgravestones.com/san-diego/haunted-places