Key Points:
Colorado State Highway 149: Steepest road in Colorado with a maximum grade of 9.5% and elevation of 11,530 feet.
Slumgullion Pass: Often referred to as a 117-mile road, the pass is 200 feet lower to the north and inaccessible by cars.
Highway 149 and Slumgullion Pass: Notable landmarks in Colorado due to their steepness and unique characteristics.
Colorado is known for its stunningly beautiful Rocky Mountains. There are numerous activities for outdoor enthusiasts, such as skiing, hiking, mountain biking, rafting, and climbing. But to get to these activities, one has to traverse the intimidatingly steep mountain roads.
If you've ever inched your way up (or down) a sheer mountain pass with no guardrails, you'll know how terrifying it can be. But among the many precipitous highways and roads winding through the mountains of Colorado, there is one that claims to be the steepest maintained paved road in the state.
What Is the Steepest Road in Colorado?
The steepest road in Colorado is Colorado State Highway 149, with a maximum grade of 9.5% and an elevation of 11,530 feet. 
Although the 117-mile road is often referred to as Slumgullion Pass, the real Slumgullion Pass is 200 feet lower to the north and is not passable by cars. You can, however, reach the "Slumgullion Summit" for some amazing views.
History of Slumgullion Pass
Highway 149 was a dirt road until paving began in 1968 between Lake City and Creede. The final stretch of the road was paved in 1983. By the 1990s, some portions of the road were designated a historic byway.
The name, "slumgullion" refers to slumgullion stew. This was an American goulash containing mainly root vegetables that could cheaply and easily be made in one pot. Miners in the 1800s called the leftover mud slush in gold mining areas slumgullion.
Slumgullion Earthflow National Natural Landmark
Along Highway 149 is a good view of the Slumgullion Slide, or as it's officially known, the Slumgullion Earthflow National Natural Landmark. The Slumgullion Slide formed over 700 years ago when volcanic rock slid down the mountain and formed a natural dam. It's still active today and can move up to 20 feet per year.
The Slumgullion Slide can be viewed south of Lake City. Look for the pull-off at mile marker 67, or check it out from the Windy Point Overlook.
Where to Find Colorado State Highway 149 on a Map?
State Highway 149, also called the Silver Thread Scenic Byway, is located in southwestern Colorado and travels through four counties and three towns, including Creede, South Fork, and Lake City.
Wildlife Found Around Colorado's Steepest Road
Natural scenery and wildlife are abundant along the highway. Many camping and hiking opportunities are nearby. The road cuts through a spruce-fir forest where boreal owls, white-winged crossbills, and pine grosbeak have been spotted.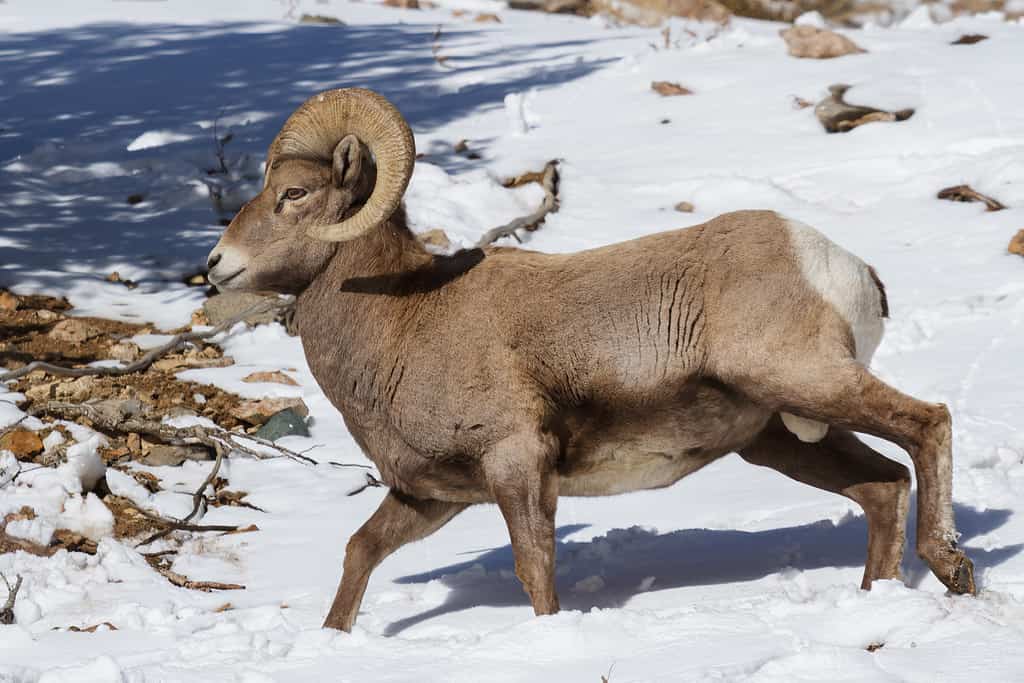 Additionally, deer, bighorn sheep, and elk are commonly seen on the road. You may also glimpse a porcupine, lynx, or even a moose wandering by. Other wildlife in the area include beavers, black bears, coyotes, bobcats, and mountain lions.
Where is Colorado State Highway 149 Located on a Map?
State Highway 149 is a 117-mile-long scenic highway in southwestern Colorado, USA. It starts in South Fork and ends near Gunnison, known as the Silver Thread Scenic and Historic Byway.
Here is Colorado State Highway 149 on a map:
---
The Featured Image
---