The world is full of natural beauty. Some of the most beautiful sights in the world are lakes. These bodies of water can be stunning and filled with life. However, not all lakes are the same. Some lakes are clear and shimmering, while others are murky and so large you could confuse them for an ocean.
The fun thing about beauty is that beauty is in the eye of the beholder. It's all about preference. Still, most of us can agree, that the lakes on this list are beautiful and have something to admire. Follow along to discover the 12 most beautiful lakes in the world. Maybe after reading this list, you can plan your next trip and take a dip in these sparkling bodies of water.
1. Lago di Braies (Italy)
Lago di Braies, also commonly known as Pragser Wildsee or Lake Prags, is a beautiful lake with the most stunning mountains in the background. Photos of this lake, located in South Tyrol, Italy, look as if they've been painted with details. This 77-acre lake has a shore length of 2 miles and an elevation of 4,908 feet. Lago di Braies is within the Fanes-Sennes-Prags nature park and has an average depth of 56 feet. The deepest point in the lake reaches about 118 feet.
Surrounding the lake are the Dolomite peaks, including the Seekofel. Visitors from all over the world come every year to admire the lake's emerald-green color and clear waters. This lake is also very popular with Italians because the well-known Italian television series "Un Passo dal Cielo" was shot on the shores of the lake.
2. West Lake (China)
West Lake is a shimmering lake in Hangzhou, China. It is scenic and very romantic. This stunning freshwater lake has a surface area of 1,580 acres. West Lake is also about 2 miles long and 1.7 miles wide. The average depth of the lake is 7.4 feet. West Lake isn't just beautiful but rich with history. For instance, in the Qin dynasty, the lake was still part of the Qiantang River. For generations, artists wrote about and painted this beautiful lake. Countless poems and legends are set in West Lake, including the "Legend of the White Snake".
Many beautiful plants and animals call the area surrounding West Lake home. Here, you can see many peach trees along the lake banks and Su and Bai Causeways. In the lake, there are also many koi carp and wild ducks. When visiting this lake, you can also see temples like the Yue Fei Temple and Lingyin Temple.
3. Crater Lake (U.S)
Next on our list of the most beautiful lakes in the world is Crater Lake in the United States. You can find this stunning lake in Oregon. This volcanic crater lake has a surface area of 20.6 square miles. It's also about 6 miles long and 5 miles wide. The average depth of Crater Lake is 1,148 feet, while the maximum recorded depth is 1,949 feet. Crater Lake has had many names, but the most recent ones were Blue Lake, Lake Majesty, and Crater Lake. Interestingly, no fish inhabited this clear lake after its formation, but William G. Steel first stocked fish in the lake in 1888. This was a regular occurrence until 1941.
There are many things to do when visiting this beautiful lake. For instance, you can walk or run through many trails and enjoy the unique fauna and flora in the area. You can also enjoy multiple boat tours. Swimming is permitted, but only from the Cleetwood Cove trail. This lake is also located in Crater Lake National Park, the only national park in Oregon. Apart from the lake, you can also visit the Plaikni Falls.
4. Dead Sea (Jordan, Israel, and the West Bank)
Another beautiful lake in the world is the Dead Sea in Jordan, Israel, and the West Bank. Despite its name, the Dead Sea is a salt lake. Its main tributary is the Jordan River, and the lake stretches about 31 miles long. The Dead Sea is also about 9.3 miles wide and its surface area is 234 square miles. This lake is best known for its high salinity. While there aren't any fish and aquatic plants in the lake, there are some minuscule quantities of bacteria and microbial fungi. Still, some animals call the area around the Dead Sea home, including birds, hares, leopards, and jackals.
Tourism is very popular in the Dead Sea. On the northern shore, for example, sits a golf course named for Sodom and Gomorrah. Along the shore, you can also find many resorts and hotels. The first major hotel first opened in the 1960s.
5. Lake Atitlan (Guatemala)
This list of the most beautiful lakes in the world wouldn't be complete without Lake Atitlan in Guatemala. The pictures of this stunning lake almost look too good to be true, and yet they only show a fraction of the lake's beauty. Lake Atitlan is found in southwestern Guatemala and is one of the most visited lakes in Central America. It's also the deepest lake in Central America. Lake Atitlan is surrounded by mountains and volcanoes. The water is a deep turquoise and is inviting and perfect for swimming. However, because of pollution, some areas in the lake aren't safe to swim in.
Lake Atitlan has a surface area of 50.2 square miles and sits at an elevation of 5,125 feet. This crater lake's history likely began about 84,000 years ago after a supervolcanic eruption formed a caldera. The soil surrounding the lake is very fertile. Many farm crops thrive here, including corn, onions, squash, coffee, cucumbers, and avocados.
6. Yamdrok Lake (Tibet)
Next is Yamdrok Lake, a freshwater lake in Tibet. Many snow-capped mountains surround this 45-mile-long sacred lake. The water is a beautiful deep blue and shimmers. This beautiful lake has a lot of history behind it. For instance, a local legend tells the tale that the lake is the transformation of a goddess. The surface area of Yamdrok Lake is 246 square miles. This stunning lake has an average depth of 98 feet and a recorded maximum depth of 200 feet.
Yamdrok Lake is also very cold. The climate around the lake is dry and cool. Summers are wet and mild. The lake's cultural significance is important. You can find the Samding Monastery on a peninsula on the lake. It's the only Tibetan monastery to be headed by a female reincarnation and was where Samding Dorje Phagmo stayed.
7. Lake Superior (U.S)
Another beautiful lake in the United States is Lake Superior. This massive lake is so large that it's often mistaken as an ocean. Lake Superior is in North America, near the Canada–United States border. This large glacial lake is stunning with clear waters. Lake Superior is actually the largest freshwater lake in the world by area and the third largest by volume. It's about 350 miles long and 160 miles wide. Apart from its impressive size, Lake Superior is best known as a vacationing spot. Within this large lake are many islands, including Isle Royale in Michigan, the largest island in Lake Superior. It's large enough that the island contains multiple lakes. That's right, a lake within a lake!
Lake Superior is old and one of the first human settlers used the area about 10,000 years ago. Interestingly, there are shipwrecks within Lake Superior. They are most common near Whitefish Point in Michigan. It's called "Graveyard of the Great Lakes". Lake Superior is a great place for swimming. You can also camp in one of many camping sights along the coast. You can also fish. There are at least 80 species of fish in Lake Superior.
8. Lake Louise (Canada)
Canada is the land of many lakes. One of the most beautiful lakes in the world is Lake Louise in Banff National Park. It's a gorgeous lake with many hiking trails. The area around the lake is famous for its grizzly bears and teahouses. Lake Louise is also called the Ho-run-num-nay, which means "Lake of the Little Fishes". This glacial turquoise and cold lake is a small lake, and yet visitors come from all over the world to see it. Its surface area is 0.31 square miles. Lake Louise is also 1.2 miles long and 0.31 miles wide.
While you can enjoy the many hiking trails, you can also kayak, canoe, and rock climb. Another thing to do near Lake Louise is to visit the Lake Louise Ski Area. Here you can ski, snowboard, ice climb, ice skate, and ice fish.
9. Pehoe Lake (Chile)
In Chile, you can visit Pehoe Lake, one of the most beautiful lakes in the world. It's stunning and provides plenty of outdoor recreation opportunities. Pehoe Lake is so beautiful, it belongs on postcards. This lake has a surface area of 8.5 square miles. It's a protected lake within Torres del Paine National Park in southern Chile. Some people also refer to this lake as Lake Pehoe.
This jewel is breathtaking and is worth the long travel. This stunning lake isn't as frequently visited as the other lakes on this list.
10. Lake Victoria (Kenya, Tanzania, Uganda)
Another stunning lake is Lake Victoria in Kenya, Tanzania, and Uganda. Lake Victoria is the world's second-largest freshwater lake, after Lake Superior (which is also on this list)! Its surface area is 23,146 square miles. Lake Victoria is about 223 miles long and 209 miles wide. The shore length is an impressive 4,439 miles long. This natural lake is also very old. Interestingly, it dried out over 17,000 years ago but was refilled soon after when the African humid period began.
This lake is stunning because of its color and size, but it also is home to many animals. Some of the most impressive mammals that live and use Lake Victoria are hippos, cane rats, and spotted-necked otters. Other than mammals, you can also see countless reptiles, fish, and birds. For instance, there is a large population of Nile crocodiles in the lake and its surrounding wetlands.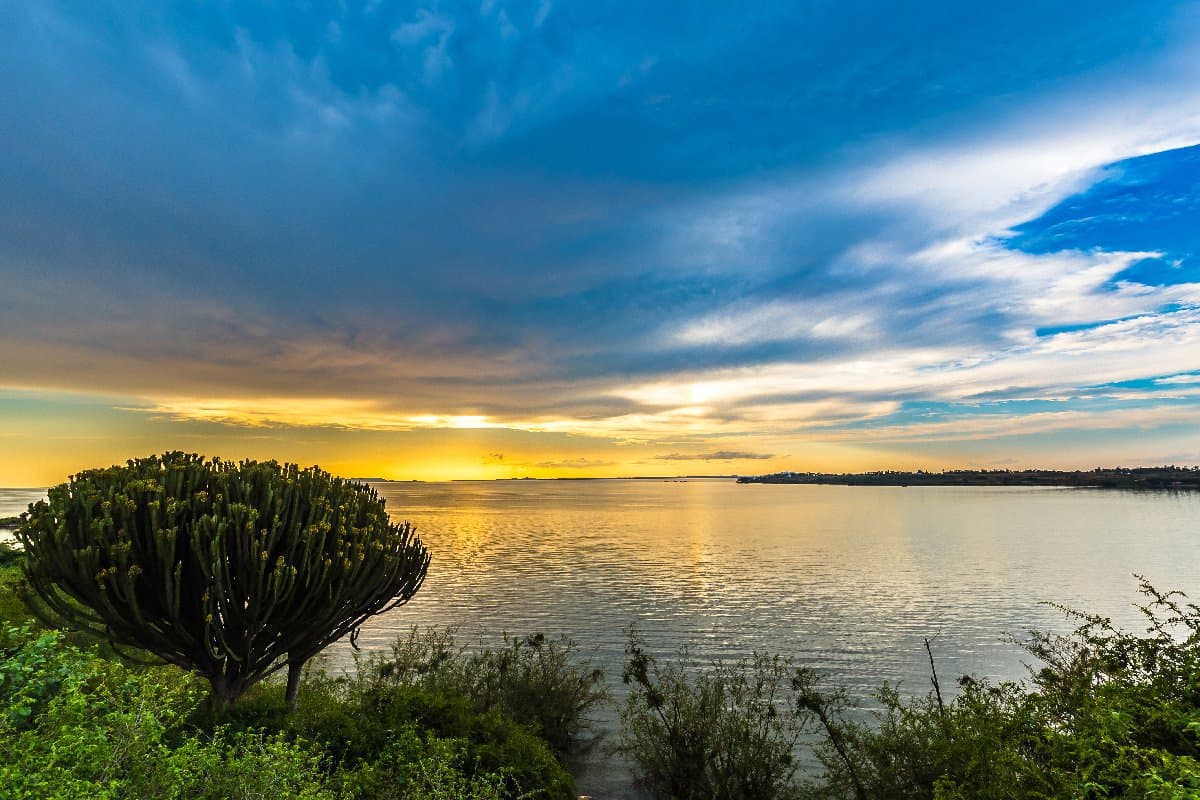 11. Lake Como (Italy)
It's hard to forget about the impressive Lake Como in Italy. This beautiful lake is the third largest lake in Italy. While this lake is large, it's best known for its warm climate and amazing villas. Tourism is very important in the area. While visiting, you can enjoy the lovely wildlife and outdoor activities. For instance, you can sail, windsurf, and kite surf on the lake. Around the lake are also many thriving farms producing items like olive oil, cheese, milk, and honey.
Lake Como has many attractive villas. Some have been standing since the Roman villas. Apart from enjoying the luxurious and peaceful villas, visitors can also use the ferry system to travel to the many towns near the lake.
12. Lake Baikal (Russia)
The last beautiful lake on our list is Lake Baikal in Russia. Mountains and lush forests surround this stunning lake. Lake Baikal is an ancient and impressive lake. It's the oldest and deepest lake in the world. Lake Baikal is also the largest lake in the world by volume. It's about 25 to 30 million years old and has a surface area of 12,248 square miles. Located in Serbia, this jaw-dropping lake is home to numerous floral species. There are also many animals native or endemic to the region. For instance, the Baikal seal is only found in this lake.
There are two main seasons for tourism. Some people visit Lake Baikal during the winter for ice fishing and hiking. During this season, the ice freezes allowing movement on the lake. This is when people visit the rocky banks of Olkhon Island for the unique ice forms. In the summer, hiking trails are open that cross the Baikal Range and Barguzin Range.
Summary Table of 12 Most Beautiful Lakes
| Lake Name | Location |
| --- | --- |
| Lago di Braies (Pragser Wildsee) | South Tyrol, Italy |
| West Lake | Hangzhou, China |
| Crater Lake | Oregon, United States |
| Dead Sea | Jordan, Israel, and the West Bank |
| Plitvice Lakes | Plitvice Lakes National Park, Croatia |
| Lake Atitlan | Guatemala |
| Peyto Lake | Banff National Park, Canada |
| Lake Tahoe | California and Nevada, United States |
| Lake Titicaca | Andes, Peru, and Bolivia |
| Derwentwater | Lake District, England |
| Lake Wakatipu | Queenstown, New Zealand |
| Lake Baikal | Russia |
---
The Featured Image
---