↓
Continue Reading To See This Amazing Video
During Halloween and the fall seasons, plenty of spooky creatures like spiders and snakes are out in abundance until the winter takes over. When all the ghouls and monsters come out on Halloween, this blood-sucking bat is the creepiest thing you'll see all Halloween. Vampire bats are hematophagous animals which feed on blood for its proteins and lipids. Other blood-drinking hematophagous animals include leeches, mosquitoes, vampire finches, fleas, and bed bugs.
In the darkness of night, vampire bats use their heat-sensing abilities to find animals like cows or horses to drink their blood. While able to fly, vampire bats sneak up on their prey on the ground. They are the only bat known to be able to run (they can run as fast as 2.5 mph).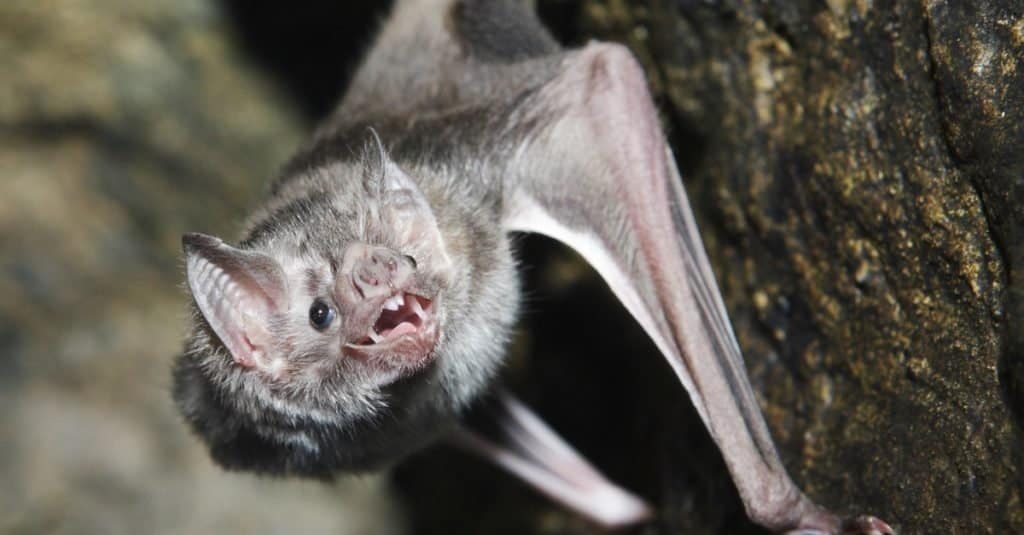 The incisors of the vampire bat are incredibly sharp. They are used to cut away hair and pierce the skin of animals. Contrary to popular belief, vampire bats do not suck blood but lap it into their mouth like a dog. Vampire bats drink around two tablespoons of blood daily and can only go for around two days without feeding. These stealthy vampires feed for about 30 minutes before getting full. Their saliva works as an anticoagulant, which keeps their prey from excessively bleeding.
Out of the nearly 1,000 species of bats on earth, the typical vampire bat (Desmodus rotundus), hairy-legged vampire bat (Diphylla ecaudata), and white-winged vampire bats are the only known blood-drinking bats and mammals. They live in Northern Mexico and Central and South America. Vampire bats thrive in humid and arid climates, taking shelter in caves, buildings, and hollow trees to roost.
Vampire Bat behaviors
It is infrequent for a vampire bat to bite a human, as they prefer to feed on domestic livestock. Vampire bats like to drink off animals that will allow them to feed fully with little to no resistance. Vampire bats can recognize sleep breathing patterns and return when they know animals are sleeping. Humans have reported attacks by these flying blood-thirsty animals only around the habitats in which they live. In the instances of these attacks, vampire bats won't drink all a person's blood or leave them with a deadly wound, yet they can transmit rabies. 
Vampire bats live in colonies ranging from 20 to 150 individuals and are very social animals. If their friends are hungry, they will vomit blood to share food, further strengthening their social bond. Vampire bats are scared of humans and rarely choose to bite one, but it's still frightening to know that blood-sucking animals exist out there.
Up Next:
More from A-Z Animals
---
The Featured Image
---