Key Points:
This video covers a buffalo calf defending itself against a male lion.
The lion uses several methods for hunting prey – enticement is one of them.
The predator and prey roles seem to have been reversed in this video.
There are enough plot twists in this short video to make a great novel. Who is the good guy? Who is the bad guy? How will it end?
It was shot in the famous Kruger National Park in Africa and has already had over a million views.
So, this is how the story goes!
Buffalo Calf and the Male Lion
At first glance, this looks like a classic lion-hunting-buffalo situation. After a few moments, you can see that the little buffalo is actually the one pursuing the lion. How can this be?
The predator and prey roles seem to have been reversed here! We learn from the notes that buffalo calves have the instinct to fight to the bitter end. The lion simply stands and stares at the calf who approaches in an attempt to see the lion off. The lion retreats a little way and then turns around again to stare at the calf.
We then learn that this is a tactic that lions use to entice calves away from the herd. Once the little calf is far away from the adults (and their powerful kicks and sharp horns) it will be a much easier target for the lion.
But just when we start to feel really sorry for the little calf and think that it has fallen for the lion's tactics, we learn that the lion has already eaten and is not in the mood for another kill. The lion is simply playing with the calf and eventually wanders off with no harm done!
Is it Normal for Calves to Act Aggressively toward Predators?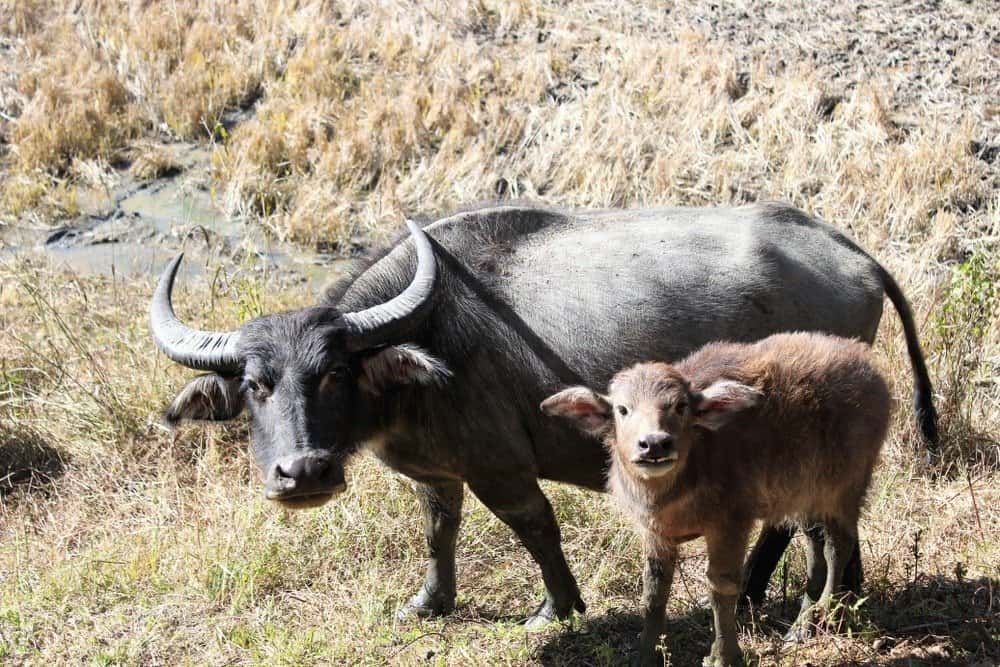 No, it is not normal behavior. However, the answer isn't that simple. There are many reasons a calf may act aggressively. It may be out of fear, learning, or a hormonal state. In fact, aggression is usually only seen in bulls while aggression in cows and calves is very rare.
Kicking is the main defense that cows have and can be common in heifers. In fact, beef cattle are usually not raised for gentleness or for being handled. This species of cattle is one of the more aggressive types, but still, aggression is not common.
Lions Hunting for Prey
The lion uses several methods for hunting prey – enticement is just one of them. As well as buffalo, they hunt antelopes, zebras, and warthogs. Also, it is more common for the lionesses to do the hunting rather than the males.
A classic lion-hunting method is stalking – very similar to the method used by domestic cats. The lion stays hidden for as long as possible (often in long grass) as they sneak up on their prey.
Lionesses are better at this because they are slimmer and find it easier to stay hidden than bulky males. The females will work together and will try to surround the prey whilst staying hidden.
Eventually, the hunted animal will notice that they are being stalked and will make a break for it which is when the chase begins.
Lions can run at up to 35 mph and because they are working as a team, they can often catch faster animals. Once the animal is caught, they are mauled, and a sharp bite is used to crush their necks so that they are paralyzed.
The male lions do get involved in cornering larger prey. Once the animal is trapped, the male lions use their strength and power to overwhelm the trapped animal. This little buffalo is extremely lucky that the lion in this vid already had a full stomach!
Watch the Buffalo Calf's Amazing Bravery in the Video Below!
How Large is a Buffalo Calf vs. an Adult Lion?
An adult water buffalo far surpasses the size of an adult lion by comparison. The adult water buffalo stands at a height of 4.5 to 6.2 feet at the shoulder, has a body that's 9 to 11.5 feet in length, and weighs from 1,500 to 2,650 pounds. The adult lion, on the other hand, stands 3.5 to 4.5 feet at the shoulder, has a body length of 8 to 10 feet, and weighs 330 to 550 pounds (260 to 400 lbs for a female).
In a match-up, the water buffalo outsizes an adult lion on all scores, and with its powerful horns, it is a formidable foe and very hard to take on in a one-on-one battle. However, a buffalo calf, is smaller than an adult lion, standing 2 to 3 feet tall, 4 to 5 feet long, and weighing 100 to 300 pounds. Adult lions will definitely target a young buffalo rather than an adult if the opportunity presents itself, as they are smaller and weaker.
---