Given the fact that mako sharks are credited with the title of the fastest shark in the world, it's no small feat to catch one. It's also not something that's recommended by anyone – but what's the harm in leaping onto the back of a mako shark, just for a few quick pictures? Clearly, the person in this video wasn't worried about the mako's reigning championship title.
How Dangerous Are Mako Sharks?
In this brief video, we see a man on top of the back of a mako shark. It is unclear whether or not this is a longfin or a shortfin mako shark, given that they are closely related but have subtle differences between them. The man does not appear to be dressed for swimming, but he kneels in the water on top of the shark and does something even more terrifying than this.
With a bite force of up to 3,000 pounds, mako sharks are not the sharks that you should mess with. However, the man in this video holds the shark down using his legs and opens its jaw with his bare hands. Not only is this not recommended and incredibly dangerous, but it also demonstrates behavior that typically gets fishermen or other humans bitten by mako sharks.
There haven't been very many reports of human injuries from mako sharks, but at least one death has been reported and attributed to the mako shark in particular. However, the thing that the mako shark is most known for has to be its speed. Capable of leaping up to 20 feet into the air and out of the water, the average shortfin mako shark swims at 30 mph, with nearly 50 mph bursts of speed.
Opening the Jaws of a Mako Shark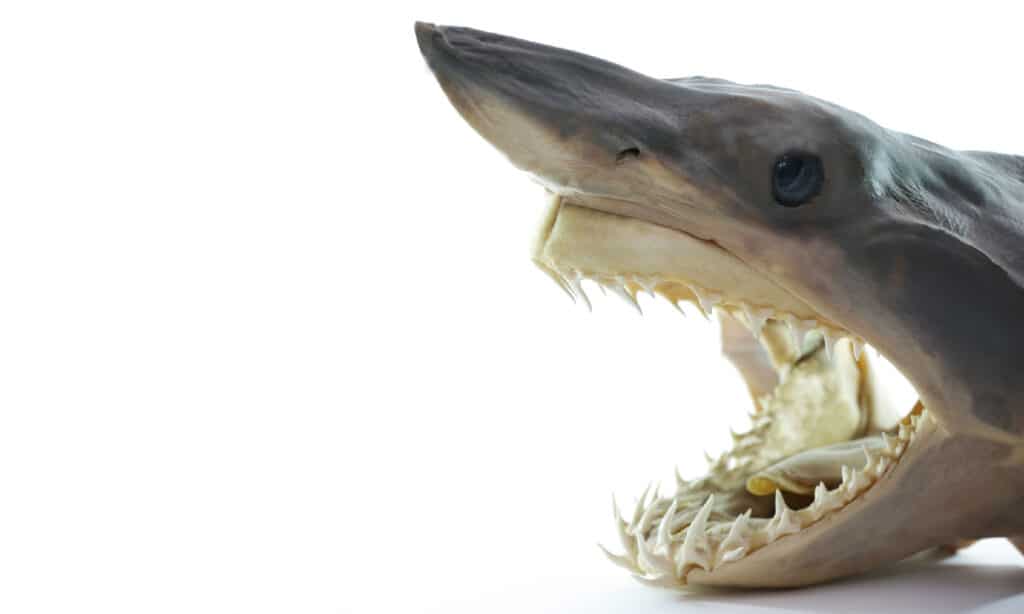 This brief video has no context as to how this mako shark made it onto the shore, nor does it explain why this person is on top of it. Perhaps the shark ran ashore on accident and this person is merely using it as a brief photo opportunity. Or maybe the shark was fished from the sea and they are returning it, but only after proving that they caught it.
Regardless of what exactly is happening, the strength found in the arms of the man holding open the jaws of the mako shark is quite impressive. There's no denying that this is a potentially dangerous situation, especially given the fact that the mako shark is scared and more likely to attack.
Grabbing it by the nose, the subject of this video holds the jaws of the fearsome mako shark open, however briefly. He then releases it, likely preparing to get off of the shark and let it return to the sea.
Next Up:
If you enjoyed this video, here are some others that involve the beautiful and misunderstood sharks of our world: 
The photo featured at the top of this post is © wildestanimal/Shutterstock.com
---