Key Points
Miniature poodles are the largest of the poodle breeds, they are noted for their intelligence which makes them easy to train.
Next in size come toy poodles, a variety that once earned their keep as circus performers; they are noted for their cleverness and friendliness.
Teacup poodles are the smallest of all. They are particularly delicate and require meticulous care.
Did you know that there are three different poodle varieties known as the toy poodle vs miniature poodle vs teacup poodle? Are there any differences between these three dogs, and what might they have in common besides the fact that they are all poodle breeds? If you have always wanted to learn more about poodles, you're in the right place!
In this article, we will compare and contrast toy poodles, miniature poodles, and teacup poodles so that you can learn everything there is to know about these individual dogs. We will discuss their ancestries, appearances, and behavioral differences so that you can fully understand them. Let's get started and talk all about poodles now!
Comparing Toy Poodle vs Miniature Poodle vs Teacup Poodle
| | Toy Poodle | Miniature Poodle | Teacup Poodle |
| --- | --- | --- | --- |
| Size | 9-11 inches; 5-9 pounds | 11-15 inches; 14-17 pounds | 5-8 inches; 2-4 pounds |
| Appearance | In between miniature and teacup sizes | The largest of the poodle varieties | The smallest of the poodle varieties |
| Ancestry | Unknown, but used in a variety of jobs including circus performing | Bred shortly after the standard poodle gained popularity | A recent breed, made to be an even smaller variety of toy poodle for designer purposes |
| Behavior | Friendly and smart; ideal for some families and situations | Intelligent and easy to train; ideal performer and family companion | Small and sweet, but extremely delicate; not ideal for many families or busy households |
| Lifespan | 11-14 years | 12-15 years | 10-13 years |
Key Differences Toy Poodle vs Miniature Poodle vs Teacup Poodle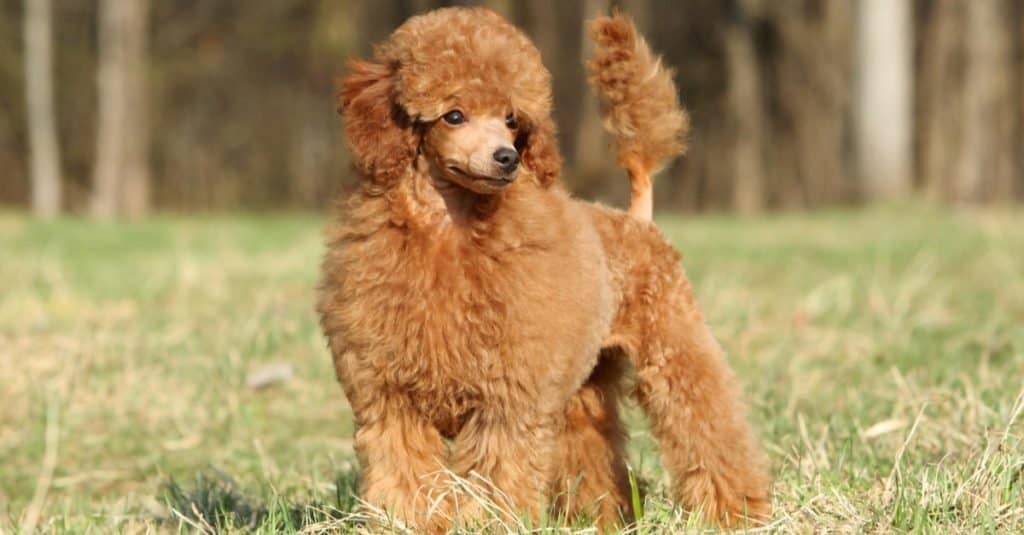 There are a few key differences between toy poodles, miniature poodles, and teacup poodles. While all of these poodles are technically the same breed, just different sizes, they were all bred and created for different reasons in the first place. There are also differences in the life spans and behaviors of the toy poodle, miniature poodle, and tea cup poodle.
Let's take a look at all these differences in detail now.
Toy Poodle vs Miniature Poodle vs Teacup Poodle: Size
One of the most obvious distinctions that you can make between all three of these poodles is their sizes. The toy poodle weighs 5-9 pounds, the miniature poodle weighs 14-17 pounds, and the teacup poodle weighs 2-4 pounds. As you can no doubt tell, the height differences and weight differences between these three dogs is what separates them primarily.
For example, toy poodles measure 9 to 11 inches tall, miniature poodles measure 11 to 15 inches tall, and tea cup poodles measure 5 to 8 inches tall, given that they are the smallest poodle variety in existence. However, it may be difficult to tell what variety you have upon first glance and without weighing them properly.
Toy Poodle vs Miniature Poodle vs Teacup Poodle: Appearance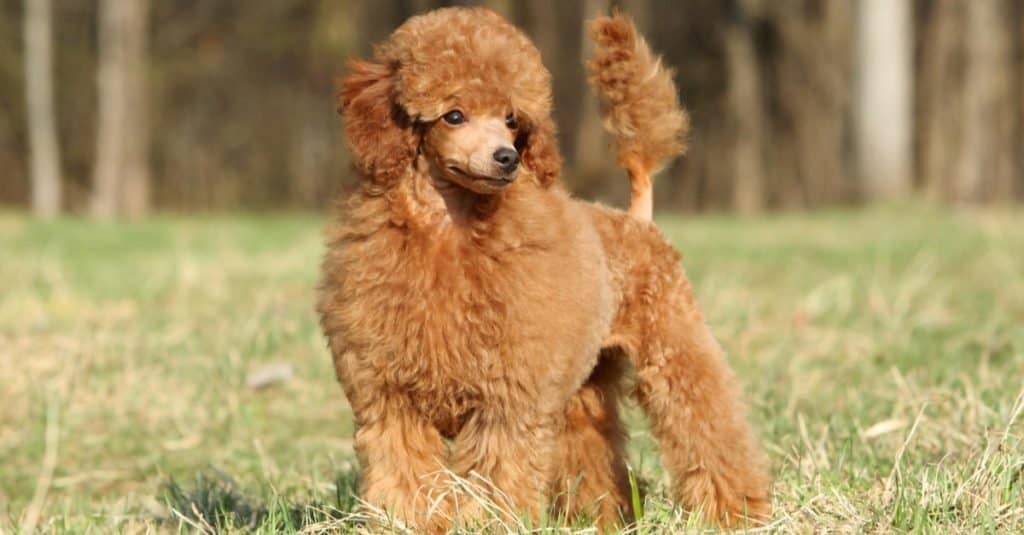 There are very few differences in the appearance of a toy poodle versus the appearance of a miniature poodle, and even less of a difference when looking at a teacup poodle. However, when looking at these three poodles side by side, you can tell that they are different based on their sizes alone.
Given that all three of these dogs are the same breed, they are all found in the same fur type, coloring, and general body shape. There are no extreme differences in appearance between toy poodles, miniature poodles, and teacup poodles besides their relative size differences. Miniature poodles are the largest poodles, with toy poodles next, followed up by tea cup poodles as the smallest.
Toy Poodle vs Miniature Poodle vs Teacup Poodle: Ancestry and Breeding
One of the primary differences between all of these poodle varieties has to do with their ancestry and why they were bred in the first place. For example, miniature poodles exist because of the popularity of standard poodles. However, standard poodles were too large to take on the road in circus acts and other situations, so miniature poodles were born.
The same can be said for toy poodles as well, though toy poodles were thought to be royal lap dogs, while miniature poodles were used primarily for entertainment. Teacup poodles differ from both toy poodles and miniature poodles in that they are simply designer dogs, recently created and bred to be as small as possible.
Toy Poodle vs Miniature Poodle vs Teacup Poodle: Behavior
There are a few behavioral differences between toy poodles, miniature poodles, and teacup poodles. Miniature poodles are extremely intelligent and ideal for a variety of families, while toy poodles and teacup poodles are better suited for families without young children. However, this is less a matter of the dog's behavior and more a matter of the size of the dog.
Given how small the tea cup poodle and miniature poodle are, they are less suited for busy families or young children. Most toy dog breeds suffer from physical trauma or moments of getting stepped on based on their size. Miniature poodles are best for active households.
Toy Poodle vs Miniature Poodle vs Teacup Poodle: Lifespan
The final difference between toy poodles, miniature poodles, and teacup poodles is their lifespans. The miniature poodle has the longest lifespan out of all three of these poodles, with the toy poodle second and the teacup poodle third. But why might this be, especially when you consider the fact that most small dogs live longer than larger dogs?
Given the fact that the toy poodle and teacup poodle are extraordinarily small, their lifespans are shorter than the miniature poodle. Physical trauma and other accidents are typically causes of death for the toy poodle and teacup poodle. Miniature poodles are larger and sturdier overall.
What Kinds of Haircuts Are Good For Poodles?
One distinctive characteristic of poodles is their interesting haircuts! From a summer shave to a stunning show-worthy cut, there are many styles available for your poodle, depending on its hair thickness, growth, and texture. Below is a list of the most popular poodle haircuts.
Dutch Cut We'll begin with haircuts for poodles that compete in shows and work our way down. This classic cut features long hair on the top of the head, while the facial hair is shaved, giving the dog a mohawk look. The sides are left medium–length, while the paws are also shaved. The tail can also sport a pom pom.
The English Saddle Cut This cut is certainly not for all poodle owners, as it requires a lot of maintenance, but it is a great choice if you own a show dog. It leaves longer hair on the top of the head than a Dutch cut, two pom poms on the dog's hind legs, a pom pom on the tail, longer hair on the chest and upper back, plus a shaved face and paws.
Lion Cut As the name implies, your poodle will look similar to a lion with this cut, as the chest and upper back hair are left long to resemble a lion's mane. Pom poms don its front and rear paws and tail, while the legs are shaved.
Teddy Bear Cut If your poodle enjoys masquerading as a wild animal, another option besides the lion cut is the teddy bear cut. This mid-length haircut showcases the poodle's natural curls, while its face is cut to look rounded, and its paw hair is left longer to mimic bear paws.
Short Cut Not only is this cut one of the most popular for most poodle owners, but it is also low maintenance. Poodles with naturally short hair do well with this cut, where all the body hair is cut short, hair on the ears is left longer, and the face and paws are shaved.
Puppy Cut This hairstyle is popular for multiple dog breeds. The dog's body hair is cut short, but the facial hair is left longer. This cut is fairly low-maintenance, but you'll need to give your poodle regular brushing.
Summer Cut When the summer heat turns up, this haircut can help your poodle stay cool. All the hair is cut very short except for pom poms on the legs and a tufted or pom pom tail.
The photo featured at the top of this post is © Lim Tiaw Leong/Shutterstock.com
Ready to discover the top 10 cutest dog breeds in the entire world?
How about the fastest dogs, the largest dogs and those that are -- quite frankly -- just the kindest dogs on the planet? Each day, AZ Animals sends out lists just like this to our thousands of email subscribers. And the best part? It's FREE. Join today by entering your email below.
---