The last thing that comes to mind when most people think of Texas is its fishing. You may not be aware that Texas offers some of the best trout fishing in the country. When you mention trout fishing to Texans, just one saltwater species—the spotted sea trout—comes to mind. Along with red drum and flounder, it is one of the top three saltwater species that anglers pursue in the state.
Texas also hosts both brown and rainbow trout, which most individuals outside the state are unaware of, making it one of the state's best-kept secrets. So, where are the best trout fishing spots in Texas located? Below, we've curated a list of the best fishing spots in Texas and where to find them.
The 12 Best Trout Fishing Spots in Texas
1. Garner State Park
Garner State Park is among the best state parks in the nation for fly-fishing for freshwater trout. The Texas Parks and Wildlife Department stocks the Frio River, which runs through the park annually. Rainbow trout thrive in this area as a result. Fishing for rainbow trout in the park is excellent for inexperienced and seasoned fishermen. You would only need to rent fishing equipment if you failed to pack your own. All skill levels of visitors, including novices like your children, are welcome at Garner State Park.
2. Burke Crenshaw Park
In addition to being a gorgeous outdoor space popular with many people, Crenshaw Park is situated in the greater Houston area and regularly supplies catchable rainbow trout. The City of Pasadena purchased Burke Crenshaw Park in 1970. The lake is close by, has a modest fishing pier, and has both paved and unpaved shorelines, giving plenty of room to catch some fish. The size of Burke Crenshaw is roughly 100 acres. There are currently no size restrictions in effect, and anglers are allowed to catch up to 5 fish each day. In the winter, rainbow trout are placed in the lake, while catfish are stocked in the summer and spring.
3. The Canyon Tailrace
The Canyon Tailrace on the Guadalupe River is where you should go if you don't like the little stocked fish. It is the only stream in Texas with water temperatures chilly enough to sustain trout year-round, making it the only year-round freshwater trout fishery in the state. This results from periodic releases of chilly water from the Canyon Lake dam. Each year, the Texas Parks and Wildlife Department and the Guadalupe River Chapter of Trout Unlimited (GRTU) stock the Canyon Tailrace fishery below Canyon Lake. It is regarded as one of the best fisheries in Texas and is home to big brown and rainbow trout. Even though the state has some excellent fishing, this remote location is the only one that consistently produces fish of this age and size.
4. Trinity River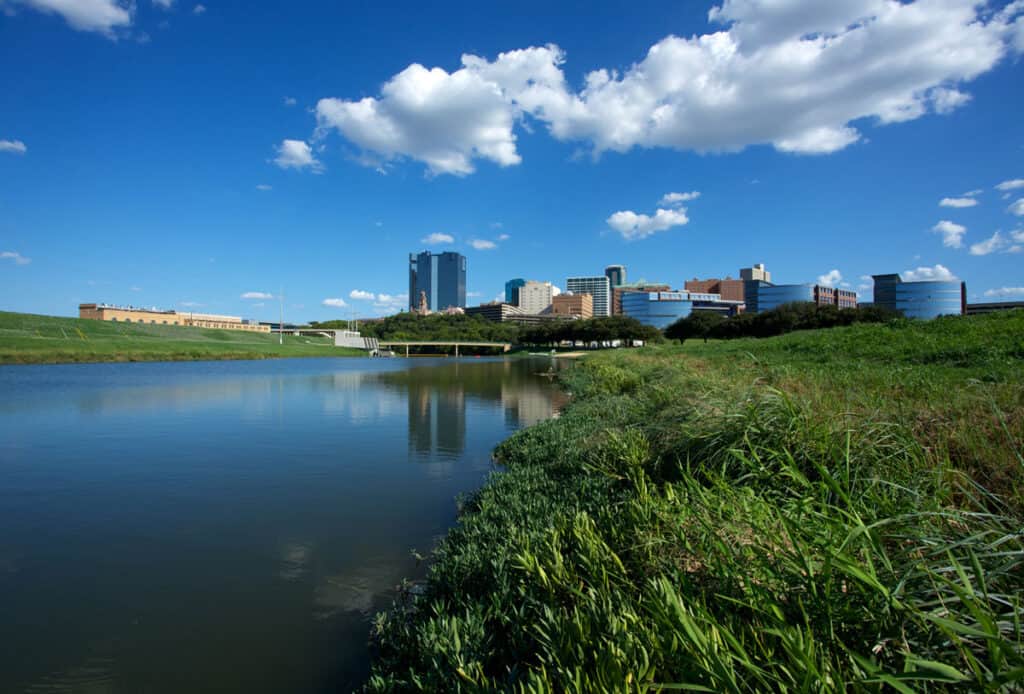 The Trinity River near Fort Worth is another area where Texas Parks and Wildlife frequently stocks fish, although it is still considered urban fishing. The Trinity is renowned for its massive brown trout, drift boat salmon, steelhead fishing, and walk-in riverfront locations. In addition to having beautiful scenery, this river also makes it simple to catch the fish that live there. Only devoted, local anglers are typically seen fishing in this river, which is essentially a little-known fishing destination.
Chinook salmon are the highly prized game fish in the Trinity River system. Beginning in May, spring-run salmon join the river and offer trophy fishing into November. The river has large populations of brown and rainbow trout, most of which are artificially stocked, although a few wild trout have been caught.
5. Daingerfield State Park
Daingerfield State Park, close to Dallas, is a fantastic location to check out for fishermen hoping to catch both rainbow and brown trout. Near Mount Pleasant, the large, open Daingerfield State Park Lake is home to a healthy population of both species, which are also fairly simple to catch. Anglers seeking a secluded, less congested fishing site should consider Daingerfield. This area's most frequently caught species include channel catfish, largemouth bass, chain pickerel, and rainbow trout. The beautiful thing about this body of water is that it is a state park, so you don't need a fishing license to fish there. There are certain fishing regulations, and the daily limit is five trout of any size.
6. Galveston Bay
Galveston Bay is regarded as one of the best places in the United States for capturing sea trout in terms of numbers and size, even though you can fish for them on almost any coastal waterway. According to some fishermen, Galveston is the ideal location for catching trophy-sized sea trout. Some of the greatest spots are the coves on West Bay near Rollover Pass and the southern shoreline. As the day heats up, they go to deeper waters. You must keep an eye out for grass flats, waterways, and oyster reefs. Observing a trophy-sized speckled trout rush out of the water to attack your bait aggressively is a perk of catching one in Galveston Bay.
7. Sabine Lake
Sabine Lake is among the best places in southern Texas to hunt for spotted sea trout. The lake is located near Port Arthur, which is only 30 minutes away from Beaumont. Spotted sea trout can be seen in the lake all year long. Sea trout thrive in the shallow, four to five-foot deep water. This trout species from Lake Sabine is drawn to the mullets, unlike other trout that dive deeper during the winter. The Neches and Sabine Rivers meet to form the lake connected to the Gulf of Mexico via Sabine Pass.
8. Blanco State Park
A 104.6-acre park, Blanco State Park is located on the southern outskirts of Blanco, Texas, along a mile of the Blanco River. Anglers looking for a close-by, top-notch trout fishery in central Texas may consider a side trip to Blanco State Park, only about an hour from San Antonio and Austin. Because of frequent stocking and convenient water access, the Blanco River is a well-liked trout fishery.
Anglers can access the Blanco River's shoreline from the park. You can rent fishing gear from the park office if you forget something in your tackle. The Texas Parks and Wildlife Department regularly stocks the river with rainbow trout during the winter.
9. Guadalupe River
Among the top 100 trout streams in the country, the Guadalupe River is renowned for offering some of Texas' best fly fishing. Over thirty years ago, the Texas Parks and Wildlife Department began stocking this river with rainbow and brown trout, and the fish have completely flourished in its chilly, clear waters. The waters of the Guadalupe River are made cold enough for rainbow and brown trout to flourish year-round by the cold water flowing from the Canyon Lake dam. There are many huge fish in the Guadalupe River system. Here, trout weighing between three and eight pounds are frequently captured; a few years ago, a thirteen-pound trout was caught as the record.
10. East and West Matagorda Bay
Despite being difficult to access, the East and West Matagorda Bays are worth the trouble for excellent sea trout fishing. The Texas Parks and Wildlife Department confirms that these areas are good for catching big trout. You might need to use a boat or a four-wheeled motorbike. The TPWD has observed sea trout as large as 36 inches in these waters. You can get to the cove shorelines in the bays where the sea trout often dine if you visit the places by boat. The Matagorda Bay draws plenty of sea trout because of the abundance of shrimp.
11. Possum Kingdom Lake
Possum Kingdom Lake's trout fishing is virtually incidental to the sights fishermen get off this north-central Texas waterway. The tailrace is stocked annually with roughly 9,000 rainbow trout by the Texas Parks and Wildlife Department. It does have a well-known winter trout fishery, with the Brazos River just below the reservoir and the tailrace of Possum Kingdom Lake as the most fruitful locations.
12. Mesquite Bay/Aransas Bay
Mesquite Bay and Aransas Bay in central Texas offer excellent sea trout fishing opportunities. Shrimp or tiny fish are chased to the surface by schools of sea trout. On a lead head jig, you might want to try using imitation dark shrimp tails or live shrimp as bait. Wading is common in these bays because you can go to the grassy shorelines and concentrate on the oyster shell reefs, where the fish like to cluster.
The photo featured at the top of this post is © iStock.com/33ft
---
Sources

Planetware, Available here: https://www.planetware.com/texas/freshwater-vs-saltwater-ways-to-target-trout-in-texas-us-tx-167.htm
Anglers Crate, Available here: https://anglerscrate.com/6-best-trout-fishing-spots-in-texas/
Fly Fisher Pro, Available here: https://flyfisherpro.com/locations/trout-fishing-in-texas/