There are many types of yellow tulips, coming in all shapes, shades, and sizes. Yellow tulips are the perfect addition to a spring garden. They capture the essence of sunlight and cheer that reflects the season, creating a showy display that will spark feelings of joy.
Here are nine types of yellow tulips to consider when the fall bulb planting season arrives.
History of Yellow Tulips
Tulips have a fascinating history filled with captivating stories and cultural significance. The tulip's journey began in ancient Persia, symbolizing paradise on Earth. These blooms later captured the hearts of the Ottomans, who cultivated and adored these vibrant flowers. In fact, the word "tulip" originates from the Turkish word for turban, reflecting the flower's resemblance to this attire.
The tulip's appeal spread to Europe when it was introduced to the Netherlands. The Dutch fell in love with these exotic blooms and soon began cultivating them on a massive scale. Tulips became a status symbol, and their popularity soared, leading to an event known as "Tulipmania" in the 17th century. People were willing to pay huge prices for rare tulip bulbs, and the market eventually crashed, causing financial turmoil.
Today, tulips are still deeply rooted in Dutch culture, symbolizing beauty, love, and abundance. Tulips have also become a global symbol of spring, with their vibrant colors adorning gardens and festivals worldwide.
Yellow tulips, in particular, symbolize friendship and happiness. They're a popular "just because" gift for friends and loved ones or a friendly gift for coworkers and acquaintances.
With this history and symbolism in mind, here are nine types of yellow tulips to grow in your garden.
Secret Perfume
Botanical Name: Tulipa 'Secret Perfume'
Tulipa 'Secret Perfume' is a lush double early tulip named for its strong fragrance. This pollinator-friendly tulip has compact petals, reminiscent of a peony, in a soft buttery yellow shade. Many petals boast a soft white stripe along the outside for a touch of dimension.
With proper care, these bright yellow tulips will grow up to 20 inches tall with a 4-inch spread. Many gardeners prefer these blooms for cut arrangements and patio planters.
Plant Secret Perfume in USDA Zones 3-8 in a sheltered area with adequate sun exposure and loose soil.
Strong Gold
Botanical Name: Tulipa 'Strong Gold'
Tulipa 'Strong Gold' boasts the iconic tulip cup-shaped blooms in a bright yellow-gold shade. Like Triumph tulip types, the Strong Gold has a sturdy stem resilient to wind and rain, making it ideal for open spaces.
The Strong Gold tulip grows up to 20 inches tall in ideal conditions, which is considered tall for a Triumph tulip. Most gardeners find that Strong Gold only reaches 16-18 inches tall.
Plant the Strong Gold tulip in soil with great drainage in a place with plenty of sun. This tulip fares best in USDA zones 3-8.
Gold Fever
Botanical Name: Tulipa 'Gold Fever'
Tulipa 'Gold Fever' is a double late tulip that blooms after the early tulips have bloomed and faded away. This peony-flowered tulip has a lovely yellow-gold shade that's vibrant and glows in the sun. The petals are lush and heavy, making this double tulip susceptible to adverse weather.
Gold Fever will reach 17-19 inches tall with a 4-inch spread in ideal conditions. Plant this beautiful tulip in a safe area protected from the wind and rain.
Like other double tulips, Gold Fever requires full sun to reach peak height and spread. Plant in well-draining, loamy soil in USDA zones 3-8.
Monte Carlo
Botanical Name: Tulipa 'Monte Carlo'
The Monte Carlo tulip is a delightful variety that brings a cheerful burst of yellow to any garden. Its bowl-shaped blossoms are eye-catching, with vibrant yellow petals that exude the warmth and radiance of the spring sun. The edges of the petals are ruffled for an extra touch of charm.
Recognized for its beauty and fragrance, the Monte Carlo tulip has been honored with the prestigious RHS Award of Garden Merit. This accolade is a testament to its showy, fragrant blooms.
When properly cared for, this award-winning double tulip can reach a height of up to 12 inches with a 4-inch spread.
For optimal growth, plant Tulipa 'Monte Carlo' in an area that receives full sun and has well-draining soil. This variety thrives in USDA zones 3-8, making it suitable for various climates and gardens.
Little Star
Botanical Name: Tulipa 'Little Star'
Tulipa 'Little Star' is a charming dwarf tulip variety that will surely catch your eye. Its bright white-tipped petals gracefully surround a bold yellow center, resembling a petite star. Standing at a height of 6-8 inches, this compact beauty adds a touch of elegance to borders, rock gardens, or containers.
This tulip prefers full sun and well-draining soil. The Tulipa 'Little Star' thrives in gardens that receive ample sun throughout the day— such as South or East-facing gardens with unobstructed light.
This tulip variety flourishes when not overshadowed by trees or larger blooms, making it ideal for garden edges or mixed with other miniature tulips. Plant this delicate beauty in USDA zones 3-8 for best results.
Yellow Emperor
Botanical Name: Tulipa 'Yellow Emperor'
One of the most popular types of yellow tulips, the Yellow Emperor is regal with a tall, sturdy stem and golden goblet-shaped blooms. Like other Fosteriana tulip types, this Emperor hybrid is an early bloomer that welcomes spring with open arms.
True to its type, the Yellow Emperor grows 18-20 inches tall at full maturation. Its elegant stems make it perfect for cut flower displays, so plant a few extra to avoid detracting from early-season pollinators.
Plant these stunning yellow tulips in USDA zones 3-8 in an area with loamy, well-draining soil and sufficient sun exposure.
Tulipa tarda
The miniature Tulipa tarda, meaning "late tulip," is a highly coveted and prominent botanical tulip species. Botanical tulips resemble the wild tulips found in their natural habitat before hybridization and cultivation. These distinctive flowers are characterized by their petite size, effortless naturalization, and their wildflower-like appearance. 
Unaltered by hybridization over time, this naturally occurring variety has been commercially cultivated for centuries. With a height of only 3-6 inches, Tulipa tarda boasts a petite yet striking appearance boasts white petals surrounding a gentle yellow center (similar to the Little Star).
While this miniature tulip performs best in full sun and well-draining soil, it can grow in more rugged, natural conditions. These blooms are perfect for rocky patches in USDA zones 3-8, where hybridized cultivars struggle.
Toktogul's Tulip
Botanical Name: Tulipa kolpakowskiana
Tulipa kolpakowskiana, a renowned tulip native to Afghanistan, China, Kazakhstan, and Kyrgyzstan, has garnered awards for its small stature and captivating beauty. In fact, many types of yellow tulips can be found in the wild with similar appearances.
Its soft lemon-yellow petals form a pretty star shape, while some variations boast a fiery touch with alternating petals showcasing a red backing. As the sun sets over its mountainous habitat, these blossoms emit a mesmerizing glow akin to flickering flames.
Reaching a maximum height of 6 inches, Tulipa kolpakowskiana possesses a naturalizing tendency, making it an ideal choice for rock gardens or paths. This tulip species is celebrated for its remarkable resilience, withstanding extreme heat and cold in its native environment.
This botanical tulip will tolerate partial shade and rocky environments with proper drainage in USDA zones 3-8 and beyond.
Tulipa sylvestris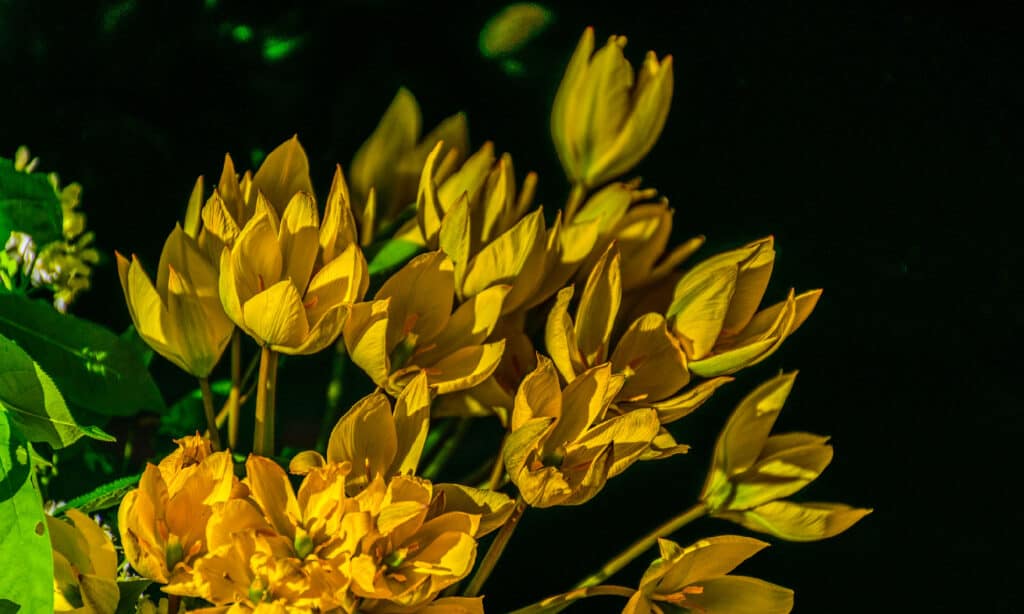 The charming Tulipa sylvestris is another botanical tulip that can be found in wild woodland environments. It has vibrant yellow stellate petals that close to a point in the shade, opening only when bathed in sunlight. Its wiry stems showcase its wild, untamed origins.
In ideal conditions, this yellow tulip will grow 12-14 inches tall. It blooms in the mid to late growing season and naturalizes with ease.
Plant this wild tulip away from other cultivars, as it may spread and take over the garden. Tulipa sylvestris tolerates partial shade and grows best in USDA zones 3-8 in well-draining soil.
The photo featured at the top of this post is © Sergey V Kalyakin/Shutterstock.com
---