The Union Square Farmers Market, also known as the Union Square Greenmarket, is the go-to destination for local and visiting foodies in New York, New York. This market brings tons of diversity with its food and its people, and you are sure to have a good time during your visit. If you are considering stopping by for the first time, then this guide will tell you everything you need to know.
Location of the Union Square Farmers Market
The Union Square Farmers Market or Greenmarket is located on the North and West sides of Union Square Park. This primary location is open from Monday – Saturday, and you can stop by between the hours of 8:00 a.m. – 6:00 p.m. 
The vendors at the market accept many different types of currency, including cash, debit and credit, SNAP/EBT, WIC, Senior FMNP coupons, Greenmarket Bucks, and Humana Healthy Options insurance members.
There are many parking spaces and garages in the area. They're not all free, but they can get you within walking distance of the market.
History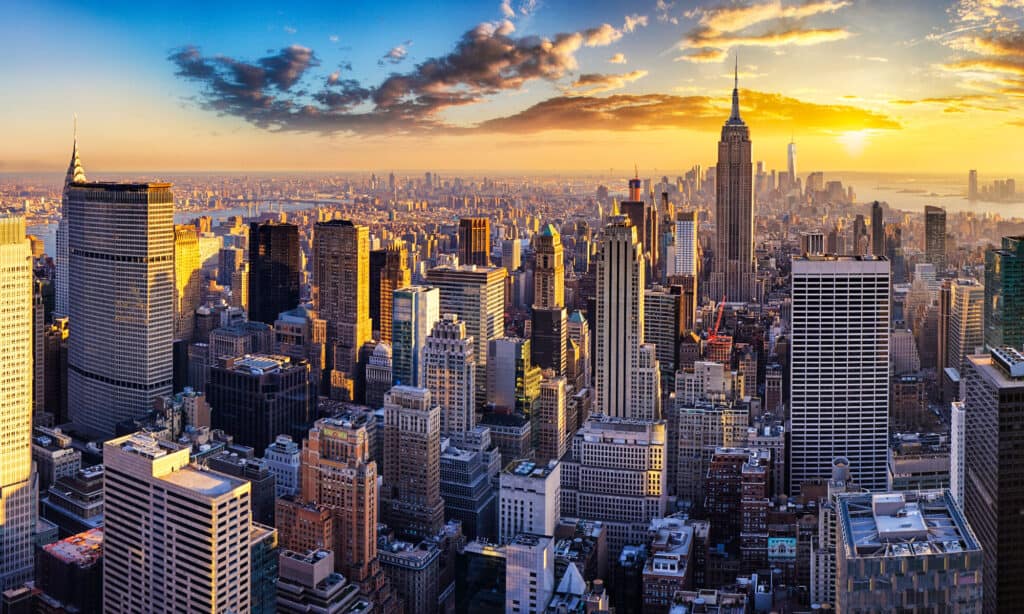 The Union Square Farmers Market opened its doors in 1976 with just a few local farmers. Since then, it has grown to major heights. While every season is different, the largest market can see over 140 local farmers, bakers, and fishers. Visitors that come to this flagship market can often choose between hundreds of delicious fruits, vegetables, and other foodstuffs.
The vendors really bring their A-game to this market. Patrons can choose from award-winning jams, pickles, cheeses, and artisan bread. There is also a large selection of wine, ciders, and maple syrup. Plus, patrons can choose from a vast assortment of plants and flowers. On a given day, there are over 60,000 shoppers in attendance, and it is an electric atmosphere that should not be missed.
Weekly Events and Activities
While there is a ton of delicious food and many gorgeous flowers to purchase at the Union Square Farmers Market, there are also many fun activities that folks of all ages can enjoy. All of the events below are held in Union Square.
Cookbook Signings 
If you have a favorite chef and you read their cookbook, there is a chance that you could have it signed at the next farmers market. Every season brings new chefs, and you can see the full list here. With that said, 2023 has an incredible roster, with book signings from:
Abra Berens, writer of Pulp: A Practical Guide to Cooking with Fruit
Catherine McCord, writer of Meal Prep Magic
Natasha Feldman, writer of The Dinner Party Project: A No-Stress Guide to Food with Friends
Andrea Nguyen, writer of Ever-Green Vietnamese: Super-Fresh Recipes, Starring Plants from Land and Sea
Sheela Prakash, writer of Salad Seasons: Vegetable-Forward Dishes All Year
Nicole Taylor, writer of Watermelons & Red Birds: A Cookbook for Juneteenth and Black Celebrations
Nancy Singleton Hachisu, writer of Japan: A Vegetarian Cookbook 
Hetty McKinnon, writer of Tenderheart: A Cookbook About Vegetables and Unbreakable Family Bonds
Susan Spungen, writer of Veg Forward: Super Delicious Recipes that Put Produce at the Center of Your Plate
Natasha Pickowicz, writer of More Than Cake: 100 Baking Recipes Built for Pleasure and Community 
Cooking Demonstrations
During open hours on Wednesday through Thursday, residents can check out cooking demonstrations by pro and amateur cooks. You can view the presentations by visiting the Market Information tent.
Greenmarket Education Station
The founders of the Union Square Farmers Market have a passion for helping the youth of the area, so they host many education programs. In 2023, kids are encouraged to take a self-guided tour through the Greenmarkets. They can also watch a virtual tour from the comfort of their classroom. 
There is also the GrowNYC Food Access & Agriculture Education program, which teaches kids about the food system, farming in the region, and the food choices that affect our bodies, environment, and communities. 
There are also tours and presentations for seniors, community-based organizations, university groups, and professional organizations that are interested in the architecture and food of the Northeast.
Sustainable Activities
The Union Square Farmers Market is part of a larger program provided by the GROW NYC team. This program strives to ensure that all New Yorkers have access to the healthiest and freshest local food. There's also a zero waste initiative where food scrap drop-off boxes and clothes collection boxes are spread around, and people can leave materials that they no longer need that can be used again by others. 
Vendors and Farmers
Every week, there is a slew of exciting vendors from the area. They provide some of the freshest foods and tastiest meals. While every week can be different, there are several vendors that make frequent appearances. They include:
Andrew's Honey – Honey and snacks
Back to the Future Farm – Milk, yogurt, cheese, and eggs.
Berkshire Berries – Honey, preserves, and maple syrup.
Body & Soul Natural Gourmet – Vegan and Gluten-free baked goods.
Bread Alone – Artisan bread, mostly Certified Organic, and pastries.
Central Valley Farm – vegetables, small fruit, eggs, cheese, and butter.
Eckerton Hill Farm – Heirloom tomatoes and peppers.
John D Madura Farm – Vegetables, eggs, and mushrooms.
Kimchee Harvest – Farmstead kimchee and vegetables
Lani's Farm – Vegetables and eggs
Lavender by the Bay – Fresh cut, dried, and potted lavender, and honey.
Martin's Pretzels – Hand-rolled hard pretzels.
Mushroom Queens – cultivated mushrooms.
Nemeth Orchard – Orchard fruit, berries, and pastries.
Ox Hollow Farm – Beef, pork, chicken, eggs, and seasonal vegetables.
PE & DD Seafood – Wild ocean fish and shellfish.
Roaming Acres – Ostrich & emu eggs, ostrich meat, bison, and certified Berkshire pork.
Roxbury Mountain Maple – Maple syrup and maple products.
She Wolf Bakery – Breads
Union Square Grassman – Wheatgrass and salad greens.
Wilklow Orchards – Orchard and small fruits, vegetables, cider, baked goods, jams, beef, and pork.
Here is a link to the whole list: Vendor Index. 
Conclusion
As you can see, the Union Square Farmers Market is the premier event for locals who want to support New York vendors by purchasing good food and beautiful flowers. If you're in the area, consider visiting this world-famous market. You'll be glad you did.
Up Next:
More from A-Z Animals
---
The Featured Image
---