Which city in the United States has the best weather? It's a subjective question since everyone has a different idea of what "best weather" means. For an avid skier, a city like Crested Butte, Colorado, may have the best weather with its 18 feet of annual snowfall. Others who want to soak up the sun may point to Yuma, Arizona, with its 308 sunny days per year. The average high July high temperature in Yuma is 110°F.
Asking which weather is best is similar to asking which pizza toppings are best. Everyone has their own opinion, and many hold to that opinion rather passionately.
What City in the U.S. Has the Best Weather?
Removing all subjectivity from "best weather" discussions is impossible. However, since most people enjoy temperate weather and dislike extremes such as high heat and bitter cold, we will use the following data points to make it as objective as possible.
Number of Days Above 90°F
Number of Days Below 32°F
Number of Clear to Partly Cloudy Days
Also, only cities with populations over 200,000 were considered. No disrespect to smaller towns, but this type of survey requires such lines to be drawn.
Even with this data applied, it is not a completely objective exercise. And the further down the list you go, the more subjective it becomes. But let's give it a go anyway, shall we?
Using the simple metrics listed above, the award for the best year-round weather goes to San Jose, California.
San Jose enjoys moderate temperatures consistently throughout the year. The city averages just two days each year above 90°F. The temperature in San Jose never drops below 32°F. The city also averages 257 days per year with clear to partly cloudy skies.
San Jose averages close to 15 inches of rain per year with no snowfall. The average annual high temperature is close to 72°F. It is hard to imagine a city with more idyllic weather than the "Capital of Silicon Valley."
Other U.S. Cities With Amazing Weather
Let's take a look at some of the runners-up for the cities with the best weather in the United States. You'll notice that California not only claims the number one spot, but the state also dominates much of the top ten.
2. San Diego, California
This southern California city experiences an average of three days above 90°F per year, just one day more than San Jose. When it comes to clear skies, San Diego edges out San Jose, with clear to partly cloudy skies 263 days out of the year. Neither city typically dips to 32 °F at any point during the year.
San Diego averages less than 12 inches of rain per year, which is close to arid climate conditions. The average high temperature is close to 70°F year-round. "America's Finest City" certainly has mighty fine weather.
But which city enjoys superior weather? Is it San Jose or San Diego? Honestly, just flip a coin. Both are spectacular.
3. San Francisco, California
Wait a minute…isn't San Francisco famous for its fog? Yes, it is. However, the fog doesn't usually dominate an entire day. It may surprise you to find out that the city enjoys 260 days per year with clear to partly cloudy skies.
San Francisco averages just two days per year above 90°F and zero days below 32°F. Some might argue that the average high temperature for the year is a bit on the cool side at 66°F. Again, it is impossible to make this exercise completely objective. Personal preference always weighs in. But all in all, "The City by the Bay" enjoys some pretty wonderful weather.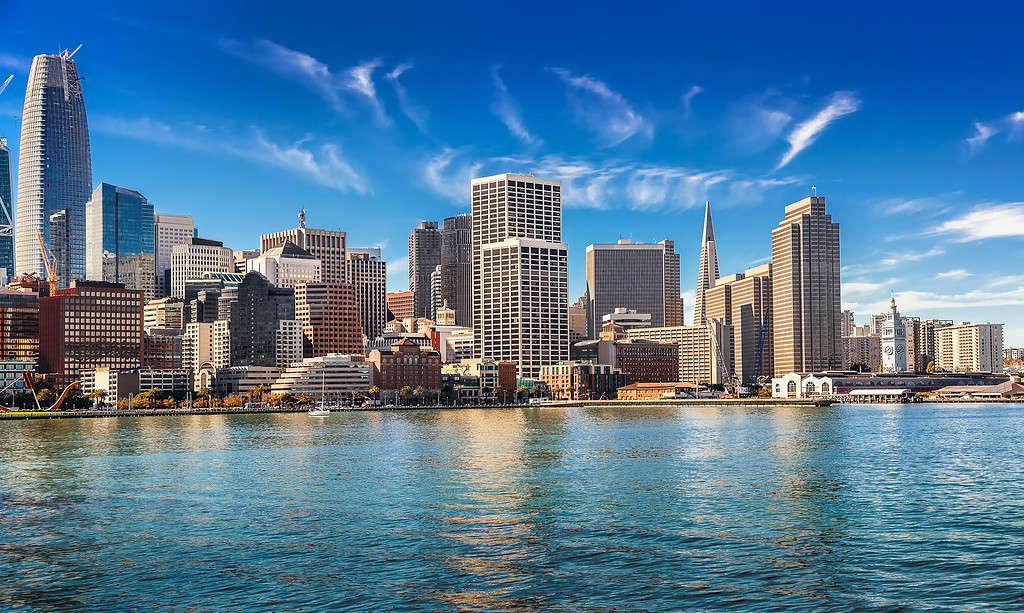 4. Los Angeles, California
The weather in Los Angeles is warmer than the other cities listed thus far, but the city still only averages 21 days of temperatures over 90°F each year. The temperature tops 100°F two days a year, on average. Not surprisingly, the mercury never dips below the freezing point in L.A.
It is also the sunniest city in the top five, with 277 days of clear to partly cloudy skies every year. Personal preference for clear skies versus cooler temperatures will either move L.A. up or down on your own list.
5. Honolulu, Hawaii
Honolulu is the first city outside of California to appear on the list. Obviously, the temperature in Honolulu never dips to 32°F. The city experiences an average of 25 days above 90°F each year. Hawaii's capital city enjoys 271 days per year with clear to partly cloudy skies.
The city averages 22 inches of rain per year, with the majority of the precipitation falling from October to April.
The average high temperature for the year in Honolulu is 83°F. In fact, January and February are the only months during the year when the average high is below 80°F.
Hawaii may be the eighth smallest state in the U.S. in terms of land area, but the state's climate is quite diverse. It varies between the different islands, elevations, and so forth. Conditions can be drastically different in two locations that are only separated by a short distance. Weather systems also tend to move quickly over the islands, so conditions can change rapidly.
6. Sacramento, California
And, just like that, we're back in California. The state's capital city enjoys clear to partly cloudy skies 265 days per year. There are 18 days below freezing, on average, and approximately 74 days above 90°F. July and August are especially hot, with average highs in the low to mid-90s. December is the coldest month, with average high temperatures in the mid-50s.
Puerto Rico's capital city enjoys 276 partly cloudy to clear days each year. The temperature never drops below the freezing point. There are 66 days in a typical year when the thermometer climbs above 90°F.
San Juan's average high temperature year-round is 86°F. There is never a month where the average high temperature is not in the 80s. January is the coolest month, with an average high of 83°F. The average highs are in the upper 80s from June to October.
8. Modesto, California
Modesto is known for its hot summers and temperate, short winters. The city experiences 84 days per year above 90°F. The temperature climbs into the 90s virtually every day in July and August. The city experiences around 22 days of below-freezing temperatures per year.
If it seems like the sun shines all the time in Modesto, that's because it does. The city sees clear to partly cloudy conditions 300 days a year.
If you've been waiting for The Sunshine State to make its appearance, here you go. There are plenty of towns and cities in Florida that have lovely weather, but their populations are below 200,000.
Tampa sees 244 days each year with either partly cloudy or clear skies. Only two days dip below the freezing mark, while 110 days climb above 90°F. This is a city for those who enjoy the heat.
10. Oklahoma City, Oklahoma
This is a surprising city to crack the top ten. Remember that population parameters weeded out a lot of other cities, but that does not take anything away from Oklahoma City. If you want a lot of clear skies and a city that experiences hot and cold weather almost equally, then "The Big Friendly" is for you.
Oklahoma City sees 76 days per year with temperatures below 32°F and 71 days with temperatures above 90°F. The city enjoys 235 clear to partly cloudy days throughout the year.
It's not a tropical paradise nor is it a winter wonderland. It is, however, a city where residents can enjoy a lot of great weather.
The "Perfect Weather City" Doesn't Exist
The weather in these cities is wonderful, but that doesn't mean it is perfect.
The California cities at the top of the list receive little rainfall. Droughts are commonplace, and the risk of wildfires can be extremely high.
Los Angeles ranks high among U.S. cities with the worst air quality. Greenhouse gasses are changing the climate, meaning L.A.'s temperatures are on the rise. The city could experience three times more days of temperatures over 95°F by the middle of the century. Of course, Los Angeles is not the only city that could see such adverse weather in the future. It is an issue that affects all of us.
San Juan's location in the Caribbean means the city is a target for hurricanes. Puerto Rico's official hurricane season begins June 1 and ends November 30.
Oklahoma City runs the risk of tornadoes. Oklahoma is the third-most tornado-prone state in the United States.
This doesn't diminish the lovely weather these cities experience for much of the year. It's just a reminder that, as with all things in life, it's not perfect.
The Other Side of the Spectrum
Now that we've listed out the top ten weather cities in the United States, which cities score the worst using the same criteria (including the 200,000 population minimum)? These cities don't necessarily have the worst weather overall in the U.S., but they earn special honors for excelling in one category.
1. Seattle, Washington — The Cloudiest U.S. City
Seattle's reputation for rain is a bit overblown. Miami, Florida, receives more rain than Seattle in an average year. In fact, Miami is the rainiest major city in the United States, with an average of 67.4 inches per year.
So why does Seattle have such a rainy reputation? The big difference is the cloud cover. When it rains in Miami, it is almost always followed by sunshine soon after. In Miami, the clouds roll in but then they roll out. In Seattle, the clouds remain.
Seattle is the cloudiest major city in the continental United States. Clouds cover more than three-quarters of the sky 226 days a year. That's not to say that The Emerald City doesn't shine, but it often isn't sunshine.
2. Phoenix, Arizona — The Most Days Over 90°F
Arizona's capital city has more days over 90°F each year than any other major U.S. city. In a typical year, Phoenix residents endure 168 days with temperatures in excess of 90°F.
Death Valley is the hottest place on Earth with more than 190 days each year above 90°F, but we're only considering major cities.
3. Minneapolis/St.Paul, Minnesota and Madison, Wisconsin — The Most Days Below 32°F
This one was so close that both cities deserve a mention.
Madison dips below the freezing point 152 days per year, the most of any major U.S. city. The average temperature from December to February is 21.6°F.
Minneapolis/St. Paul experiences 151 sub-freezing days per year, one day less than Madison. However, the average temperature in the Twin Cities from December to February is 18.7°F, making it the coldest major city in the United States. For comparison, the average temperature in Fairbanks, Alaska, during the same timeframe is 18.8°F.
Summary of 10 U.S. Cities With the Best Year-Round Weather
| Rank | City | Sunny Days | Days Above 90 | Days Below 32 |
| --- | --- | --- | --- | --- |
| 1 | San Jose, California | 257 | 2 | 0 |
| 2 | San Diego, California | 263 | 3 | 0 |
| 3 | San Francisco, California | 260 | 2 | 0 |
| 4 | Los Angeles, California | 271 | 21 | 0 |
| 5 | Honolulu, Hawaii | 271 | 75 | 0 |
| 6 | Sacramento, California | 265 | 74 | 0 |
| 7 | San Juan, Puerto Rico | 276 | 66 | 0 |
| 8 | Modesto, California | 300 | 84 | 22 |
| 9 | Tampa, Florida | 244 | 110 | 2 |
| 10 | Oklahoma City, Oklahoma | 235 | 71 | 76 |
The photo featured at the top of this post is © iStock.com/Sundry Photography
---