Key Points
Bidon once roamed the plains and prairies of the United States by the hundreds of thousands.
Bison are herd animals that live in large groups and feed grasses and vegetation.
In this video, bison of all sizes run down a hill and along a highway in America as motorists watch from their cars. Click the video link below to see this huge herd in action!
As the video at the bottom of this page shows, American bison are perfectly happy to take the highway to get from A to B. Also, it is not a problem for them if that means that the traffic backs up for miles! In this mind-blowing clip, we get to see a stream of bison charging down a hill and then trotting along a highway like it's the most natural thing in the world. There are some super cute calves on display too!
All About American Bison Calves
American bison are large members of the Bovidae family, which also contains cattle, water buffalo, and many more species. They are found in the boreal parklands and woodlands of Canada and the northern U.S.
Their breeding season is between June and September, and the majority of mothers give birth to a single calf. They weigh between 33 and 55 pounds at birth and can walk within 10 minutes. This is a distinct advantage when it comes to escaping from wolves who prey on bison calves. They also have all of their deciduous teeth in place. 
Bull calves are weaned at about six months. For females, it is a bit later. It's common for groups of females and their calves to live together in herds, as we see in this clip. Mature males, on the other hand, tend to live alone or in smaller herds of males.
Why Do Bison Herds Move Around?
These bison look like they are on a mission and have somewhere to go. It is normal for bison herds to move around. They are a non-territorial and nomadic species, although some do not move too far. Others are seasonally migratory and move to lower or more southerly habitats in the winter to avoid harsh weather and find better grazing. They may also move to find water and to avoid biting insects. Some herds travel over a hundred miles, so perhaps taking the highway was a great idea!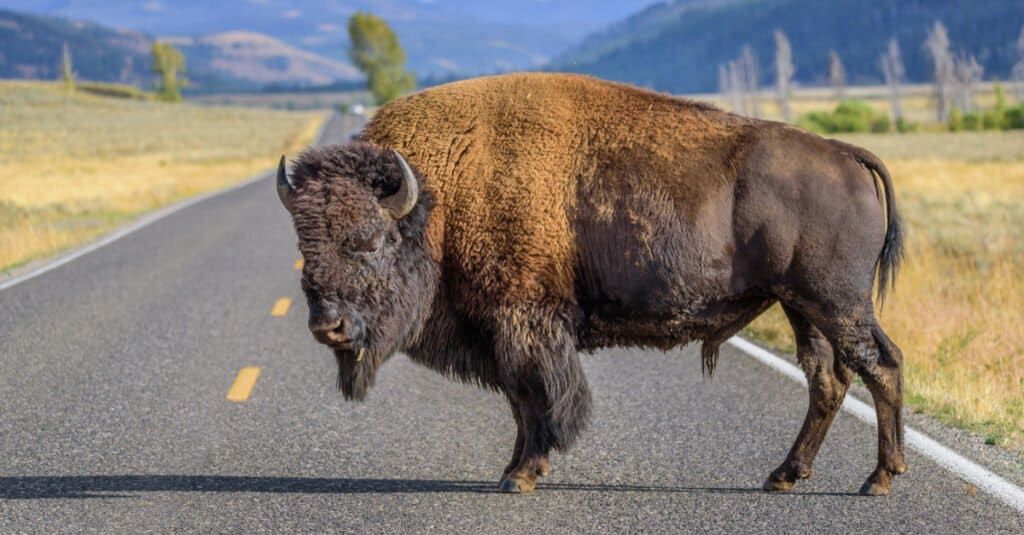 Watch the Incredible Footage Below!
---