Continue reading for our analysis...
Key Points
Emus are capable of growing to 130 lbs in weight and over 6 feet in height.
In spite of their imposing size, they can be friendly, curious, or even flighty.
Kangaroos are impressively athletic and are capable of leaping 10 feet in the air.
Emus are the largest bird species in Australia and, as we see here, can be full of character! In the clip, we get to see what happens when a group of emus come face to face with a spirited kangaroo and they really don't know what to make of each other!
Where Do Emus Usually Live?
Emus are flightless omnivorous birds that are constantly on the move looking for food and water. They do have wings, but they are certainly not powerful enough to lift that huge body off the ground. These birds can weigh up to 130 pounds and some stand over six feet tall.
There are several subspecies of emus and they are distributed all across Australia apart from Tasmania. In general, wild emus avoid the more densely populated areas and this is certainly true for Victoria. To find food and water, they can move large distances in one day. Their habitats are extremely varied, anything from open arid plains to tropical woodlands although they tend to avoid the very thickly forested areas.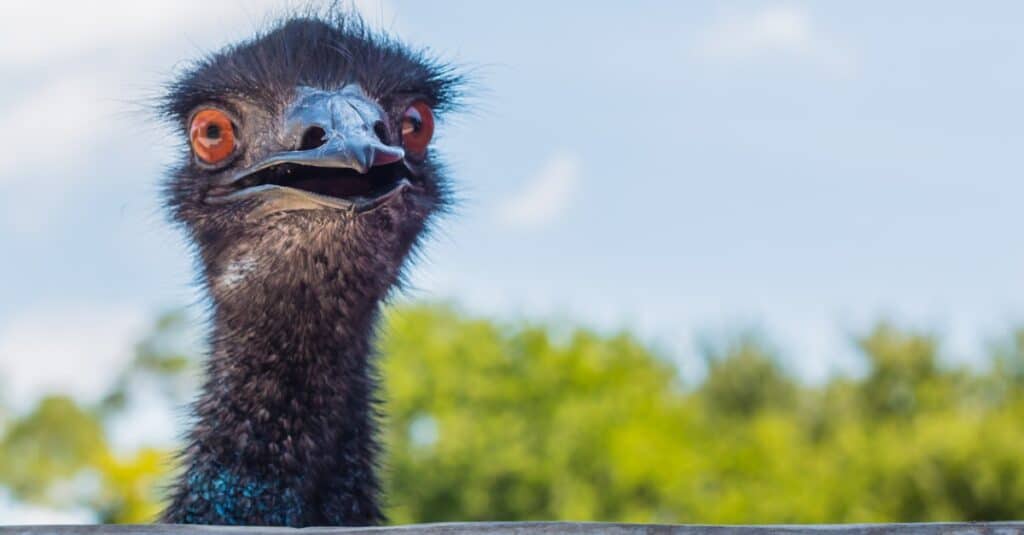 Emus can also be farmed for meat, fat, and leather and this has led to some interesting studies into their behavior. There are even emu farms in the US. Researchers have found that these birds can be friendly, docile, cautious, panicky, and flighty. They are also curious which may explain their interest in the kangaroo!
Is This Normal Behavior for a Kangaroo?
The kangaroo can match the emu when it comes to unusual looks. They are bipedal (walk on two legs) and are also harvested – for their skin and meat. Thanks to their very large hind legs and feet, they can jump up to 10 feet in the air. There are several different types of kangaroo that evolved from tree-dwelling marsupials.
As social animals, they prefer to congregate in groups called herds, mobs, or troops. The kangaroo in this clip adopts a typical 'boxing' stance. When they box, it actually involves a lot of circling, grappling, and kicking as well as throwing punches. This looked more like the play fighting that young kangaroos indulge in to hone their skills rather than a true confrontation.
---