This young lioness has got herself into a predicament that is almost impossible to get out of. The incredible footage was captured at Masai Mara National Reserve in southwestern Kenya. It shows a lioness perching on a fallen tree. We learn that a buffalo herd came across a pride of lions sleeping under a tree and chased them away. However, instead of following the rest of her pride, this young female decided to shelter on the branches of a felled tree. A decision that she soon regretted because now she is surrounded!
Can Buffalo Kill a Lion?
You will see buffalo listed as a prey animal for lions along with warthogs and zebras. But that only tells part of the story. Whilst it is true that a lion could kill a buffalo, it is only in particular circumstances. A pride of lions can and will kill buffalo calves. They may also be able to overcome a buffalo that is already sick or injured. A fit, adult buffalo, however, is a completely different situation! Even a pride of lions would struggle to bring one down and many lions would not take the risk of getting too close. What we see here is a lot more than one buffalo! There is a herd of over one hundred animals and so they have nothing to fear from this sole lion.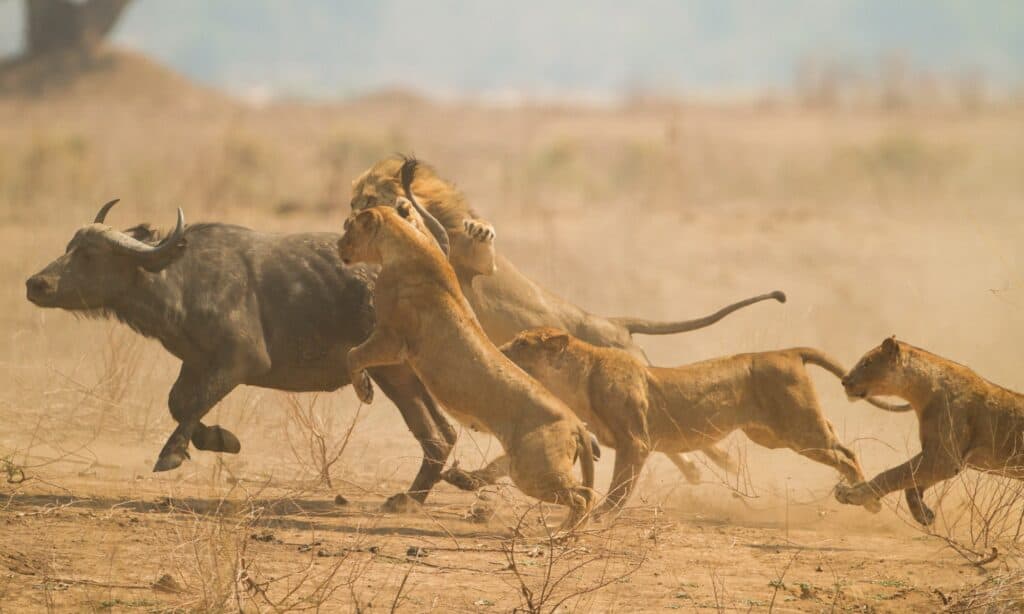 How Dangerous Are Buffalo?
Very! More people are killed by buffalo every year than by lions. African buffalos are big, lumbering animals who look a lot more harmless that they really are! They are large and powerful members of the Bovidae family who can stand six feet tall and weigh up to 1,500 pounds. In size alone, that makes them a formidable opponent.
When you add into the mix a nasty set of horns (which can be up to four feet from tip to tip) hard hooves and a nasty kick, you have a combination that can be fatal for lions. A lion may be able to kill a buffalo with a fatal bite if it can get the buffalo on the floor but that can be almost impossible!
These guys also believe in attacking first and commonly charge through sleeping lion prides and actively trample any lions that do not get away quick enough!
Up Next:
More from A-Z Animals
---
The Featured Image
---