If you could put words in this horse's mouth it would be "I won, I won, I won! Wait, where's my rider?" This racehorse throws its jockey as soon as they are out of the starting gate. It runs the entire race with no rider and gradually works its way up through the field. It is neck and neck with horse number 10 (which has a rider) for a while and then it wins by a nose just at the last minute! Despite the cheers and applause from the crowd, this horse will not be awarded the race. Horses need to have riders to be able to win.
Of course, this leaves the challenge of trying to catch the horse! However, it obligingly turns down the slope to the paddocks. Perhaps it has raced here before and knows where to go? We are sure that it is eventually caught because racehorses are far too valuable to be left wandering around by themselves for long!
The History of Horse Racing
This particular clip was filmed at Chukyo Racecourse at Toyoake, Aichi in Japan. It was built in 1994 and has a grass courses, a dirt course, and a jump course and capacity for 58,400 race goers. However, this sort of thing happens regularly at race courses all over the world.
The exact origins of horse racing are unclear but it is thought that it existed by the Greek Olympic games in 700 to 40 B.C. It spread to China, Persia, and Arabia as well as the Middle East and North Africa and by medieval times it was established in the UK.
By the 1600s, organized horse racing was beginning in the US with racecourses established on the plains of Long Island. At this time, stamina was valued above speed.
The Fastest Horses on the Planet
The award for fastest horse breed is awarded to the Thoroughbred. They are a tall, slim, and incredibly athletic horse that can travel long distances in the shortest time. These guys can reach around 45 miles an hour. Whilst the American Quarterhorse can also reach these speeds, they do not have the endurance over longer distances that the Thoroughbred offers.
Thoroughbreds started off as crossbreeds between English mares and Arabian, Barbs, and Turkoman stallions. This outstanding breed is also well known for its achievements in hunting, dressage, polo, and show jumping.
Up next:
The Best Horse Movies to Watch (Ranked 1-11!)
Watch a Grizzly Chase a Herd of Wild Horses in Stunning Footage
---
The Featured Image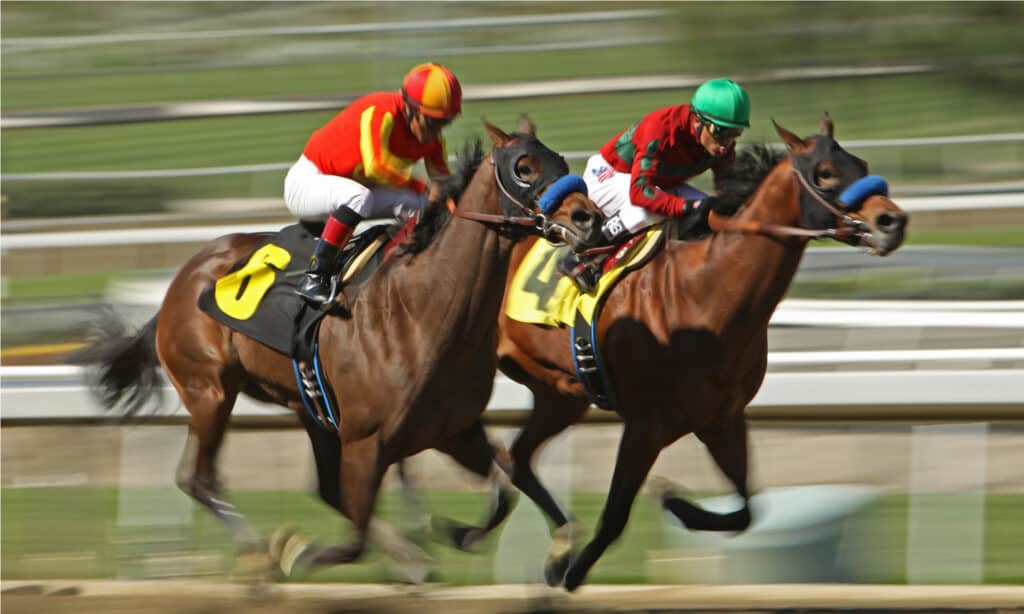 ---