Continue reading for our analysis...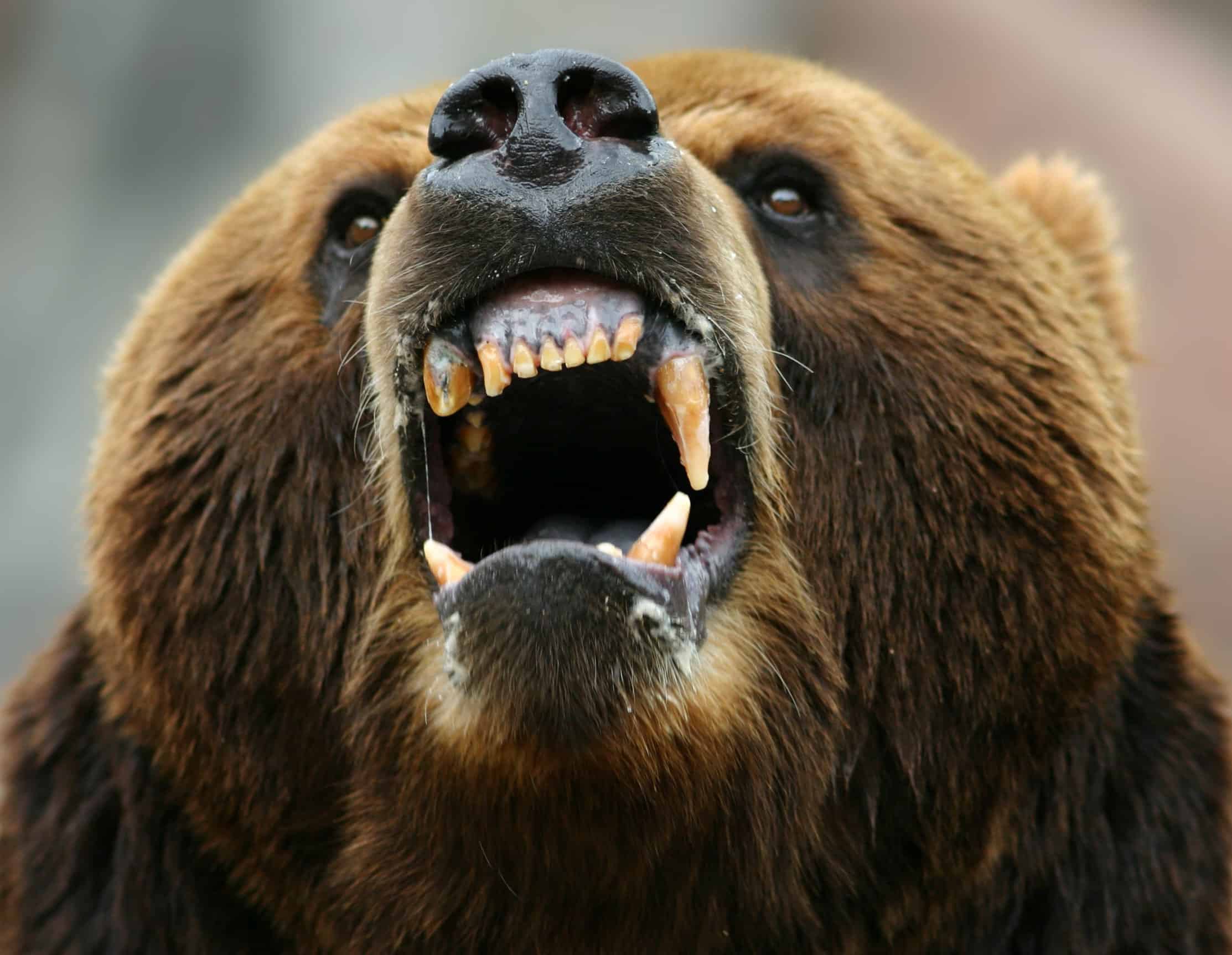 Key Points:
Bears have a highly acute sense of smell and are not above stealing another predator's freshly killed carcass for themselves.
Most bear attacks against humans can be avoided if you stay calm, stand your ground, and make loud noises while waving your arms.
Watch a video where a hungry grizzly sniffs out a carcass from quite a long distance away.
This enormous female grizzly bear is hunting down an elk. But this hunt is a little unusual in that the elk is already dead. Not many people realize that bears are scavengers and are willing to feed on the carcasses of animals that have either died of natural causes or have been killed by another predator. She is also not using her sight! Bears have a remarkably acute sense of smell.
You can see the female in this clip inhaling and tasting the air. She lifts her head to help her locate which direction it is coming from. Her nose also tells her that she is not the only bear interested in this carcass. A young sow and her yearling cub have already discovered it. They were chased off by a male. We find out that he was willing to share the carcass with this female – after all, there was plenty to go around!
Why Are They Called Grizzly Bears?
It's a common misconception that grizzly bears get their name from their grumpy personalities. They get their name from their distinctive coat which has a silverish tip making it look grizzled.
Grizzly bears are a subspecies of brown bears. Many are a medium-brown color but some are large and very light tan and look almost white. Others are very dark brown. Their distinctive feature is their prominent shoulder hump.
Is It Normal Behavior for Grizzlies to Share Prey?
Whether or not a bear will share a carcass depends on the circumstance. Some bears are more solitary than others like polar bears and grizzlies. These types of bears tend to be more possessive of carcasses and may fight other animals, including other bears, to hold onto it. They are even known to try and hide the kill.
In other cases, if food is abundant and a bear has already had its fill, it may allow other bears to feed on a carcass. This has been observed among brown bears. On the other hand, a dominant bear may be possessive of a carcass and chase others away to feast on it alone.
Of the different types of bears, black bears have the reputation of being the most social and do at times share prey without displaying much aggression. However, a mama black bear may be less willing to share if it means her cubs will go hungry.
How Big Can Grizzly Bears Get?
The bear in this clip has put on a lot of weight because she is getting ready for hibernation. At this time of year, the bears are at their largest. Even though they are not asleep all winter, they need to make some preparations. During hibernation, their heart rate slows to eight to 19 beats per minute from 40 to 50 beats per minute. They don't eat and could lose up to 30% of their body weight. Grizzlies can weigh 700 pounds or even more and stand up to eight feet tall.
What You Should Do if You See a Grizzly Bear
Grizzly bear attacks on humans are rare but they can happen. Most attacks can be avoided if you stay calm and stand your ground. Waving your arms and talking loudly will help to identify you as human. We are not a prey species for this bear!
If you are attacked, the advice is to play dead – lay on your stomach with your hands behind your head. Most bears will lose interest and walk away.
---