Being attacked by any animal is scary. Back that up even further to say being attacked by an animal without warning is even scarier. You weren't able to brace for impact or have the ability to try and fight back. Wait, let's back this up even more by saying the animal attacking is a black panther!
Check out the Video Below!
Well, this might sound utterly terrifying to us. Imagining a black panther coming out of nowhere and attacking us. However, for this rottweiler in the video captured below, we see it did not faze him one little bit.
This short YouTube clip shows a rottweiler with all his muscles we see out in the woods. It is a snowy day, and he is biting on a large stick, likely trying to get it up from the ground. This incredible trail camera was able to pick up a black panther behind the rottweiler running up from behind.
When we're watching it for the first time, we want to just yell out, "Watch out!" However, there is no time at all as it happens in a split second. As we could imagine, we would think this dog would hear the sound of an animal coming up behind him. But the fact he didn't just go to show us how stealth this panther was and how quickly he was running.
As the black panther closes in, we see him take one giant leap up in the air and reach his paws out. His paws land right on the back of this rottweiler, and he rushes right over. Almost as if he was merely using him as a stepping stool to get to the other side.
While we might naturally expect this rottweiler to get angry and charge at this black panther and want to fight. We are quite shocked to see this dog barely even flinches. And he merely goes right back to what he was doing, chomping down on this stick. It's almost as if this was an everyday occurrence for this dog!
How Big are Rottweilers?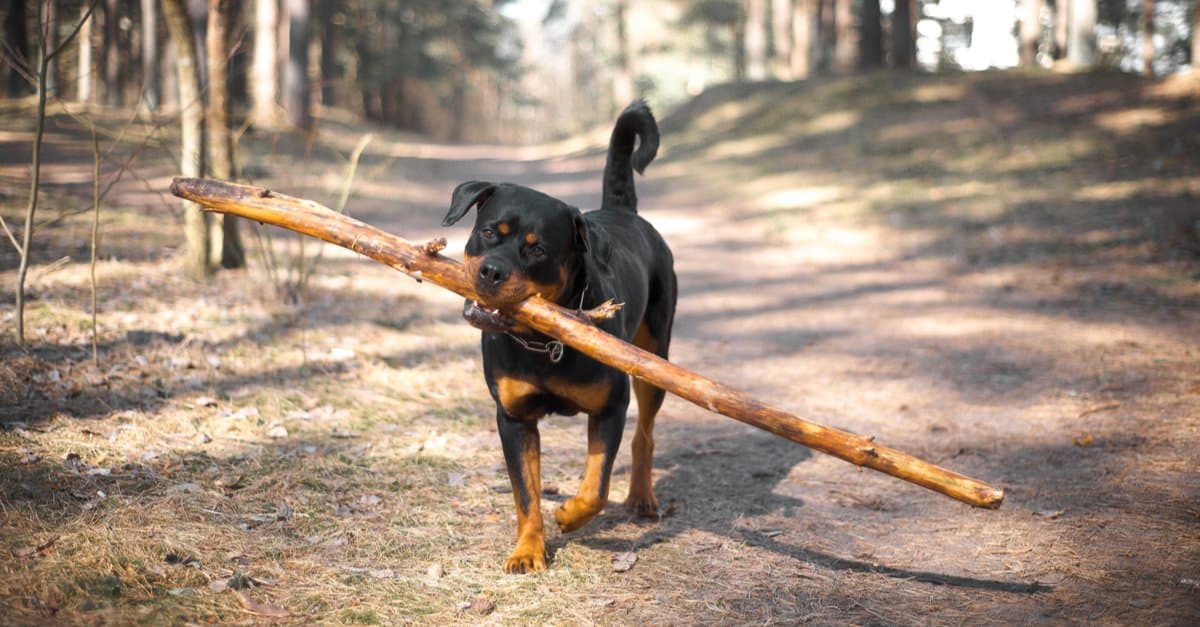 Rottweilers weigh up to 130 pounds and reach up to 24-27 muscular inches at the shoulder. What is impressive about rottweilers is their strong bite force. Rottweilers have about 328 pounds per square inch (PSI) bite force. A human's bite force is about a third of this. So, we can only imagine how powerful that bite would be.
The photo featured at the top of this post is © iStock.com/Jozef Culák
Secure a Lifetime of Wagging Tails: Get Pet Insurance!
Did you know some emergency surgeries for dogs can run upwards of $5,000? Don't put your dog or your wallet at risk! Click the button below to get a free and instant quote on a comprehensive plan for your pup.
A-Z Animals may earn a small commission from using this service.
Ready to discover the top 10 cutest dog breeds in the entire world?
How about the fastest dogs, the largest dogs and those that are -- quite frankly -- just the kindest dogs on the planet? Each day, AZ Animals sends out lists just like this to our thousands of email subscribers. And the best part? It's FREE. Join today by entering your email below.
---