West Highland Terriers and Cairn Terriers are spunky Scottish dog breeds with striking similarities. They are small, energetic, fun, and loving furry friends who happily adapt to most family homes. This is why pet parents find it difficult to choose between the two. Nevertheless, families looking for a fun small pooch will do well with either of these breeds.
Both breeds have double coats with similar textures. While their outer coats are wiry, hard, and weather resistant, their undercoats are dense and soft to keep these pups warm and insulated. They are also very similar in terms of trainability and exercise needs. Both require at least half an hour of intense exercise every day. These two breeds are always eager to please their owners and keen to learn new tricks.
So, how do we tell the two breeds apart? Join us as we discover the key differences between  West Highland Terriers and Cairn Terriers.
Comparing West Highland Terrier vs Cairn Terrier
West Highland Terrier
Cairn Terrier
Size 
Weight: 15 – 22 pounds (6.8 – 10 kg)
Height: 10 to 11 inches (25 to 28 cm)
Weight: 14 – 16 pounds (6 – 7 kg)
Height: 9 and 13 inches (23 and 33 cm)
Color
Typically white with bright, dark almond-shaped eyes
The outer coat can be black, wheaten, cream, gray, sandy, or brindled
Personality
Temperament varies greatly. Some prefer solitude, while others can be friendly toward children; some like being the center of attention; hardy and stubborn; very playful and clumsy
Active, fearless, affectionate, not aggressive, stubborn; more serious, less emotional and sensitive
Potential Health Problems
May develop Addison's disease, skin issues, cataracts, and more as they age
May develop epilepsy, joint problems, and cataracts as they age
Lifespan
12 to 16 years
12 to 15 years
The Key Differences Between West Highland Terriers and Cairn Terriers
West Highland and Cairn Terriers share considerable similarities. The key differences between the two breeds are their weight, color, and personality. Both breeds are loyal and very loving dogs who like to follow humans around, regardless of their actions. So, forget about your alone time if you plan to get either as your pet.
However, the West Highland Terrier is the easygoing and cheeky of the two breeds, while the Cairn Terrier is more stubborn but also affectionate. Cairn Terriers are sensible and calm dogs who excel as family companions.
Let's examine the key differences between West Highland Terriers and Cairn Terriers to help you distinguish them!
West Highland Terrier vs Cairn Terrier: Size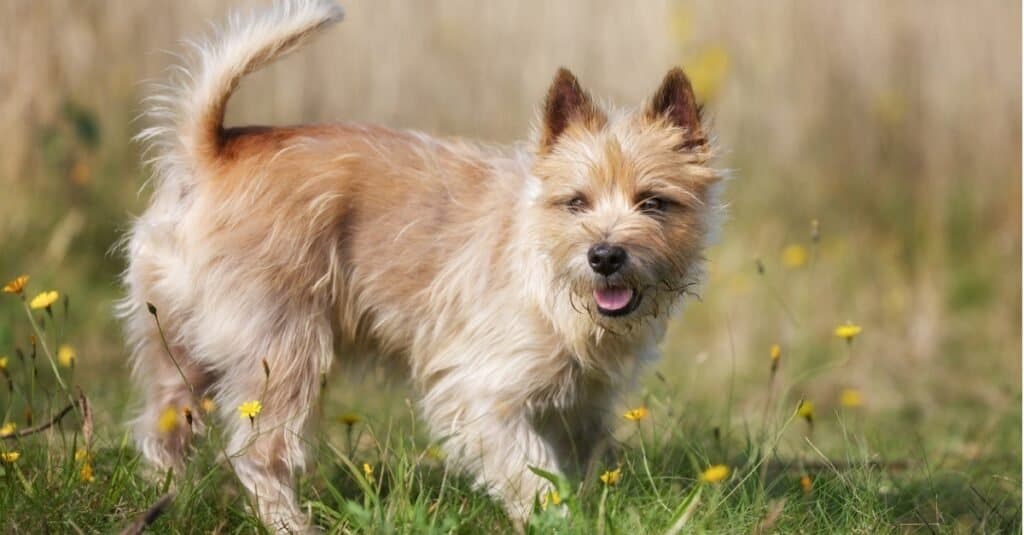 West Highland Terriers commonly weigh up to 22 pounds (10 kg). Their average weight range is between 15 and 20 pounds (6.8 and 9.1 kg). They are about 10 to 11 inches (25 to 28 cm) tall at the withers.
Cairn Terriers are among the smallest Scottish terriers. Their ideal weight ranges between 14 and 16 pounds (6 to 7 kg). Their average height is between 9 and 13 inches (23 and 33 cm).
West Highland Terrier vs Cairn Terrier: Color
West Highland Terriers have a distinctive harsh white outer coat, a soft white undercoat, and dark almond-shaped eyes. Their white coats are one of the biggest reasons they are often mistaken for Poodles. White Highland Terriers of any other colors are often penalized in the show ring.
Cairn Terriers have a uniquely soft, downy undercoat. They have a harsh weather-resistant outer coat that can be brindled, black, red, wheaten, grey, or sandy. Their coat color makes it easier to determine whether a passing pooch is a West Highland Terrier or a Cairn Terrier.
West Highland Terrier vs Cairn Terrier: Personality
Both breeds have similar personalities. However, West Highland Terriers' temperaments vary greatly. Some are friendly towards children, while others prefer solitude. Westies who are friendly and pleasant tend to be super sociable and will happily roll over for belly rubs and play with whoever excites them. Due to their behavior, West Highland Terriers are often referred to as the cheekiest of the two breeds.
Although Cairn Terriers can be just as fun, unlike West Highland Terriers, they don't like being the center of attention. Besides, they aren't as clumsy, making them appear chilled at home compared to the comic West Highland Terrier. On the other hand, while they aren't as sensitive as West Highland Terriers, Cairn Terriers are very affectionate.
West Highland Terrier vs Cairn Terrier: Potential Health Problems
As they age, West Highland Terriers become vulnerable to conditions found in many breeds, such as Addison's disease, cataracts, and more. They are also susceptible to skin disorders such as atopic dermatitis, an inherited chronic allergic skin issue.
Westie puppies are often predisposed to developing craniomandibular osteopathy, a condition commonly known as "lion jaw" or "westie jaw." The pup can get this disease only if both its parents carry it. Many other terrier breeds are prone to this health condition.
Like many dog breeds, Cairn Terriers are susceptible to many health problems, including epilepsy, cataracts, and joint issues. They are usually allergic to changes in food and different pollens, which are either chronic or seasonal. Another disease Cairn Terriers are prone to is cataracts.
West Highland Terrier vs Cairn Terrier: Lifespan
West Highland Terriers and Cairn Terriers have one of the longest lifespans. With an average of 15 years, the lifespan of a West Highland Terrier ranges between 12 and 16 years. Compared to Westies, Cairn Terriers may live between 12 and 15 years, with an average lifespan of 14 years.
Their life expectancy depends on multiple factors, such as diet, congenital diseases, or level of activity.
Up Next:
Ready to discover the top 10 cutest dog breeds in the entire world?
How about the fastest dogs, the largest dogs and those that are -- quite frankly -- just the kindest dogs on the planet? Each day, AZ Animals sends out lists just like this to our thousands of email subscribers. And the best part? It's FREE. Join today by entering your email below.
---
Sources

Wikipedia, Available here: https://en.wikipedia.org/wiki/Cairn_Terrier
Wikipedia, Available here: https://en.wikipedia.org/wiki/West_Highland_White_Terrier