Florida has a unique culture and love of life that separates it from the rest of the country. From its turquoise waters to its gator-infested lakes or rivers and live bustling cities, there's a surprise around every corner. But what is Florida Known for? Continue reading to discover 30 things Floridians love about themselves.
1. Open Air Restaurants
Floridians love to drink and dine outside, even more, if the establishment has an ocean view. However, during the sweltering months of July and August, residents are mostly found inside air-conditioned restaurants.
2. Beach Selfies
While the rest of the United States is battling the snow, Floridians are enjoying warm days at the beach and bragging about it on social media with their happy beach selfies.
3. Publix Subs
Instead of visiting mainstream chains like Miami Subs or Subway, any Floridian will tell you that Publix subs from the local grocer are much tastier. They always have the freshest ingredients and use Boar's Head cheeses and meats.
4. Fresh Seafood is Always Available
Florida is home to vast amounts of fresh seafood. For example, residents can get their hands on fresh crab, shrimp, lobster, grouper, snapper, and even alligator (season depending).
5. Walt Disney World!
No matter where residents live in the Sunshine State, they are close to the greatest place on earth, Disney World. Furthermore, Floridians get annual passes, which allow them to enter the park four times a year, and discounts on merchandise, dining, and tours.
6. Art Deco Style Architecture
Art Deco goes perfectly with the palm trees and warm weather of the Sunshine State. Visitors and view this style of architecture all over Florida, from the Temple Beth-El in Pensacola to the Ritz Theater in Jacksonville.
7. Fresh Fruit
Many fruits grow year-round in Florida. For example, residents can pick fresh coconuts, lemons, avocados, oranges, mangoes, pink grapefruit, and limes throughout the year.
8. Best Cuban Food in the Country
Florida is home to the best Cuban food in the United States. However, to truly experience the state's finest Cuban food, you must visit Miami. Once you have found a Cuban restaurant, try the famous Cuban sandwich, fried plantains, beans, rice, and shredded meats.
9. Hurricane Parties
This might sound strange, but it's a real thing. When there is a hurricane warning in Florida, many residents will stock up on booze and party supplies instead of essentials like bread, eggs, milk, and water. Most residents would rather be partying it up with friends than cowering from the storm. And, of course, there are plenty of post-hurricane parties. You have to celebrate life, right?
10. Winning Teams
Floridians are very proud of their sports teams. They will fiercely support:
Major league
Minor league
College sports
Auto racing
Don't knock any of their teams down unless you are looking for a fight.
11. Key West
Floridians don't have to hop on a plane and then drive down to Key West. For them, it is a short trip for partying, a romantic getaway, or a weekend with the girls/boys.
12. Cuban Coffee
Floridians love their Cuban coffee. In fact, some of the best coffee houses are located in Tampa and Miami. It tastes even better when you add some demerara sugar, also known as brown sugar.
13. Weddings
Residents love to get married on Florida's beaches. It doesn't matter if it's the beaches in the North, South, East, or West; getting married on the beach is like a right of passage. Just don't plan your wedding during hurricane season. That's the only time a beach wedding in Florida will be a problem.
14. Music on the Beach
While alcohol is usually banned on US beaches, Floridians love partying on their beaches with plenty of music, dancing, and alcohol (as long as it's not in a glass bottle). While most of these events are actual music festivals. Residents often form drum circles on the beach, dancing in the soft sand.
15. Water Babies
Floridians are natural water babies. Most residents take full advantage of the ocean on their doorsteps and take part in recreational activities like:
Sea Kayaking
Jet Skiing
Surfing
Paddleboarding
Boogie boarding
Scuba diving
Snorkeling
16. Key Lime Pie
Nothing is better than a slice of Key Lime pie on a hot Florida day. This decadent dessert originated in Key West, and it is the official pie of the Sunshine State. As a result, there are different versions of this dessert, including various crusts, like pastry or graham cracker, and sometimes, it's topped with a light and airy meringue.
17. Boating
There is plenty of water in Florida to enjoy boating. For example, this state has numerous lakes, rivers, and coastal waters. In fact, Fort Lauderdale is the Yachting Capital of the World and hosts the International Boat Show annually.
18. Sunrises
The sunrises in Florida are absolutely breathtaking. As the sun starts to rise, the sky turns to a mix of pinks and oranges until it settles into a soft, pale yellow. That's why most Floridians are up at the crack of dawn.
19. Exotic Cars       
While not everyone in the Sunshine State can afford an exotic car, you see them everywhere. So much so that Walt Disney World as it's a Speedway called The Exotic Course, which features Porsche, Ferrari, Lamborghini, and much more.
20. Casinos
In the past, residents of Florida used to bet on thoroughbreds and greyhounds. While Floridians still bet on greyhounds and horses, they also love to visit casinos with slot machines and poker. Gambling in the Sunshine State is like going to the movies or out on a date. The residents seem to love the thrill of the chase.
21. Fishing
Florida is home to some serious anglers. Most residents love to fish, and while sitting on a dock waiting patiently for something to bite is relaxing, Floridians are more about serious trophy fishing. They feel there is no better way to spend the day than charter fishing, sport fishing, or deep sea fishing.
22. Yoga In the Great Outdoors
Why do yoga inside when you have warm weather, fresh air, sand beaches, spectacular views, or wide-open outdoor spaces? But why not try your hand at stand-up paddleboard yoga? However, if you can't do headstands on land, it might not be the best decision to try it on a board in the middle of the ocean.
23. All the Different Golf Courses
If Floridians are not fishing, they are out enjoying a day on the golf course. So, it's only fitting that the PGA headquarters is in Palm Beach Gardens, and it has approximately 27,000 members. Therefore, there are numerous stunning golf courses around the state and eight diverse golf regions. In fact, Florida has more golf courses than any other place in the world.
24. Shopping
Ok, now we all know you can shop anywhere in the world, but Florida is home to two malls that fall among the ten largest malls in the country. In addition, the Sunshine State has countless strip malls, open-air malls, and outlet malls. In Florida, shopping counts as a full-day workout. So, what are you waiting for? Start multitasking!
25. Farmers' Markets
Floridians have farmer's markets all year round. Therefore, residents can enjoy fresh veggies, fruits, and artisan-made food without having to wait for winter to pass. If that doesn't make you jealous, then nothing will.
26. Sunsets
Just as sunrises in Florida are magnificent, so are sunsets. Residents hardly miss an opportunity to kick off their shoes after a long day and sit on their porches to watch the beautiful colors of the sunset.
27. Flip-Flops All Year
While January usually means long, thick coats, snowboots, and scarves for most of the country, Florida sticks to casual flip-flops. They might not be the most glamorous shoes, but they are a staple in the Sunshine State. In fact, even when it does get cold in the state, residents would rather pile on layers of sweatshirts or pants before ditching the flip-flops.
28. Miami
Some Floridians will tell you they do not like Miami, but they are lying! Everyone lands up in this city from time to time, and it never disappoints! The vibe of Miami is undeniable. There is so much energy here. Whether you are at a show, partying the night away, shopping, at the beach, or catching a game, you are bound to have the best time. Florida residents love to hate Miami, but there is always more love than hate.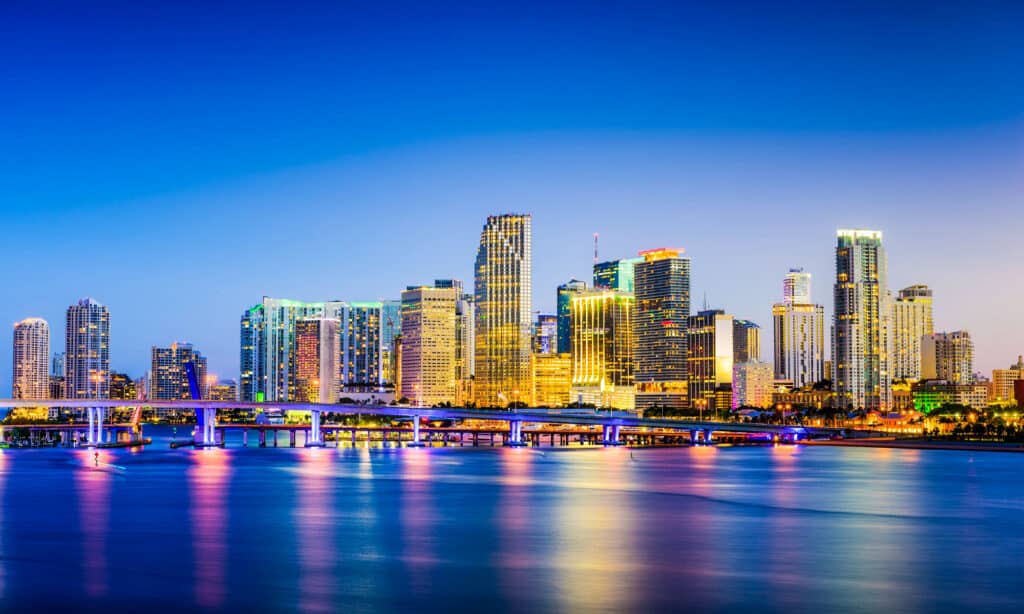 29. Avoiding Gators
It's no secret that the Sunshine State is overrun by alligators. So much so that young children must learn about them in Elementary school. Young children across the state are taught what to do if they ever encounter one of these intimidating reptiles. For example, if an alligator ever starts chasing you, flee in a zigzag pattern. While this slows you down, it will confuse the alligator, giving you enough time to run away. In addition, because their eyes are on the sides of their heads, the zigzag pattern will make locking down your location much more difficult.
30. Temperatures Below 60 Degrees Fahrenheit is Freezing
The only downside to living in a place with perfect weather is that residents aren't equipped for it when it gets cold. So, does Florida receive weather colder than 60n Degrees? Yes, the last few weeks of winter usually bring colder temperatures. And when we say cold, we mean around 60 degrees Fahrenheit. Once the temperature drops, residents turn on the heat in their homes and cars and carry blankets everywhere. You will often see elderly people wearing warm sweaters with their shorts. But there is no need to worry; the cold weather doesn't last long at all!
---
The Featured Image
---