Key Points:
The deepest lake in Colorado is Grand Lake, with a depth of 389 feet.
Other deep lakes in Colorado are the Turquoise, Twin Lake Reservoir, Pueblo, Granby, and San Cristobal lakes.
Colorado lakes are known for being clear and visitors can enjoy fishing, beautiful, idyllic views, and activities.
Colorado is home to beautiful mountains, rivers, and lakes. In the state of Colorado alone, there are more than 2,000 lakes and reservoirs, and about 1,500 are publicly owned. Each has its own unique features that are all breathtaking. At many of the lakes in Colorado, you can enjoy the beautiful views and crystal clear waters by fishing, hiking, swimming, boating, and even horseback riding.
Keep reading to discover the deepest lake in Colorado and other fun facts.
What Is the Deepest Lake in Colorado?
With so many lakes to choose from in Colorado, it can be hard to decide which is the deepest. However, Grand Lake wins as the deepest lake in Colorado, with a maximum depth of 389 feet. Surrounding the large lake are Colorado's Rocky Mountains, which perfectly reflect the water. European settlers discovered the lake and made their home as hunters near the water in log cabins.
Where Is Grand Lake Located on a Map?
Grand Lake is situated in Colorado River's headwaters in Grand County. It is about 1 mile from the west entrance of Rocky Mountain National Park, which surrounds the lake on three sides. The town of Grand Lake is located on the lake's north shore. Grand Lake is around 2 hours' drive from Denver via I-70.
Common Fish and Wildlife in Colorado's Lakes
Colorado is booming with wildlife. For instance, there are up to 2,500 moose living throughout the state and near large lakes. Black bears, elk, and bighorn sheep are just as common. They live in the mountains and feast on the wildlife and vegetation growing around the lakes. But what about wildlife in the lakes?
Not all lakes have the same species of fish, but you have a good shot of finding walleye, catfish, largemouth bass, salmon, and trout. Some of these fish are native, while others were introduced to keep populations high for food. For example, zebra mussels are not native to the lakes and have limited predators. They are from fresh waters in Eurasia. The biggest danger with these mussels is they attach themselves to native mussels in the water, killing them and decreasing the overall population.
5 of the Deepest Lakes in Colorado
1. Turquoise Lake
Sitting on a turquoise mine is Turquoise Lake. This lake is between various mountains at an elevation of 10,000 feet. There is a lot we do not know about the history of this breathtaking and local favorite, but it may have formed because of Lake Fork Creek. Miners dammed the waters to create this lake so they could focus on mining for rare turquoise. The average depth of this lake is 50 feet. It is a recreational lake mainly used for fishing, swimming, diving, hiking, and camping. Sugarloaf Mountain is to the side of the lake, offering picturesque views.
2. Twin Lakes Reservoir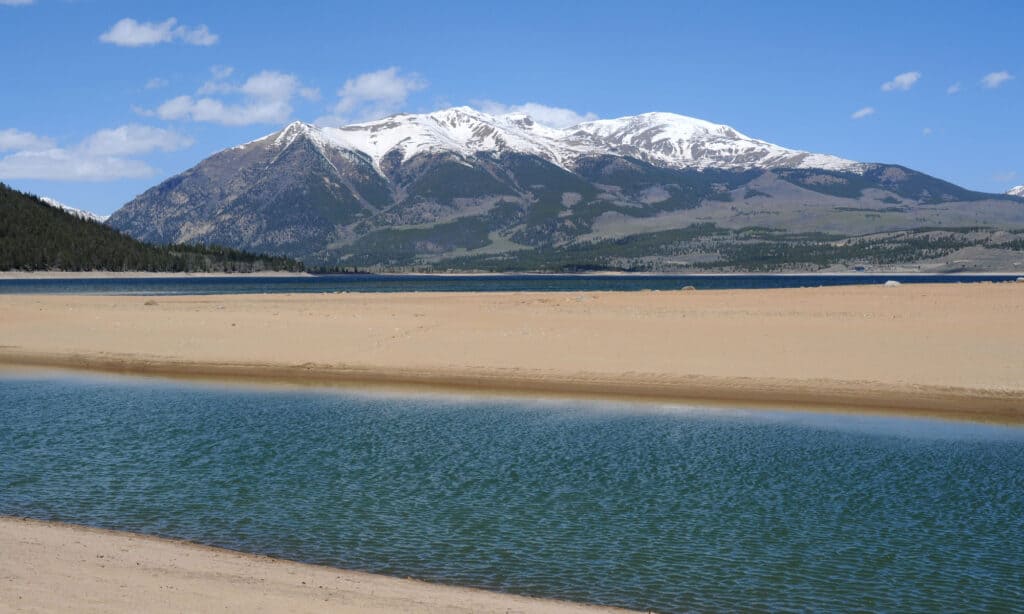 The rough surface area of the Twin Lakes Reservoir is 2700 acres. They are a high-volume pair of lakes that is near Mount Elbert as it is seen in the distance. While slightly man-made because of the Twin Lakes Dam, it was formed from a natural glacier lake. It is not a very deep lake, but the depth lets fishers enjoy recreational activities. It is 32 feet deep on average. The lake is frequently stocked with rainbow trout.
3. Lake Pueblo
Known for its many aquatic recreational activities, Lake Pueblo has a maximum depth of 135 feet, but it is not the deepest lake in Colorado. It is perfect for fishing since you can take a boat or kayak or use some of its 60 miles of shoreline. Surrounding Lake Pueblo is a protected state park. In the park, you can find wildlife like bobcats, snapping turtles, mule deer, coyotes, raccoons, and bullsnakes.
4. Lake Granby
Lake Granby is the third largest body of water in Colorado and is located on the Colorado River. It is surrounded by thick and luscious mountains and hills. If you are visiting Granby, you can visit Granby Lake since it is only about 5 miles away. The maximum depth of this lake is 221 feet. Within these deep waters, you can fish for rainbow trout, various species of salmon, and splake. If you don't like fishing, you can also take a relaxing hike and enjoy the foliage and wildlife.
5. Lake San Cristobal
For the most beautiful picture, think about taking a trip to Lake San Cristobal. It is at an elevation of 9,003 feet. There are many camping sites you can rent and use to enjoy the breathtaking beauty of Lake San Cristobal. The lake has a maximum depth of 89 feet. While it is not older than most of the natural lakes in Colorado, it still has a rich history starting 700 years ago. A natural landslide created a dam, and the dam still stands today, which is rare. Black bears and mountain lions are frequent throughout the mountains and lake.
Up Next:
More from A-Z Animals
---
The Featured Image
---