New York state is the fourth most populated state in the US. It contains many superlatives, including the most populated island in the whole country, Long Island. It is also the twenty-seventh largest state in the area and has a wide variety of weather patterns over the whole state that could affect New York gardeners. Almost half of the population of NY state lives in New York City, and the rest of the state has a lot to offer too!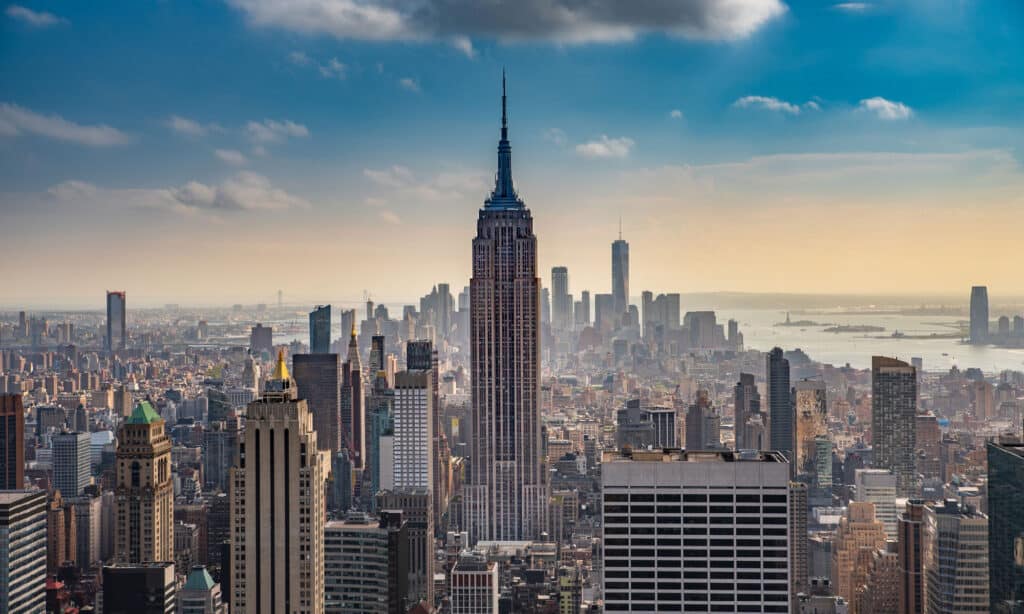 What Type of Climate Does New York State Have?
Most of the state of New York has a humid continental climate. This means that there are four seasons with hot and humid summers and cold, snowy winters. There is rain throughout the spring, summer, and fall, and snow in the winter. There is no official dry season although there can be dry spells.
However, the southern part of the state, including New York City and Long Island has a humid subtropical climate. This is similar to a humid continental climate but has milder winters. So, while the majority of the area of the state experiences a humid continental climate, the most populated parts experience a humid subtropical climate.
How Long Is the Growing Season in New York State?
Each area of New York state has a different growing season. Typically, the more northern parts of the state have a shorter growing season and the southern areas have a longer one. The area with the shortest growing season in the state is the Adirondack Mountains, where the season is just about 90 days. The area in the state with the longest growing season is New York City, where it can last for around 6 months.
Weather Patterns Gardeners Need to Know About
In 2022, there was extreme weather all across the US, including in New York. In December of 2022, a deadly winter storm hit the western portion of the state, dumping feet of snow on cities and towns including Buffalo and Watertown. This part of the state is used to snow, but even long-time residents say this storm was different and more intense, partially because it also came with colder than usual temperatures.
However, in the winter between 2022 and 2023, the southern portion of the state waited and waited for snow. In New York City the first measurable snow of the season didn't come until February 1, and there was over a foot less snowfall than usual this winter. However, there was plenty of rain. The lack of snow wasn't due to lack of precipitation in the area. It was simply due to lack of cold temperatures, so it may not have too much of a negative effect on gardens in the area.
New York State Spring Gardening: Important Dates
March
Spring gardening will be very different for southern New York versus northern New York. In the northern part of the state, you can start many seeds indoors in March, but that is really all you can do because of the risk of winter weather into April.
In the southern part of the state, you can start seeds indoors as early as February. Hardier plants like arugula, carrots, and parsnips, can be directly planted outdoors in later March. Other plants like cabbage, cauliflower, and lettuce can be transplanted during March as well.
Wherever you are, if the ground thaws and becomes workable in March, there is a lot of work to do! However, if you are in one of the more northern parts of the state, this may not happen until April or even May. After the soil becomes workable you should:
Dig plant beds and add compost
Apply horticultural oil sprays as long as frost danger has passed
Fertilize your lawn
Prune dead or diseased parts of plants
Fertilize vegetable garden
Remove winter mulch and protective plant coverings
April
Some of the March chores may need to be done in April if the ground is still too cold, hard, or covered in snow in March.
In Northern/Western New York, April is when you will plant seeds outdoors for things like carrots, onions, potatoes, and turnips. You can also plant chard, cauliflower, and kale seedlings.
In Southern New York, those things are already in the ground. This is when you will plant more warm-weather crops like bell pepper, cantaloupe, or eggplant seedlings. You can also plant seeds in the ground for okra, green beans, and winter squash.
In April, you should:
Weed your garden
Edge your plant beds
Mulch your plant beds
Reseed bare areas of your lawn
Fertilize fruit trees
Fertilize roses
May
By May, most of the state, even the coldest parts, are starting to see spring. In Southern New York, the planting season is almost done by May, but you can still get tomatillos, zucchini, and corn into the ground in the earlier part of the month and still have enough time for a good harvest in the fall.
In Western and Northern New York, many things can still get planted well into May and even June. In May, plant bok choy, cantaloupe, green beans, jalapenos, and sweet potatoes.
By May, you should:
Mow your lawn to keep grass at a reasonable height
Consider leaving grass clippings on your lawn as fertilizer
Start a more regimented watering schedule as temperatures rise
Move houseplants outside full time when nighttime temperatures are reliably in the 60s
Start applying deer repellent to prevent any local friends from eating the results of your hard work
Deadhead roses as appropriate
Resources for New York Gardeners
There are many organizations that give information to gardeners in New York including:
The New York Botanical Garden – This is not only the largest urban botanical garden in the entire country, it is also an important resource for gardeners in and around New York City, and all over the world. They conduct important research and have amazing resources about all sorts of plants and garden needs.
Federated Garden Clubs of New York State – This garden club consists of 10 districts and multiple local clubs that bring gardeners together for projects.
The Horticultural Society of New York – This organization is mostly focused on NYC and helps to create green spaces in the city, trains people to do horticultural work, and provides a therapeutic gardening program to people who are incarcerated.
Up Next:
More from A-Z Animals
---
The Featured Image
---