There's no sense planning a visit to Yellowstone National Park without knowing what state it's in! If you are looking forward to visiting one of the United State's most beautiful National Parks, you need to know where it is, how big it is, and what there is to do there. So, what state is Yellowstone in and what should you expect out of a visit to this location?
In this article, we will go over what state or states that Yellowstone National Park covers. We will also go over how large the park is, some top activities or natural wonders found within the park, and how you can best navigate this wild region. Let's get started and learn everything there is to know about where Yellowstone National Park is now!
| Yellowstone National Park | Facts |
| --- | --- |
| State or States Located | Wyoming, Idaho, and Montana |
| Park Size | 3,472 square miles, or 2,221,766 acres |
| Number of Trails | 92 trailheads, including boardwalk trails and 1,000 miles of backcountry trails |
| Time of Year Open | Year round, with winter road closures |
| Average Visitor Amount | 4 million annual visitors |
| Elevations | 5,000-11,000 feet |
What States Contain Yellowstone National Park?
What state is Yellowstone in? Yellowstone National Park occupies space in Wyoming, Montana, and Idaho, though it is not evenly split between all three of these states. In fact, Yellowstone is primarily located in Wyoming, with over 90% of the park located in this state. After Wyoming, less than 5% of the park is in Montana, with the final 1% found in Idaho.
There are five distinct entrances into Yellowstone National Park. This gives you plenty of options when it comes to reaching the park and traveling through it. Yellowstone is ideal for summer road trips and National Park exploration, with nearly 500 miles of paved road to travel over. This means you can enter the park from the west and depart from any other direction should you so choose.
One important thing to note as you plan your Yellowstone National Park visit is the elevation gains found throughout the park. Yellowstone varies in elevation, from 5,000 feet all the way to 11,000 feet. However, the tallest park elevations are found at mountain peaks, only accessible via hiking trails. This means you shouldn't have to worry about driving quite that high, though the park averages 7,000-8,000 feet in elevation!
How Large is Yellowstone National Park?
Yellowstone National Park occupies 3,472 square miles, or 2,221,766 acres of land. It is almost a square, looking at it from above. Yellowstone is roughly 60 air miles in a north-south direction and almost 55 air miles from east to west. This doesn't mean that you can simply travel 55 miles across the park and make it to the other side- far from it! Yellowstone has over 500 miles of paved roads for a reason: so that you can see all of the beauty in this National Park!
Activities in Yellowstone National Park
There are a number of activities in Yellowstone National Park, many of which are seasonal. Depending on the time of year that you visit, you can expect to participate in the following activities in Yellowstone:
Hiking
Camping
Interpretive trails and boardwalks
Geyser and other thermal basin viewing
Ranger activities
Wildlife viewing
Birdwatching
Kayaking and canoeing
Fishing
Snowshoeing and cross-country skiing
Snowmobile rentals
Guided snow tours
Horseback riding
Bicycling
Backpacking
Photography
Visitor's Centers
Museums
Gift shops
Dining
Lodging
Guided tours and opportunities such as llama excursions
When is Yellowstone National Park Open?
Yellowstone National Park is open year round, though some roads close down seasonally. In fact, only the northernmost entrance and northeastern entrance remain open to tourist traffic during the winter season, which begins promptly on November 1st. The road between these two entrances remains open, but all other roads close throughout the park during this time.
This isn't to say that you can't access the rest of Yellowstone during this time of year. In fact, the park offers a number of oversnow activities starting December 15th. This means that you can rent motorized snowmobiles or hop on an oversnow coach tour in order to see the rest of the park safely and securely!
All roads in, through, and out of the park open by June 1st. This means that you can fully access every single mile of Yellowstone National Park during the months of June-October. While weather may make these dates subjective, Yellowstone is no stranger to cold weather and snow. However, it still means that you should plan on traveling slowly and safely, should you choose to visit during the winter months!
How Many People Visit Yellowstone National Park Annually?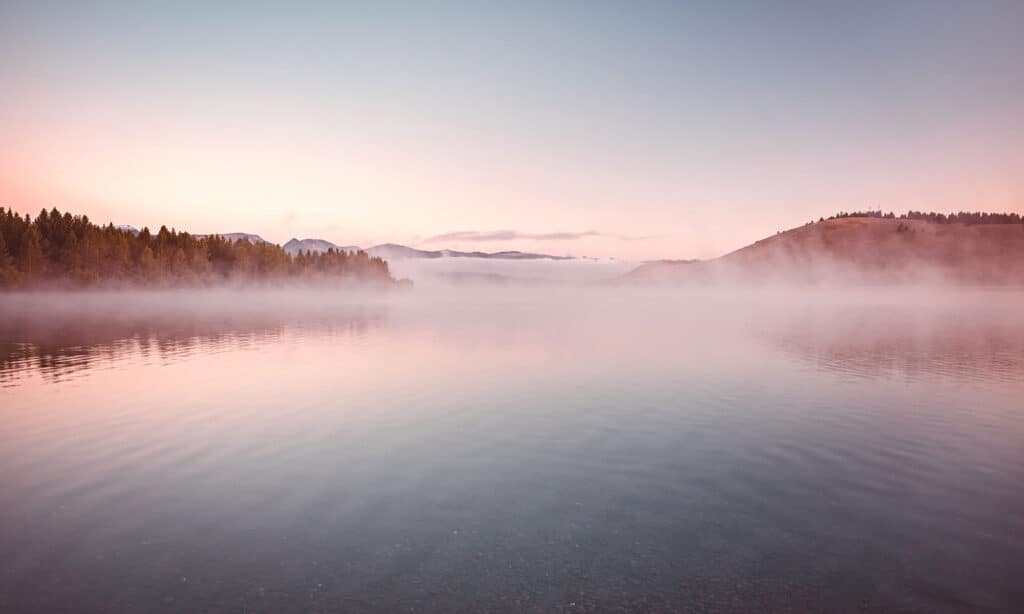 An estimated 4 million visitors travel to and throughout Yellowstone National Park each and every year. 2016 is the year that holds the record for the most visitors, with over 4.2 million guests estimated during that time. While this may not sound like very many visitors in an entire year, the majority of guests choose to visit Yellowstone during the months of July and August.
That's why, if you plan on visiting Yellowstone when the weather is best, you should make sure you have plenty of time to do everything you need to do, despite the crowds. Nearly 3/4ths of Yellowstone's visitors choose to visit during the summertime alone, so make sure to plan accordingly!
---