As the seasons go by, it isn't common to think of fall as a good time for starting a garden, but you may be wondering what to plant in October anyway. While many people associate the fall season with harvesting and reaping what you've sown, you can still plant a variety of things depending on your region and hardiness zone!
In this article, we will give you a complete guide as to what you can plant during the month of October, whether it be already established plants or seedlings. Many plants that grow or germinate during this time are ideal for an early spring garden, and October is the perfect time to be thinking ahead! Let's get started.
What to Plant in October: Flowers
Fall foliage and changing leaves are likely what you think of during the month of October. But did you know that this time of year is ideal for planting any spring bulbs that you want to bloom once the frosts stop coming? These are the flowers that you can plant during October so that your garden bursts with color come springtime!
Pansies
Also known as violas, pansies are popular if you are seeking one final burst of color before winter sets in. These delicate blooms come in nearly every color combination imaginable, and some varieties are more cold-hardy than others, often down to 10 degrees Fahrenheit. You can plant pansies as established flowers or from seed, but make sure the seeds have a few weeks of above-65-degree temps for best results.
Daffodils
Perfect for heralding early spring, daffodil bulbs are ideally planted in October. They need all winter long to germinate and develop, and be sure to keep at least 3 inches of soil covering them if your temperatures are extreme. So long as you plant them 3 weeks before your area's first frost, you'll have cheery yellow trumpet-shaped flowers come springtime!
Tulips
Another spring bulb that thrives underground during the winter, tulips grow best when planted in October. They need a bit more time to develop underground than daffodils do, preferring almost 8 weeks in soil before the first major frost date. However, all bulb flowers prefer to be planted rather than stored for an upcoming planting season, so be sure to stick them in the ground!
Crocuses
Dainty and growing low to the ground, crocuses are another flower to plant in October. These small beauties bloom through snow and prefer a decent amount of cold weather before sprouting, making them ideal for fall gardens. Crocuses look best when planted en masse, almost as ground cover rather than accent blooms like tulips or daffodils.
Mums
Also known as chrysanthemums, mums are a popular flower in October. You can find plenty of beautiful shades of these blooms, and many hardware or garden stores sell ornamental and established mum varieties during this time of year. However, most mums are annuals unless you are able to move them indoors for harsh winter conditions, so keep this in mind before planting!
What to Plant in October: Vegetables
October isn't exactly ideal for planting vegetables given the drastic changes in temperatures, but there are still a few options that will grow successfully. Here are some vegetables that you can still sow now to enjoy in a late fall and winter garden.
Kale
With a number of different types and varieties, kale can be grown all winter long in some regions. By directly sowing your seeds in your October garden, your kale plants will be tasty and tender, as excessive heat and exposure leads to more bitterness as time goes on. Plus, kale plants actively reseed themselves and thrive for years, earning more cold tolerance as the plants age!
Peas
While pea plants don't last very long like kale plants do, you can likely squeeze in one more batch of peas if your region is fairly warm. Thriving on trellises and producing the sweetest peas in full sunlight, you can germinate pea seeds in your fall garden 8 weeks before your first frost date. Transplanting peas isn't recommended, unless you have started the seedlings in compostable pots.
Asparagus
If you haven't planted asparagus yet, now is the time. This is because asparagus plants produce year after year, but the first few harvest years will not be as tasty or established as later crops. If you're patient, planting asparagus can be extremely rewarding and delicious! These spears prefer full sunlight and long winters, so make sure to plant with plenty of forethought.
Cauliflower
Sensitive with temperatures above 75 degrees  Fahrenheit, cauliflower is perfect when grown in a fall garden. Choosing seedlings or established plants rather than seeds often leads to more success, but you can also direct sow cauliflower if you're up for the challenge. These crops can be picky, so be sure to troubleshoot them if you notice your cauliflower turning brown or opening up too soon!
Turnips
Fast-growing and sweeter in fall temperatures, turnips are a perfect addition to the October garden. Turnips are also extremely easy to grow, needing a healthy dose of fertilizer before direct-sowing seeds. All you need to do is cover the seeds with only a half inch of soil, and let them do their thing! You can eat the greens and the roots of this plant, so be sure to enjoy it fully!
What to Plant in October: Trees and Shrubs
When it comes to planting trees and shrubs, October is a great time of year for germination and precious rooting time so that you can have beautiful spring blooms. If you have space in your backyard landscaping for trees and shrubs, here are some great options to plant in October specifically!
Forsythia
Bursting into beautiful springtime blooms perfect for attracting pollinators, forsythia shrubs should be planted in October, when the plant is dormant. Make sure you live in hardiness zones 3 through 8 before falling in love with this shrub, but this plant needs very little love and care besides an annual pruning in the spring.
Lilacs
Impossibly fragrant and found in a soft, signature purple more often than not, lilac shrubs are perfect when planted in October. You can plant an established plant from a nursery, or propagate with care from a friend's plant. Lilac plants enjoy compost and a good pruning session in the spring, after their brief flowers have finished blooming.
Red Maple Trees
Full of red leaves in the fall, you can plant your own red maple tree from seed, starter, or propagation. These trees are often dormant in winter and require very little care, so planting in October is a good idea. However, transplanting red maple trees is fairly easy to accomplish, so remember this if you find that your maple isn't thriving where you initially planted it!
Dogwood Trees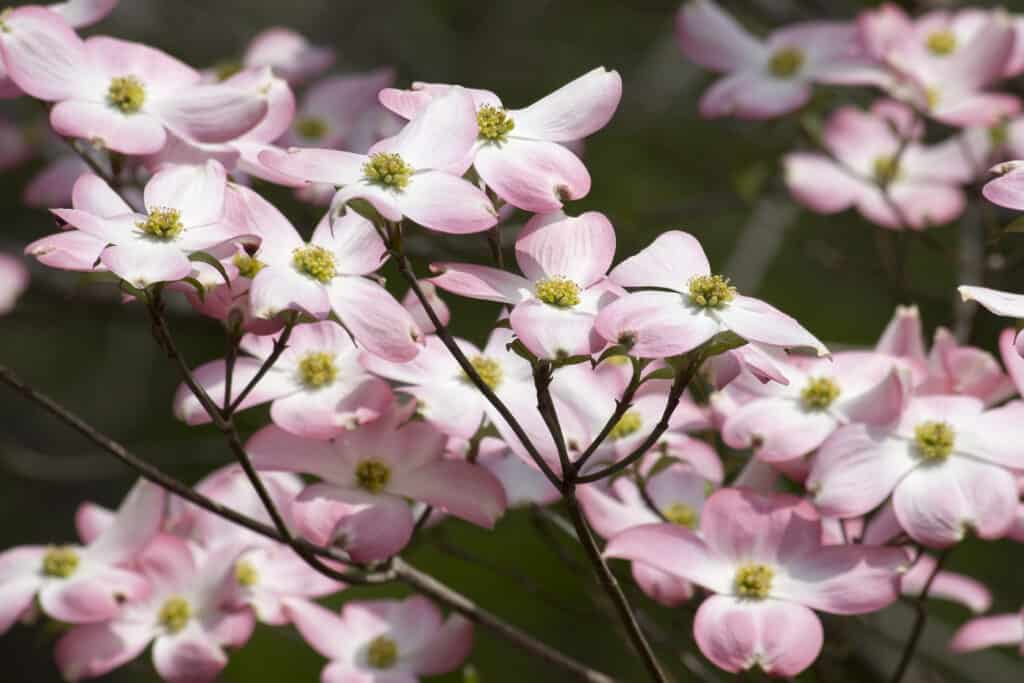 Just like forsythia shrubs, dogwood trees go dormant in the fall. This is the best time to plant new trees, especially if you want beautiful blooms come springtime! Dogwood trees come in a variety of colors and are a fantastic ornamental tree to have in your landscaping. Just make sure that you buy an established sapling, or you can grow your own dogwood tree indoors from propagation.
Up Next:
---