Lakes are a huge part of life in Wisconsin. This is not surprising for a state that borders Lake Superior and Lake Michigan. But Wisconsin also has a large number of inland lakes. And the second-largest lake in the state is also the largest man-made lake in Wisconsin: Petenwell Lake. It's located near the center of the state and is so big it touches three different counties. These include Adams, Juneau, and Wood. Let's look into the details, including the wildlife you can find and how you can relax, fish, swim, and camp!
History and Description of the Lake
Petenwell Lake was created in 1948 when the Wisconsin River Power Company dammed up the Wisconsin River. This was done in order to provide hydroelectric power generation. Damming the river also had the secondary purpose of controlling flooding, which had been a problem for many years. It had destroyed innumerable homes, bridges, crops, and forested land. The resulting lake covers more than 23,000 acres, or roughly 36 square miles. It is the largest man-made lake in Wisconsin and the second-largest inland lake in the state. At its deepest, it measures 42 feet. The lake is about two miles wide and 14 miles long. Its shape follows the contours of the flood plain where the original river once was. It's a couple of hours north of Madison, and less than an hour north of the ever-popular Wisconsin Dells.
A problem the lake has had in the past has been the issue of algae blooms. This is an issue in many lakes. Run-off from agricultural land can feed the algae and turn it into a bigger problem. At those times it is not advisable to swim in the lake but shoreside activities are still possible.
Ecology of Petenwell Lake
Petenwell Lake is an interesting area, ecologically. The central sand hills and sand plains of Wisconsin transition to forested land. Temperatures in the area range from an average of 4° Fahrenheit in January and 81° in August. It has an annual average of about 44°. In sandy central Wisconsin, the land is split between agriculture and forest. About 20% of the area is grassland, wetland, and scrubland. Forests in this area are pine, oak, and hickory, giving way to aspen, birch, maple, fir, and spruce.
The region around the lake is rich in wildlife, thanks in part to the nearby Necedah Natural Wildlife Refuge. This was established in 1939 by President Franklin Roosevelt to protect migratory birds. It's part of the Great Central Wisconsin Swamp, the largest wetland in the state.
Some of the mammal species you might encounter include badgers, black bears, bobcats, brown bats, and groundhogs. Raccoons, foxes, river otters, skunks, whitetail deer, and wolves also live in the region. Birds are also plentiful at the lake, including bald eagles, which winter there from Canada. Canada geese, great blue herons, great horned owls, ducks, grouse, sandhill cranes, wild turkey, and whooping cranes are also common. Because of the cold climate, reptiles are not as plentiful there, but you may see turtles or hognose snakes.
Fishing is good in the lake, with many varieties of game fish. You might have a chance at catching panfish, walleye, musky, pike, northern pike, panfish, sturgeon, muskellunge, catfish, and bass.
What Can You Do at the Lake?
Petenwell Lake is located less than an hour north of the hugely popular Wisconsin Dells, the so-called "waterpark capital of the world." Pentenwell is a great destination if you want to see a much less developed and touristy part of Wisconsin. The lakeshore has very little private property so most of the shore is pristine undeveloped forest. You can imagine what Wisconsin might have looked like for centuries in the past before it was settled and developed.
If you like getting out on the water, fishing, boating, sailing, swimming, and waterskiing are all great options. The lake has public boat ramps available and camping at Petenwell County Park, right on the lakeshore. If you want to keep your feet on land, there's good hunting in Adams County. Trails for hiking, biking, and cross-country skiing are also available. One of the best-ranked golf courses in the state is nearby. And if hunting and fishing aren't putting food on the table, you can find restaurants and even a couple of casinos nearby.
Petenwell Lake is not only the largest man-made lake in Wisconsin but a place of natural wonder as well. It would be fair to say it is kind of a hidden gem as so many tourists choose to go to more well-known spots. But that's all the better for vacationers who want to get close to nature, not close to crowds of people.
Where Is Petenwell Lake Located on a Map?
Found in the heart of the state of Wisconsin, Lake Petenwell is positioned directly above Castle Rock Lake, the Yellow River State Wildlife Area, and Buckhorn State Park.
Up Next:
More from A-Z Animals
---
The Featured Image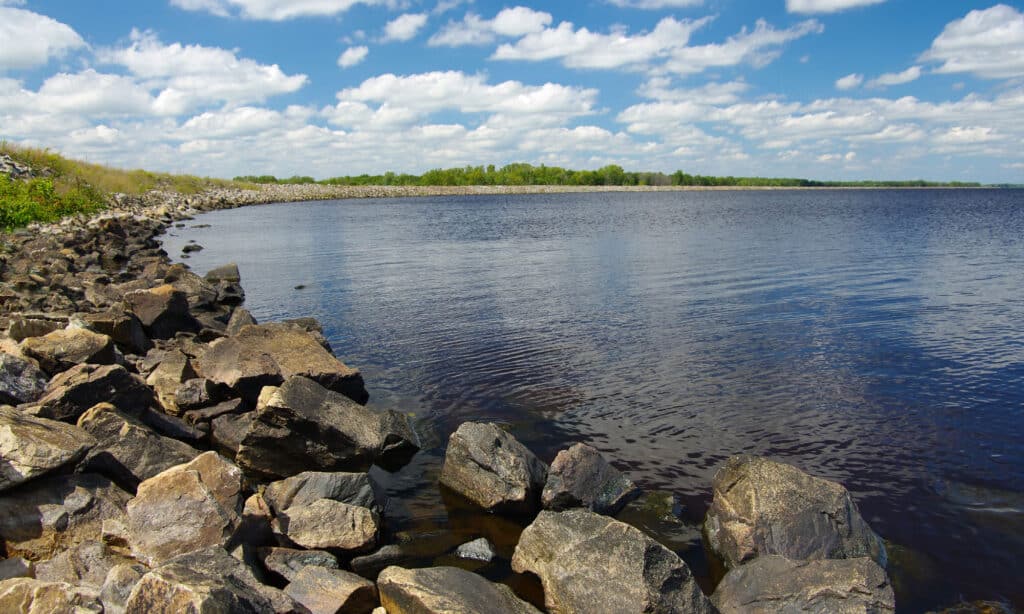 ---