This is a battle of wills and it's hard to predict who will prevail. In the below clip, we get to see a lioness leap on a large zebra and attempt to wrestle it to the ground. However, things do not go quite according to plan. The zebra puts up an impressive fight.
What Do Lions Normally Eat?
As carnivores with high protein needs, lions have to source a lot of meat! Whilst some populations of lions do sometimes scavenge food from other predators, most hunt for themselves. They are both generalist and opportunistic so they will try to catch whatever is available in their habitat. However, there may be seasonal preferences for which prey they choose.
In Africa, medium to large-sized ungulates (hoofed animals) make up the bulk of their diet. Many lion prides are reliant on two or three prey species in their ecosystem. This often includes zebra. However, it can also include warthog, blue wildebeest, impala, buffalo, and waterbuck.
Lions will also take domestic livestock if they get a chance. They have also been observed eating birds, fish, reptiles, insects and even fish. Lions eat brown fur seals on the Namibian coast!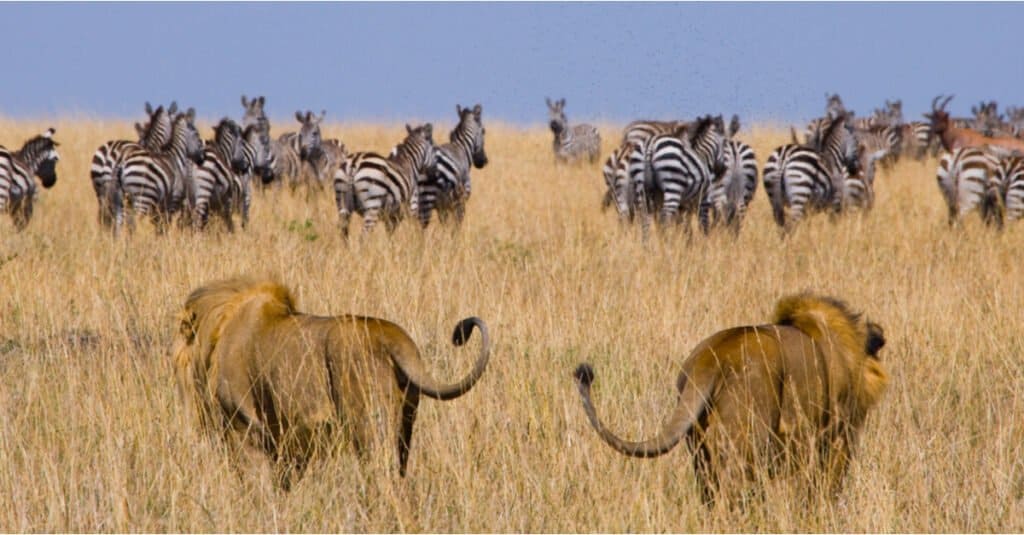 How Do Lions Hunt Prey?
This lion runs and takes a leap onto the escaping zebra. Lions soon learn that they risk getting injured by prey such as zebra and soon figure out how to avoid flailing hooves.
Lions generally stalk prey and then mount a quick charge. As you see here, they attack the rump or shoulders of the prey, grabbing at the skin with their claws. They cling on whilst biting – the aim is to drag the animal to the ground. Sometimes, the prey's neck breaks in the fall but that has not happened here.
Once on the floor, the lion is trying to get its mouth around the zebra's neck. This is because it is trying to give a killer bite that will suffocate the zebra by crushing its trachea. A lion will hold on for 10 minutes if necessary. As the video ends, these two animals are still locked in an uneasy embrace so we don't get to find out what happens next!
Watch the Startling Footage Below!
Up Next:
More from A-Z Animals
---
The Featured Image
---