The number of wolves in Yellowstone National Park may take you by surprise. Since their reintroduction into the Yellowstone ecosystem in 1995, these revered carnivores have made their own way, forming packs and families that live and coexist within the park and surrounding areas. But just how many wolves live in Yellowstone National Park? And what are the chances of you seeing a wolf during your visit?
In this article, we will go over everything you need to know about the wolf population in Yellowstone National Park, including how many packs there are. We will also address what the wolves in Yellowstone eat, as well as what their average lifespans are within the park. Let's get started and talk all about the Yellowstone gray wolf, one of the many apex predators found within the greater Yellowstone ecosystem!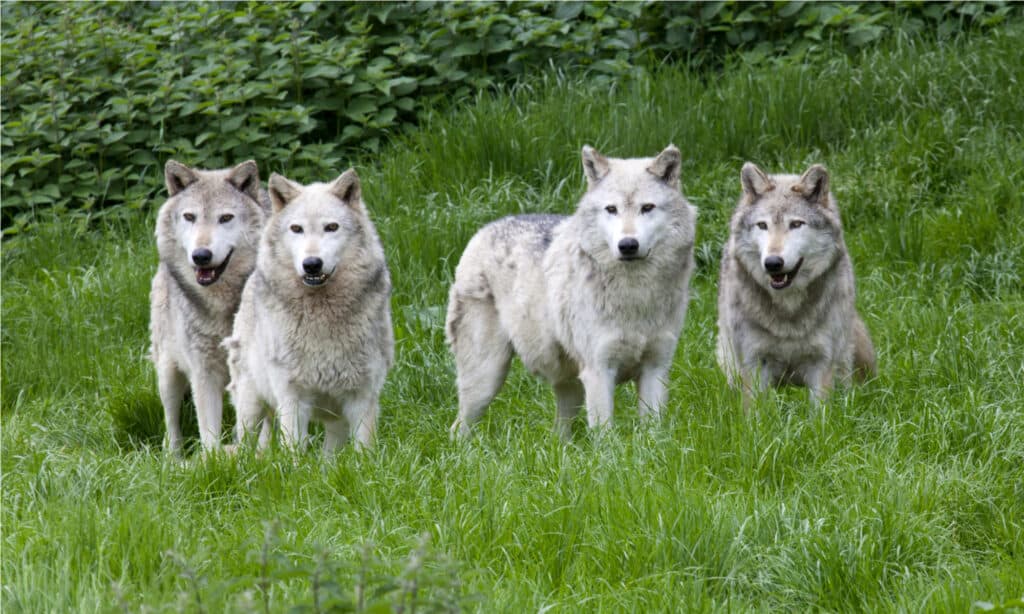 | Yellowstone National Park | Wolf Facts |
| --- | --- |
| Number in the Park | 100-500 in the greater Yellowstone area |
| Number of Wolf Packs | 7-8 |
| Mating Season | February, with pups born in April |
| Diet | Elk, rabbits, deer, bison |
| Average Pack Size | 11-12 wolves |
| Average Lifespan in the Park | 4-5 years; one wolf lived to be 12 years old! |
How Many Wolves Live in Yellowstone National Park?
In the year 2021, there were roughly 100 wolves found in Yellowstone National Park, with over 500 wolves present in the greater Yellowstone area or ecosystem. Given the fact that wolves roam miles and miles in any given day or time of year, the Yellowstone wolves occupy a much larger area than the park itself. In fact, many wolf species control territory that is larger than 300 miles. It is all food and pack-dependent.
Yellowstone Park Rangers track and observe many different wolf packs in the park. They have observed up to 8 distinct packs within the greater Yellowstone ecosystem. These packs average anywhere from 11-12 wolves per pack, depending on time of year and food scarcity. While the gray wolf outside of Yellowstone lives an average of 2-4 years in the wild, Yellowstone wolves live 4-5 years. The oldest wolf documented was over 12 years of age!
This is likely due to the fact that hunting animals within Yellowstone National Park is forbidden and against the law, which keeps the gray wolf population stable and safe. However, if any gray wolves venture beyond the safety of Yellowstone, there are laws in place allowing landowners and hunters to hunt wolves, within reason.
The Yellowstone National Park Wolf Reintroduction Process
The history of the gray wolf in the United States isn't necessarily a happy one. Nearly hunted to extinction in the 1900s, Yellowstone National Park founded a research program for wolf reintroduction into the greater Yellowstone ecosystem. This allowed the park to better protect the species as a whole, as well as observe how wolves interact within the ecosystem itself.
Between 1995-1997, Yellowstone National Park introduced 41 wolves into the park and tracked their behaviors. Now that 25 years have passed, the wolf population in Yellowstone has blossomed, despite their territory extending into areas where wolves aren't as protected. Additionally, with the reintroduction comes ample research into how wolf packs interact, both with individual pack members and other neighboring packs.
Yellowstone Park Rangers have more information as to how wolves establish territory, protect one another within a pack, and care for their sick or old wolf population. There are also a number of ongoing genetic studies happening with the wolves in Yellowstone. One such study addresses the color variations of the wolves, how they interact with other wild wolf packs in Montana, and more. And none of this would have been possible without the wolf reintroduction process!
What Do Wolves Eat in Yellowstone National Park?
One of the main reasons for reintroducing wolves into the Yellowstone ecosystem, besides protecting the species, was to observe how wolves interact with other animals in the park. Given that these creatures are apex predators and carnivores, the herbivore population in Yellowstone National Park quickly adapted to their presence. In fact, the elk population chooses very specific locations to graze within the park in order to avoid wolf interference!
Wolves in Yellowstone enjoy eating elk, as their pack hunting techniques allow them to take down prey that is far larger than they are. In fact, elk make up nearly 90% of the gray wolf's diet in the wintertime. Wolves in Yellowstone also hunt bison, deer, rabbits, rodents, and even the occasional moose. They are highly adaptable and capable animals, thriving in an ecosystem like Yellowstone. 
Where Can You See Wolves in Yellowstone National Park?
There are a number of different locations where you can see wolves in Yellowstone National Park. Packs exist throughout the park boundaries and beyond. One of the best viewing locations has to be the Northern Ridge. This area of the park is one of the best spots for viewing a number of Yellowstone carnivores, including grizzly bears. 
Keep in mind that you should maintain a safe and respectful distance away from wolves in Yellowstone, at least 100 yards away at all times. While these wolves are accustomed to seeing people year round, they are still wild animals who deserve to be treated with respect. Yellowstone National Park is one of the best places in the world to view the gray wolf in a natural habitat. Be sure to keep your eyes open for these beautiful animals!