Did you ever hear or read the story "Who will bell the cat?" Well, it'll be you this time, and the reason is to keep your lovely feline safe. Cat collar bells are also important if you want to keep your local wildlife, especially songbirds, safe from your cat.
Cats tend to be very independent and can sometimes be hard to find around the house. Cats also tend to sneak out without you knowing as they can be very stealthy. This can be dangerous, especially in areas with predators like coyotes and birds of prey that require you to keep your cat indoors.
Giving your cat a collar with a bell makes them easier to track. However, some owners worry about the noise from the bell harming their cat's hearing. This article discusses how safe cat collar bells are for your pet and shares six of the best cat collars with bells you'll find in the market today.
Are Collar Bells Safe for Cats?
A large majority of cats really don't care. Most cat collar bells sound in the range of 50 to 60 dB. Studies show that cats are generally not affected by sounds that are below 80 dB. Some cats with anxiety might take some time to get used to the sound, but generally, cats are fine with bells.
Collar bells also successfully protect birds and other small wildlife from your cat. The noise warns the animal of your approaching cat and gives them time to run away. This is important as some wildlife species are endangered due to excessive hunting.
Are you worried the bell could alert a predator to your cat's presence? As we mentioned earlier, in cases like this, it is important to keep your cat indoors if there are predators around. A cat collar bell in this situation could help to prevent your cat from getting out without you knowing. Below are six of the best cat collars with bells you can choose to keep your pet safe.  
1. Best Overall: Country Brook Rainbow Cat Collar with Bell
The vibrant colors of the Country Brook Rainbow Collar make it our best overall. This is because apart from the sound of the bell, a bird can see your cat coming and escape on time. This collar with a bell is also a breakaway, so your cat can get out of it if it snags during a dangerous situation.
The Country Brook Rainbow Collar is light and soft, so your cat won't be uncomfortable. It is also made of polyester and is really smooth so that it won't irritate your cat's skin. This collar is durable and should last a long time, so you won't have to worry about changing it anytime soon.
Some buyers, however, say that its smoothness can make it a little easy for your cat to get out of. So, ensure that the collar is snug and the buckle is well fastened. However, to make sure you don't choke your pet, leave space enough for two of your fingers between the collar and your cat's neck.
Best Overall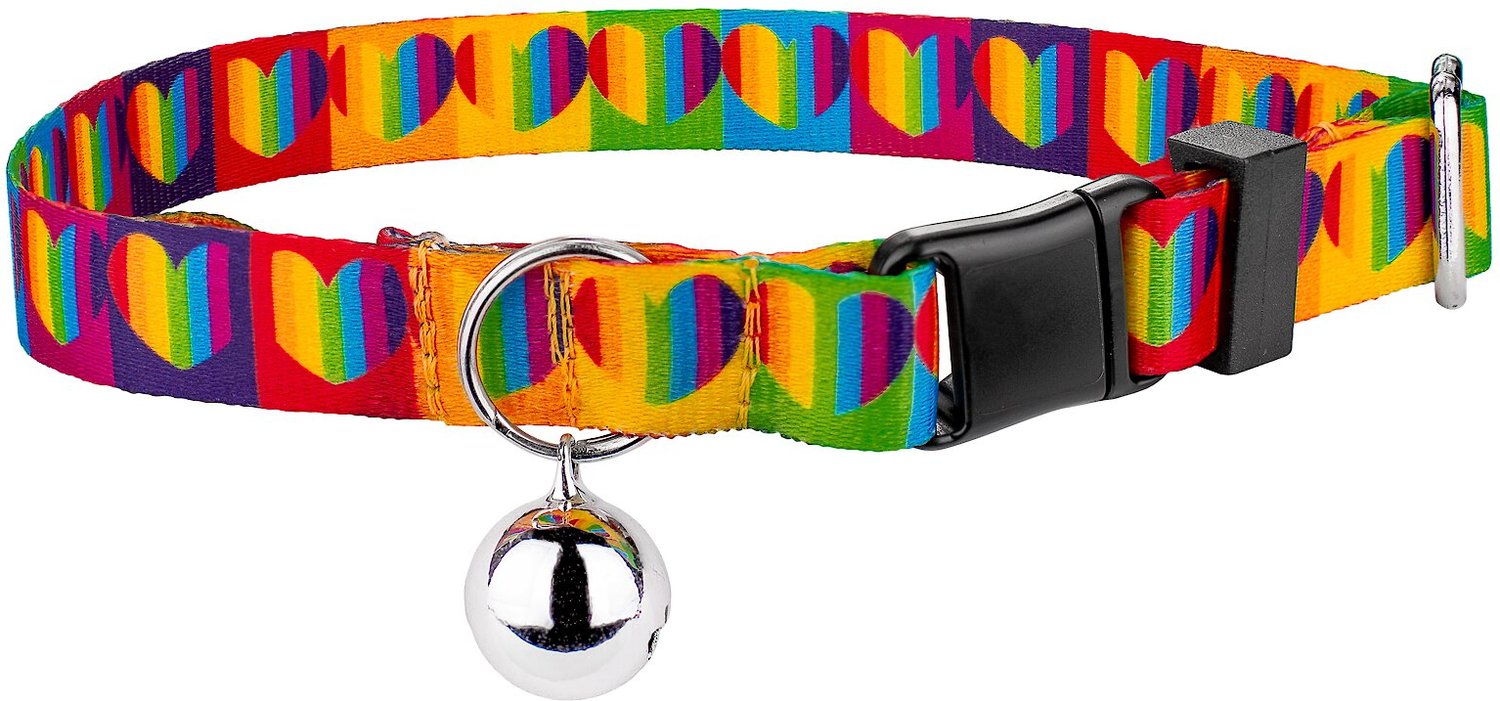 2. Best for Affordability: Red Dingo Nylon Breakaway Cat Collar with Bell
The Red Dingo Cat Collar with bell comes with all the features of a good collar at a great price. It has a lovely design and is made of nylon webbing that is resistant to abrasion. This makes the collar comfortable and very durable.
This cat collar also has a matching bell that will alert you of your cat's whereabouts. It is also adjustable to give your cat the perfect fit. Buyers love that it has a quick-release safety clip that will come undone to release your cat if the collar gets snagged. The clip is shaped like a fish.
You'll love that the Red Dingo Collar has space for you to attach an ID tag. It is also completely machine washable, but purchasers warn that it may shrink if washed. The bell on this collar tag is removable.
Best for Affordability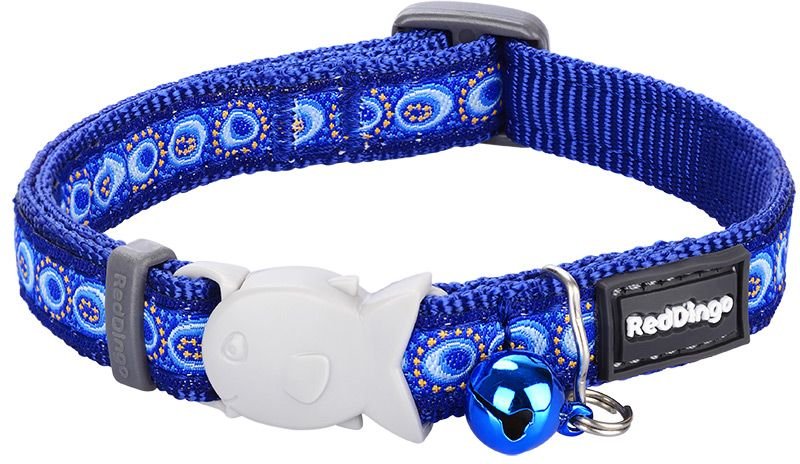 3. Best Premium: Neochi Cat Collar with Bell
While the Neochi Cat Collar is a little pricey, the design and features of this collar make it worth it. It comes with a unique look that will make your cat stand out. The beautiful Japanese kimono print is so gorgeous. You may also choose from three lovely colors.
This collar is made of kimono-grade rayon fabric that is soft and durable. It is easily adjustable and has a safety collar that will break away if your cat is stuck in a difficult situation. For cleaning, handwashing is advised, but the fabric makes it very easy.
Testers love that the bell on this collar comes as a gold charm that adds to its beauty. This bell is loud and can help you easily keep track of your cat's whereabouts. The bell is also detachable for times when you just want to go with the collar.
Best Premium
Necoichi Kimono Bow Tie Cat Collar
Features a beautiful Japanese kimono print
Available in 3 colors
Kimono-grade rayon is soft and durable
Easily adjustable and has a breakaway feature to protect your cat if the collar gets stuck on something
The detachable bell looks like a gold charm and has a loud ring so you'll know where your cat is at all times
Check Amazon
4. Best Design: Pawtitas Cat Collar with Bell
Have you ever been startled in the dark by your kitty? The Pawtitas Cat Collar with bell solves this problem in two ways. You'll not only hear your cat coming with the bell, but you'll also see them coming with the reflective ribbon. How cool is that?
This collar is made of tear-resistant nylon that ensures longevity. The material is also folded over, reinforcing it for strength. This is a collar that will last. It comes with a breakaway buckle that releases your cat if it gets caught in a difficult situation.
Buyers love that the bell with this collar can be heard from a distance. You also have many color options to choose from. You can pick one that fits your cat's personality. The bell is removable, and the collar is also adjustable, making it comfortable to wear for cats of all ages.
Best Design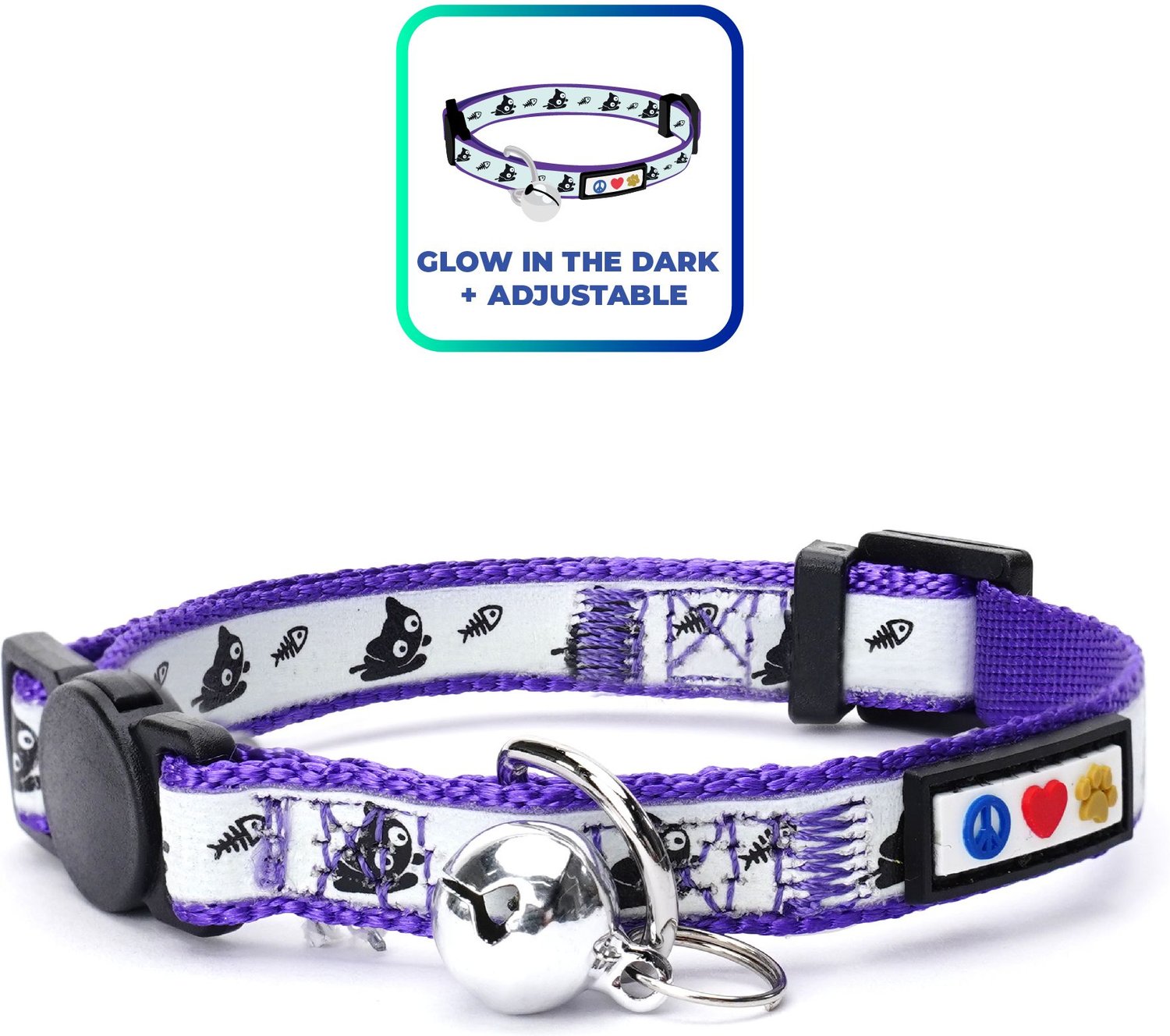 5. Best for Kitten: Safe Cat Collar with Bell
The Safe Cat Collar is best for kittens because of its no-snag material and the fact that it's so lightweight. It also works for all kitten breeds, as the collar is adjustable. The bell on this collar is loud, making it easy to know where your kitten is as it plays.
Kitten parents especially love that the breakaway buckle on this collar is adjustable. Kittens are so very playful and could soon find themselves in a bind. This collar is designed to release your kitten if it gets in that situation.
You'll love the eye-catching color of this collar, and the bell matches the color, too, which will make your kitten look even cuter than it is already. Depending on where you make your purchase, you can choose between multiple color options but check this out fast as they are high in demand. They tend to go out of stock quickly.  
Best for Kittens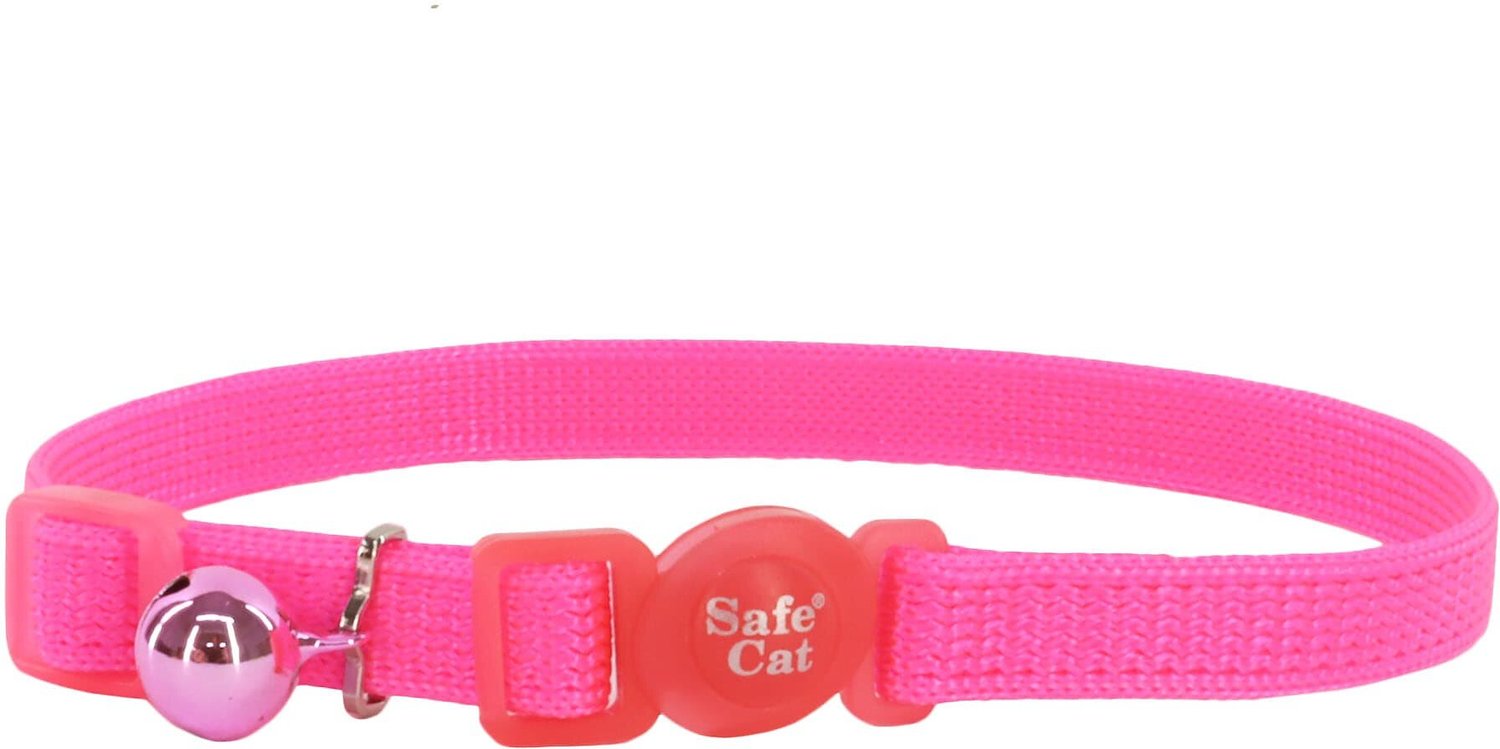 6. Best Deal: DayDay Patch Embroidered ID Cat Collar with Bell
When you buy the DayDay Patch Collar, you get safety, durability, and customization, all at a fabulous price. You also have the opportunity to choose between five collar colors and eight different embroidery threads. It's a wonderful opportunity.
The bell on this collar is made of stainless steel and clearly lets you know your cat's whereabouts. It has a lovely gold color adding to the beauty of the design. What buyers, however, love most is that this collar is embroidered with your phone number and cat's name.
Since the embroidery is stitched into the collar, it makes the collar even more durable. The collar itself s adjustable and made of nylon with smoothened edges for comfort. There is also a quick-release buckle that makes breaking away easy.
Best Deal
Personalized Cat Collar with Bell And Breakaway Safety Release Buckle
Embroidered with your phone number and your cat's name
Chose between a variety of collar and embroidery thread colors
The bell is gold-colored stainless steel and clearly lets you know where your cat is
The embroidery makes the collar even more durable
The collar is adjustable and has a quick-release buckle in case your kitty's collar snags on something
Check Amazon
How to Choose the Best Cat Collar Bells for Your Cat
Have you found a great cat collar with a bell that you might like? It can be a bit confusing to choose with so many lovely options. Here are some important factors to consider when choosing the best cat collars with bells for your cat.
Material
Life Stage or Breed
Safety
Price
Below, we'll discuss these in more detail.
Material
You'll find cat collars with bells made of nylon, cotton, polyester, leather, or other materials. These materials could affect the price and durability of the cat collar. It is also possible to have a cat that is allergic to particular materials. So please ensure they are safe for your cat before making a purchase.
Life Stage or Breed
The right cat collar with a bell for your pet could also depend on their life stage or breed. Some collars are made with smaller cat breeds or kittens in mind. Our review contains one such cat collar that is best for kittens. Our advice is to take measurements of your cat and add about two inches before making a purchase. You need a cat collar that won't choke your pet or fall off too easily.
Safety
Cats have a natural curiosity and love to explore. As a result, they could find themselves in sticky situations. One of these could be getting their collar stuck on something. As a result, most cat collars come with a breakaway feature that allows your cat to safely escape such a situation. All of the collars in this review have this feature to help keep your cat safe.
Price
Some cat collars are handmade and have many lovely features, which could make them pricey. One of such is our premium cat collar with bells option. You could, however, find a beautiful collar at a great price or go for our best deal option, which offers cat owners a cat collar with a bell and other great features at an unbelievably low price.
Why Do Cats Need Collars?
Pet owners could choose to put a collar on their cats for many reasons. People could do it simply because it makes cats look cute, but there are some important practical ones too. Here are some of the reasons why your cat needs a collar, especially one with a bell:
For Easy Identification
Cat collars make it easy for your cat to be identified if they sneak off and lose their way home. It says to whoever finds your cat that they belong to a loving home. Most collars also come with a way to attach an ID tag so people can contact you. One of the collars in this review even allows you to embroider your cat's name and your number on it.
For Tracking
A cat collar with a bell is useful as it helps you know your cat's whereabouts. It can help you catch your cat before it sneaks off and gets into trouble. It can also aid you in locating your cat if they have sneaked off. Pet parents with kittens especially love this feature as kittens can get into much mischief and need to be monitored closely.  
To Protect Wildlife
Your cat is a great hunter by nature, and this instinct will appear every once in a while. It is not unusual to have your cat come home with a dead or injured bird or small animal on occasion. For those trying to conserve wildlife, this can be problematic.
Collars with bells take the stealth factor out of your cat's hunting. The bell will ring and warn the prey in time for them to escape. A collar with a bell and a bright color will give that wildlife or bird even more of an advantage. It makes seeing your cat coming and running (or flying) away on time easier.
How to Get Your Cat Used to a Collar?
As a pet parent, it can feel like subjecting your cat to a collar is a bit cruel. But honestly, the benefits, especially of a cat collar with a bell, make it necessary. Some cats might, however, need some time to adjust to having a collar with a bell on them.
Step 1: If your cat has never had on a collar before, you might have to take things a little slower. First, take measurements of your cat's neck, add about two inches and get a collar that meets those specifications. Adjustable cat collars are best.
Step 2: Put the cat collar on your cat without a bell to enable them to get used to it. When wearing the collar, make sure there is space for two of your fingers between the collar and your cat's neck. That's the best way to get a snug fit that isn't uncomfortable or choking for your cat.
Step 3: After your cat gets used to the collar, you can then add the bell. Most of the collars in this review come with detachable bells, which makes this easy. Some pet parents may also decide not to use the collar with the bell all the time.
Up Next:
The 6 Best Cat Collar Bells to Keep Your Pet Safe FAQs (Frequently Asked Questions) 
Is it safe for cats to have collar with bell?
Yes, cat collars with bells are safe for cats. The noise frequency of the bell is well below the threshold, which could be problematic for your cat. It might, however, not be best if you have a cat that suffers from extreme anxiety.
Do bells on collars hurt cats' ears?
No, this review shows that cats have no issues with sounds under 80 dB. Most cat collar bells make sounds in the range of 50 to 60 dB. The noise from a bell will not hurt your cat's ears.
How do you get a cat used to a collar with a bell?
If your cat has not had a collar previously, putting on a bell with a bell could spook them. Start by trying out a good collar and letting them get used to that first. You can then attach the bell at a later date.