Going hiking with your dog can be such a rewarding experience. You both get much-needed exercise along with the fresh air and other benefits of hiking. There can be one problem with this, however; dogs like to wander, and if you don't have a leash, so much could go wrong.
One thing that most dog owners who hike hate is their dog causing injury to wildlife accidentally. This could even happen while at home. Your dog could alscoo wander far, and finding them could be difficult. Collar bells provide a solution to these potentialities and could improve your hiking experience.
Another application for collar bells is for small dogs who don't like to bark. It can be nerve-wracking looking for your small puppy because they won't bark in return when you call. Your vet may recommend using a bell to make it easier to find your dog.
There is, however, a lot of debate on whether you should use collar bells with your dog. Is it ethical? Will it injure your dog's hearing? In this review, we discuss these questions and also share some great dog collar bells and where to find them.
Is It Ethical to Use Dog Collar Bells?
It is not news that dogs have more sensitive hearing than we do. This is why your dog can hear the delivery truck coming way before you can and may alert you with a bark. Dogs also have a hearing frequency range that is broader than humans.
As a result, people worry that having a bell on your dog's collar can harm their hearing. There, however, hasn't been any known case of a dog experiencing hearing loss from wearing one. Most times, it takes a little bit of getting used to, but soon enough, most dogs learn to live with it.
You could also try to limit the use of the bell on your dog's collar to specific times. This, however, depends on why you need the bells in the first place. For example, if it is just for hiking, for example, you can limit bell use only to when you go hiking.
In our opinion, bells can be useful in some situations. For example, to warn a bird, squirrel, rabbit, or other wildlife of your exuberant dog's presence. It could also be useful if you can't find your small dog around the house or when you go hiking. Below are some wonderful dog collar bells that you can use to keep track of your pet.
1. Best Overall: KITTAIL Copper Bells for Dog Collars
The KITTAIL Copper Bells are our best overall dog collar bells. This beautiful and easy-to-clip set of two bells is sturdy and works great for both small and large breeds. It is made of pure copper and will not rust, either.
You'll love that these bells' design allows for full-swivel flexibility. This means it won't get tangled as your dog navigates whatever terrain you explore or just does its thing at home. This bell is also easy to lock and remove but has a heavy-duty snap that keeps it from falling off.
Users, however, advise that this bell works best for larger dogs as it is a little on the bigger side. One way you can navigate this is by using only one bell for your small dog. The bells themselves make a lovely, cheerful noise and are easy to hear.
Best Overall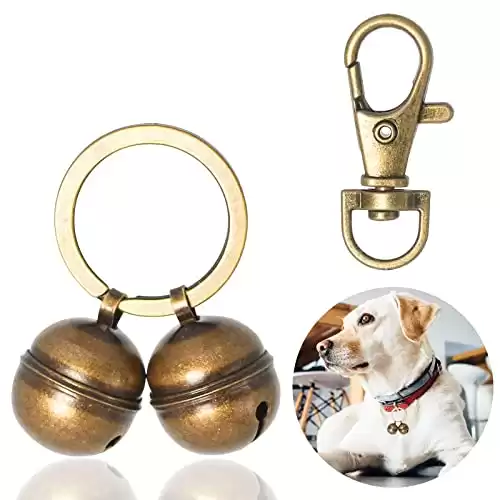 2. Best for Affordability: Aoche 6-pack Pet Bells for Dog Collar
Aoche Dog Collar bells offer beauty, great design, multiple colors, and high-quality bell material for an unbelievable price. This pack gives you six differently colored bells. Each one has a link that you can attach to your dog's collar.
The sound that the Aoche Dog Collar Bell makes is crisp, pleasant, and easy to hear. The bells themselves are made of rust-resistant chrome plated metal.
Purchasers liked that the could match the bell colors with their outfit when hiking with their dog. These bells are also easy to open and attach. One pleasant surprise buyers get is that each bell has a slightly different pitch, and it can be fun to combine more than one.
Best for Affordability
Pet Bells for Dog Cat Collar - 6 pack
This bargain pack includes 6 high-quality bells
Each bell is a different color
Includes a link that you can use to attach a bell to your dog's collar
The sound is crisp and easy to hear
Made of rust-resistant, chrome-plated metal
Check Amazon
3. Best Premium: Beau's Bells Luxury Handmade Dog Bells
While Beau's Bell is a little pricey, it offers a lot of value. The bells are made of pure white copper and come with stainless-steel clappers. You'll hear this bell very clearly when it rings, making it easy to keep track of your dog.
Beau's Bells are handmade by a family with many pets who understand the importance of bells. It can be attached in various ways and has a sensitive clapper. Any small movement triggers a ring so you can easily know where your pet is.
Buyers love that these bells come in small, medium, and large sizes. This makes it easier to pick the best based on your dog's breed size. You'll also love that this bell's technology ensures that the sound is safe for your dog's sensitive ears but can be heard from as far as 50 yards away.
Best Premium
4. Best for Large Dogs: SCENEREAL Gold and Silver Large Dog Collar Bell
You'll love the SCENEREAL Large Dog Collar Bell because it is specifically made for large dogs. This bell will not get entangled in your pet's fur. It hangs freely from the neck and makes a loud jingle to help you track your dog easily.
The SCENEREAL bell is made of metal and comes in a pair. One is gold plated, while the other is silver plated for variety. It also has a large nylon hoop with snap buckles that make it easy to wear. This design also ensures that the bell will stay on as your pet plays.
Testers love that the SCENREAL package offers two bells which you can even use for two dogs and they are reasonably priced.
The bells are also lightweight and make a sound at any minimum movement to so you will know where your dog is at all times.
Best for Large Dogs
SCENEREAL Large Dog Collar Bells - Set of 2
Designed specifically for large dogs
Hangs freely from your dog's collar for complete comfort
Jingles loudly so you can keep track of your dog
Made of metal: 1 is gold plated and the other is silver plated
Features a large nylon hoop with snap buckles for easy application and removal
Check Amazon
5. Best for Small Dogs: MeoyoTex Silver Collar Bells for Small Dogs
If you need a collar bell that isn't too heavy and won't weigh down your smaller dog, this is the one. The MeoyoTex Silver Collar bells are specifically made with small dogs in mind. This bell is also made of the hardest metal to withstand your small dog's play.
The MeoyoTex bell is made of copper, which does not corrode easily. This also helps to make the bell loud, making your small dog easy to track. The silver metal coating also helps to keep this bell from rusting and makes it very durable.
Buyers love that this bell comes with 8 pieces. You can keep several for your pet and even give some away as gifts. The ring this bell comes with is easy to open and attach to your dog's collar too.
Best for Small Dogs
6. Best Design: GABraden Dog Brass Collar Bells
When it comes to beauty and design, the GABraden Collar Bells are the best. They are handmade in factories and have a lovely golden design that would look fabulous on your pet. They are also lightweight and won't weigh your dog down, ensuring that you both still have fun on hikes.
The GABraden Bells are made of copper and designed to last for dog owners and dogs who love the outdoors. They are corrosion-resistant and come with a split ring. These bells are easy to apply and will stay on securely once you attach them.
Purchasers love that this bell is loud and makes a sound with even minimal movement. This is because it has a stainless-steel clapper that is sensitive to movement. One package of this comes with four loud bells and two rings.
Best Design
GABraden 4 Loud Pairs Dog Collar Brass Bells
Handmade in factories
Feature a lovely golden design
Lightweight and won't weigh your dog down
Made of copper, which is corrosion-resistant, and has a stainless-steel clapper that is sensitive to movement
Comes with a split ring that's easy to apply and stays on securely
Check Amazon
How to Choose the Best Dog Collar Bells
Are you ready to get some dog collar bells to help track your dog? Here are some important factors to consider before making a purchase:
We discuss these in more detail below:
Dog Breed
Is your dog a large or small breed dog? How does their fur look, and what is their energy level? Some bells are better suited for small breed dogs, while others might weigh too much. In the same way, some bells can get stuck in a dog's thick fur. We choose good options that avoid these problems when creating this list.
Material
What material is your dog bell made of? Copper seems to be the best as it's corrosion resistant. This is especially important if you like to take your dog on long walks outdoors. Choosing a bell with a stainless-steel clapper is also good as they tend to be louder and more sensitive to movement.
Affordability
What is your budget for a dog collar bell? Most are inexpensive, but we have some with good features that could cost a bit more. You'll see one of those as our premium option. Most dog collar bells come with good deals offering multiple bells that make it easy to replace them when necessary.
How to Tell if Your Dog Can Tolerate Dog Collar Bells
The very first thing to consider is your dog's temperament. Some dogs can be a little high-strung and don't really like change. Laid-back dogs will, however, adapt well to you adding a bell to their collar.
Your Home
A collar bell could be problematic if you have more than one dog plus a dog with a penchant for chewing things. One dog won't stop trying to chew the collar bell off the other or even their own collar. Not only could the bell get destroyed in this scenario, but you might also have to deal with a foreign object in your dog's digestive system.
Your Dog's Eating Habits
If you've had to rescue shoes, clothes, or generally anything left lying around from your dog, a bell might not work. Your dog could take it as an invitation to eat yet another strange object. Some testers also choose to purchase smaller bells that hang closer to their dog's neck to avoid this.
When to Use Dog Collar Bells
There are many situations where you need to use a dog collar bell. The first and most important is to keep track of your dog's whereabouts. This could be when you go out hiking or camping. The bell will tell you where your dog is so you can be sure that they are safe.
Dog collar bells are also great for keeping track of your dog in your home. This is important if you have a tiny dog that you can easily lose. Pet owners with deaf dogs will also find a dog collar bell very useful.
Dog collar bells could also work as a warning to others about your dog. When you go hiking, your dog could injure small wildlife like birds. The bell serves as a warning that will allow the animal to escape. Once your dog takes off, the bell will ring loudly and let you — and them — know in time.  
Other Ways to Keep Track of Your Dog
One modern way that many dog owners keep track of their dogs is through using a GPS tracking collar. You'll find many different varieties that you can choose for your dog. Most of these connect to your phone, making it easy for you to trace and find your dog.
Some GPS trackers also have a barcode that strangers can scan to get your information. This can be very helpful for use in locating you if your dog ever gets lost. GPS trackers, however, won't warn wildlife of your dog's approach while on hikes or walks.
Up Next:
The 6 Best Dog Collar Bells and Other Ways to Keep Track of Your Dog FAQs (Frequently Asked Questions) 
Do bells on dog collars work?
Yes, bells on collars are effective in helping you keep track of your dog. Our review contains a list of dog collar bells that are loud and clear but remain safe for your dog.
Should dogs have bells on their collars?
Your reason for putting a bell on your dog's collar will determine if it is right for your dog. This article also discusses confirming whether your dog has the right temperament for it.
Are bells on collars cruel?
Putting bells on your dog's collar could help you keep them safe and also protect important wildlife from your dog. They can also help to keep track of your dog outdoors. Pet owners with deaf dogs will also find that bells on collars are a great way to know their dogs' whereabouts.