At some point in your dog's life, you will notice that he isn't as springy as he used to be. Whether he struggles to get up on the couch, up on your bed, or you notice that he takes his time standing up after resting, he's likely dealing with some joint pain. Unfortunately, this is all too common for dogs. They don't even have to be in their senior years to develop painful joint conditions like osteoarthritis or hip dysplasia. Some dogs are more prone to the development of these conditions than others, particularly large and extra-large breed dogs.
Although these are progressive conditions and most aging dogs will eventually display some form of joint pain, you can help to alleviate the pain and discomfort your pup feels with the proper joint supplements. But, what is the best joint supplement for dogs? There are a lot of options on the market for dogs, but they vary in efficacy and quality. It can get overwhelming trying to comb through all the different types of products marketed for dogs that need help with mobility.
To simplify things for you, we put together a list of our top six best joint supplements for dogs. We highlight a variety of different products, some that double as treats and others that provide maximum strength support with ingredients like glucosamine, chondroitin, and MSM. Knowing that your dog will eventually deal with losing cartilage between his bones, you can be proactive by providing him with a joint supplement that helps to lubricate and reduce inflammation so that he can enjoy greater mobility and resiliency.
Even with a condensed set of options, it can still be tough selecting the right product for your pet. To help you narrow down these selections, we share a few of the important factors you should consider before making a final purchase. We also share some advice on how to support a dog with joint issues (aside from ensuring he has the right supplement). Finally, we answer your most frequently asked questions to round out this article with all the information you need.
Product Reviews
1. Best Overall: Zesty Paws Mobility Bites
The best overall joint supplement for dogs is by Zesty Paws. This is a hip and joint dog supplement that contains chondroitin, curcumin, organic turmeric, MSM, and omega-3 to support mobility and offer arthritis relief. These chewy bites are available in either chicken or bison flavor. They're formulated to improve cartilage function for dogs and also contain hemp seed, which provides your pup with a source of stearidonic acid (SDA), which is a precursor to long-chain fatty acids. These are included in the formula to support your dog's immune function.
These chews also contain a premium form of MSM called OptiMSM. This ingredient undergoes a purifying distillation process so that your dog gets the highest level of muscular support. The curcumin included in this formula is also made more powerful with 95% curcuminoids that are known to ease joint stiffness and improve mobility. Additional ingredients include vitamin C and E, zinc, and organic Boswellia for extra joint support. You can provide your pup with these chewable bites, no matter his age.
These bites support mobility, increase joint lubrication, support cartilage, and provide muscular support. We had one of our testers try these out with her dog. He's an 11-year-old Labrador that was diagnosed with hip dysplasia at only nine months of age. She had even tried an expensive prescription prescribed by her vet, but she didn't notice any improvement. However, after two weeks of administering these, her lab is moving a lot more easily. She's a strong believer in the results of these mobility chews and highly recommends them to pet owners looking for a proper joint supplement.
Best Variety of Flavors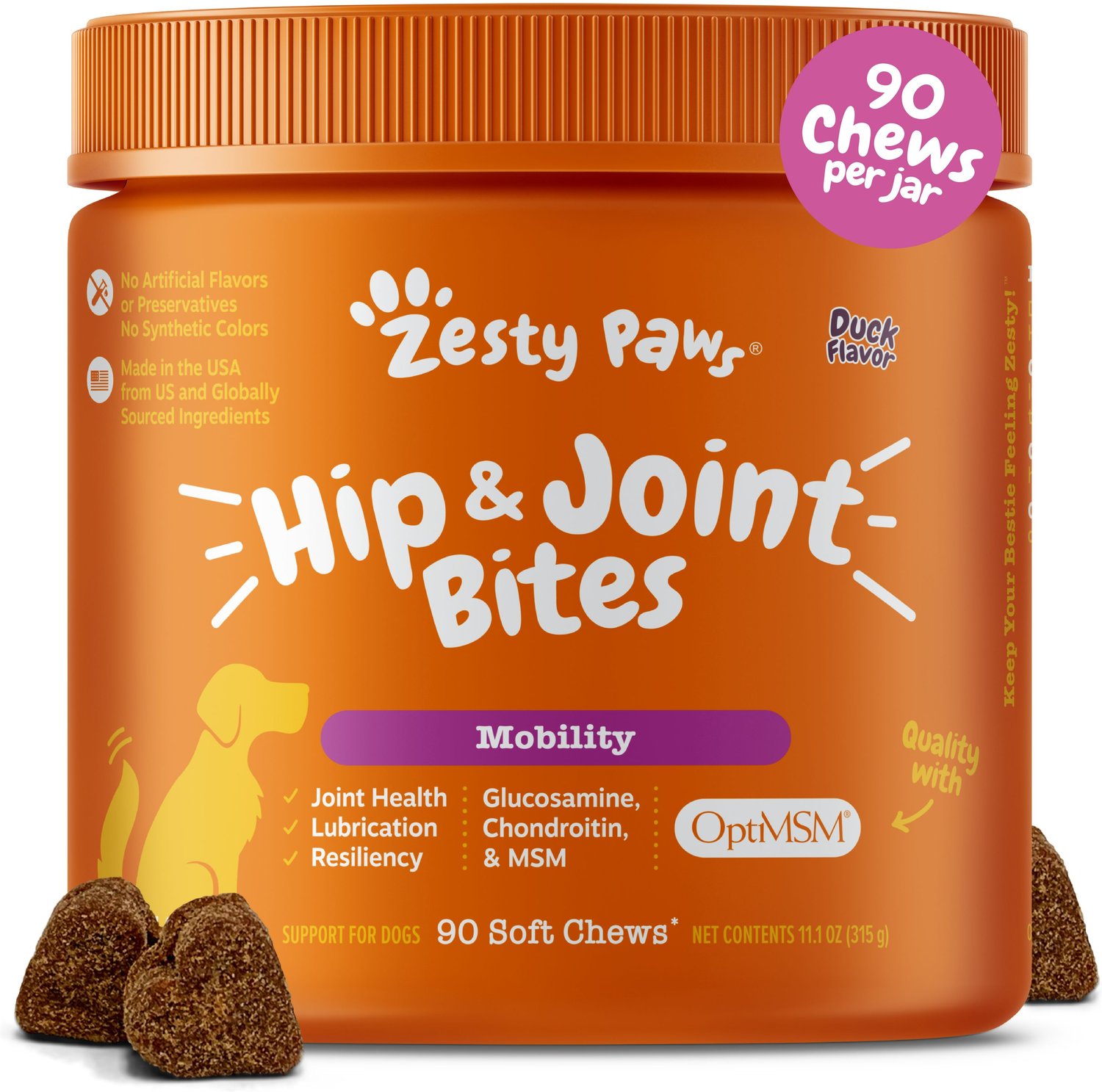 2. Best Chewable Tablets: Vet's Best Aspirin Free Aches + Pains Dog Supplement
This joint relief supplement by Vet's Best offers your pup quick relief from the discomfort that's caused by his regular exercise and daily activities. This is a veterinarian-formulated supplement that includes plant-based and other premium quality ingredients like glucosamine, MSM, pineapple bromelain, and white willow bark. These tablets are chewable and tasty, which makes them easy to administer to your pup.
If your dog is feeling muscle and joint discomfort, these are great to have as part of his regular supplement regimen to help relieve those sore, stiff muscles. Whether you have a large breed dog, a senior dog, or a dog that has recently been injured, this is a natural formula ideal for dogs 10 months or older. Along with the ingredients listed, this formula also incorporates yucca root. This is a South American plant rich in antioxidants. It helps to protect your dog against free radical damage and supports healthy connective tissue.
We tested this with a 12-year-old black Labrador that has been showing signs of joint pain. It was progressively getting worse, and we had tried a different type of joint supplement for a total of six months, but it just didn't seem like it was offering the pain relief he needs. First, he gobbled these down. They're tasty for him. After a couple of days at full dosage, we noticed that his activity level increased. He developed that same eagerness he had before to go outside and play. Those days of him choosing to stay on the couch or over. He also grunts less when he has to reposition himself and overall, we just see that he has a pep in his step again. We are very happy with these.
Best Chewable Tablets
Vet's Best Aspirin Free Aches + Pains Dog Supplement
Veterinarian-formulated
Includes plant-based ingredients like pineapple bromelain, and white willow bark
Also features glucosamine and MSM
Yucca root supports healthy connective tissue and helps to protect against free radical damage
Your dog will be happy to take these tasty chewables
Check Amazon
3. Best for Hind Legs: VETRISCIENCE Glycoflex 3 Maximum Strength Hip and Joint Supplement
VETRISCIENCE Glycoflex is a hip and joint supplement that contains DMG, MSM, and green-lipped mussel. This formula is extremely powerful and increases hind leg strength in just four weeks. This clinically proven supplement has been trusted by veterinarians for over 40 years. It includes 11 active ingredients, including Perna canaliculus and antioxidants to support your dog's joints and connective tissue.
This is an advanced formula, meaning it's maximum strength. It's recommended primarily for working dog breeds, senior dogs, and ultra-active dogs that have shown signs of joint pain. These chews taste like chicken, and they use naturally sourced ingredients and real chicken for that yummy taste that your dog will instantly recognize and crave. All of the ingredients in this formula are used intentionally and are backed by science.
One of our testers has a 12-year-old 65-pound mixed dog. She thinks he's a German Shepherd and terrier mix but she's not entirely sure. He previously had knee surgery and was diagnosed with arthritis. With this joint supplement, he has a new life. He can run, play, and just enjoy life again. She noticed changes in about a week and noticed a full improvement in about three weeks. She was a little concerned because her pup has a sensitive stomach, but she is happy to report that there is no diarrhea, gas, or other gastrointestinal upset. She uses this supplement along with salmon oil and is thrilled that her dog has come alive again.
Best for Hind Legs
VetriScience GlycoFlex Joint Supplements for Dogs
This formula contains DMG, MSM, and green-lipped mussels
Clinically proven and trusted by veterinarians for over 40 years
Includes 11 active ingredients to support your pup's joints and connective tissues
This maximum-strength formula is recommended for working dogs, senior dogs, and extremely active dogs that have demonstrated signs of joint pain
The yummy chicken flavor makes administering these supplements stress-free
Check Chewy
Check Amazon
4. Best No-Heat Cook Process: Doggie Dailies Glucosamine for Dogs
Doggy Dailies hip and joint supplement for dogs is formulated to promote healthy joints, provide your pet with comfort, and help to improve mobility. There are a total of eight active ingredients included in every soft chew, including glucosamine, MSM, chondroitin, yucca schidigera, Salmon oil, cod liver oil, COQ10, and hyaluronic acid. All of these ingredients are combined to support your dog's healthy hips and joints. This formula is made with cold press extrusion, which preserves the integrity of all the ingredients used. This process maximizes the potency so your pup can experience the maximum relief possible.
You can use this with dogs of all sizes and breeds. Whether your dog just needs a little gentle support, or you have an extremely active pooch that needs all the support he can get, a daily dose is ideal to support your dog's flexibility and keep his joints healthy. How many chews you provide your pup depends on his weight. There is a daily dosage recommendation on the bottle to make dosing super easy. For example, dogs up to 15 pounds only need one chew per day. However, if you have a larger dog around 61 to 75 pounds, then he will need five chews per day.
These joint supplements turned one of our testers from a skeptic into a believer. She has a nine-year-old Labrador/shepherd mix and about a year ago, she started noticing that her pup was walking with a limp on her front legs. They typically walked two to five miles every day and would spend up to an hour at the dog park for additional playtime. However, her pup just couldn't handle that amount of activity because her arthritis had gotten to a point where she was in so much pain, that she could hardly walk. She was skeptical that these would really work but gave them a go anyway. After a full month of use, her dog is back to her active and happy lifestyle. She still can't believe it, but she is so happy to have her exercise buddy back.
Best No-Heat Cook Process
Doggie Dailies Glucosamine for Dogs
Formulated to promote healthier, more comfortable joints and improve mobility
Includes eight active ingredients, including glucosamine, MSM, chondroitin, yucca schidigera, Salmon oil, cod liver oil, COQ10, and hyaluronic acid
These chews are created with cold-press extrusion to preserve the integrity of each ingredient
Appropriate for dogs of all sizes, though the dosage will vary based on their weight
Check Chewy
Check Amazon
5. Best Max Strength: Nutramax Cosequin Maximum Strength Joint Health Supplement
This Nutramax supplement is the #1 veterinarian recommended. If you've noticed that your pup is having trouble getting up the stairs, jumping into the car, or is just not up for his daily walks, this supplement can completely turn that around. These come in a tasty chicken-flavored chewable tablet that your dog will enjoy. This is a high-quality joint supplement that you can use long-term to maintain your pup's joint health.
There are various ways for you to determine if your dog needs a joint supplement. For example, less activity, difficulty sitting or standing, stiffness and discomfort when getting up or just a decreased interest in playing with you are all signs that your pup could use a little joint support. This product is formulated for dogs of all sizes and is confirmed safe, effective, and absorbable. That's why veterinarians recommend it.
One of our testers has a 12-year-old Sussex spaniel/chocolate Labrador mixed pup. She knows that these dogs are susceptible to developing hip problems, so she's always kept a close eye on him. She noticed about three months ago that he started having problems getting up the stairs in their home. Whereas he usually got excited before bedtime, he stopped and began whining at the bottom of the stairs. It broke her heart. She tried these supplements for 3.5 weeks and noticed that her pup is back to his old self again. He's active, jumps up and down, and has that sparkle in his eyes again. She's now confident that his golden years are going to be much more comfortable.
Best Maximum Strength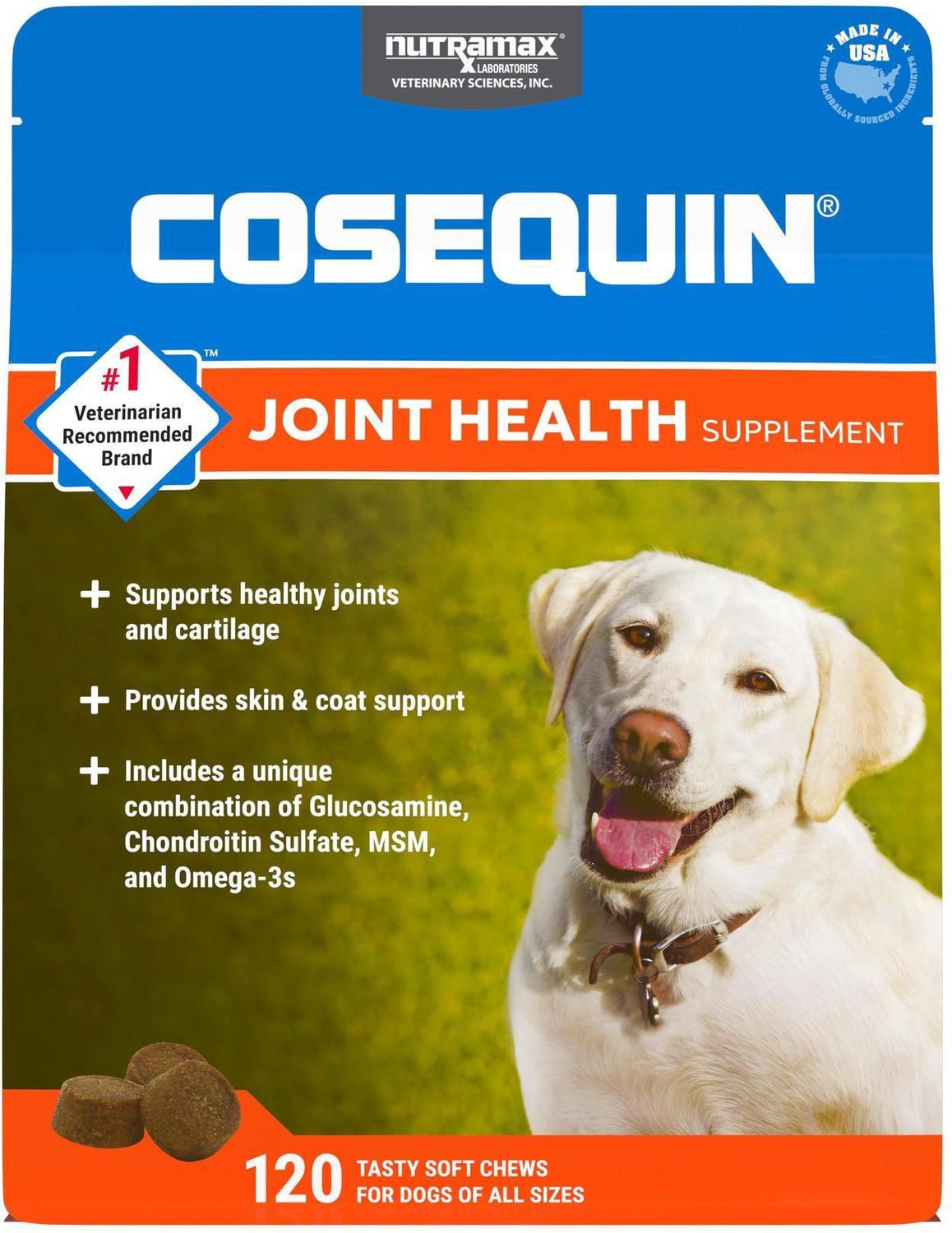 6. Best for Senior Dogs: PetHonesty Senior Hemp Mobility
Senior dogs need all the love, care, and support they can get. PetHonesty has created these hemp mobility hip and joint support supplements, especially for senior dogs. They contain organic hemp, glucosamine, balanced collagen, and green-lipped mussel. There are no harsh preservatives, harmful steroids, or GMOs included in this formula. Instead, they contain effective, natural ingredients that are backed by research.
They have a chicken flavor to make them ultra-tasty for your pup and also incorporate a healthy veggie blend for added flavor that includes carrots, tomatoes, and sweet potatoes. They're designed to support a healthy inflammatory response in your dog's joints, ease that uncomfortable stiffness after daily exercise, and enhance healthy joint fluid viscosity. They promote cartilage development, provide connective tissue support, and help to promote mobility and flexibility.
We tested these with a 13-year-old yellow Labrador that weighs just over 100 pounds. This poor pup has been dealing with discomfort in his back legs and hips and he started having trouble going up stairs. He seemed to be all right going down the stairs but when it came to getting back up, his legs would just kind of buckle. He couldn't climb them anymore. After administering these daily for a couple of weeks, he was able to tackle those stairs again. We can see that his confidence has improved and that he is feeling more like himself again. Of course, after these results, we wholeheartedly recommend this hip and joint supplement.
Best for Senior Dogs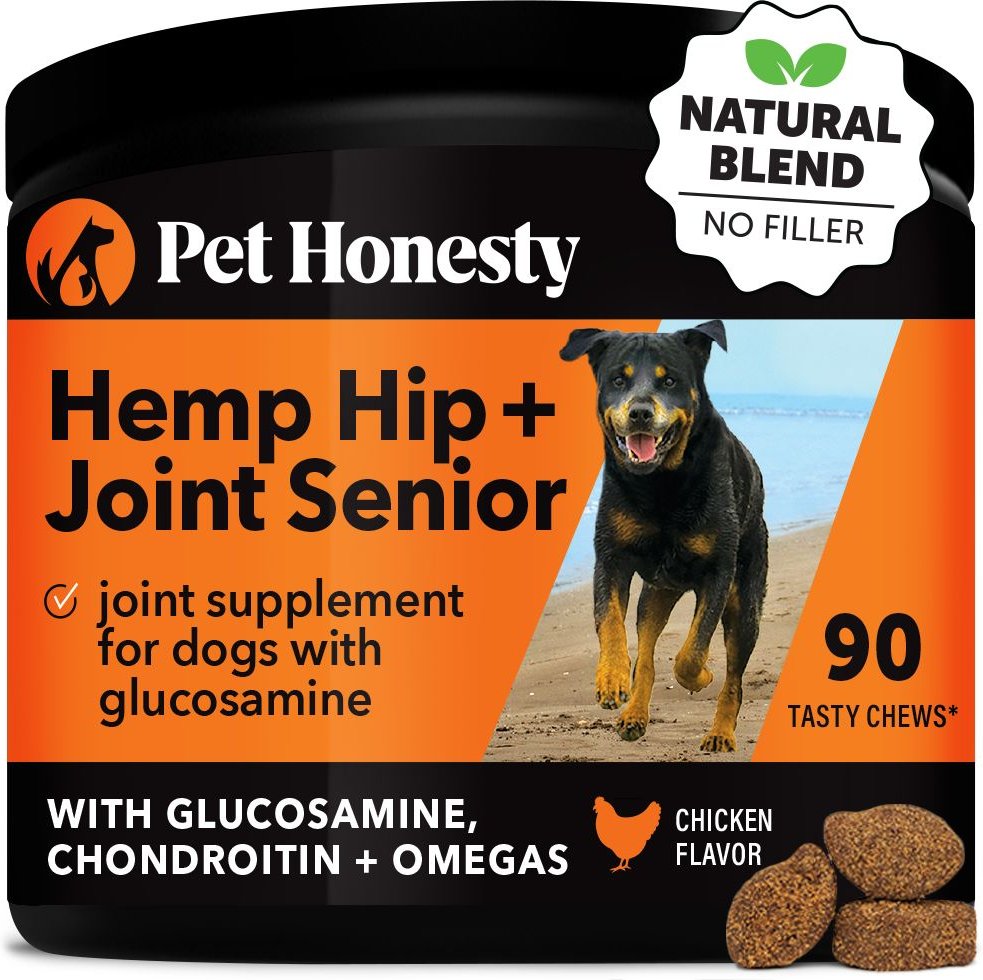 How to Choose the Right Joint Supplements for Dogs
If this is your first time introducing a supplement to your dog, it's important that you know there are several factors to consider. Each product has a specific formula that combines certain ingredients known to support joint health in dogs. Some of these formulas come in chewy bites that taste like treats to your dog while others are more of a tablet that you can mix in with your pup's food. There are also liquid options if you prefer to mix them in with your dog's wet food. Below, we break down what you should look at before deciding on the best joint supplement for your dog.
Ingredients
You'll see that several of the options above include glucosamine because this ingredient is known to increase the production of cartilage and it also helps to lubricate the joints, which prevents them from further breaking down. Another common ingredient you'll notice is chondroitin. This is a natural chemical that works to build up cartilage and together with glucosamine, it's extremely effective.
Another ingredient you'll see in joint supplements is MSM. This is also a naturally occurring compound that is known for its anti-inflammatory effects. It also serves as an antioxidant while supporting your pup's connective tissues and helping to maintain the structural integrity of his joints. Some supplements include green-lipped muscles which are rich in omega-3 fatty acids. This ingredient is fantastic for reducing pain and inflammation while helping to improve mobility.
Make sure that you're looking at the ingredient list of any product you're considering for your pup. Jump in, and do a little bit of research on each of the listed ingredients to gain a better understanding of which are most beneficial for your dog's needs. Some other popular ingredients include hyaluronic acid, which helps to both lubricate your dog's joints and reduce inflammation. You'll probably see other items like turmeric, CBD oil, Boswellia serrata, and even hemp extract, all of which work synergistically to reduce your pup's pain and discomfort, support joint health, and improve mobility.
Type
Another consideration before deciding on the right joint supplement for your dog is the type of supplement you're selecting. Some may come in capsules, others may be tablets, while some are more treat-like to entice your dog and make the process of administering the supplement a lot smoother. Some dogs are super picky and won't take their supplements. If you have to be sneaky about it, make sure that you choose a flavored option that can be easily mixed in with his favorite foods.
Flavor
Luckily, joint supplements for dogs are usually flavored. This makes it so that your dog can't tell the difference between something medicinal and something delicious. Try to choose a product with a flavor that your dog naturally gravitates to. Whether it's duck, salmon, chicken, or beef, you have plenty of options out there to make sure that you increase the chances of your pup actually wanting to take his regular supplements. They certainly won't work unless your dog ingests them so choosing the right one also has to do with choosing the right flavor.
How to Support a Dog with Joint Issues
A supplement is just that—something meant to supplement an already-existing set of healthy actions. For example, one of the most important actions you can take to support your dog with joint issues is to ensure that he has a nutrient-rich diet with plenty of immune-boosting ingredients. If you've been feeding something standard and commercial, you may want to consider switching over to a diet specifically that supports joint health. You might even inquire about a dog food delivery service that can customize meals for your dog.
When adding supplements to your dog's regimen, make sure you're connecting with your veterinarian. Your vet knows your dog's medical history and can serve as the perfect guide when it comes to selecting the right supplements that will support your pup's health. For dogs that struggle to make it onto high surfaces, you can consider getting a pet ramp. You can find cozy ones to use indoors next to your bed or next to your couch and you can also pick up a portable pet ramp to make getting in and out of your car easier for your pet.
Another important consideration that you may not have thought of is pet insurance. The sooner you get pet insurance, the better off you are when it comes time for veterinary care. If you can be proactive with pet insurance, your dog will qualify for any conditions that develop after your policy takes effect. If you wait too long, the pet insurance company won't cover any pre-existing conditions. This is especially important if you know your dog has a predisposition or susceptibility to the development of certain conditions. When you have pet insurance on your side, you can provide your dog with the highest level of care when he needs it.
Up Next…
Compare the 6 Best Dog Knee Braces: Updated for 2022 – Along with providing your dog with a great joint supplement, you can also help him get around with the right knee brace!
The Best Orthopedic Dog Beds: Updated for 2022 – Where your dog sleeps is ultra-important, especially as he gets older. Check out these awesome orthopedic dog beds to improve your pup's sleep quality.
The 6 Best Joint Supplements for Dogs FAQs (Frequently Asked Questions) 
What is the most effective joint supplement for dogs?
Formulas that incorporate a variety of joint supporting ingredients are the ones that are most effective. We highlighted our top favorite which is Zesty Paws Mobility Bites. These incorporate hemp extract which is known to relieve inflammation. We also highlighted a well-known and veterinarian-approved maximum strength formula, Nutramax Cosequin. If your pet needs maximum support, this is a great option to include in his regimen.
Do joint supplements for dogs really work?
Yes, joint supplements help to lubricate joints, rebuild cartilage, and support the structural integrity of joints. They also work as anti-inflammatories and antioxidants to reduce pain and discomfort.
Do vets recommend joint supplements?
Yes, veterinarians often recommend the use of glucosamine and chondroitin for dogs that have been diagnosed with osteoarthritis. Studies have been conducted that show the efficacy of these ingredients on dogs that have been diagnosed with this progressive and debilitating disease.
When should you start joint supplements for dogs?
The sooner the better. You can actually start with joint supplements as early as one year after your dog's birth. If you have a large breed or extra-large breed dog, you know that they are predisposed to the development of some of these painful joint conditions. It's always best to start joint supplements as a preventive measure instead of as a reaction to a condition your dog has already developed.