If you enjoy walking in the rain, why not bring your best buddy? A dog rain jacket is ideal for dogs who need extra protection from wind and rain. If you're traveling or walking at night, look for a dog raincoat with a hood or reflective elements. We tested more than 20 waterproof dog raincoats to help you find the best ones for your pet.
Our Criteria
We always recommend products we've carefully researched. These dog rain jackets were tested by consumers in real-world conditions on the road, in the rain, and with umbrellas. Most reviews made it seem like dogs and their parents were excited to take these dog rain jackets out for a spin.
In choosing our top products, we looked for dog raincoats that would stay on without sliding around and hoods that allowed the dog to see clearly.
Ease of use is also important. A zip-up style was not as easy as a Velcro strap or large snaps, and a poncho was the easiest style to put on.
We thought a reversible jacket would be a smart idea too, but we didn't find any that worked as double-duty styles. The Ellie and HDE dog raincoats, for instance, had layers that made them look reversible, but they aren't. You could, however, fold up the dog raincoat in a way that shows off the lining.
What surprised us the most was how cute and stylish these doggy coats were. They come in great-looking designs and bright, cheerful colors that will brighten up the gloomiest day.
Best Dog Raincoats: Our Top 4 Products
This stylish coat will help any dog make a fashion statement while staying dry, which makes the Ellie jacket our favorite dog raincoat. It's more than just good-looking, however, as this dog raincoat also has reflective buttons for safe walking at night.
This dog rain jacket is easy to put on and comfortable for most dogs. It has large buttons instead of a zip-up style, and it includes buttoned pockets to stash treats and other small items. It hooks to a harness or leash easily. The detachable hood and lightweight, waterproof fabric offer total protection. This dog raincoat's double-layered design will help your dog stay warm.
Comes in sizes XXS to XXL.
Double layer with soft inner lining.
Comes with hood.
Works with leashes or harnesses.
Lightweight, breathable fabric.
Available in yellow, navy, red, light grey or light pink.
Click here to check out Ellie Zip Up Dog Raincoat with Reflective Buttons on amazon.com.
Sale
This wonderful dog rain jacket has a lot going for it. It's a compact, lightweight size that is easy to pack up and take on the road for camping or hiking trips. It is a poncho that's easy to put on, with a hood and an adjustable Velcro strap. Our testers also loved the adorable rubber ducky pattern on the bright blue cloth. This is a taffeta shell that gives good rain coverage without warmth.
Fits medium to large dogs.
Comes with leash hole for easy walking.
Hood supplies added protection.
Very easy to put on.
Waterproof polyester.
Adorable color and design.
Click here to check out RC Pet Products Packable Dog Rain Poncho on amazon.com.
Tellpet Dog Jacket Waterproof Dog Raincoat, Orange, Large
Waterproof Dog Jacket, waterproof nylon fabric for maximum durable and comfortable, great for dog outdoor adventure and tracking, protect dog from rain and sun. Also use as dog raincoat
Reflective Dog Jacket, reflective piping to easily spot your dog when it gets dark early, the bright orange color offers a highly visibility in daily walk
Dog Raincoat, Easy on and off, buckle closure make this dog coat easy to use, offer a comfortable and adjustable size
Raincoat jacket for large dogs, unique design, 2020 new style with adjustable elastic cord and stopper, stretch fabric for dog's neck comfortable touch
Comfortable, elastic bands for legs make the dog jacket stay comfortable and suitable, secure fit in windy weather
Our testers thought this dog raincoat would be great for evening walks and hiking. The wraparound style and adjustable waistband can adapt to dogs of various sizes and builds.
This dog rain jacket has professional reflective piping and comes in a bright orange color designed for visibility. One of our testers said it resembled a human windbreaker in its style and fabrication. Our testers liked that it came with a harness opening or a leash attachment. It was breathable and comfortable for most dogs.
Comfortable, wraparound style.
Reflective piping and color.
High-necked fit protects dog's throat and chest.
Fully adjustable to fit most dogs in its size range.
Elastic bands keep it firmly on the dog's body.
Comes with leash hole.
Click here to check out Tellpet Waterproof Reflective Dog Rain Jacket on amazon.com.
HDE Dog Raincoat Double Layer Zip Rain Jacket with Hood for Small to Large Dogs Yellow - 2XL
Double Layer: This cute raincoat for dogs features a functional design because it is important to have a raincoat for dogs to protect from prolonged exposure to the cold rain. The drawstrings make it easy to adjust for a secure and comfy fit
Water Resistant: Designed from a nylon waterproof coating to keep your dog dry while walking in the rain. The lightweight material of this dog rain coat will allow your dog enjoy the rain in comfort
Dog Raingear Sizing: Length measurements taken from base of hood to longest point on coat | Small size fits pets 12" in length | Medium fits pets 16" in length | Large fits pets 20" in length | X-Large fits pets 22" in length | XX-Large fits pets 26" in length
Harness Hole: There is a harness hole on our doggy raincoat for necessary security when out for a walk. The dog raincoat design also includes reflective panels for safety after dark
Hood and Pockets: Perfect for rainy weather, our dogs raincoat waterproof with hood provides extra protection from the rain and features two pockets for your pet's walking essentials
For dogs that need protection from gusty winds and rain, try this windbreaker in a cute, vintage slicker style. This cute coat offers protection for your dog's head, neck, and chest and even includes handy pockets. It uses a zip-up closure, so it's easy to put on. You'll look like a scene from Singin' in the Rain when you stroll with an umbrella in one hand and a raincoat-wearing dog in the other.
A detachable hood adds more protection, and a soft inner layer helps your dog stay warm. Our testers liked the adjustable drawstrings and the stylish design of this dog raincoat. It's available in bright colors with a cute lining, but it's not reversible.
Comes in all sizes.
Cute slicker style.
Comes with a detachable hood.
Striped inner layer for warmth.
Available in yellow, red or pink.
Click here to check out HDE Double Layer Dog Raincoat with Hood on amazon.com.
IREENUO Dog Raincoat, 100% Waterproof Dog Warm Jacket for Fall Winter, Rainproof Coat with Adjustable Velcro & Reflective Stripes for Medium Large Dogs (XL, Blue)
FREEDOM IN RAIN --- To keep dry and comfortable in wet weather, IREENUO dog raincoat is made of waterproof Nylon Fabric + Fleece Lined material. The rain and dirt can be smoothly removed upon down the waterproof surface. Dogs can enjoy the freedom of movement and no longer getting wet on rainy days with the waterproof dog coat.
PERFECT COMPANION FOR WINTER --- Cold wet fall and winter is coming soon. Windproof surface & fleece-lined of this dog coat to keep your dogs warm in winter. The best companion for hiking, running, or other outdoor activities.
UPGRADED ADJUSTABLE VELCRO --- Different from the traditional dog raincoats on the market, widened and Lengthened Velcro offers a larger adjustable range to fit dogs of different shapes and sizes and makes dog jacket stayed firmly in place.
SAFETY IN DARK --- Two reflective stripes on the back of the rainproof jacket could be seen at night/in the dark. Improve the safety of the night walk. The reinforced edge of the harness hole on the neck is much durable for holding a leash and harness.
SIZE RECOMMENDATION --- This Waterproof Dog Coat is specially designed for medium and large dogs. Make sure to measure your loved dog from the base of the neck to the base of the tail. If your dog's measurements are between two sizes, please choose the larger size.
For particularly cold temperatures, your dog needs something that's moisture resistant and insulates for added warmth. That's why we like the IREENUO dog raincoat for fall and winter weather.
It has a super waterproof Nylon exterior decked out with reflective strips for extra visibility and safety at night. And the inside has a soft, cozy fleece lining. The extended fit is another plus, as the jacket extends all the way from the neck to the base of the tail so your dog can stay covered and dry all over. And the variety of adjustable velcro closures provides a perfect, ultra-customizable fit.
On top of everything, the moisture-resistant surface also means that this raincoat is easy to wipe clean to get rid of any mud, dirt, etc. It comes in blue and red.
Here's where you can find the IREENUO Dog Raincoat, 100% Waterproof Dog Warm Jacket for Fall/Winter.
How To Use a Dog Rain Jacket
How To Put on a Dog Raincoat
The first step to putting a raincoat on a dog is having a dog who's willing to wear one. Assuming you do, there are several styles of dog raincoats.
Some dog raincoats have an opening for the dog's head. They slide on like a doggy sweater. With others, you slide the coat over the dog's back and secure it with a strap around the dog's belly. A step-in raincoat takes a little more work, but it offers the most protection by covering the dog's belly and legs. There are button and zip-up versions. They may be more secure, but they're also harder to put on a reluctant dog. A rain hat or hood will shield your dog's eyes.
In a dog rain jacket with a hood, be sure the hood fits your dog's head securely without obscuring his vision.
When choosing a dog raincoat, start with a lightweight one that is easy to put on your dog. A heavy coat may cause overheating if it holds in too much warmth. Look for a reversible coat or one you can easily zip up. A coat with a leash hole is convenient for walking.
Why do you need a dog raincoat?
When wet, stormy weather hits, you reach for your umbrella, rain boots, and raincoat. You don't like getting wet, but what about your dog? If you want your dog to join you for walking, she needs her rain gear.
A waterproof dog raincoat is a must for hiking and camping trips. These trips usually involve walks in the woods, unpredictable weather, boat rides, and river crossings. Be prepared for all these adventures with a dog coat with hood and with harness opening.
Do dogs need rain protection?
Dogs are born with fur that's designed to help them stay warm. Some dogs are blessed with thick coats that protect them from the harshest weather. Given this, why do dogs need coats or other rainwear?
In deciding if your dog needs a coat, consider the dog's breed, size, and type of fur. A large, muscular dog with a thick coat probably doesn't need a dog rain jacket or other protective wear. Huskies, malamutes, and some shepherd breeds are all dogs that can stand extremely cold weather. A miniature Pinscher, Italian greyhound, or pug, on the other hand, might need some help staying warm and dry.
An older dog or a delicate one may need some extra protection. A toy dog bred for the indoors, with short fur, probably needs an extra layer of protection on cold, wet days. A dog rain jacket with a warm lining is a good choice for these dogs.
If temperatures are freezing, hypothermia can be a real threat to dogs. The best way to prevent that is to keep your dog from getting soaking wet. A dog raincoat with a hood will help keep your dog dry.
Stay Dry in Style with a Dog Rain Jacket
Walking your dog in the rain is fun when you use a stylish, well-designed dog raincoat. You and your dog will enjoy dressing up in these stylish, functional dog rain jackets.
Related Images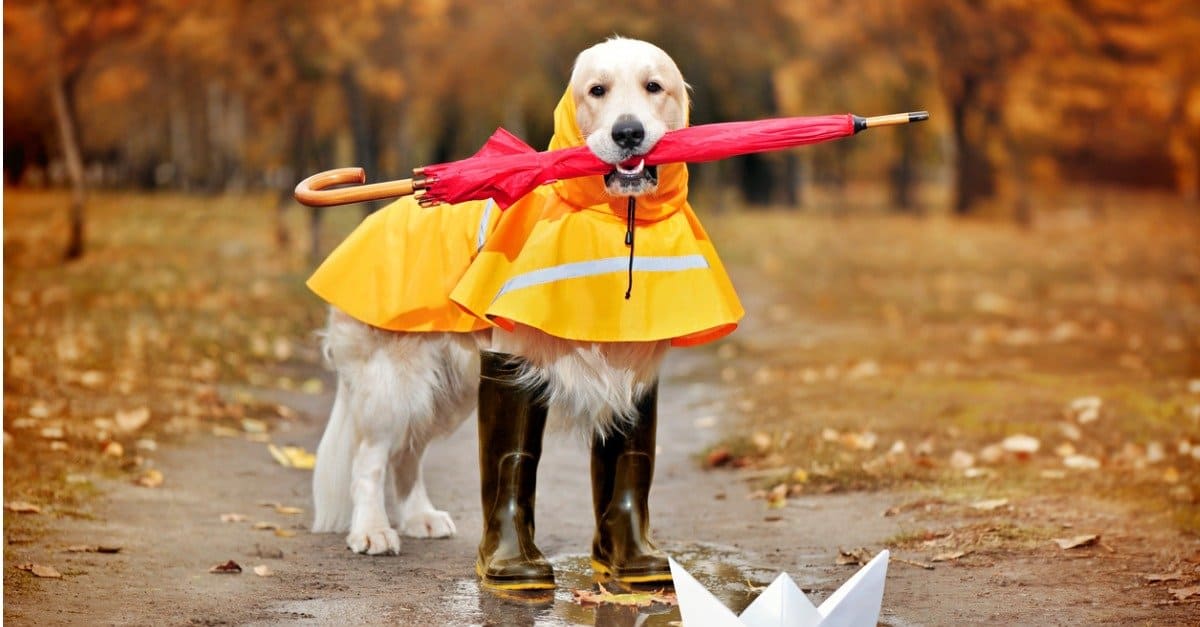 Best Dog Raincoats Summary
Up Next…
Best Dog Booties– Protect those adorable feet from hot, cold, or wet conditions and harmful substances on the ground like rock salt.
The Best Dog Backpacks– Make sure you and your dog are both prepared for any adventure!
Best Waterproof Dog Beds– Now doggo can come right inside from the rain and snow and curl up in comfort!
Last update on 2022-06-29 / Affiliate links / Images from Amazon Product Advertising API
Summary
Best Overall
Ellie Zip Up Dog Raincoat with Reflective Buttons
✔️ DOUBLE LAYERED DESIGN - Double layered zip up raincoat with additional buttons makes putting this coat on easy as well as adjustable and stylish.
✔️ WATER RESISTANT - Completely water resistant and will keep your dog safe and dry in all weather conditions.
✔️ MULTIPLE POCKET DESIGN - Our dog raincoats comes with multiple buttoned pockets for easy storage of small items and also includes a removable hoodie.
✔️ HARNESS & ADJUSTABLE FRIENDLY - Contains a small opening on the upper back of the rain jacket for harness users. Made adjustable to fit any dog breed
✔️ QUALITY INSPECTED - Are you worried about ordering products from China? Our products have been inspected by a reputable third party for quality assurance. No compromise on material and quality.
We Rounded Up the Best Dog Raincoats of 2022 FAQs (Frequently Asked Questions) 
Do dogs enjoy wearing raincoats?
Most dogs take readily to wearing costumes, sweaters, and coats. To get the most from your dog raincoat, keep these pointers in mind:
-Only put it on when you're getting ready to walk outside.
-Remove it as soon as you get home.
-Be sure it dries thoroughly after every use.
How do you choose the right dog raincoat?
-Look for a style with a hood.
-Choose a waterproof, breathable fabric.
-Find one with a harness opening or leash hole.
-Select a zip-up style or one with large buttons.
Are dog raincoats worth it?
If your dog seems miserable every time it rains, adding a dog raincoat to your doggy wardrobe is a smart idea. It will make your walks more pleasant and help your dog enjoy the outdoors.
More from A-Z Animals