Large or small, an aquarium is an attractive addition to any space. From the gentle sound of the water filter to the colorful movement of the fish, it adds life and texture to any room.
Proponents say a fish aquarium in your home makes you calmer, helps you sleep, and can improve focused creativity. The problem is, to do it right takes some work.
The gravel in your fish tank hides uneaten food, fish waste, and decayed plants. It can get toxic to your fish if it's not cleaned regularly. Cleaning the gravel by hand means taking everything out of the tank (including the fish) and thoroughly rinsing most of the rocks.
Fortunately, an effective electric gravel cleaner saves you time and hassle. We updated our 2022 reviews to include the increasing number of affordable, high-quality electric gravel cleaners.
1. Overall Best Aquarium Electric Gravel Cleaner: NICREW Automatic Gravel Cleaner, Electric Aquarium Cleaner
In our review, the best overall aquarium electric gravel cleaner is the NICREW Automatic Gravel Cleaner for its powerful cleaning suction and ease of use.
The NICREW gravel cleaner filters water as it vacuums your gravel by trapping debris and particles before releasing the water back into your tank. You can use it as part of your complete aquarium cleaning or for quick spot maintenance.
Suitable for freshwater and saltwater aquariums, the NICREW works in up to 28" of water depth without an attachment. For deeper aquariums, add the tube or nozzle extensions.
Best Overall
2. Best Gravel Cleaner Tool Set: UPETTOOLS Aquarium Gravel Cleaner
With six different functions, the UPETOOLS aquarium gravel cleaner makes tank maintenance easier. Made for freshwater and seawater tanks of various depths, the functions include a water changer, sand washer, debris cleaner, water filter, water shower, and water flow.
The pump flow is adjustable. The manufacturer estimates you can clean a 180-gallon tank in half an hour at full power. This tool set comes with a limited lifetime warranty.
Best Tool Kit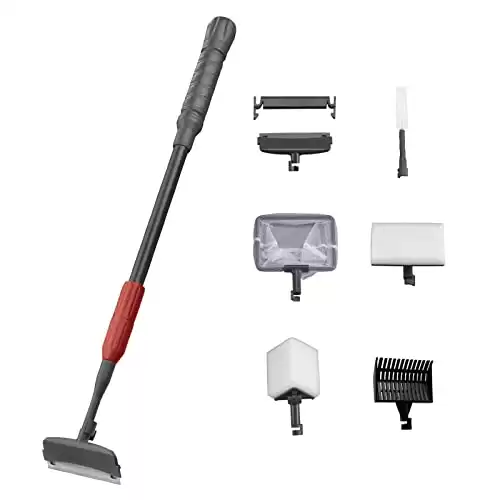 3. Best Battery-Powered Version: Eheim Quick Vac Automatic Gravel Cleaner
The Eheim quick vac automatic gravel cleaner is battery-operated and easy to use. It is built to stand up to thick sludge and the entire unit can be submerged unit up to three feet deep.
The vacuum is easy to clean and uses a fine mesh cartridge to trap dirt and debris, releasing filtered water back into the aquarium. The Eheim fits the bill if you're looking for a handy tool for quick substrate cleaning in between water changes.
4. Best for Lower Water Levels: COODIA Automatic Vacuum Gravel Cleaner
The COODIA's three-in-one design lets you vacuum your tank's gravel, extract sludge, and refresh the water in one. One unique feature about this vacuum is the pump is installed close to the end. This allows you to clean tanks with lower water levels than some of the other options, which won't create suction unless the pump is submerged.
Best for Lower Levels of Water
5. Best Six-in-One for Large and Full Tanks: AQQA Aquarium Gravel Cleaner Siphon Kit
The AQQA aquarium cleaner offers several functions and various tools, including:
Automatic water filtration (as it cleans)
Sand washer
Debris removal
Water shower
360° brush head
45 ° corner suction inlet
Duckbill suction inlet with a spatula (for debris you can't get with a vacuum)
The handle extends from 16 to 33 inches so you can use it in any fish tank, large or small. It works in low water levels and is easy to clean and store.
Best Multipurpose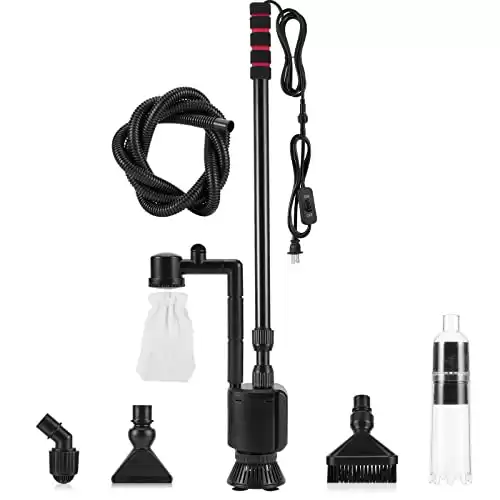 6. Best Gravel Cleaner with Brush Heads: hygger 360GPH Electric Aquarium Gravel Cleaner
The hygger electric gravel cleaner is both extendable and powerful. The 360GPH motor sucks dirt and filters water quickly to save you time. Its handle extends from 11 to 40 inches to reach your deepest tanks' corners. Plus, with its brush heads, you can scrub off the gunk that tends to build up in the corners of the tank.
It functions in very low water levels and comes with a washable and replaceable filter sponge. Included are the following accessories:
45 ° corner suction inlet and sand washing head
Duckbill suction inlet and debris vacuum
Brush head
Gravel washer and sand vacuum
360 ° water intake strainer
Filter housing
Choosing the Best: What to Look For
When choosing the best electric aquarium gravel cleaners, there are three important factors to consider. They are suction power, additional functionalities, and ease of cleaning.
Suction Power
Suction power is more critical with bigger tanks. The faster you can suck up debris and filter the water, the quicker your job is done. However, a vacuum with too much power will suck up the gravel as well as the waste, causing clogs and wasted time.
Additional Functionalities
Some gravel vacuums just suck and filter, while others come with brushes, scoops, and other accessories.
Ease of Cleaning
If it takes an hour to clean and disassemble the tool you use to clean your tank, you're not saving a lot of effort and time. The best electric aquarium gravel cleaners are easy to assemble, disassemble, and clean.
The Different Types of Aquarium Electric Gravel Cleaners: Pros and Cons Compared
Some vacuums come with additional attachments, while others stick to a single function. There are basically four types of electric gravel cleaners for your aquarium tank. You can choose between plug-in corded, battery-operated, multi-function tools, or dedicated vacuums.
Here are some pros and cons of each type.
Plug-In (Corded)
| PROS | CONS |
| --- | --- |
| Always ready to use | Have to be careful plugging and unplugging the cord with wet hands |
| Good suction power | |
| No battery compartment vulnerable to water | |
Battery-Operated
| PROS | CONS |
| --- | --- |
| Can use anywhere even if there is no outlet nearby | If water gets into the battery compartment, the unit stops working |
| Handy | |
| Rechargeable | |
Multi-Function Tool
| PROS | CONS |
| --- | --- |
| Helps clean harder to reach or harder to suction places | Can be complicated to learn to use |
| Reduces the work in tank-cleaning | More parts to store |
| Replaces several different tools | |
Dedicated Vacuum
| PROS | CONS |
| --- | --- |
| Easy to store | None |
| Saves you from hand-cleaning gravel | |
| Simple and easy to use | |
Verified Review: User Experience
The NICREW automatic gravel cleaner and two in one sludge extractor for medium and large tanks like the power of the plug-in model over a battery version. They say it's compact, easy to use, easy to clean, and gets the job done. Since it's for medium to large tanks, it needs a minimum of about 14 to 15 inches of water in the tank for suction. It also works for sand-bottom tanks.
Users report the Eheim quick vac automatic gravel cleaner and sludge extractor has good suction power and does the job. Some use it every few days to keep the tank clean and avoid buildup. They say the vacuum picks up the sludge without clogging or taking any gravel with it. The downsides are that the vacuum doesn't last forever and will stop working if water gets into the battery compartment. One user recommends sealing the battery compartment after you change the batteries.
Once reviewers got the hang of how each tool in the UPETTOOLS six-in-one aquarium gravel cleaner worked, they loved the results. They say it cleans powerfully. The written instructions are not great. Users recommend looking at the pictures rather than trying to understand the written instructions.
The COODIA automatic vacuum gravel cleaner got good reviews from users with large tanks who report strong suction. They say it's attractive and easy to put together. Reviewers recommend you use it as instructed and say it works for gravel but is not good on sand-bottom tanks.
The AQQA aquarium gravel cleaner siphon kit comes with six different functions. Users say it is powerful and versatile and makes water changes faster and easier. It is even able to pick up the crushed snail shells from a puffer tank because of the different tool options.
With five attachments, users report the hygger electric aquarium gravel cleaner is versatile. Most are enthusiastic and say it's a great value for the money, though some users complain it gets clogged.