Many of the reptiles kept today as pets are tropical animals, which means that they are used to a high degree of humidity. Inside-out homes are typically not humid enough, which can lead to the development of respiratory issues. For this reason, a fogger is often necessary.
Of course, you can simply squirt inside their tank a few times a day. However, this is very easy to forget, time-consuming, and not very effective. Therefore, if you're serious about keeping the tank moist, a fogger is necessary.
However, foggers are not all that popular or available. There are only a few options out there, and most of them look exactly the same. To help you choose the best option for your reptile, we've reviewed our favorite foggers below.
A-Z-Animals Top Picks for Best Reptile Foggers
Run for longer
Can produce a lot of fog at once
Automatically stops when it runs out of water
Completely adjustable

Check Amazon

Widely available
Adjustable output button
Compact design
Works with purified water

Check Chewy Check Amazon

Decently inexpensive with large capacity
Automatically turns off to prevent dry-running
Quality electronics ensure durability
90-day warranty

Check Amazon

Easier to use in smaller spaces
Very quiet
Best for low humidity habitats
Completely adjustable

Check Amazon

Perfect for larger tanks
Can visibly track the water level
Features a timed spray function
Can use this one machine for many tanks

Check Amazon

Features two tubes; can be used for two tanks
Automatic shutoff function
Easy filling
Suitable for all reptiles

Check Amazon
1. Best Overall: Coospider Reptile Fogger
The Coospider Reptile Fogger machine is easily the best on the market. It is much larger than most options out there, allowing it to run for longer before it needs to be refilled. It also works well for reptiles that need a lot of added humidity, as it can produce a lot of fog at once.
If it ever runs out of water, this machine will quickly stop to prevent damage to the pump and other parts. An indicator light also comes on to let you know that the fogger needs to be refilled.
The amount of fog it produces is completely adjustable through the use of a simple button. Turn the button to one direction to increase fog and to the opposite direction to decrease fog.
Best Overall
2. Best Compact Fogger: Zoo Med Reptifogger
You don't always need a huge fogger for your reptile. If you're looking for something smaller, consider this fogger by Zoo Med. It is widely available – more so than other options out there.
It features an adjustable output button, allowing you to carefully control how much fog is produced. The valve prevents spills, and the compact design allows you to place it in smaller spaces.
With that said, this fogger does need purified water, adding a step of complexity to use it. Otherwise, deposits can build up inside the machine and cause a range of problems.
Best Compact Fogger
3. Best Budget Fogger: Mr. Reptile Reptile Fogger
This fogger by Mr. Reptile is decently inexpensive despite having a very large capacity. It can hold up to 4L of water at a time, extending the time it can run without being refilled.
If the machine runs out of water, it automatically turns off to prevent dry-running, which can potentially cause damage to the machine. A seal prevents water leakage, and the quality electronics ensure durability.
We also enjoyed how quiet this machine is. It can be used in the quieter parts of your house without any problems. Plus, it even comes with a 90-day warranty. Therefore, if it doesn't perform as well as you'd like, you can get your money back.
Best Budget Fogger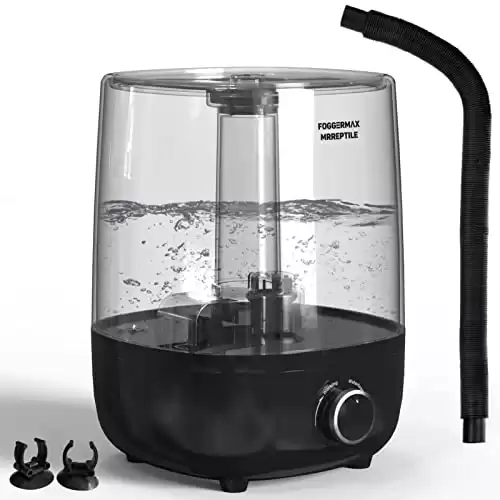 4. Best Small Fogger: Vivosun Fogger
The Viviocun Fogger is small, holding only 2.5 liters at a time. Therefore, it is best for habitats that only require a small amount of added humidity. For larger tanks or very humid needs, we recommend using a larger option.
Its small size does make it easier to use in smaller spaces. However, it is not necessarily as compact as other options. The round design makes it beautiful, but not necessarily space-saving.
This fogger is very quiet, allowing you to use it in bedrooms and similar areas. The misting level is completely adjustable using a knob on the front of the device. Plus, we like that the misting tube has a lot of play, which makes it easier to point it in specific directions.
Best Small Fogger
5. Best Premium Fogger: REPTI ZOO 10L Reptile Mister
If you have plenty of money to spend or need a larger mister, we recommend this option. While it is much more expensive than other foggers on the market, it is also much bigger. You're getting a lot of tubbing, capacity, and accessories.
For larger tank setups, this fogger is a must. It includes a 10L capacity, triple the average, and a 360-degree nozzle with a wide spraying range. The pump is completely silent according to all reports. You can visibly track the water level thanks to the translucent tank.
It even includes a timed spray function, imitating the natural environment.
You can use all of the sprayers for a single habitat, or you could use this one machine for many tanks. It is easily the best option for hobbyists with many reptiles.
Best Premium Fogger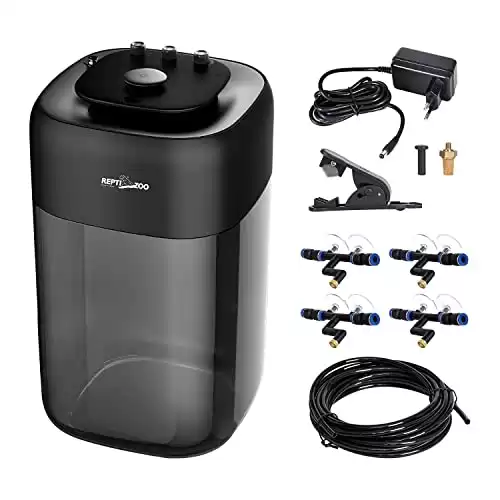 6. Best Double Reptile Humidifier: OIIBO Reptile Humidifier
If you have two tanks or one larger tank, we highly recommend this OIIBO Reptile Humidifier. It has two tubes that come out of it, allowing you to direct the tubes to multiple tanks or along a longer tank.
These tubes are not terribly long. However, this machine is pretty cheap, and more extension tubes are available. You may have to purchase extra accessories, but this machine still won't cost as much as some others.
The tubes are also very stretchable, giving plenty of freedom for placement.
The capacity of this humidifier is not very large. It does have an automatic shutoff function, though, preventing dry running.
Best Double Reptile Humidifier
Choosing the Best: What to Look For in Reptile Foggers
Choosing a reptile fogger is not always a straightforward choice. There are many factors that affect how well a fogger works and what situations it is made for. For instance, capacity, adjustability, tubing length, and aesthetics should affect your choice.
For everything you need to know about these factors, keep reading.
Capacity
Reptile foggers vary in capacity. Some are as small as 2L, while others are as big as 10L. The amount of space you have and the amount of humidity you need will affect the size you should pick.
If you have a small space, you'll probably have to pick a smaller fogger. However, if you have the space, a bigger fogger is usually the better option. Bigger foggers need to be refilled less often.
Adjustability
Most foggers have some level of adjustability. In other words, you can control the amount of mist that comes out. However, some foggers are more adjustable than others.
If you have a reptile that needs a lot or very little added humidity, make sure you purchase a fogger that caters to a wide range of needs.
Tubing Length
You'll need to trail tubing from the fogger to the terrarium. Therefore, you should choose an option that includes enough tubing to make the trip. Otherwise, your fogger isn't going to be particularly useful.
You may need to purchase more tubing if you're keeping the fogger away from the habitat or have multiple tanks.
Aesthetics
You don't want to have a beautiful reptile habitat with a grungy, cheap-looking fogger next to it. While most foggers are simply bulky tanks, there are some more modern options for those worried about aesthetics.
This factor won't apply to everyone, as not everyone is aiming to show their reptiles. However, if you're working hard to make your terrarium look nice, the fogger should look nice as well.
Verified Review: User Experience
Most reviewers were quite happy with their foggers, especially if they were used to spraying their reptile habitat daily with a spray bottle. Foggers took some of the maintenance off of their shoulders.
For most foggers, reviewers found that they could keep the humidity at up to 70%, which is plenty for most reptiles. Of course, some lower-quality foggers could not accomplish this feat and often got worse reviews because of it.
The majority of complaints were about electrical failures. However, these were rare, especially considering that foggers combine water and electrics (a pairing that is sure to go sour some of the time).
Still, overall, reptile foggers provide an easy way to increase a habitat's humidity. In fact, they are one of the few ways to accomplish this. Therefore, their reviews tended to be rather positive.