Key Points:
Some tarantula enclosures feature a locking latch to keep the spider from escaping, while others may provide heat to keep the animal warm. You can also find products that have a sliding cover with magnetic enclosure.
Tarantulas have a need for their enclosures to resemble a natural habitat as much as possible. Necessities include a substrate in the bottom, a shallow water bowl, and a place for the spider to hide.
Placing the enclosure in an area that's free of bright light is desired, and the room temperature should be steady and slightly humid. Don't leave it unattended with other pets around like cats.
Are you thinking of taking in a pet tarantula? When handled daily, tarantulas can make for affectionate and docile pets. They're also popular in classrooms and in group demonstrations. Some popular species that are kept as pets, many of which hail from South America, include: the Mexican Red-Knee, the Chilean Rose, the Pink Zebra Beauty, the Brazilian Black, and the Honduran Curly Hair. Whichever type of tarantula you decide on caring for, the next big decision is what kind of living space you'll create for it.
The proper tarantula enclosure is key to keeping your pet safe and happy. You will feel sure of its longevity when you get a tarantula habitat made from acrylic or other durable materials that allow adequate ventilation.
As anyone who has ever lived with an arboreal tarantula knows, these creatures love to jump! The terrarium you choose needs to give your pet room to move but reduce escape attempts. If you have small children or dogs and cats in your home, this makes an enclosure with a locking latch more critical. Clear-top, heated enclosures help you spot your tarantula easily and keep the animal warm. Many enclosures feature a sliding cover with magnetic closure.
We've compiled a list of the best tarantula cage options that should work for most owners' needs. In addition to these options, we have also decided to look at special enclosure needs for some tarantula species, how to make the enclosure as much like a natural habitat as possible, and how to find the best location for enclosure placement.
What Types of Tarantulas Require Special Enclosures?
The only type of tarantula requiring a special enclosure is the Goliath. The difference is whether the spider is an arboreal or terrestrial species for most species. Both types live in different settings in the wild, requiring different enclosure types.
Arboreal tarantulas will require a taller enclosure. Many of these have features in high demand, like a clear-top design. It is also easy to keep these types of enclosures heated.
Terrestrial tarantulas spend more time on the ground, so they do well with enclosures that are lower in height. These enclosures customarily feature a sliding cover and longer length. These spiders are less likely to spin webs that go high in the enclosure.
How Do You Make a Tarantula Enclosure as Natural as Possible?
When you have a tarantula enclosure, making things as natural as possible will keep your arachnid more comfortable. The closer the enclosure resembles a natural habitat, the less stress the pet will endure. A helpful thing to know is how many accessories you can buy to make the tank look more inviting.
Placing plenty of substrate in the bottom of the enclosure is essential, as well as a shallow water bowl. Another feature to consider is an area where your tarantula may hide. Although many owners enjoy decorations, these features are not crucial to spiders.
The one exception to decorative items only appealing to owners is the use of fake trees or rocks. These items encourage tarantulas to jump and climb. A magnetic closure is helpful if any of these items come up close to the top of the enclosure. Another thing that is helpful to remember is to check the screen material to make sure there are no holes big enough for your pet to escape.
Where is the Best Place to Put a Tarantula Enclosure?
Although you will not want to keep your spider in darkness, avoiding a lot of bright light is good. An area of the home that keeps the enclosure partially shaded will be comfortable for your tarantula. A steady room temperature and slight humidity level will suit these animals' needs.
If you have other pets, you will want to make sure they leave the tarantula alone. Cats, in particular, may go out of their way to get to the spider. You will also want to avoid having the enclosure in a younger child's room if they let the arachnid out.
Pros and Cons
PROS
A range of choices for arboreal and terrestrial tarantulas
Many feature clear acrylic or screen material for greater visibility
These enclosures are ventilated well for better airflow
Many designs have feeding holes in convenient locations
CONS
Some enclosures break apart easily, making escape more likely
Owners need to be careful to make sure the lids stay firmly closed
Our Criteria and Experience: How We Chose the Best
When doing our research, we looked for tarantula enclosures that met the proper needs of each type of tarantula best. We liked how well these options were ventilated, allowed for a clear view of the spiders when confined, and made it easy to add accessories to make everything as close to a natural habitat as possible for these pets. We also sought to include enclosures for every budget.
Some customer reviewers reported problems trying to close the covers, making it possible for the pets to escape. Another complaint with a few reviewers was that the cases started to crack or fall apart right after usage. Overall, however, most found the enclosures adequate for their needs.
The Top Picks for Tarantula Enclosures: Ranked
#1 Best Overall: NANEEZOO Magnetic Acrylic Large Enclosure
Best Overall
NANEEZOO Magnetic Acrylic Large Enclosure
360-Degree full view visually completely transparency to ovserve the behavior of your pets easily.
Size: 12" x8" x 6", appx.2.5 gallon, suitable for tarantulas, scorpions, crickets, snails, mantis frogs, geckos, spiders and other small aninals.
Sliding design and strong mangnetic closure for easy access and anti-escape, convenient and lightweight.
There are a number of ventilation holes on top and both sides, which provides sufficient air circulation.
Made with high grade acrylic material to provide sturdy and durable home for your pets.
Check Amazon
The NANEEZOO Magnetic Acrylic Large Enclosure is our top choice for best overall tarantula enclosure. It's transparent and allows a perfect, continuous view of what the pet is doing. This tank is durable, giving you the confidence your spider is safe.
Magnetic closure makes it easier for you to get access while keeping your tarantula from getting out of bounds. The ventilation holes similar to a screen on the top help ensure sufficient airflow for your pet.
One reviewer's complaint was the enclosure not being tall enough for tarantulas who love to jump. However, the tarantula habitat is an excellent option overall, according to most reviewers.
#2 Best Arboreal Tarantula Enclosure: Josh's Frogs Arboreal Tarantula Enclosures with Side Ventilation
Best Arboreal Tarantula Enclosure
Josh's Frogs Arboreal Tarantula Enclosures with Side Ventilation offer a tarantula habitat suitable for the needs of arboreal tarantulas. The increased height makes it easier for these creatures to jump or climb in their enclosure.
Durable acrylic makes it easier for you to keep an eye on your spider. The side ventilation gives your pet plenty of air.
Some reviewers had difficulty opening and closing the lid, resulting in the tarantula getting shaken during opening and closing. Easy opening and closing without shaking are essential for a terrarium where any pets live, making this reported flaw an issue of concern. There were also some reports of poor quality that resulted in cracks.
#3 Best Tarantula Enclosure with a Locking Latch: REPTI ZOO Mini Reptile Glass Terrarium Tank
Best Tarantula Enclosure with a Locking Latch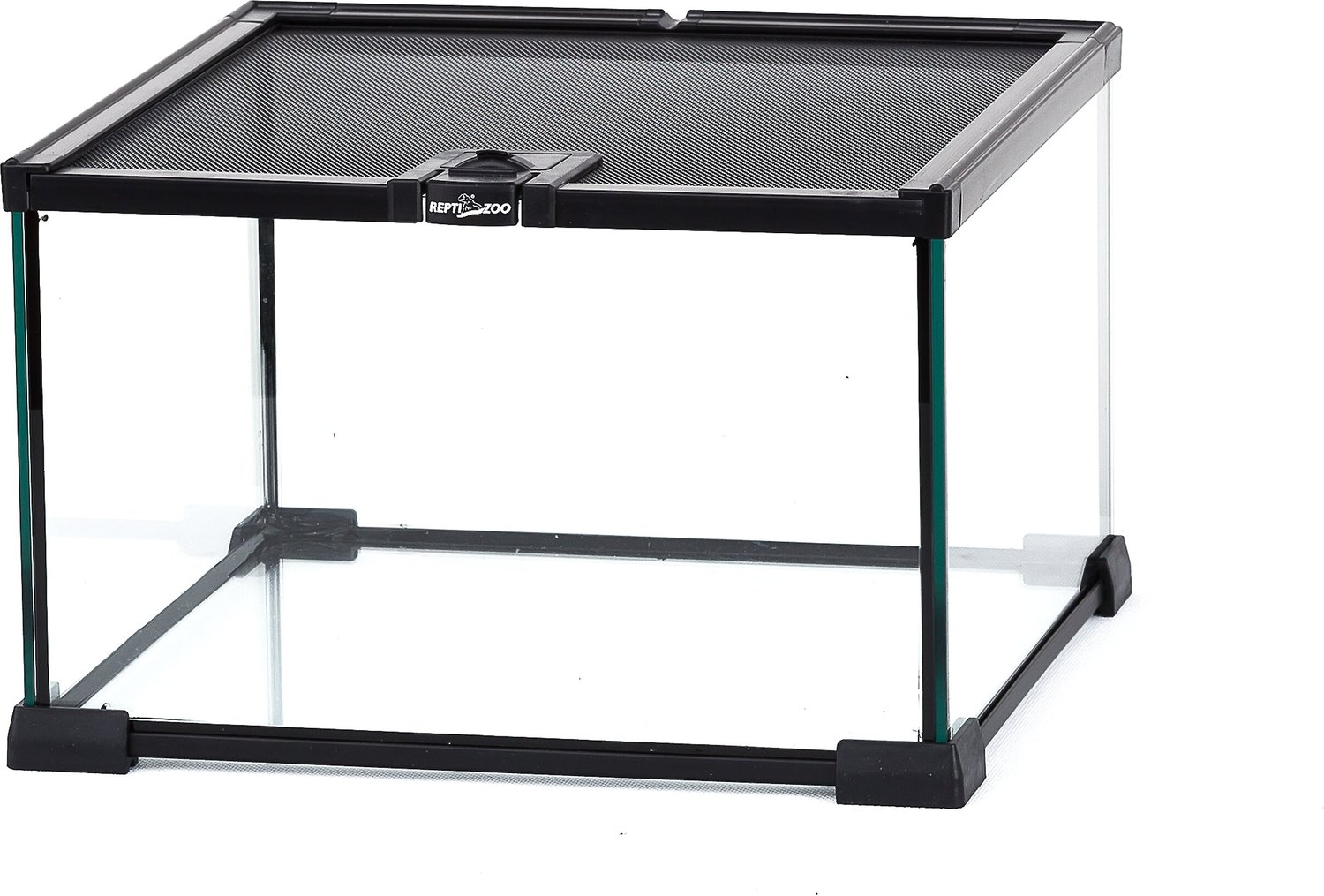 REPTI ZOO Mini Glass Reptile Terrarium Tank
The removable top perforated metal screen to provide plenty of ventilation and safe for overhead heat sources to meet the needs of the reptile keepers
The "lift and pull"sliding door is easy to open and close, very convenient.
The cover comes with a specially designed feeding ports that are functional and also visually appealing.
The terrarium is water tight and can hold water.
No need to install, easy to use. Size: 12" x 8" x 8".
Check Chewy
Check Amazon
The REPTI ZOO Mini Reptile Glass Terrarium Tank is a perfect option for arachnid owners who require a locking latch on their pet's enclosure. Should you need to keep the enclosure heated, the top is easy to mount a heat lamp over.
One of the things that we liked about this terrarium was how easy it was to open and close the door. Feeding ports allow you to drop food in without completely opening the cover.
Some reviewers found the size inadequate for tarantulas that jump a lot. There was also a concern that tiny juveniles might get out through the feeding ports too easily.
#4 Best Budget Tarantula Enclosure: Yitokmc 2 Pack Acrylic Tarantula Enclosure
Best Budget Tarantula Enclosure
Yitokmc 2 Pack Acrylic Tarantula Enclosure
Reptile enclosure insect terrarium is made of high quality high quality acrylic material for durable use; Eco-friendly, with good transparency, safe for your pets.
There are a number of ventilation holes on top and sides, which provide sufficient air circulation. And 360 degree transparency to observe the behavior of pets easily.
Package includes 2 pieces small critter keeper; Size about 4 x 3.2 x 2.4 inches; With sliding and magnetic closure design for easy feeding or care for your pets and prevent escape.
Perfect used as scorpion/ mantis/ tarantula enclosure, spider habitat, snail tank, gecko cage, reptile travel tank, insect terrarium, aquarium breeding tank, critter keeper, insect container, etc.
Suitable for tarantulas, snails, spiders, scorpions, crickets, gecko, mantis, house lizard, chameleon, small turtles, frogs, corn snakes, beetles, hermit crabs and other reptile & insects.
Check Amazon
The Yitokmc 2 Pack Acrylic Tarantula Enclosure allows for easier expansion as your pet grows. If you want to keep two tarantulas, having two enclosures solves a legitimate need because these creatures are often cannibalistic.
These enclosures are clear-top and transparent enough for easy observation. These enclosures are ventilated and have a sliding cover on each to help keep your spider from getting out.
Some reviews noted problems with assembling these enclosures, citing that this should not be an issue with a cage, regardless of whether it is a budget brand. Another concern some of our reviewers had was receiving both in one size instead of one of each of the terrestrial and the arboreal.
Summary of the Best Tarantula Enclosures
| Rank | Best For | Product |
| --- | --- | --- |
| 1 | Overall | NANEEZOO Magnetic Acrylic Large Enclosure |
| 2 | Arboreal | Josh's Frogs Arboreal Tarantula Enclosures with Side Ventilation |
| 3 | Locking Latch | REPTI ZOO Mini Reptile Glass Terrarium Tank |
| 4 | Budget | Yitokmc 2 Pack Acrylic Tarantula Enclosure |
Related Images
Up Next…
Tarantula Enclosures: Which Tarantula Cage is Right For You? Reviewed for 2022 FAQs (Frequently Asked Questions) 
How big should a tarantula enclosure be?
A tarantula habitat should, at a minimum, be three to four times the size of the tarantula with extended legs.
How do I set up a tarantula enclosure?
It would help if you always assembled the enclosure in an area without a lot of harsh light, with sufficient moisture, and away from home areas with curious pets or children.
How do I clean a tarantula enclosure?
Always the enclosure with a wet cloth that uses no soap or other chemicals, making sure the tarantula is in a different enclosure t the time.
How do I make an enclosure for an arboreal tarantula?
You can make an enclosure for an arboreal tarantula by using a taller kit that offers proper ventilation and a secure lid.
Can you put two tarantulas in the same cage?
Two tarantulas should never be in the same cage unless you are breeding them, and they will go back to separate enclosures after the mating.
What type of enclosure do tarantulas need?
Most tarantulas do well in standard 5-gallon enclosures designed to house reptiles or amphibians.