Key Points:
Anxiety vests can help calm your dog during events like thunder storms, fireworks, separation, travel, and periodical visits to the vet. They're found to be over 80% effective at minimizing stress.
Calming wraps and anxiety jackets apply gentle pressure to your dog's body, similar to swaddling a newborn baby. The produces a calming effect in your pet.
Some symptomatic behaviors in dogs with anxiety include trembling and shaking, excessive panting, compulsive chewing or licking, howling and barking, hiding, and refusing to go outside.
Does your dog tremble in terror during a lightning storm? Is every visit to the vet's office a struggle? If your dog suffers from separation anxiety or other fears, a dog anxiety vest is ideal. Also known as a pressure wrap or calming jacket, it's an easy-to-use solution that exerts a calming influence on your pup.
Highly anxious dogs are sometimes given medications, but these medications may have harmful side effects. If you want a non-prescription solution, try a calming wrap or anxiety jacket. Studies have shown that anxiety wraps and vests have been over 80% effective at helping dogs cope with anxiety issues. It's safe to have your dog wear them all day long, though it's advised to remove them periodically every couple of hours for 10-15 minutes to avoid irritation.
How do you know which one to choose? You want your dog's vest to have a comfortable fit, be durable, and be made of fabric that won't cause reactions in your dog's skin, all while doing the job of lowering your its stress levels. In this review, we've picked out the top dog anxiety vests.
When to Use a Dog Anxiety Vest
The calming effect of an anxiety vest will work in many situations. Put one on your dog during:
Thunderstorms
Fireworks
Shooting range noises
Loud neighborhood parties
Vert office visits
Traveling
Unfamiliar environments
It is also an excellent alternative to medication for dogs suffering from:
Separation anxiety
Traumatic experiences
Chrionic illnesses
Does Your Dog Need an Anxiety Vest?
Many dogs experience stress and fear when they're in unfamiliar surroundings. Storms, loud noises, and other situations can make your dog especially anxious. Some dogs also feel an uncomfortable sensation caused by static electricity during storms.
Dog anxiety symptoms include:
Trembling and shaking
Excessive panting
Compulsive chewing or licking
Howling and barking
Hiding
Refusing to go outside
How to Use Your Dog Anxiety Vest
Before you put the jacket on your dog, let him smell it and examine it. Wait for a moment when your dog is calm and happy to put the vest on. Pet your dog and praise her for wearing it. Do this once or twice to associate positive feelings with the vest. During the next stressful situation, your dog will be happy to wear the vest.
To avoid irritation in your pup, remove the vest periodically to let your dog's skin breathe. The recommended time for removal is every 1-2 hours, for increments of 10 minutes or so. These vests can be worn 24/7, though it's hopeful that your dog won't have to wear it that much. Situations that might warrant longer wear are airplane flights or road trips in the car. Whereas, as fireworks situation may only last a few hours.
Keep Your Dog Calm
Anxiety can make any dog unhappy. If your pup suffers from anxiety, try a calming jacket or anxiety vest. Combined with your loving attention, it can help your dog feel calm in any situation.
Our Criteria and Experience: How We Chose the Best
To make our choices, we sought products that have a comfortable fit, as some dogs will need to wear them many hours of the day. Beyond comfort, safe fabrics that don't irritate the pet's skin are a must. We consulted dog owners that have pups who often experience separation anxiety, fear of storms, and fear of the vet's office. We selected about 20 dog anxiety vests from top retailers and researched their effectiveness, along with analyzing reviews from dog owners with hands-on experience.
We found that the Thundershirt the best overall for its durable construction and snug, comforting fit. One reviewer has a dog who is "afraid of everything" and had immediate results with this "amazing" jacket. Another said it helped him get his dog off anxiety medications. They all said it worked very quickly.
Other top products included the Thundershirt Sport for active dogs. Note that the sport version doesn't provide all-over compression as the original does, but it gives dogs more freedom of movement.
The Forthcan Dog Recovery Suit is an excellent choice for dogs who are recuperating from illness or surgery, but our reviewers noted that you must remove it to let your dog urinate. Our pick for dog owners on a budget is the Mellow Shirt. It's almost $20 less than the Thundershirt, and reviewers said it worked very well. The one downside they found was that it doesn't cover as much of the dog's body as the original Thundershirt. The material also didn't feel quite as durable. However, most said it was a good value.
Top Dog Anxiety Vests: Ranked
#1: Best Overall — Thundershirt Classic Dog Anxiety Jacket
Best Overall Dog Anxiety Vest
Our overall pick for the best dog anxiety vest is the Thundershirt Classic Dog Anxiety Jacket. Thundershirt was one of the first anxiety vests on the market. Its patented design features a wrap style that surrounds your pup in comfort. The shirt applies light pressure to the chest, stomach, and back. The hook and eye fasteners make it easy to put on any dog. It comes in all dog sizes and is available in two styles, but our reviewers said the original style fits better than the polo style.
Safe to use for extended time.
Can be worn under a harness.
Hook and eye closures.
Attractive heather gray fabric.
Available in XS, S, M, L and XL.
#2 Best for Dogs in Recovery: Forthcan Dog Recovery Suit
Best for Dogs in Recovery
This recovery suit covers your dog's body completely to protect her after injury or surgery. It prevents your pup from biting or licking his wounds and helps him stay calm. This recovery suit is ideal for anxious dogs who are recovering from surgery or in recuperation from an illness. It also works to protect dogs who must wear braces or splints. The soft, stretchable fabric is comfortable for most dogs.
Soft, stretchable fabric.
Designed to cover dogs completely.
Double zipper closure.
Protects wounds and incisions.
Available in sizes XS, S, M, L, XXL and XXXL.
#3 Best for Active Dogs: Thundershirt Sport Anxiety Vest
Best for Active Dogs
If your dog enjoys the great outdoors, take him out in this wearable, lightweight version of the original Thundershirt. This is also an excellent choice for dogs with thick coats who might get overheated by wearing the original version. It is flexible, so active dogs can keep moving while wearing it. This dog anxiety vest comes in all sizes and your choice of two colors.
Exerts pressure on back and chest.
Allows movement for active dogs.
Can be worn with a harness.
Available in fuchsia pink or gray.
Comes in sizes XS, S, M, L and XL.
#4 Best Budget Option: Mellow Shirt Dog Calming Wrap
Best Budget Option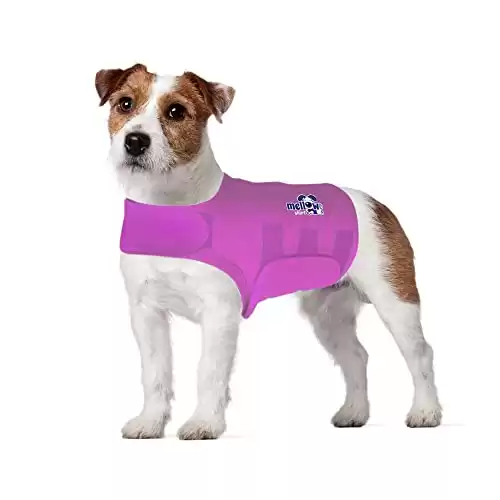 This calming jacket features a snug, wraparound fit, and ease of movement. Made from lightweight, breathable fabric, it uses gentle pressure on your dog's chest and back. Our reviewers agreed it is the most stylish jacket on our list. It is available in six fashionable colors and has a cute graphic.
Lightweight, breathable fabric.
Easy to put on.
Can be worn with a harness.
Comes in 6 beautiful colors.
Available in XXS, XS, S, M, L and XL.
Summary of the 4 Best Dog Anxiety Vests
| Rank | Best For | Product |
| --- | --- | --- |
| 1 | Overall | Thundershirt Classic Dog Anxiety Jacket |
| 2 | Dogs in Recovery | Forthcan Dog Recovery Suit |
| 3 | Active Dogs | Thundershirt Sport Anxiety Vest |
| 4 | Budget | Mellow Shirt Dog Calming Wrap |
Related Images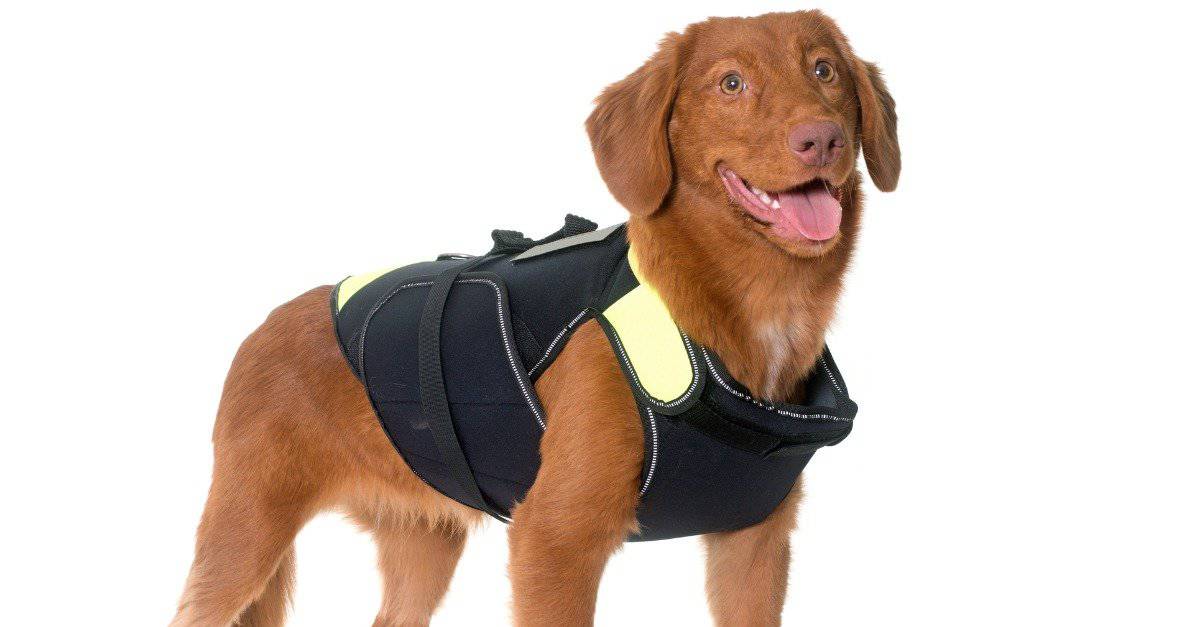 Up Next…
The 4 Best Dog Anxiety Vests: Reviewed for 2022 FAQs (Frequently Asked Questions) 
How do dog anxiety vests work?
A dog anxiety vest works by placing gentle, constant pressure on your dog's body. It's like the pressure from swaddling a baby. The pressure is comforting. Like a swaddled baby, a dog in a calming wrap will instantly begin to relax. Swaddling helps babies feel calm and safe, and it does the same for dogs.
Do dog anxiety vests work for separation anxiety?
Yes, they are excellent for separation anxiety.
What is the best calming aid for dogs with anxiety?
There are several ways to calm a fearful dog:
• Keep the environment as calm and quiet as possible.
• Continue your normal routine.
• Use an herbal calming spray.
• Put a calming jacket on your dog.
• Rub your dog with an anti-static sheet.
• Create a hideaway for your dog.
How long should a dog wear an anxiety vest?
The amount of time will depend on the situation. It's important to ensure that your dog is comfortable wearing the vest. If not, the pressure of the vest could cause even more fear and anxiety in your dog.
Remove the vest at once if your dog seems uncomfortable.
Once your dog is used to wearing the vest, you can leave it on according to your dog's needs. Your pup may only need the vest for an hour or two, for instance, during the storm or vet visit. In the case of dogs suffering from separation anxiety or traumatic experiences, you may need to leave it on for several hours. These vests are generally safe to wear for several hours.
How do I choose the right dog anxiety vest?
Look for a vest made from soft, flexible fabric that doesn't restrict your dog's movements. To get the right size, measure your dog's chest at the widest point. Remember, however, that a dog anxiety vest must fit snugly to work.