Key Points:
A dog blanket should be durable for pets that can be rough with it. The fabric should be safe for pets with sensitive skin. And above all, it should be soft and cozy to give your pet the comfort and security it needs.
Dog blankets come in a variety of fabrics such as microfiber, terry fabric, coral velvet, and fleece. These blankets can be used to cover furniture like sofas, used in crates, or for beds.
Buying the right blanket for your dog should be determined by what best suits your dog's needs, as well as your own.
The classic cartoon strip character Linus was rarely seen without his favorite blanket dragging behind him. He personifies the attachment that humans can have in a soft, beloved security blanket. Dogs really aren't that different from us. Give them a blanket, make them very aware that it's "theirs," and they will roll, snuggle, scratch, and even chew that blanket with joy! That's where shopping for the best dog blanket can get a little tricky. Dog blankets need to be durable enough to withstand rough play, at the same time be soft and cozy, yet also be safe. Some dogs have sensitive skin, so can't do well with just any fabric out there. And what if they were to tear off pieces and ingest them?
Shopping for the best dog blanket is not a cut and dry task, but with some guidance, you can find the best blanket to fit your dog's, and your own, needs. Finding the best blanket for your dog is easier if you think about the features you want. Some blankets have a design highlighting a couple of features while others combine several features for a dog's comfort. For example, you may want a blanket that is specifically suited to withstand moisture for a senior dog that has incontinence issues. Or you may want a blanket that has self-warming technology to keep your dog comfortable on cold winter nights.
Another approach to finding the best dog blanket is to consider where you want to put it. For instance, a dog blanket meant for a couch, an easy chair, or for a bed is going to be larger in size than one meant for a crate.
The best dog blanket is the one that meets all of your expectations and preferences.
How to Choose the Right Dog Blanket
Think about the main purpose of your dog blanket. If your couch or bed is a magnet for dog hair, you probably want a blanket that covers your furniture while providing a comfortable place for your dog. Or, if you're concerned about keeping accidents and dirty paws off your furniture, an attractive blanket that's waterproof and made for dog hair loss would be something to consider.
Perhaps you want to narrow your search for a blanket that can fit into a crate. Fortunately, some very soft dogs' blankets are made in a size perfect for a crate.
Maybe you want something extra special like a personalized dog blanket. If so, it's best to look for a durable blanket made for comfort that can be personalized as well. A personalized blanket is a keepsake as well as a practical item.
No matter what type of blanket you're looking for, it's a smart idea to make a list of at least three must-have features so you get exactly what you want.
Our Criteria and Experience: How We Chose the Best
In making our recommendations for the best dog blankets, we took several factors into consideration. We researched the ones that withstood the wear and tear of pets that like to scratch or roll around on them, as well as frequent machine washings. We also wanted some waterproof options in case your pet might soil it or come in wet after being in the rain. And comfort was a key factor. Let's face it, a blanket should be soft and cozy. These dog blankets have gone through hands-on testing by our reviewers. Each one of the blankets has notable features that caught our attention. Furrybaby is a familiar brand to many dog owners. The Furrybaby blanket we reviewed has been referred to as '…super soft' and '…remains comfy after washing it several times.'
We reviewed the ThermaNap dog blanket made by Furhaven. One thought about this self-warming product: "…this blanket is popular with my dog and my cat!" Also, our reviewers noted this blanket has introduced, "…snuggly, happy napping dogs to our household."
For a waterproof option, we were very impressed with the Pawtect Blanket, which sports the WickQuick technology, which absorbs any moisture into a waterproof impermeable barrier, leaving the surface dry. Reviewers with senior pets with incontinence issues sang the praises of this blanket, giving them an option that they didn't have to repeatedly wash every time the pet wet it.
Check out our reviews including the pros and cons of each dog blanket.
The Top Picks for Best Dog Blankets: Ranked
#1: Best Overall — Furrybaby Premium Fluffy Fleece Blanket
Best Overall Dog Blanket
The Furrybaby Premium Fluffy Fleece Blanket earns our pick for best overall dog blanket because of its extraordinarily soft fabric. Through our testing, we found this fleece blanket offers both warmth and comfort to a dog.
The Furrybaby Premium Fluffy Fleece dog blanket is available in a variety of sizes including small through jumbo. So, this comfy blanket can be enjoyed by a teacup chihuahua, a Great Dane, and every dog breed in-between!
Along with having a choice of sizes, this best overall blanket is available in many colors including beige, pink, blue, red, and brown along with others. An owner who wants this for a couch or for a bed can choose one that complements the décor!
This blanket is low maintenance. We noted that throwing it into the washing machine, then drying it on low heat removes both dirt and dog hair.
One drawback concerning this blanket is it can be damaged by persistent chewing. So, it may not be an ideal choice for chewers.
#2 Best for Crates: Pet Parents Pawtect Blanket
Best for Crates
Pet Parents Pawtect Blanket
Premium waterproof dog or cat blanket

WickQuick technology draws moisture into the dog blanket, so no liquid puddles on top to prevent puddles

Dimensions 32"x40"

Edge Pawtector to hold together against wear and tear
Check Amazon
Our number one choice of a dog blanket for a crate is made by Pet Parents. Our testing revealed this blanket is waterproof and easy to clean in the washing machine. It's constructed with WickQuick technology that absorbs urine, water, and any other liquid in the crate. So, a dog remains comfortable even after having an accident. The owner of a new puppy may want to consider this waterproof blanket for crate training.
The fabric of this waterproof dog blanket is a combination of faux fur and Sherpup fabric. This is perfect for a large dog or a small dog to snuggle into on cool evenings.
Dog owners have a choice of three sizes and there are two colors available as well.
In testing this blanket for a crate, we discovered the seams are vulnerable to tearing if there's persistent chewing.
#3 Best for Large Dogs: Frisco Sherpa Dog Blanket
Best for Large Dogs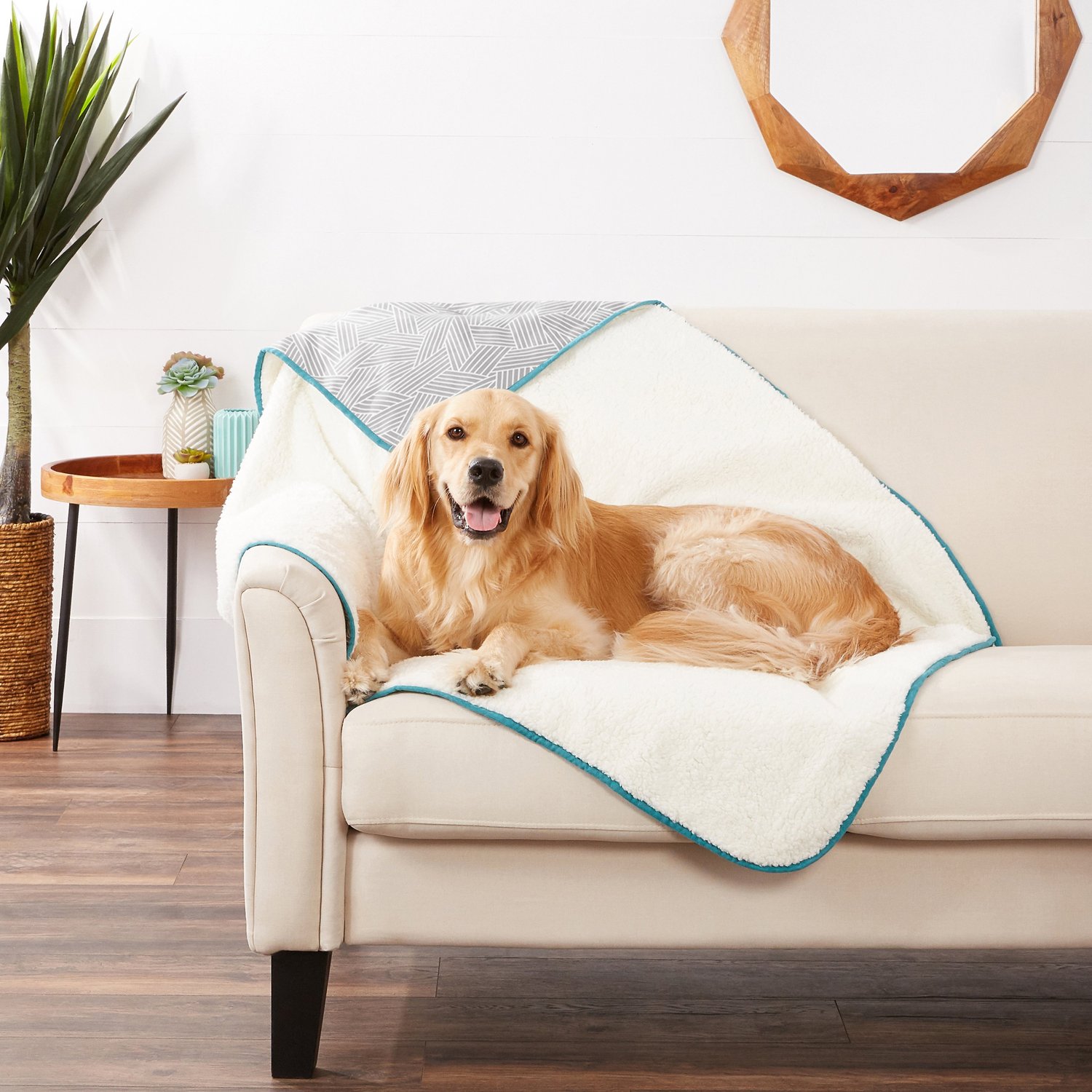 The Frisco Sherpa dog blanket is our number one choice for large dogs because it's both comfortable and allows your dog plenty of space to stretch out. This blanket is double-sided with one side covered in durable twill fabric and the other in soft Sherpa fabric. The blanket measures 50 inches long and 40 inches wide. Our testing confirmed the blanket is suitable for large dogs such as a Golden Retriever and canines of similar size.
We determined this blanket would be a durable choice for a bed or for a couch in a home. This stylish blanket adds to a room's décor. Plus, it provides a place for the dog hair to fall for owners who don't want their dog shedding on the sofa or bed!
The Sherpa blanket is available in different patterns to suit a dog owner's color and style preferences. It's made in a gray basket weave pattern, navy herringbone, or tan novelty paws.
One feature we discovered in our testing is this blanket for a large dog is fairly thin. It's covered in soft fabric but doesn't have thick padding.
#4 Best for Small Dogs: PetAmi Fluffy Fleece Dog Blanket
Best for Small Dogs
This blanket made by Pet Ami is our number one choice for a small dog because of its soft fleece fabric. At 24 inches wide and 32 inches long, it provides enough wiggle-room for a small dog, while not overwhelming tiny canines.
The neutral color of this blanket (or the 7 other color options) makes it suitable for a bed or for a couch in a room with almost any color theme. This blanket provides a solution for the loose dog hair that can collect on sofas, beds, and even easy chairs. It protects furniture while providing a relaxing space for a small dog.
Our reviewers found this blanket isn't a solid option for chewers. Not suitable for chewers means dogs that chew constantly are likely to tear into this blanket designed for napping.
#5 Best Value: Furhaven ThermaNAP Dog Blanket
Best Value
The ThermaNAP dog blanket made by Furhaven has a combination of qualities earning it our number one spot for the best value.
One of the most notable ones is this blanket is self-warming. There is no electricity involved in keeping a pooch cozy. The ThermaNAP blanket is designed with layers including a special self-warming core.
Our reviewers noted the waterproof feature of this blanket. This makes it an appealing option for a bed or for a couch. If a dog has an accident or wet paws, the waterproof nature of this blanket protects an item of furniture. If an accident does happen, the blanket is machine washable.
This reasonably priced, best value blanket is available in several colors including silver-gray, denim, dove, and espresso. So, a dog owner can opt for a color that complements the décor in their home. A dog owner can order this blanket in either small or medium.
Our testing revealed this blanket doesn't stand up to rough treatment such as being carried around or tugged at by a large dog.
Summary of the 5 Best Dog Blankets
| Rank | Best For | Product |
| --- | --- | --- |
| 1 | Overall | Furrybaby Premium Fluffy Fleece Blanket |
| 2 | Crates | Pet Parents Pawtect Blanket |
| 3 | Large Dogs | Frisco Sherpa Dog Blanket |
| 4 | Small Dogs | PetAmi Fluffy Fleece Dog Blanket |
| 5 | Value | Furhaven ThermaNAP Dog Blanket |
Related Images
Up Next…
The 5 Best Dog Blankets: Reviewed for 2022 FAQs (Frequently Asked Questions) 
How Do I Choose the Right Size Dog Blanket?
First, measure the length of your dog. It's best to choose a dog blanket that's at least one foot longer than your dog's total length. That way, your pet can spread out while still staying on the blanket.
What's the Most Important Feature of a Blanket for a Crate?
A blanket for a crate should be waterproof. This is because a dog can develop a rash if it lies in urine or other moisture. Of course, a blanket made for comfort is also a must-have for a crate.
Why Would I Choose a Self-Warming Blanket?
People who own dogs with short hair find self-warming dog blankets especially appealing. A short-haired dog may have trouble staying warm during the cold weather months or even on cool summer nights. A self-warming blanket can be an extra layer for the comfort and warmth of your dog.