Key Points:
Different frisbees suit different needs in your dog. There are frisbees suited to dog disc competitions, ones that are soft to catch, durable rubber ones, and frisbees specifically for small dogs.
Frisbee play can keep your dog physically and mentally fit, helping it release pent up energy. It's also a great way for a dog's owner to interact with his or her "best friend."
When choosing the right frisbee for your dog, remember that dogs see certain colors better than others. The best color choices are variations of blues and yellows.
What are the best dog frisbees? The answer depends on several factors including the size of your dog, your dog's chewing habits, and how you plan to use the frisbee.
One dog owner may want a fabric frisbee that flies with accuracy when practicing for competitions. Another may want a simple rubber, waterproof frisbee to use on casual trips to the lake. These products are made with different materials and in different designs to suit the needs of a dog owner.
7" diameter long distance dog frisbee
Multilayer nylon interior with rubber edge
Floats on water
Gentle on puppy's or adult's teeth and gums

Check Chewy Check Amazon

Made of classic, durable rubber
Soft and flexible
Best for large dogs
Do not use as a chew toy

Check Chewy Check Amazon

Durable natural rubber dog frisbee
Contoured edges for firm grip
Dimensions 9" x 9"
Soft & flexible, gentle on teeth

Check Chewy
How Do I Choose a Frisbee for My Dog?
The first step is to think about how you're going to use the frisbee. This can help you to choose one that fits with the level of activity you set for your dog. For example, you may be looking for the best frisbee for competition. If your dog participates in competitions you want a durable product you can throw with accuracy. Frisbees designed to hang in the air for a few seconds before beginning to fall are ideal as competition frisbees.
Does your dog like to chew? If so, a soft frisbee for chewers is a good choice. You want a frisbee your dog can chew on without damaging the frisbee or your pet's teeth!
Another factor to consider, believe it or not, is the color of the frisbee. In some respects, dogs are color blind, and so certain colors are harder for them to make out than others. When choosing a good frisbee for your dog to play with, or to train for a disc dog tournament, variations of blues and yellows will be the most eye-catching for your dog.
Perhaps you like to take your dog and a frisbee to a local lake or pond. If your dog loves to charge into the water after a frisbee, you need one that's both sturdy and waterproof.
Professional Disc Dog Tournaments
Some dogs and their owners set a goal of competing in professional disc dog tournaments. These competitions celebrate team work between the owner and its dog. Events you can encounter in these competitions include freestyle showcases, distance catching, and games that demonstrate agility and smarts.
The frisbees that travel the farthest and fastest, fly better, and have the greatest accuracy are those made from lightweight, hard plastic. So if you want to train your dog properly, you should invest in this type of frisbee.
The Best Dog Frisbee Product: Pros and Cons Compared
Nylon Fabric
| Pros! | Cons! |
| --- | --- |
| Durable | Difficult to clean |
| Soft on a dog's teeth | Not for heavy chewers or puppies that chew a lot |
| Accurate flyer | |
| Floats | |
Flexible Rubber
| Pros! | Cons! |
| --- | --- |
| Easy on a dog's teeth and mouth | Not always accurate flyers |
| Floats | Not long-distance flyers |
| Durable for chewers | |
Verified Review: Our Hands-On Experience
We have hands-on experience with these frisbees. For instance, Chuckit! is one of the most well-known frisbee brands. "We appreciate the Chuckit! Frisbee because it flies well and stayed afloat for several seconds." However, one of the downsides of the Chuckit! Frisbee: "It's not very durable especially when used every day."
The Hyper Pet is another frisbee we evaluated for dog owners. This particular one is especially popular for its, "soft fabric and indestructible design." However, one disadvantage of the Hyper Pet Flippy Flopper Dog Frisbee is it's large in size and not suitable for small dog breeds or for puppies.
The Kong Classic Flyer is a favorite with dog owners for its, "durability and flexible rubber design." One drawback we noticed with the Kong Class Flyer is this frisbee is not the best option for dogs that are persistent chewers.
Check out more specifics on these frisbees.
The Top Picks for Best Dog Frisbee: Ranked
#1: Best Overall — Hyper Pet Flippy Flopper Frisbee Interactive Flying Toy
The Hyper Pet Flippy Flopper earns our pick for the best overall dog frisbee. This frisbee is made of multiple layers of nylon. Its nylon fabric makes this frisbee durable as well as easy on a canine's teeth.
It claims the honor of number one overall frisbee because it's suitable for use on land and in the water. If this frisbee lands in a lake or pond, it floats on the surface making it easy for a dog to grab it.
This frisbee's lightweight design allows it to hang in the air long enough for your pet to catch up to it. In fact, its design makes it especially easy for a young pup to learn how to catch the frisbee.
These frisbees are available in a variety of bright colors making it an easy task to find them in tall weeds or grass. The Hyper Pet Flippy Flopper Dog Frisbee is available for purchase as a single toy or in packs of two or even five. This is a benefit for owners who have more than one frisbee-loving dog!
In testing, we found one drawback regarding its size. This frisbee has a diameter of nine inches so it can be awkward for small dogs to carry.
#2 Best for Competition: Chuckit! Paraflight Flyer Toy
Best for Competition
The Chuckit! Paraflight Flyer Dog Toy is our number one frisbee for competition due to its design. Our extensive evaluation found the flexible, lightweight design of this frisbee allows an owner to aim and throw it with accuracy during competition. It's made to gradually descend as it travels forward helping a dog to gauge when to catch it. Plus, the rubber edge of this frisbee gives dogs a soft, pliable area to grab.
The Chuckit! Paraflight Flyer Dog Toy frisbee is available in a seven or a ten-inch diameter. This allows an owner to choose a frisbee size that suits the size of their dog. Its bold color makes it easy to find in the snow, grass, or weeds.
This is the best frisbee for competition because it can float in the water. So, it's a good choice for a competition requiring a pooch to retrieve a frisbee from a pond, lake, or other body of water. Plus, the nylon fabric dries quickly.
In the course of our evaluation, we found the fabric of this frisbee can develop rips. A large dog that's a heavy chewer can tear this frisbee apart over time.
#3 Best Indestructible Dog Frisbee: KONG – Flyer – Durable Rubber Flying Disc Dog Toy
Best Overall
The Kong Flyer Dog Toy is our number one choice for the most indestructible frisbee. It's made of durable rubber that's both easy to grip and withstand chewing activity. This is a solid choice for chewers that love to fetch a frisbee!
The bright color of this frisbee means a dog or owner is able to find it in various environments. It's available in sizes small and large so an owner can opt for the most appropriate one for their dog. This product is proudly made in the USA.
In our testing of this rubber frisbee, we discovered it doesn't fly as long a distance as other frisbee designs.
#4 Best Soft Dog Frisbee: Frisco Fetch Rubber Flyer Dog Toy
The Frisco Fetch Rubber Flyer Dog Toy's flexible structure gives a dog a comfortable grip. Our testing work revealed this soft dog frisbee can bounce and roll on the ground adding even more fun to your dog's playtime. It can be used both indoors and outdoors. This frisbee's contoured edge adds to the comfort of a dog owner's throw. The ridges on the surface of the frisbee help an owner to grip it.
Keep in mind this soft dog frisbee is nine inches in diameter. So, it's not going to be appropriate for a toy or small breed of dog. It's the best option for medium and large dogs.
#5 Best for Small Dogs: UpDog Products 6 Inch Flying Disc
Our testing of this frisbee made by UpDog revealed its size and durable design make it ideal for toy dog breeds as well as other small breeds. Its six-inch diameter improves the grip of a Yorkie, dachshund, or other small breeds of dog. This frisbee's flexibility is ideal for chewers that like to chase as well as gnaw on their frisbees. We also noted this small toy is suitable for puppies learning how to chase and catch.
Many of our reviewers appreciated the option of putting this frisbee in the dishwasher for a thorough cleaning. It can also be cleaned by hand using mild soap and warm water.
It's available in a variety of bright colors making these toys attractive and easy to locate in the grass, weeds, etc. This is helpful especially if someone is playing frisbee in a local park alongside other dogs and their owners.
We found one disadvantage of this frisbee. It's awkward for medium to large dogs to catch and carry. A larger size frisbee is more suitable for bigger dogs.
Summary of the 5 Best Dog Frisbees
| Rank | Best For | Product |
| --- | --- | --- |
| 1 | Overall | Hyper Pet Flippy Flopper Frisbee Interactive Flying Toy |
| 2 | Competition | Chuckit! Paraflight Flyer Toy |
| 3 | Indestructible | KONG – Flyer – Durable Rubber Flying Disc Dog Toy |
| 4 | Soft Frisbee | Frisco Fetch Rubber Flyer Dog Toy |
| 5 | Small Dogs | UpDog Products 6 Inch Flying Disc |
Related Images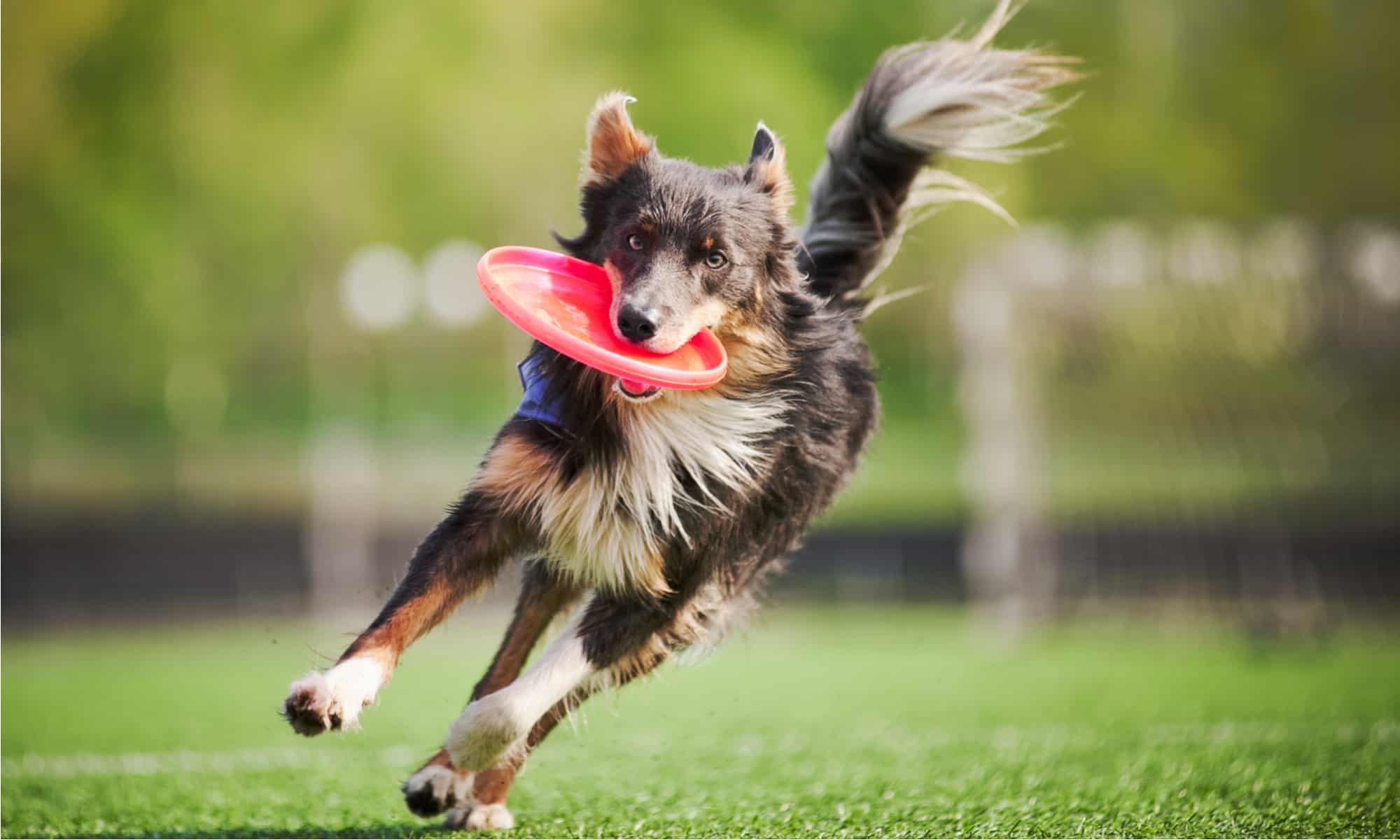 Up Next…
The 5 Best Dog Frisbees: Reviewed for 2022 FAQs (Frequently Asked Questions) 
What type of frisbee material is best?
Though we chose a nylon material as our best overall, there are some dogs that prefer flexible rubber frisbees. The size of a dog, its chewing habits, and whether the frisbee will be used for competition are all factors in making your choice.
How Do I Care for My Dog's Frisbee?
Most frisbees can be washed with warm water and dish soap. However, there are some frisbees labeled as dishwasher safe.
How Many Competition Frisbees Should I Own?
If you participate in frisbee competitions, it's best to have at least two frisbees of the same type. You can use one for rough and tumble practice and the other for the actual competitions.