Key Points
The best overall book about frogs is The Book of Frogs: A Life-Size Guide to Six Hundred Species from around the World.
Determine if a fiction or non-fiction book suits your interests better.
Explore frog books written for children, those written for adults, and those that aren't so much about reading, but about coloring!
Amphibians aren't for everyone but if you find yourself fascinated by frogs, you're probably looking for a book about frogs that fits perfectly into your existing library. It could be a mini library for a mini-you who has all the same interests you do or a book that invites you to explore some of the most mesmerizing frog species found throughout the world. You may already know how to care for and breed frogs but if you don't and you'd like to learn, there's a book for that too!
We cover the books you can read with your kiddos (whether you're a parent or teacher), and we even highlight a book filled with beautiful, intricate frog illustrations that invites you to spend some quiet time with your favorite set of colored pencils or pens. Picking the right book isn't always easy, especially when you want to snatch them all up at once. To help you choose, we explain the criteria to look for. We also cover the two main types of books about frogs there are for you to explore.
The Book of Frogs: A Life-Size Guide to Six Hundred Species From Around the World
The best overall book about frogs is The Book of Frogs: A Life-Size Guide to Six Hundred Species from around the World. There are just over 7,000 known species of wildly different frogs. Not only do they look different, but they also act differently. For example, the golden poison frog can kill 100,000 people. There are the male Darwin's frogs that carry their tadpoles in their vocal sacs. They do this for about two months before they go ahead and cough them out. That's their way of giving birth. This is the type of book that will surprise you, intrigue you, and keep you captivated.
This book is like a commemoration of all the magnificent and unique types of frogs that exist throughout the world. It covers just a fraction of all the species known to man but 600 is still a lot. Each entry gets a distribution map, a couple of sketches of the frogs, their natural history, and their conservation status. It highlights some of the most fascinating amphibians worth exploring. Plus, it doesn't matter if you're an amateur or you're a veteran researcher, you can absolutely appreciate this book.
On average, this book has earned 4.9 out of five stars. Customers warn right off the bat this is a gigantic, heavy book. Many life-size pictures fill these pages; different frogs to discover with each new page! It's a fast favorite for readers. Don't consider this an on-the-go book, rather, it's more something that you should keep at home at your desk or on your coffee table. There's also quite an age range in the review section. From granddaughters who are enjoying the lessons on amphibians to married couples that post about the quality and are happy to read it together.
Best Overall
Everything You Need to Know About Frogs and Other Slippery Creatures
Children between seven and 10 years of age can enjoy this book. It's 80 pages long and is available in either hardcover, paperback, or Kindle versions. The title says it all and what it covers are the different types of these cold-blooded friends. Plus, you get insight into their breeding habits, their habitats, and all of the little oddities that make them so interesting.
Explore shocking facts, the anatomy of frogs, and some games and quizzes to keep it interesting. Regarding photos, you get a couple of different close-ups, the accompanying text is always engaging, and it's perfect if you want to do some in-depth research and use it as a resource for some fast facts.
This book has a 4.8 out of five stars rating. An 8-year-old received this as a gift after he raved about it, having seen it at the library. He talked about how cool the pictures were, how he learned about the deadliest frog in the world, and he shared some other quick facts that he picked up from his quick read. Knowing that he deserves to own the book he loves so much, his grandfather purchased it for him. He was very happy and excited to receive it.
Best for 7-to-10-Year-Olds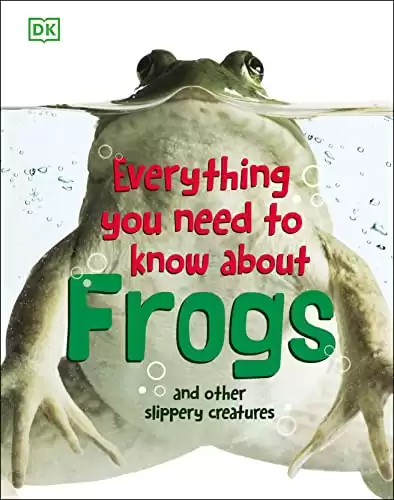 Fanatical About Frogs
For a book that engages your little one and helps to give you some much-needed bonding time, pick up this one. Available in hardcover or paperback, this is the perfect book to read along with your kiddos. It's filled with fun facts that kids will find interesting and tons of cool illustrations that are dazzling to the eye. If your child has shown any interest in frogs at all, it's worth adding this to your at-home library.
The book explains concepts to young minds in a fun way, like the size of frogs, for example. It compares them to items your kids know; like how some are as big as a dinner plate while others can be small enough to fit on top of a fingernail. The author writes about how there are frogs in nearly every color and almost every size that kids can imagine. You and your kids can learn about the deadly poison dart frog and also about the common toad (which is a frog!).
Parents rate this frog book 4.9 out of five stars. They comment that the book is filled with fantastic illustrations and wild facts about frogs. One customer is homeschooling and added this to her curriculum. It doubles as the type of book that can be read for fun but is great for learning. The illustrations throughout the book grab your attention and the attention of your little one, who may have some wandering eyes with other, less engaging books.
Best for Reading with Your Little Ones
Fanatical About Frogs (About Animals)
40 pages.
Customers recommend this book for children ages 3 through 6.
Available in hardcover or paperback
Explains concepts to young minds in a fun way
Parents rate this frog book 4.9 out of five stars
Check Amazon
A Frog Named Earl: A Tale of Adventure, Courage, Friendship, and Acceptance
If you teach either in a classroom or you have a homeschool curriculum you've set up, this is a fantastic addition. The book is about a frog named Earl that doesn't jump and instead uses a pogo stick to get around and enjoy his adventures. On his different adventures, he meets a couple of new friends who join him on his journey. Some of the friends he meets include a monkey, a fish, and a robin who in their own ways have challenges as well.
By the end of the story, Earl and all of his new friends have gotten to experience a full adventure that incorporates concepts like courage, friendship, and acceptance. This is an inspiring story meant to teach a lesson about perseverance and ultimately, acceptance. It's heartwarming and the message is one that stays with your little ones for years to come.
On average, this book is rated 4.8 out of five stars. Customers are pleased with their purchase and find that this book isn't just for kids, rather it's the type of book that can be enjoyed even by the teacher reading it. It beautifully conveys a lesson that everyone's different throughout life and kindness should be a guiding principle. One teacher says that she read it to her class and they all loved it!
Best for Teachers
Frog Coloring Book: 40 Intricate Frog Coloring Pages with Beautiful Patterns
If you love frogs, you need to destress, and you enjoy coloring, look no further. This frog coloring book is filled with 40 incredibly intricate coloring pages with tons of gorgeous patterns that help you focus on something other than your stressors. It doesn't matter if this is your first time picking up a coloring book because this is as entertaining for newbies as it is for people who already have pages and pages filled with their own art.
This book is designed for adults because the patterns are so intricate, but hey, there really are no rules when it comes to coloring. The styles have a mandala-type illustration and all you need to pick up are some colored pencils or pens to make this work for you. Customers rate this book 4.4 out of five stars. You can take a peek at some of the illustrations to explore the different types of frogs highlighted and look at all of the intricate patterns to determine if this is the type of book you'd like to pick up!
Overall, coloring is a meditative experience as an adult. Daily household responsibilities and work deadlines can bog you down. Even commuting to and from work can be exhausting. There's never a shortage of things to worry about as an adult but coloring brings you into the moment, helps you set aside all of those worries, and allows you to reconnect with the part of you that knows how to be present and have fun.
Best for Coloring
Poison Dart Frogs: A Guide to Care and Breeding
If you're feeling like you're done with only having books about frogs and only watching documentaries about frogs and you'd like a guide that helps you care for and breed poison dart frogs, this paperback is for you (it is also available in a Kindle version). This is a complete manual that provides you with step-by-step instructions on building a terrarium and then culturing fruit flies.
You get tips from a breeder who knows all the ins and outs and helps you understand how to breed these wondrous little creatures. Don't make amateur mistakes. Let this guide help you start on the right path. It has an easy-to-understand flow, which is perfect for those of you who are new to breeding frogs — it's not at all intimidating.
The book has earned 4.2 out of five stars. One customer says it's a little bit dated but still a fantastic guide that helped her as a beginner. She mentioned that it can be a bit difficult finding information on how to properly set up frog tanks, so this was extremely helpful for her purposes. Another customer says that he found it very informative, and he noticed that the author has a passion for the subject, which makes the reading experience a lot more pleasant.
Best for Care and Breeding
Criteria: What to Look for in Books About Frogs
From this list alone, you can see that there are lots of different books about frogs for you to explore. Some have fictional frogs as a part of a story that conveys lessons about life, some are all about how to care for and breed a certain type of frog, and some are huge and filled with tons of facts. There are two main criteria that you should consider before picking up your next book about frogs.
Book Type
The type of book you pick up depends on what you're looking for. Some of you are at the stage of wanting to care for and breed frogs, so you'll need more of a guide or manual to help you accomplish that. Pros write these books with step-by-step instructions to help newbies get going. Other books aren't so much about having your own frogs.
Instead, they focus on both photographs and illustrations of the many different species of frogs. You learn as you go! Not just about their anatomy, habits, or habitats, but also about all of the funky things they're able to do. These can be incredibly informative and are not a sit-down once and thumb through the book type of reading experience. They go more in-depth and are the types of books you keep coming back to.
Reading Level
Reading level is also extremely important. Some books about frogs are perfect for little ones and adults to read together. Other books are more for older children to explore on their own. Even a coloring book can be designated for an adult! Although, you can always rip out a page and share it with your kiddo if you must. Make sure that you're purchasing a book at the appropriate reading level, no matter if it's for a child or your best friend from college.
The 2 Different Types of Books About Frogs
There are certainly many different types of books about frogs, which we covered in the section above but you can really break down these different types of books into two main categories.
Fiction
Fiction books typically weave a beautiful storyline that incorporates frogs as part of the book but that doesn't center around facts. For example, A Frog Named Earl is about a frog that uses a pogo stick to get around. Obviously, that's impossible. But it does tell a story about a frog and manages to incorporate different animals to teach children an important lesson about acceptance.
Non-Fiction
Nonfiction books aren't concerned about leaving a storyline as much as they are about conveying all the wild, shocking, and intriguing facts there are to learn about frogs. You learn about the different species, see real photographs, and fill up your wealth of knowledge with tons of information, including how to care for and breed frogs (if that's the type of book you choose).
Up Next:
The 6 Best Books About Frogs for Facts, Inspiration, and Coloring! FAQs (Frequently Asked Questions) 
What book has a frog?
There are countless books about frogs! We highlighted some of the most popular and well-loved ones in this list and you can find other titles to explore as well. Find non-fiction and fiction books, those written for children, those for adults, and explore more coloring books to add to your collection.
Who is the most famous fictional frog?
Arguably, Kermit the frog is the most famous fictional frog. He starred in the Muppet's, which was a Disney show filled with puppet characters.