Key Points
The best overall children's book about ants is All Things Ants for Kids.
Kids love different types of books. Pick out one that teaches ant facts, about how to properly keep an ant farm, and about how ants use teamwork to succeed!
Some books are best suited for the youngest readers while some older kids are better challenged with a more advanced reading level. Make sure to pick an appropriate book for the kiddo in your life!
It is so easy to overlook these tiny creatures in your day-to-day life but if you have curious kiddos who are always observing and asking questions, they likely already tackle questions about ants – as regularly as they see them. You don't have to be an ant expert to answer all the questions their inquisitive little minds come up with! You can pass off some of this teaching responsibility to a couple of awesome children's books about ants. With well over 10,000 different ant species found throughout the world, there's always a new ant book to pick up to keep your kids intrigued (and entertained!).
We put together a list of the six best children's books about ants to make your search that much easier. You have things to do, and they have new books to read! We include one that combines facts with tons of photos and fun and serves as a great introductory book to get kids the skinny on 'all things ants.' If you've agreed to an ant farm, you need a good guide to execute it correctly. If your child has reached the stage when they can appreciate important life lessons on teamwork, compassion, and patience, we have you covered with those too.
Best Overall: All Things Ants for Kids
Best Overall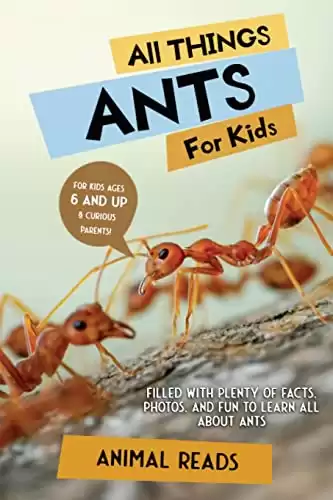 The best overall children's book about ants is All Things Ants for Kids. This title is available in Kindle, hardcover, and paperback formats. If you have a little ant fan in your life, this is a must-read book. Even though they're tiny, ants are awfully interesting, and kids can learn more about them in this colorful book. They learn just how strong ants are in those tiny, armored bodies. The book is complemented with real-life images of ants to help your kiddo learn all about them with a visual aid.
Some of what your child gets to discover in this book are the history of ants, how they evolved, their characteristics, their diet, and their life cycles. The name of this book sums it up quite well. You can help get your child excited about all things ants by gifting them this incredibly entertaining book. It's 76 pages long to keep kids' attention with all the crazy facts related to ants. Kids learn that size doesn't really matter and when there is teamwork, they can achieve great things.
Customers rate this book five out of five stars. One customer shares a very honest review. She says she's not a fan of these little creatures. She finds them to be quite annoying because they sometimes invade her house. However, because she purchased this book for her kiddo, she's learned more about them and that has been a surprisingly wonderful experience. She appreciates this book because it helped her and her child learn new facts about their history and their life cycles and the photos were interesting. She enjoyed reading it and learning more about ants with her son.
Best for Ant Farm Beginners: Ant Farms for Beginners
Best for Ant Farm Beginners
It's one thing to notice ants in your backyard but if your child has shown interest in creating an ant farm, this is the perfect book to pick up. It's available in paperback format but you can also get it in kindle format. This book covers all the basics to make sure that ants are happy in a formicarium. The book teaches children about ants' social structures and characteristics. This book invites you and your kids to consider ants as pets. They're not cuddly like a dog is but these are wonderful little animals to observe.
Your child gets to explore how ants occupy their time. This book sets up a foundation for your child to thoroughly enjoy his or her ant farm. When ants start getting super busy, your child can set up a comfortable chair and spend their time watching the formicarium as if it were a TV or iPad. Ants are super tiny but they're very important and deserve our respect and good treatment. For your child to develop that respect for ants, it's essential that they learn about their needs before bringing them into your home on an ant farm.
Customers rate this book 4.4 out of five stars. They appreciate that the book incorporates important ant facts. Plus, it teaches kids how to make ant farms. It's an educational tool that teaches children how ants live their lives. It's surprising for a lot of kids to discover that they're a lot smarter and more ambitious than they would've initially thought. Another customer calls this an exceptional ant-keeping book for beginners. She has been keeping ants for quite a while and she knows how incredibly complex they are. Each species has its own rules and set of guidelines. She recognizes that creating a beginner book like this is quite a challenge, but she feels the author did an excellent job covering all the various aspects of ant-keeping basics.
Best Board Book: Discovering the Active World of the Anthill
Best Board Book
If you have babies or toddlers, this is a great board book to add to their collection. It's suitable for children up to five years old and includes fun facts, vocabulary words, and charming illustrations. The book is 14 pages long and takes young readers along on an amazing adventure inside an ant hill. Kids learn about the different kinds of ants that exist, and they learn about all of their tasks. The book also explains how ants live and what all the little passageways inside an ant hill are for.
The board pages are extra thick, and anthill shaped, which adds to this book's charm. There are cut-out accents in this one-of-a-kind book that kids love. Each caption you uncover is educational and teaches your child new vocabulary words. There are hidden chambers throughout this book that delight children as they spend their time learning all about ants and all the amazing work they do.
Customers rate this book 4.6 out of five stars. It's a favorite for toddlers because it delivers so many little nuggets of information while thoroughly entertaining them. They describe it as super cute and informative. They also appreciate that the author wrote it in an easy-to-understand way. One customer has a three-year-old son who is always very curious about bugs, especially ants. This book has helped him understand how ants have homes and designated roles. She highly recommends it.
Best Book About Teamwork: The Ants Who Couldn't Dance
Best Book About Teamwork
Ants do a great job of teaching humans all about teamwork. This book is available in Kindle and hardcover formats and it's all about how ants can't dance. Music starts playing and everyone else is having a great time, but the ants just can't seem to get their wiggles right. They can do a lot of other things, though.
They can build and dig and lift but they can't dip or twirl or jig. As they try to gain some rhythm, they discover that they work better when they're collaborating. The aim of this book is to teach children the value of cooperation and teamwork. It encourages creative problem-solving and even inspires kiddos to pursue their dreams, no matter how much of a struggle they may encounter at first when trying something new!
Customers rate this book 4.8 out of five stars. They describe it as a cute story with bright and colorful illustrations. Each ant has its own personality and there are lots of ants throughout this book. It includes rhyming text that makes it fun to read out loud. The illustrations tickle your funny bone and don't be surprised if your child starts trying to wiggle a bit while reading this book with you. Overall, customers appreciate that it's a book all about fun and has an underlying message about the importance of working together.
Best for Cultivating Compassion: Hey, Little Ant
Best for Cultivating Compassion
Hey, Little Ant
32 pages.
Customers recommend this book for children ages 3 through 7.
A classic children's book about compassion.
Check Amazon
This next book is also lesson inspired. Children are at a critical age when learning new concepts and life lessons is easier. They're little sponges! This book is available in hardcover, staple bound, and audio format. In this picture book, there is a classic conundrum. Do you squish the ant or not? The story shares a meaningful message about how important it is to care for all creatures, no matter how tiny they are.
This book helps children pause and reflect on how they would respond if they were about to step on an ant and suddenly, it started talking. Would your child stop to listen to the tiny ant? This book is very thought-provoking, and it approaches this topic in a humorous way. The book is about the conversation that ensues between a little girl and a tiny ant. It helps to inspire important conversations about kindness, caring, and respect for both humans and even the smallest animals.
Customers rate this book 4.8 out of five stars. They love that it makes a lesson about compassion accessible to children. One customer says she loves using books to help her four-year-old learn about different topics, learn different skills, and learn some new life lessons. This book quickly became one of her daughter's favorites. This is one of those sticky stories that really impact young children. She's constantly pointing out ants now, making sure that neither she nor her mom accidentally squishes one of them. This opens the door for her mom to talk a little bit more about compassion and how it applies to other animals and people too.
Best Timeless Lesson: Little Ant Goes to a Picnic
Best Timeless Lesson
This book is about a little ant that wants to feast on all the largest and tastiest of crumbs and bring them back to his ant hill. In his excitement, he rushes into a picnic before the humans have picked up and left. He's a bit overzealous and realizes that gathering food at a picnic can be quite dangerous for a little ant. The moral of the story is to look before you leap.
This book is a part of a series. Each book is a reimagining of one of Aesop's classic fables to teach children those timeless lessons that remain relevant throughout their lifetimes. The illustrations are whimsical and vibrant and help bring the story to life. All of these stories help children feel understood as they encounter different challenges and frustrations in their young lives. The goal is for children to build character and learn these valuable lessons early.
Customers rate this book 4.5 out of five stars. They view it as a delightful story that teaches children an important life lesson. The illustrations are commonly mentioned because they keep the attention of curious readers. They also help add understanding and interest to the lesson. One customer shares that the little ant isn't always his best self, but he does have a good heart and learns from his mistakes. She loves that her children can see that it's not about being the best all the time but about learning as you grow.
Criteria: What to Look for in Children's Books About Ants
There are practical, factual books that cover ant topics expertly. The authors write in a way that is easily digestible for young readers and doesn't overwhelm them. Yet, they manage to keep their attention and deliver fundamental knowledge upon which kiddos can build upon. There are books that cover different ant species, the roles they take, how they collaborate, and their anatomy. Then, there are books that cover different ant topics like formicariums, otherwise known as ant farms. With these types of books, you receive a step-by-step guide that helps your kids understand everything they need to know about ants and their ant hills so they can care for them appropriately.
If your kids have a fascination with ants but you are not ready to commit to an ant farm, you can pick up fictional story books about ants. The beauty of these is that some are super simple for babies and toddlers and others are a little more challenging for slightly older readers. You can even select fictional books about ants that impart a life lesson relevant to something your kiddo may be going through. If they're struggling with teamwork and collaboration, for example, a good lesson-inspired ant book that teaches kiddos how ants work together can be the perfect choice to perfectly complement your kiddo on their ever-evolving life journey.  
Up Next, More Books of Cute Little Critters for Your Kids to Explore…
The 6 Best Children's Books About Ants for Young Enthusiasts FAQs (Frequently Asked Questions) 
Can ants destroy books?
It's a bummer to answer this question, especially in an article that's all about books about ants, but yes, ants can destroy books! Just like termites, they can get right through all those precious pages — particularly if those books are in the way of their food sources.
Where do ants live?
If you don't like ants, the answer to this may creep you out. However, since you've just read through an article all about ants, we can tell you. Ants are found nearly everywhere on this planet! They call soil, decaying plants, and leaf litter their homes. They may even form nests inside homes and other buildings if they have what they need to thrive!