Have you ever wondered why Greek mythology novels have lasted over the years? The reason isn't far-fetched, considering the action-packed stories depicting immortal gods, goddesses, demigods, monsters, and heroes. In addition, readers of all ages love the stories and legends about Ancient Greece transmitted through the decades.
Reading novels that retell or draw inspiration from well-known tales may excite or deepen a child's interest in Greek mythology. Further, children will find the process much more entertaining if they can act out the story. The main characters must, of course, be none other than the gods of Olympus, and bring their favorite mythology to life by using Zeus, Hera, Aphrodite, and other deities.
Check out our finest picks for your favorite young Greek mythology aficionados. We chose these books based on their popularity, awards, and reader ratings.
1. D'Aulaires' Book of Greek Myths
Ingri and Edgar Parin d'Aulaire did a thing with this book. The exceptional writers and illustrators vividly and humorously bring to life the myths that have served as the foundation for much of European literature and art over the years.
Since its publication in 1962, it has remained one of the popular books for introducing young readers to Greek mythology. 
This ageless masterpiece presents readers with rich illustrations and descriptions of ancient Greece's gods, goddesses, and legends. To that effect, included are the almighty Zeus, who wields a fistful of thunderbolts; the wise, gray-eyed goddess Athena; the sun god, Helios; and the greedy King Midas.
Available in paperback, audiobook, and Kindle formats, this book was one of the 100 Great Children's Books by the New York Public Library and one of NPR's 100 Must-Read Books for Kids aged 9 to 14.
2. Beasts of Olympus Series
Lucy Coats's eight-book series on ancient Greek stories should be on the reading list of every young reader captivated by mythological creatures. The colorful chapter novels perfectly blend Greek mythology, humor, and adventure.
It tells the story of Pandemonious (Demon for short), the son of the Greek deity Pan, assigned to look after the magical animals on Mount Olympus. But, first, he struggles to keep up with the varying demands of the gods and goddesses.
Brett Bean's illustrations, in addition to Coats' rich writing, give dramatic and comedic effects to the series. It also includes a glossary and pronunciation guide.
Beast Keeper, the first book in the series, won the 2016 Young Quills Awards.
3. Percy Jackson's Greek Gods
Are you a fan of Greek mythology if you haven't heard of Rick Riordan and the Percy Jackson series? There aren't many lists of Greek mythology books that don't include a Riordan work, especially for middle graders.
It's a compilation of Greek mythology short stories retold from Percy Jackson's point of view, and it's sure to make you laugh out loud. The narrator relates a range of myths, from the earliest accounts of Gaea and the Titans to the more detailed tales of the gods that Camp Half-Blood chronicle readers have encountered.
There are entertaining chapter titles, and Percy's witty, distinct voice is typical of the New York Times Bestselling author.
The book has 19 chapters spanning 416 pages, and it's perfect for kids aged 9 through 12. It includes an insert with full-color pictures illustrated by Caldecott Honoree John Rocco. However, the paperback version may be too heavy for a child, thus limiting their reading pace. It's also available as an audiobook and on Kindle.
4. Argos: The Story of Odysseus as Told by His Loyal Dog
Argos is Odysseus's faithful dog who keeps his promise to look after his master's family while he is away. But, as her son, Telemachos, faces death threats from his mother's suitors, Odysseus' wife, Penelope, is pressed to declare her absent husband dead.
The dog explores his master's journeys from home by listening to the tales of sea birds and other animals and then tells us about them in this original adaptation of The Odyssey.
This moving story of adventure and devotion is a HarperCollins publication suited for 8- to 12-year-olds. The available reading formats include hardcover, paperback, and Kindle.
5. Heracles: My First Greek Myths
Here's one for the babies. Anna Goutzouri brought her A game with the infusion of inventiveness in her four-board book series about Greek mythology. With its vivid illustrations and straightforward plot, this 10-paged book lends itself to babies enjoying the adventures of Heracles, one of the heroes in Greek mythology. 
Other books in the series include Theseus and the Minotaur, the 12 gods of Olympus, and the Trojan Horse.
6. Treasury of Greek Mythology: Classic Stories of Gods, Goddesses, Heroes & Monsters
Best for Children
In its presentation of tales from Greek canon, this compilation by National Geographic captures the stories of gods and goddesses like Zeus, Aphrodite, Apollo, and Athena, as well as heroes and monsters like Helen of Troy, Perseus, and Medusa. The 2011 book was a collaboration between award-winning Donna Jo Napoli and illustrator Christina Balit. 
This book will quickly turn into a family heirloom for anybody fascinated by the fascinating stories of Greek mythology. Not only does it include sidebars for each Greek legend, but it also has a family tree and map to show the ties between characters.
Even more, young readers can get more information with the addition of resource notes. Four reading options are available: audio CD, hardcover, Kindle, and audiobook. Its 192 pages are well-detailed, so kids can dip in and out or read it at a go.
Many literary awards have recognized the Treasury of Greek Mythology. Some include ALA Notable Book, Garden State Teen Book Awards list, Capitol Choices Noteworthy Book, and Best Books of 2011 by School Library Journal.
7. Echo Echo: Reverso Poems About Greek Myths
Marilyn Singer's brilliant reversible poetry, which gives alternate perspectives on each tale, is inspired by Greek mythology. The anthology contains 14 poems based on the stories of King Midas and His Daughter, Perseus and Medusa, Pandora's Box, and Pygmalion, among others. 
Also, this book aims to restore balance in children's books about Greek mythology, and Josee Masse's drawings complement the narrative beautifully.
Its 32 pages and gorgeous images make it perfect for children aged 6 to 8. It was an SLJ Best Book of the Year, a Nerdy Book Club Award winner, and a New York Public Library Best of the Year selection.
8. Greek Myths
In collaboration with an illustrator Sarah Young, Ann Turnbull provides the definitive reference on Greek places, monsters, heroes, gods, and mortals. Unlike many others, this is a well-researched book that doesn't confuse Greek and Roman names.
She portrays the richness of symbolism in Greek mythology to demonstrate the importance of storytelling and the stories told. The Greek Stories, combined with Young's images, is easy to comprehend and don't hide the reality of Greek myths from kids. Hardcover, paperback, and CD formats are all available.
9. Heroes in Training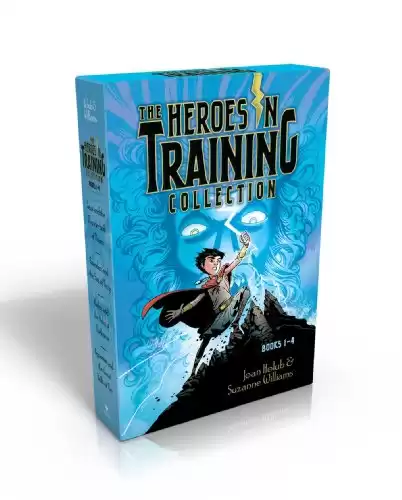 This story follows young Olympian gods led by a 10-year-old Zeus as they develop their abilities and prepare for combat. They set out against a group of ruthless giants who control the world.
There are 18 novels in this series, which feature the gods Zeus, Apollo, Poseidon, and others. Unfortunately, however, you can only get it in paperback form. Written by Joan Holub and Suzanne Williams and illustrated by Craig Phillips, the book also highlights Greek gods, goddesses, and heroes from their youth with humor and action.
10. Gifts from the Gods: Ancient Words and Wisdom from Greek and Roman Mythology
Got a language nerd or Percy Jackson fan in the family? This book will make a perfect gift for them. It's an illustrated book of Greek and Roman mythology that includes tales and words that have their roots in those myths, such as nemesis, echo, muse, panic, and fury. 
The book is recommended for 8- to 10-year-olds who wish to discover the origin of the phrase "Achilles' Heel," the connection between the muses and museums, and the act that made Narcissus famous today.
 This is a quick read available in paperback, hardback, and Kindle formats.
Up Next…