Every child has a favorite animal. It is the animal that they want for their stuffed toy, the one they can speak to, and the one they are excited to see on their screens. One thing that is underrated but overly adored by kids is reading about their favorite animal. Today's blog contains one such animal with which many children are fascinated.
After all, it is the biggest mammal on Earth. True, it would scare them if they saw one in real life. So, let's stick to the basics and keep them excited about whale books. But before you start purchasing many books, here are a few that we think your kids would love.
So, without further ado, here are the seven best children's books about the biggest mammal we know, the whales!
1. The Boy and the Whale
The Boy and the Whale
40 pages.
Recommended for children ages 4 through 7.
Inspired partially by a real-life video of a whale's rescue.
Teaches kids about bravery and the need to help others.
Check Amazon
This book is written by the famous film director, artist, writer, and illustrator Mordicai Gerstein. Many of his books are made into movies. But this book is a real-life story inspired by the author through a video. 
It depicts the story of a boy and his father, who is a fisherman. One day, they sought to catch fish but instead sailed upon a whale stuck in a net. The innocence of a child forces him to save that whale, but his father denies him that action. Nonetheless, he dives in to see if he can keep the whale alone. 
It is a visual book that is 40 pages long. It is a long read for children, but with the graphics, it makes up for an exciting purchase. However, the book does not have vibrant or colorful animated images. Instead, it has illustrations and sketches that are pretty amazingly drawn. You can find it on Kindle and in hardcover.
2. The Heart of a Whale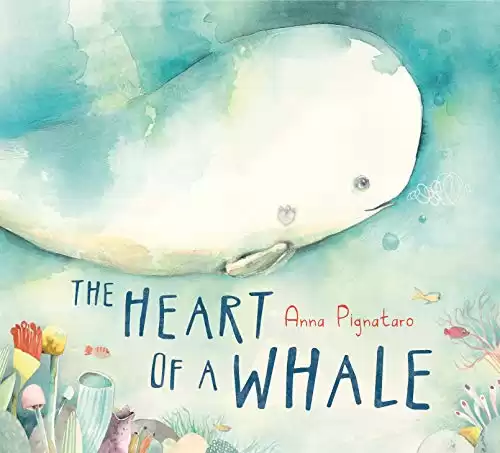 The award-winning Anna Pignataro wrote this book. She has written over 60 children's books, out of which this one is quite a melancholy but wise read for children.
That is not a combination you would typically find in children's books. But that is exactly what makes this book rank top on our list. It is a sweet book where a whale sings a soulful song for its friends in the ocean. They are all calmed and cherished by the whale's voice but leave an emptiness inside its heart. Near the end, however, the whale does find solace. Of course, for that, you have to read the book. But you can feel all emotions here: kindness, empathy, sadness, and eventually relief. 
The book has various sketches that are colorful and bright. They seem as if they are watercolored, which adds a soothing effect. In addition, it has 40 pages and is available on Kindle and as a hardcover as an editor's pick.
3. Breathe
Breathe
40 pages.
Customers recommend this book for children ages 1 through 4.
A fun and short read.
Check Amazon
Best-selling author Scott Magoon is the writer behind this book. He has written many critically acclaimed picture books for children. One was about a shark, but today we are talking about the one with a whale.
This book depicts a story about a baby whale and its mother whale. The baby whale sets out to do little adventures in the ocean but returns safely to its mother. It is a good read for children of younger ages too. 
The whole book has beautiful and calming illustrations of life underwater. It will not only make the children happy but also soothe the adults. It does, however, leave an icy touch. You will know when you see it. Moreover, it is 40 pages long, making up for an average time for reading. It is available on Kindle and as a hardcover.
4. Amos and Boris
Amos & Boris
32 pages.
Customers recommend this book for children ages 3 through 8.
Detailed and colorful graphics.
A teacher's pick.
Shows the importance of friendship.
Check Amazon
William Steig is a great cartoonist and writer responsible for writing the masterpiece Shrek. But this book is not far behind on the success list, although it is pretty old. It may not have been turned into a movie, but it is a good read for children.
This book is about the classic lesson of most children's books, friendship. But the depiction is beautiful and shows the story of a mouse and a whale. It may be an unusual combination, but they both end up saving the other from unfortunate circumstances. This also portrays a lesson of being kind, no matter how small the act of kindness may seem.
The book has various illustrations which are not animated but are beautifully sketched out. The details are all there, and the colors are rightfully vibrant too. It is comparatively a short read and lasts for 32 pages. On top of that, this book is a teacher's pick! You can find it on Kindle, paperback, and hardcover.
5. Billy Twitters and His Blue Whale Problem
Adam Rex is a renowned author who has written his fair share of children's books. On the other hand, Mac Bennet is also an award-winning and famous children's books writer. Yes, it is written by two people. This co-authored book is a fun and humorous read for children.
It depicts the story of parents who threaten to buy a whale as a pet for their kid unless he does his chores. It is to help him learn about the act of responsibility. The kids will have a great time reading and laughing through the moments as the whale arrives. It creates a whole situation for the family with a great twist near the end.  
The illustrations are very real-like and detailed as well. You can tell the story from just the pictures. The length of the book estimates to be around 48 pages long. But it is not a heavy read since the total length of the text is tiny. It is only available in hardcover.
6. A Whale in the Bathtub
Kylie Westaway and Tom Jellet wrote and illustrated this book, respectively. Kylie is an author who has written only three children's books, one of which is a sequel to this book. In contrast, Tom is best known as an illustrator and has penned his sketches in various children's books. This read is published under both their names.
The story is about a child who is weary of taking baths and is fond of making excuses. Both of these scenarios, combined with the fact that he encounters a whale in the tub, make this book a humorous read. 
A visual book with attractive, vibrant, and animated images will keep the children engaged. Even the younger ones will find this book worth the flips. The book is 40 pages long and makes up for the average reading time of a children's book. Since it is a picture book, you will find less text than illustrations. It is available on Kindle and as hardcover.
7. Storm Whale
Storm Whale
Recommended for children ages 2 through 6.
Teaches a profound lesson for children and families.
The first in a series of three books.
Check Amazon
Benji Davies is the brains behind this book and is a famous illustrator, writer, and animation director. He has written many books for children, including a sequel to this book. His books are best known for the vibrant graphics that kids adore. This particular book is a quality read. It shows a lesson about the value of company and the importance of time spent with family.
You will find that it is sad. The boy's father often goes to work for long hours, which makes him lonely. Then, one day, he comes across a whale that becomes his listener. When the father encounters this situation, he asks the boy to bid farewell to his friend. But soon, he learns that the whale is a mere listener to his son. 
The illustrations are one of the best I have seen. They are intriguing, detailed, and colorful too. They take up many pages, but since it is a picture book, it comes off as understandable. Other than that, it is a reasonably short read with only 32 pages. You can purchase it online on Kindle, as a hardcover, or a board book. 
Up Next…